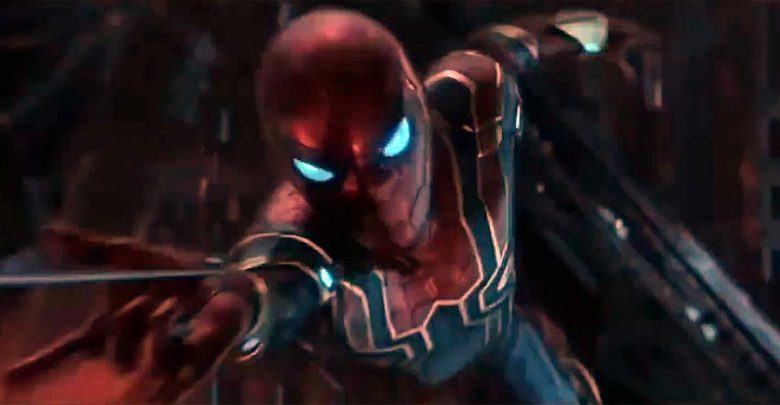 The Infinity War is the greatest comic-book event in the history of Marvel comics. The upcoming MCU movie 'Avengers Infinity War' will be the beginning of the end of an era that has a decade and 18 Marvel movies behind it. Everything that has happened in the MCU till now has led us to Infinity War. Thanos is coming with his firepower to collect all the Infinity stones to destroy half the universe at the snap of his fingers and the only ones standing between him and total annihilation are Avengers and later Guardians of the Galaxy.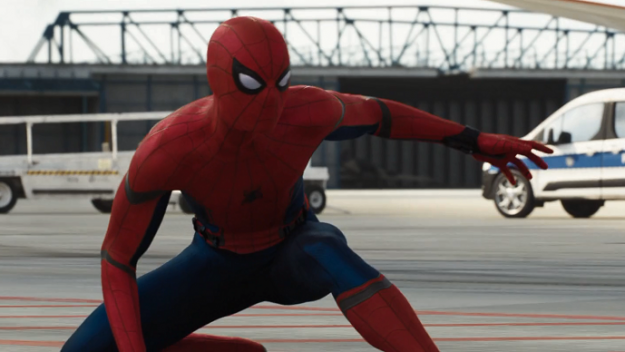 Among all the superheroes, there is Spider-man who always dreamt of becoming an Avenger one day. He was introduced into the MCU in Captain America: Civil War where Tony Stark spotted his talents and picked him for his side to fight against Team Cap. And believe it or not, for someone who just started to realize his superhero persona, Peter Parker aka Spiderman did an amazing job (lifting Cap's Shield) and showed his range of powers.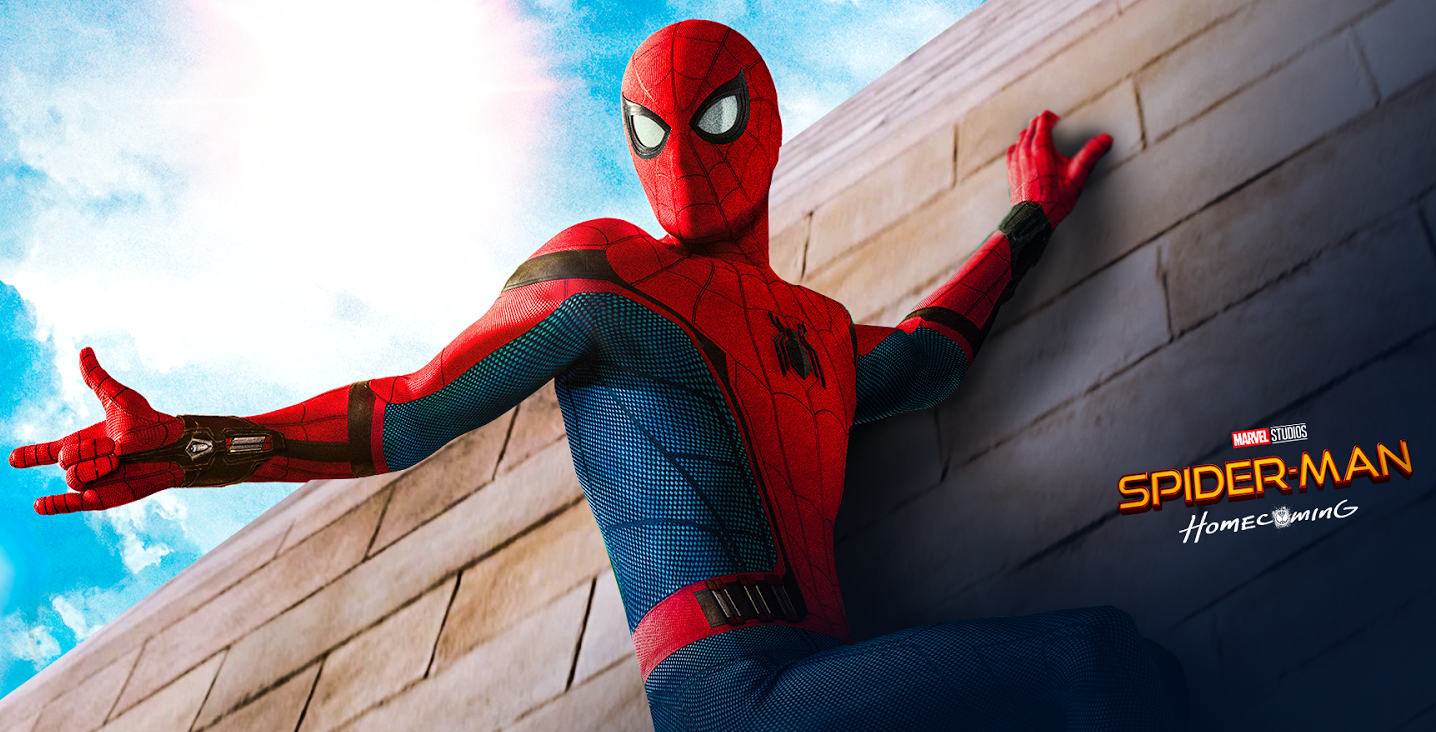 He then starred in his own superhero movie titled Spiderman: Homecoming based on classic comics of 90's. Tony Stark also had a supporting role in the movie. He played a mentor and trainer to Peter Parker so that he be ready when we need him for larger missions. Tony gifted him an upgraded suit loaded with amazing features such as stealth metallic arm, spider wings, mechanical web shooters, quick change button etc. which he used to take down Vulture. But now he will be facing the most terrifying villain that Avengers have faced, let alone Spiderman who is relatively new to all this. Stark has knighted him as an 'Avenger' and gave him Iron Spider suit.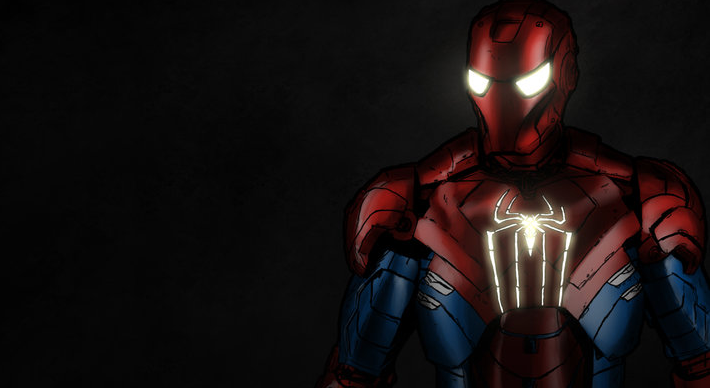 The Iron Spider suit has been the talk of the town for a while lately. Nerds are swooning over how awesome and comic book accurate it looks. The Iron Spider armor was worn by Peter Parker in a different circumstance. It was a gift from Iron Man when Peter Parker lost his Spider powers in the comic books, While Peter is all well and good with his Spidey side in the MCU, he is terribly ill-equipped to take on Thanos on his own (which he does in the trailer itself).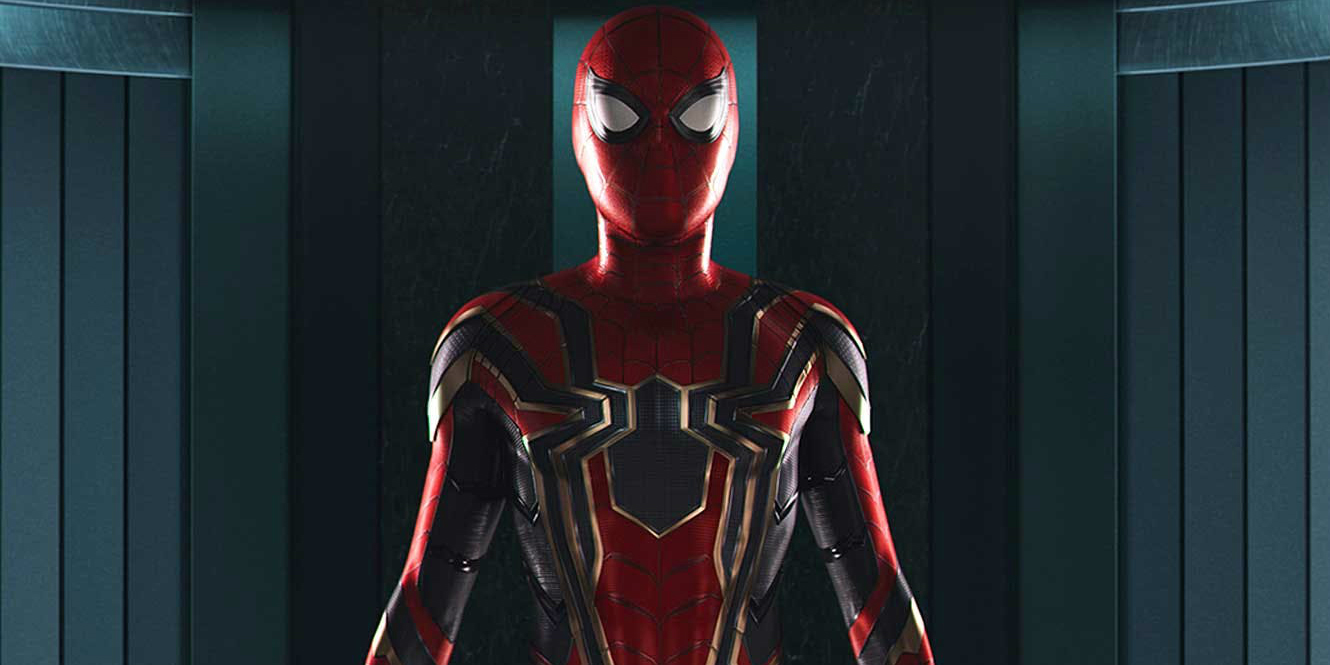 So Iron Man decided to gift Peter Parker with an upgraded version of his A.I Super suit he wears currently. The Iron Spider armor is what helps Peter stand his ground against the Mad Titan, the devastator of worlds. And the Iron Spider suits just got a massive new upgrade. The armor now is revealed to possess a super powerful weapon hidden in its arsenal.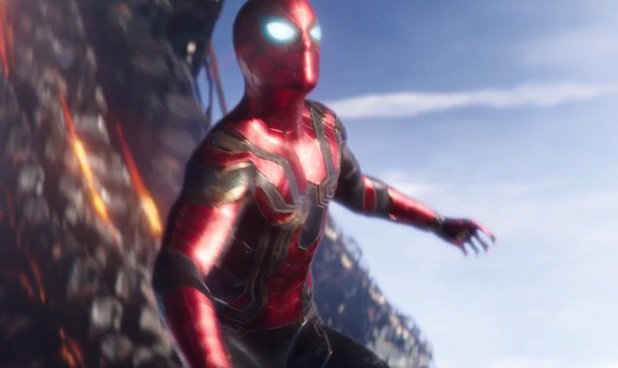 Before Infinity War is released, the heroes of the MCU must be ready to take on the Purple Giant from outer space. To do that, they need to jack up their juices. For Peter, it is the Iron Spider armor. With each new Promos and TV Spot released, the Iron Spider armor is getting and looking more and more updated and advanced. But as always, toy line leaks have ruined the surprise no matter how hard Marvel Studios aimed to keep the Iron Spider armor's powers and abilities a secret from the audience. At first, it was the Spider Legs.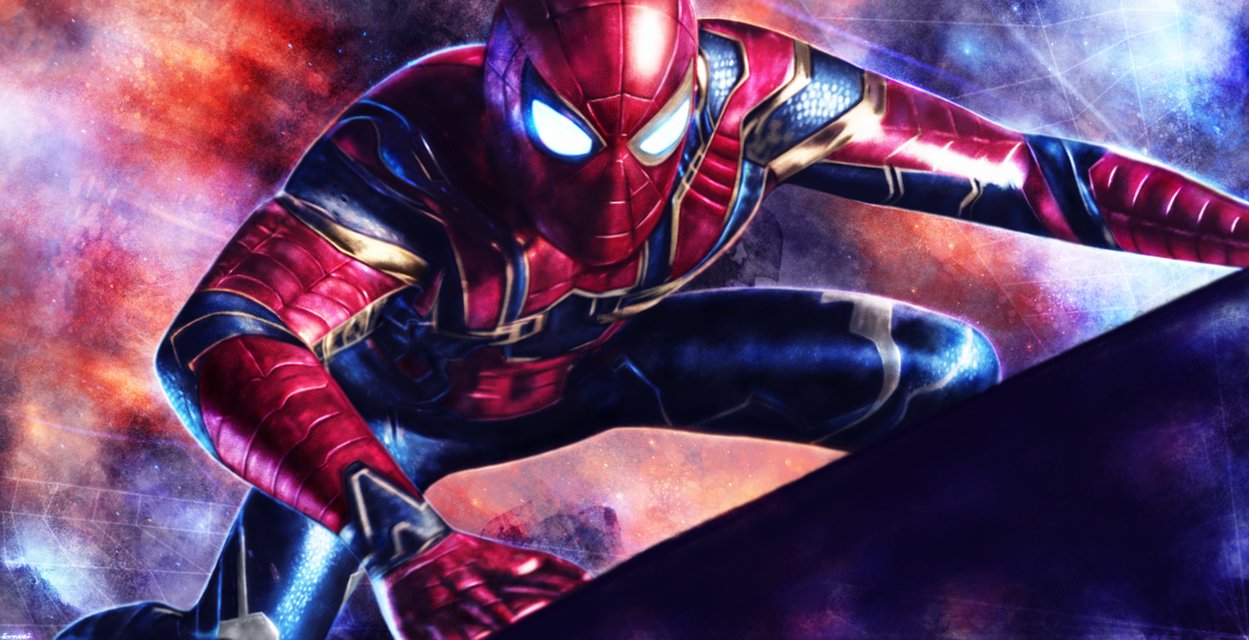 A Toy Line leak ensured that fans new the Iron Spider suit had spider legs sprouting from its back since the Iron Spider toy also had the same function within it. And now, there is a brand new Weapon for Spiderman to use. The weapon we are talking about has been a staple of another well-known superhero for years.
Can you guess the weapon we are talking about?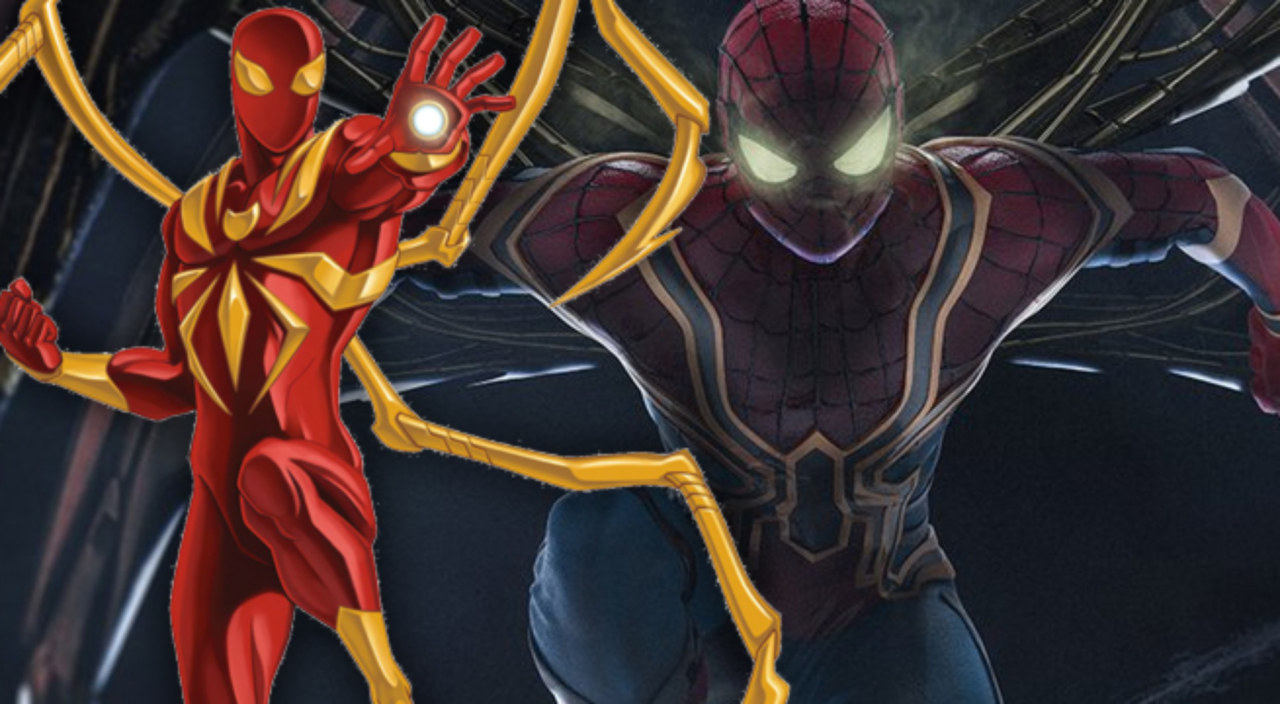 Just this week, the Toy Manufacturer and Retailer Hot Toys revealed a new and close up look of a Spiderman action figure dressed up in the Iron Spider suit for Infinity War. Notice the hands. Find something interesting?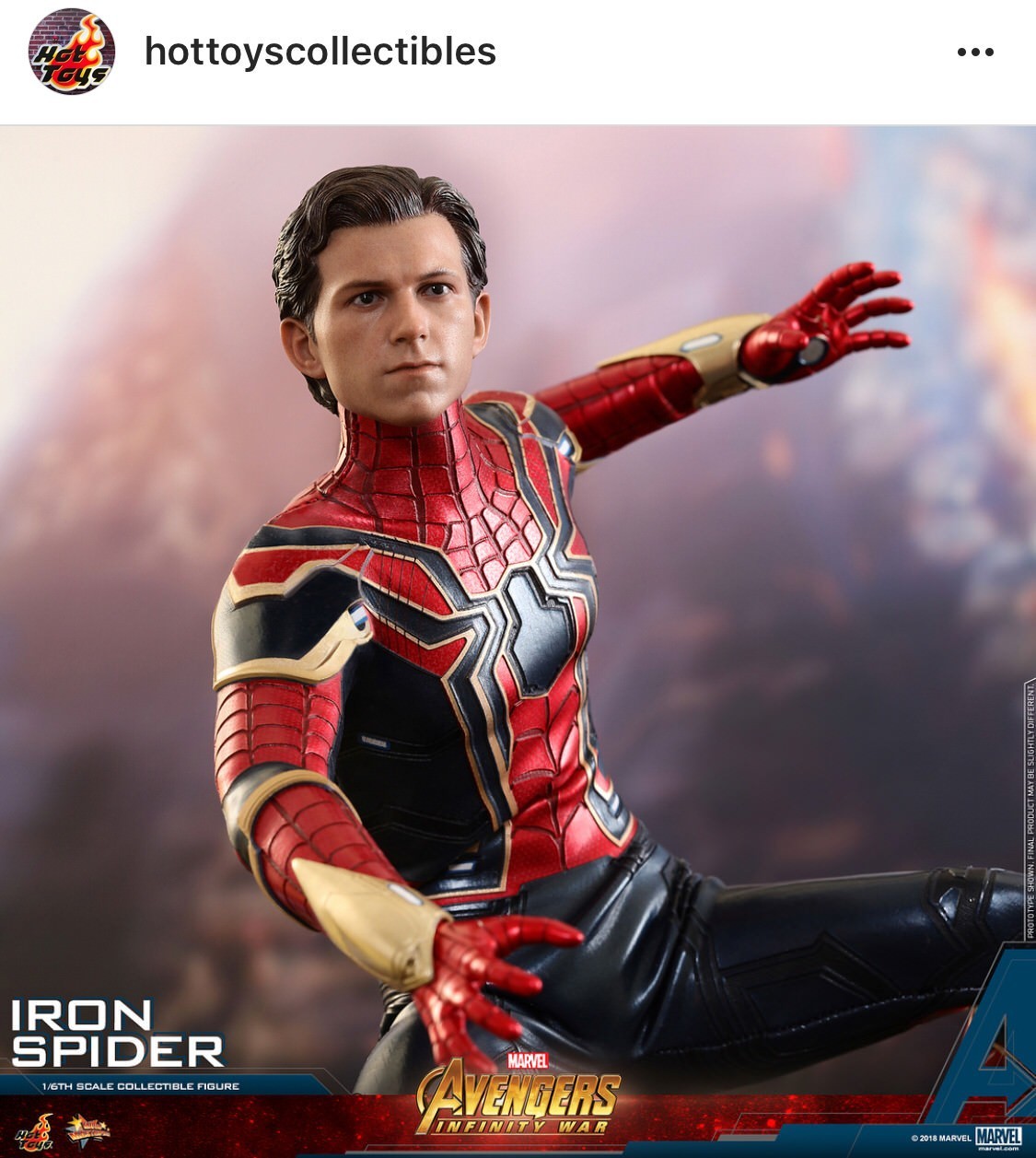 The Iron Spider suit will have the same abilities as that of Iron Man's. The Repulsor technology was originally developed by Tony Stark that replace the Jet engines used in the Fighter Jets of the Air Force. He later reconfigured it and used it in his Iron Man suit. The Repulsor beams have been used as both offensive weapons and mode of transportation.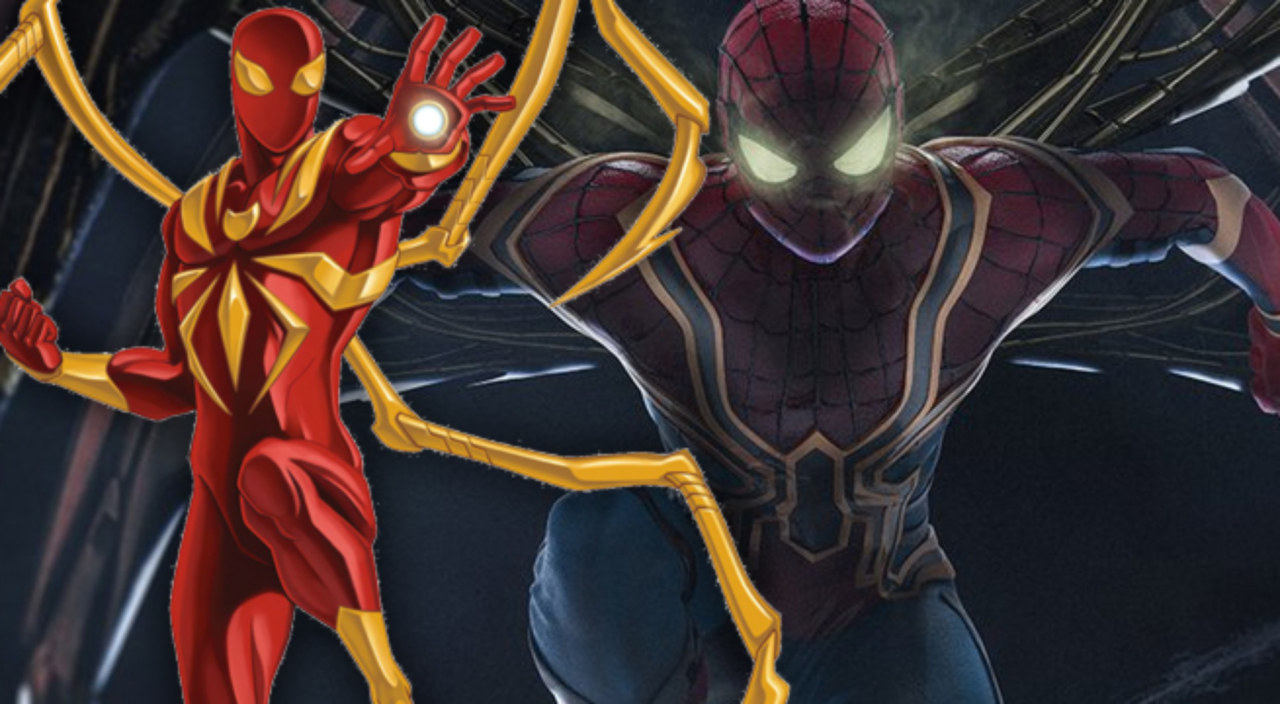 The Iron Spider suit, from the comic books, also possessed this ability along with a host of new ones so the die-hard fans of the comic book source materials might not be as surprised. But for the rest, it will be interesting to watch Spiderman blast his way to Thanos and the Black Order when Infinity War hits the theaters.
Spiderman first appeared his official appearance in Captain America: Civil War before moving on to star in his own MCU movie. Spiderman: Homecoming had its official release on the big screens on 7th July 2017.
The official film synopsis for Spiderman: Homecoming reads:
Thrilled by his experience with the Avengers, young Peter Parker returns home to live with his Aunt May. Under the watchful eye of mentor Tony Stark, Parker starts to embrace his newfound identity as Spider-Man. He also tries to return to his normal daily routine — distracted by thoughts of proving himself to be more than just a friendly neighborhood superhero. Peter must soon put his powers to the test when the evil Vulture emerges to threaten everything that he holds dear.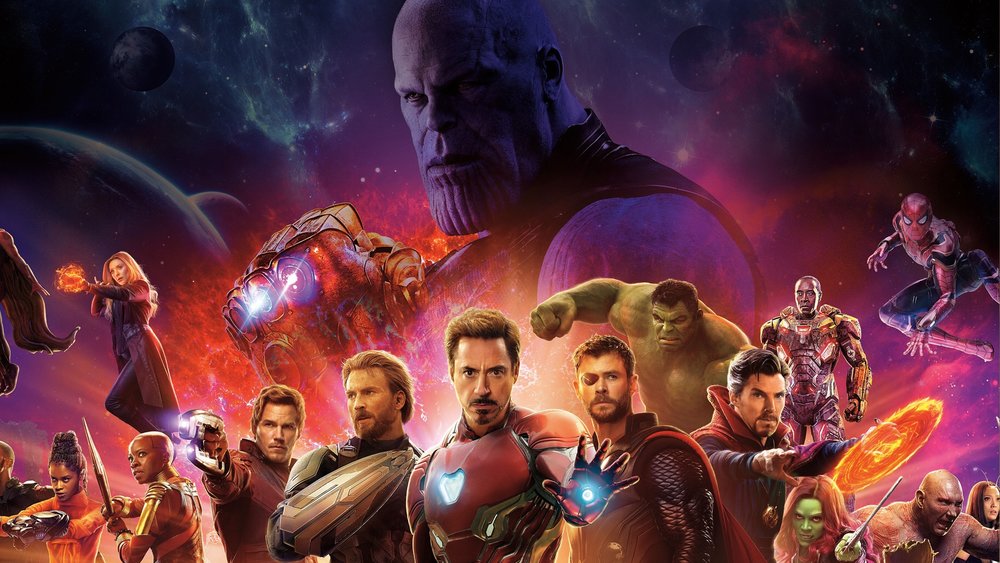 Avengers: Infinity War has a release date slated for April 27th, 2018. It is directed by Russo brothers who are experts in directing big comic-book ensemble movies (Captain America: Civil War). It is produced by Marvel top executive Kevin Feige along with a set of executive producers including God of Marvel comics Stan Lee, Louis D'Esposito, Victoria Alonso and Michael Grillo. The screenplay has been written by a talented duo – Christopher Markus and Stephen McFeely.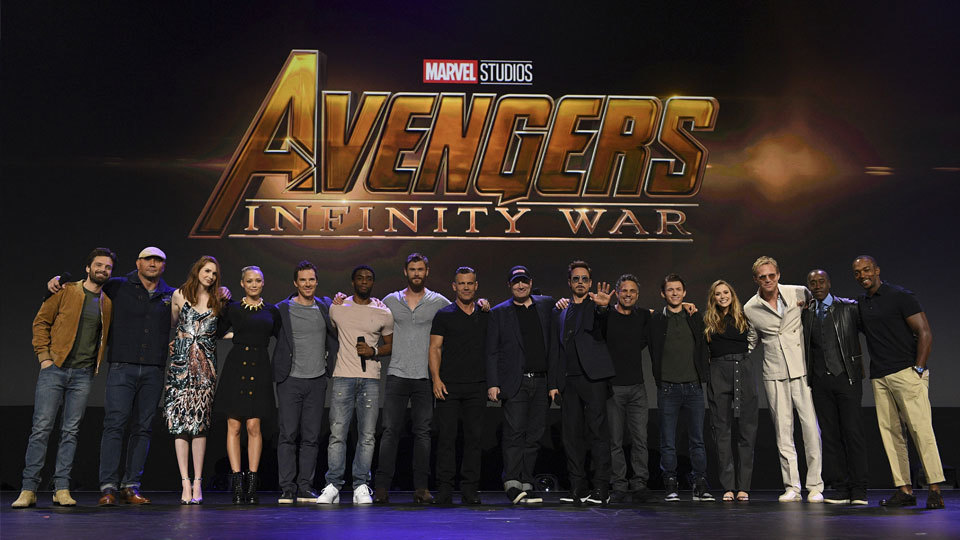 The cast is simply outstanding and top-notch as it features some of the biggest A-listers doing key roles including Robert Downey Jr. (Iron Man), Chris Evans (Captain America), Josh Brolin (Thanos), Chris Pratt (Star Lord), Zoe Saldana (Gamora), Sebastian Stan (Winter soldier), Anthony Mackie (Falcon), Chris Hemsworth (Thor), Tom Hiddleston (Loki), Mark Ruffalo (Hulk), Scarlett Johansson (Black Widow), Jeremy Reiner (Hawkeye), Benedict Cumberbatch (Dr. Strange), Benedict Wong (Wong), Tom Holland (Spiderman), Letitia Wright (Shuri), Chadwick Boseman (Black Panther), Paul Rudd (Ant-Man), Elizabeth Olsen (Scarlett Witch), Bradley Cooper (Rocket Raccoon), Vin Diesel (Groot), Karen Gillian (Nebula), Pom Klementieff (Mantis), Dave Bautista (Drax), Paul Bettany (Vision).
The official film synopsis reads: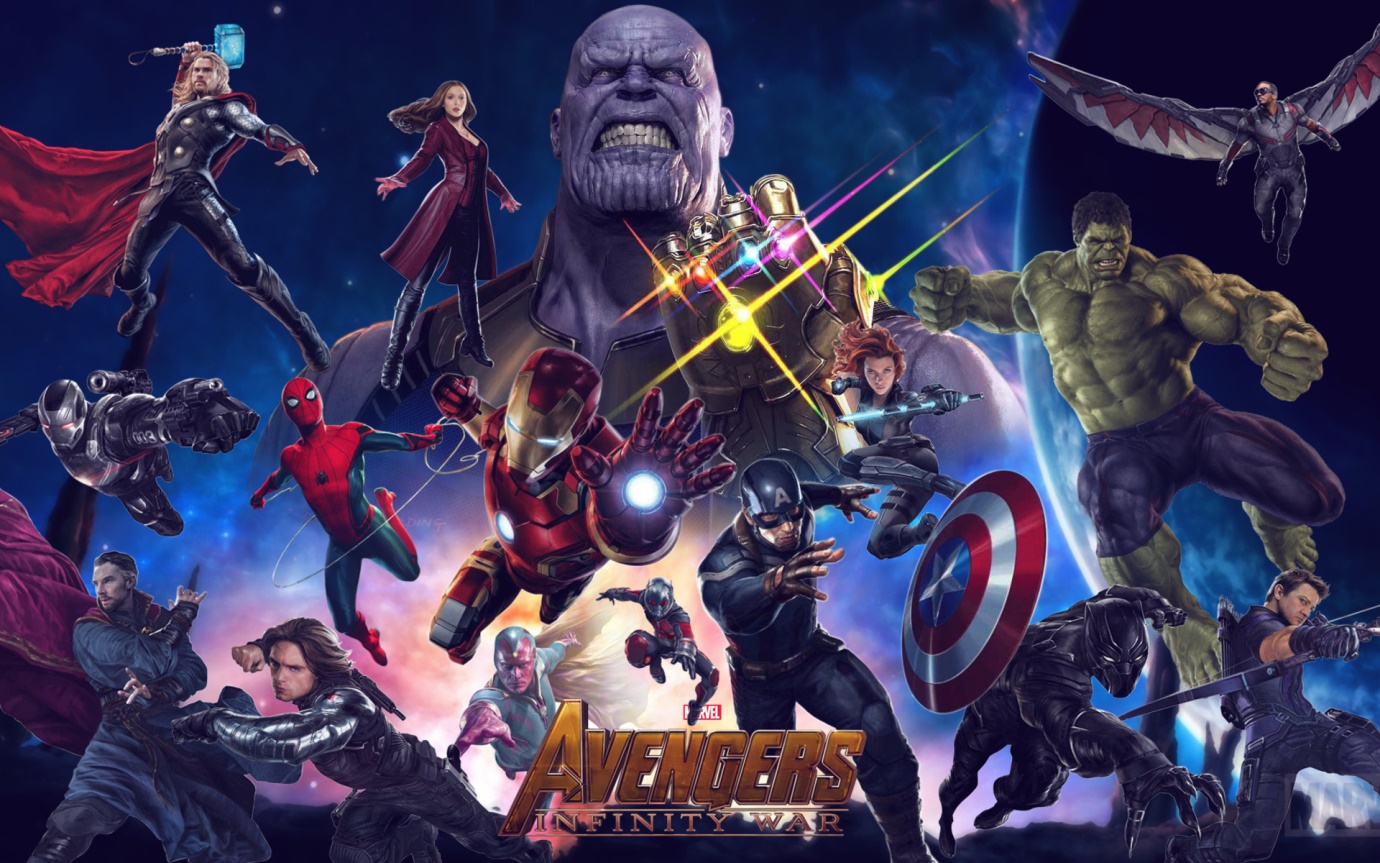 "As the Avengers and their allies have continued to protect the world from threats too large for any one hero to handle, a new danger has emerged from the cosmic shadows: Thanos. A despot of intergalactic infamy, his goal is to collect all six Infinity Stones, artifacts of unimaginable power, and use them to inflict his twisted will on all of reality. Everything the Avengers have fought for has led up to this moment – the fate of Earth and existence itself has never been more uncertain".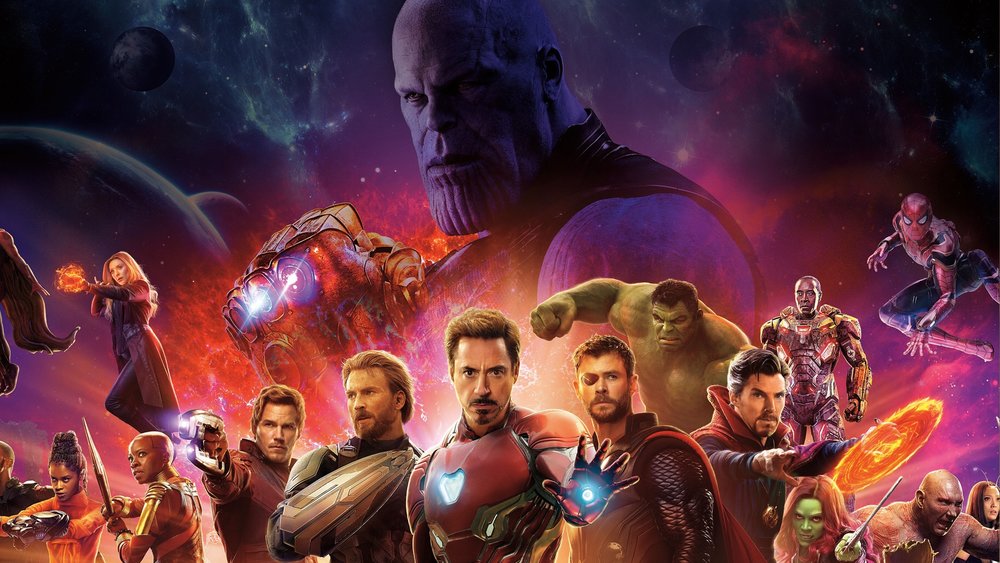 Iron Man, Thor, the Hulk and the rest of the Avengers unite to battle their most powerful enemy yet — the evil Thanos. On a mission to collect all six Infinity Stones, Thanos plans to use the artifacts to inflict his twisted will on reality. The fate of the planet and existence itself has never been more uncertain as everything the Avengers have fought for has led up to this moment.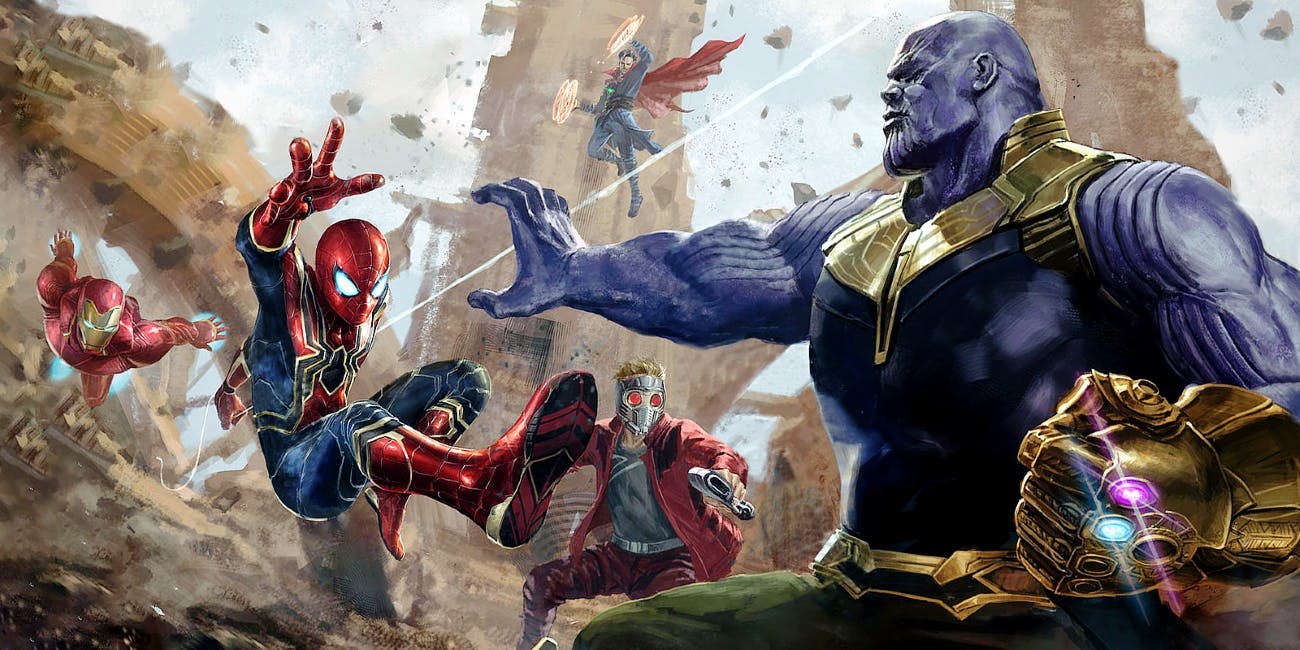 "An unprecedented cinematic journey ten years in the making and spanning the entire Marvel Cinematic Universe, Marvel Studios' "Avengers: Infinity War" brings to the screen the ultimate, deadliest showdown of all time. The Avengers and their Super Hero allies must be willing to sacrifice all in an attempt to defeat the powerful Thanos before his blitz of devastation and ruin puts an end to the universe".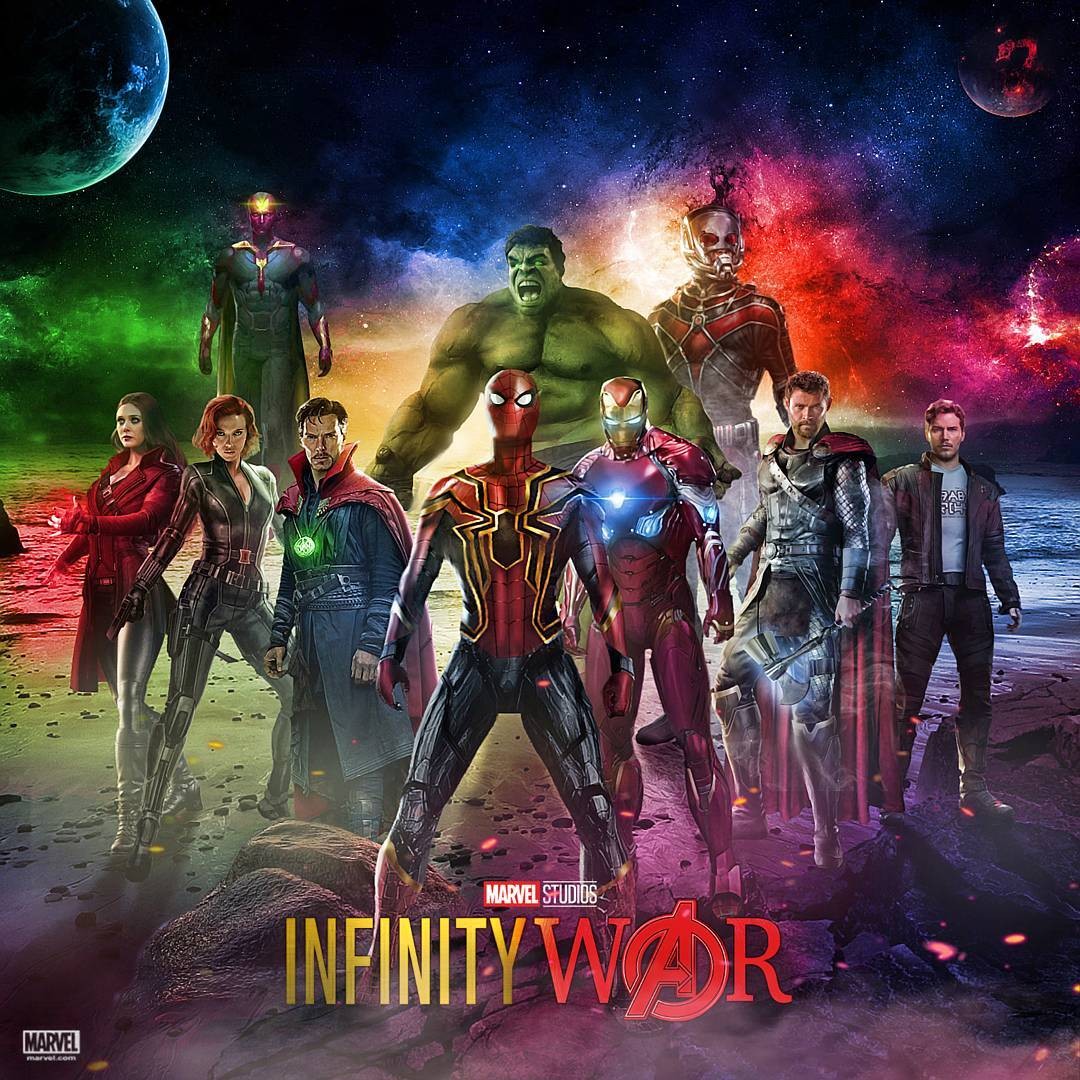 Can Avengers and Guardians be able to defend humanity from the invasion of Thanos and Black Order? Will Thanos become the most powerful cosmic entity once he assembles the gauntlet? Who can defeat him? Who will die fighting Mad Titan? Who will survive the Infinity War? Soon, we will know.
Don't Miss: Here's How The [Spoiler] Infinity Stone Will Be Used To Reset The MCU