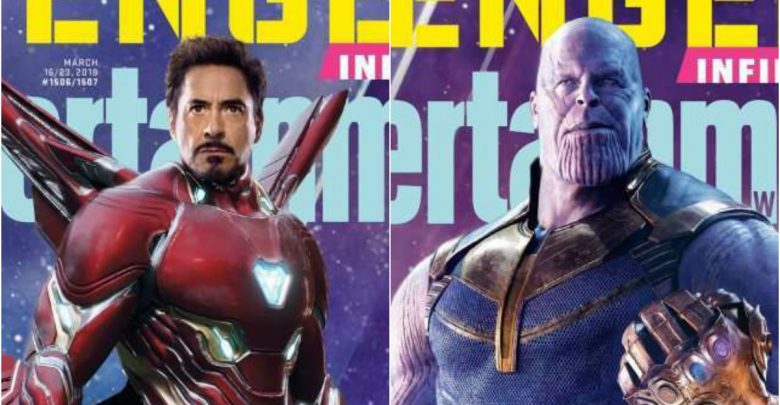 The marketing for Avengers Infinity War has kicked in the big time now as we are getting more and more photos, covers, concept arts and a lot of toys and merchandise have hit the market. New details are being confirmed about the characters in the movie.
With all the hype that is being created, Marvel is going to throw the new trailer at us very soon. For now, we have 15 new Entertainment Weekly covers containing the characters with 22 Heroes, and 1 Mad Titan. Here are all the EW covers released:
NEBULA AND SCARLET WITCH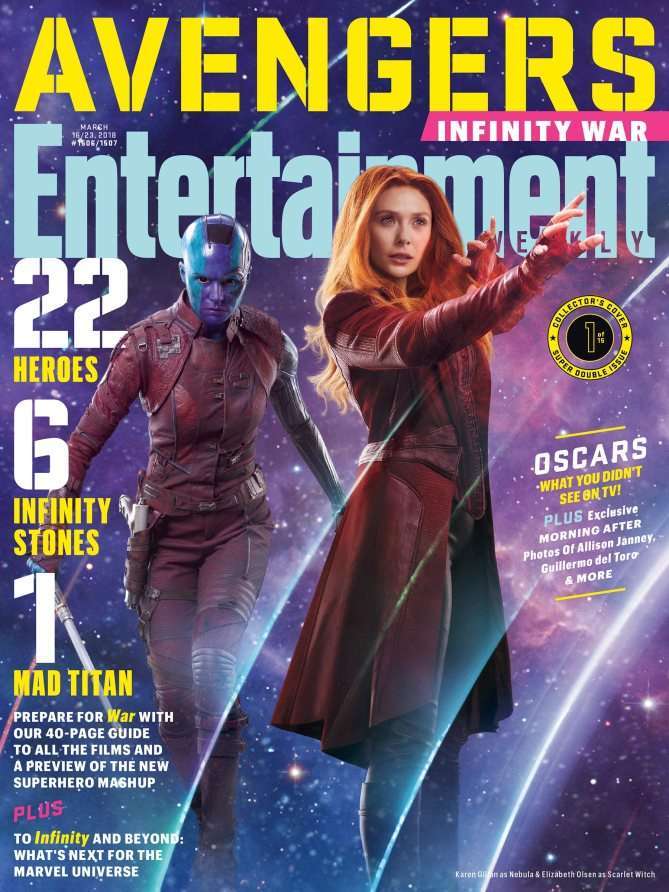 This cover gives an exclusive look at Nebula and Scarlet Witch. Nebula looks pretty much the same as we saw her the last time in Guardians of the Galaxy, Vol.2. Wanda, on the other hand, has a whole new suit that she is going to wear in the upcoming movie. It's a little weird that the cover has Nebula and Wanda instead of Nebula and Gamora but who knows maybe we will see these two join forces against Thanos and his Black order.
GROOT, ROCKET RACCOON, AND THOR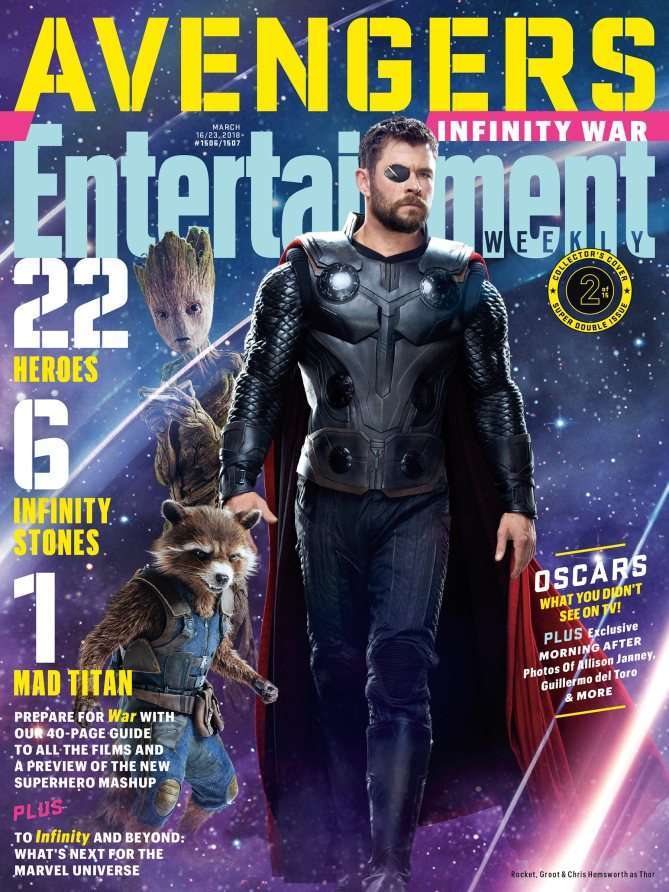 Next up we have Thor, Rocket and Teenage Groot. Rocket and Groot go hand in hand, but what is really great to see over here is the look Thor is sporting in this one. We can see that unlike other posters, he still has the eye patch. For the first time, we will see Thor meeting Guardians of the Galaxy in the Avengers Infinity War. The last time we saw Thor was in Ragnarok when he was ferrying people of Asgard to safety and suddenly the ship is stopped by none other than Thanos. Well, it is theorized that somehow Thor will escape but critically injured only to be found by Guardians in outer space.
DOCTOR STRANGE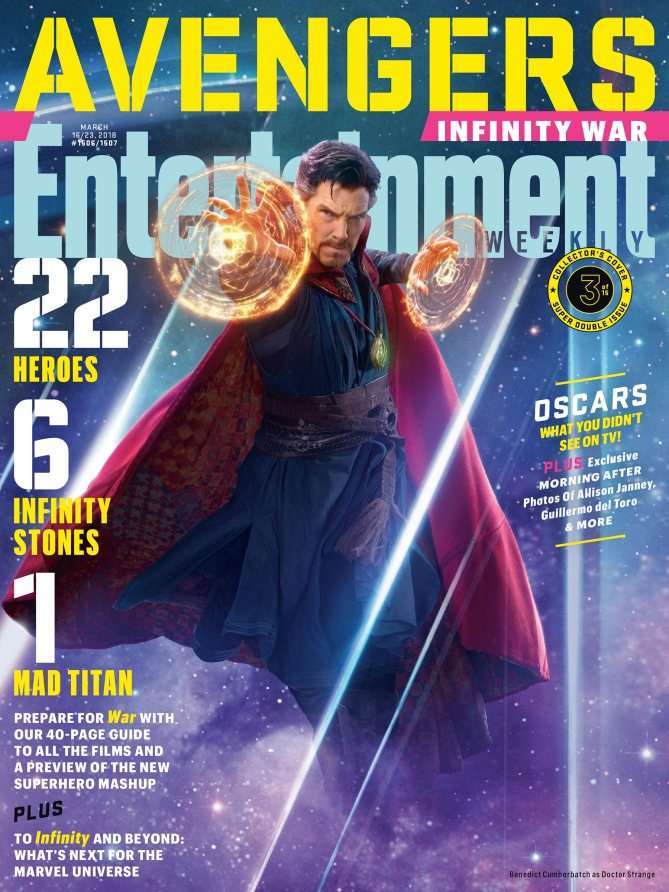 Doctor Strange has the similar look that we saw him in his last two appearances. No changes at all have been made to his suit. He still has the Time stone though, and the Titan is going to take that from him. He is one of the strongest Marvel superhero who will play an instrumental role in the fight against Thanos and his armies as he is the only Avenger who knows everything about Infinity stones and how they work.
HULK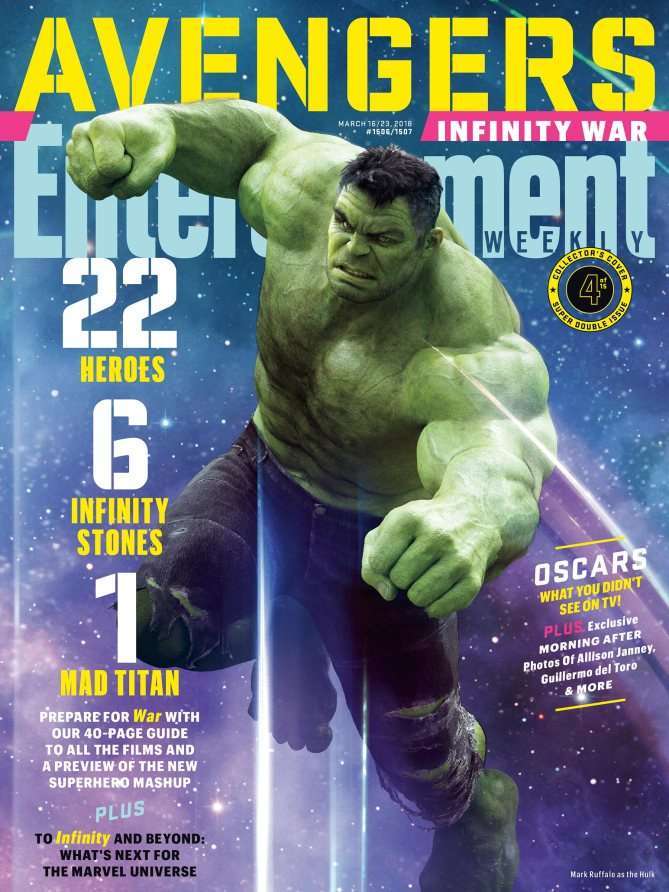 Hulk is still as incredible as we saw him the last time, taking on Fenris the Wolf. The only change we can see is that his hair has grown a bit, which is natural. We did not get Hulk solo movie but Ruffalo thinks that Thor: Ragnarok was the first Hulk movie in a trilogy which will continue in the two Infinity War movies.
STAR-LORD AND OKOYE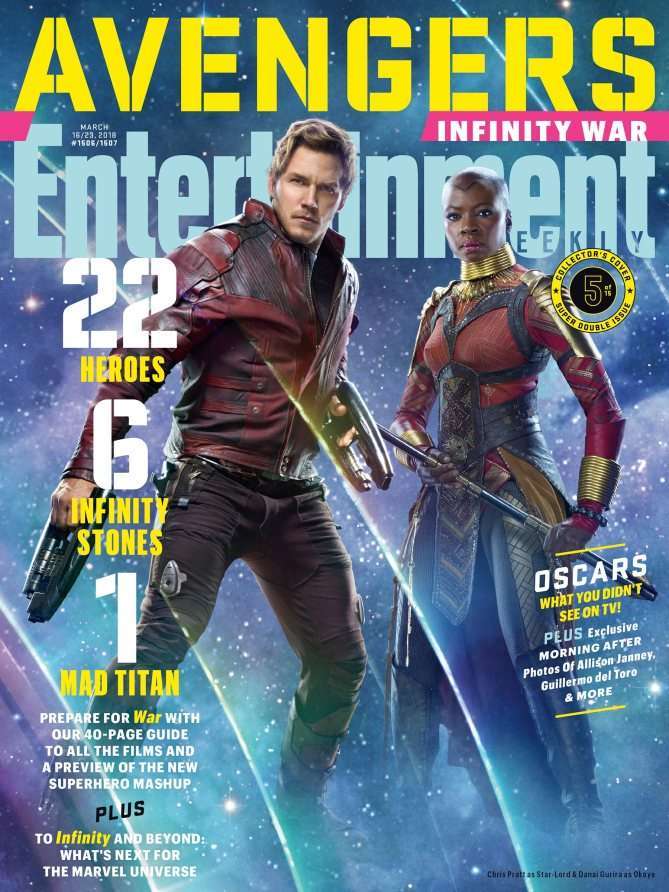 This is a pretty interesting pair, and since Guardians Vol.2 was almost 3 years apart from Infinity War, we expected to see a little change in Peter's suit maybe. But this is also good and Okoye is sporting her Dora Milaje outfit as expected.
VISION AND SHURI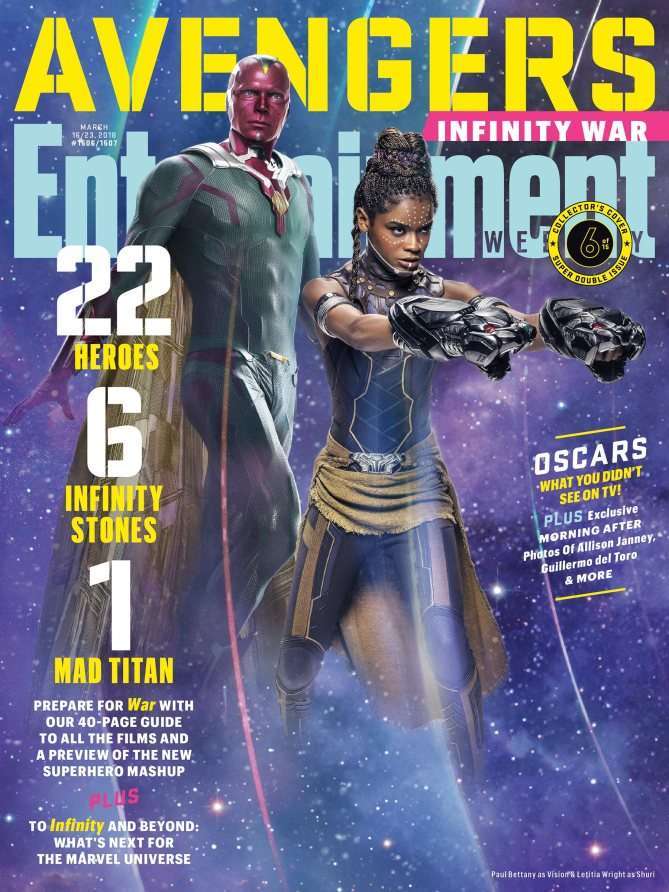 The bearer of the Mind Stone and T'Challa's sister Shuri are in the spotlight in this cover. Again a strange but interesting pair. There is no change whatsoever in both these individuals, and that's how it should be.
BLACK PANTHER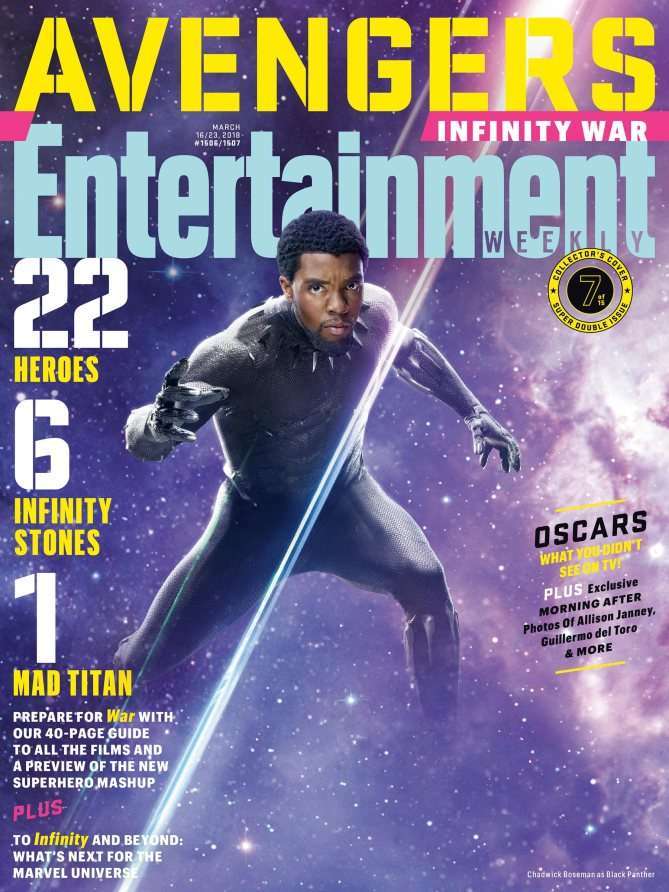 T'Challa's Panther suit looks exactly the one we saw in his solo movie recently. It makes sense to use the same suit since he just got that from Shuri in the latest movie.
THANOS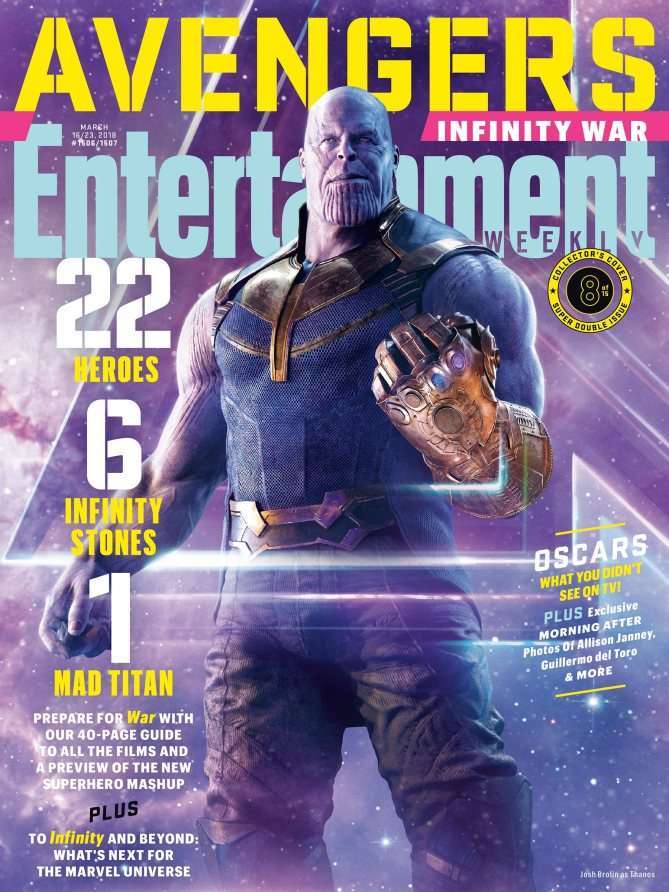 The Mad Titan has been put into the Spotlight and he is wearing his Gauntlet with Space and Power Gem studded in it. They probably don't want to give away anything which is why we cannot see any other Infinity Stones.
SPIDER-MAN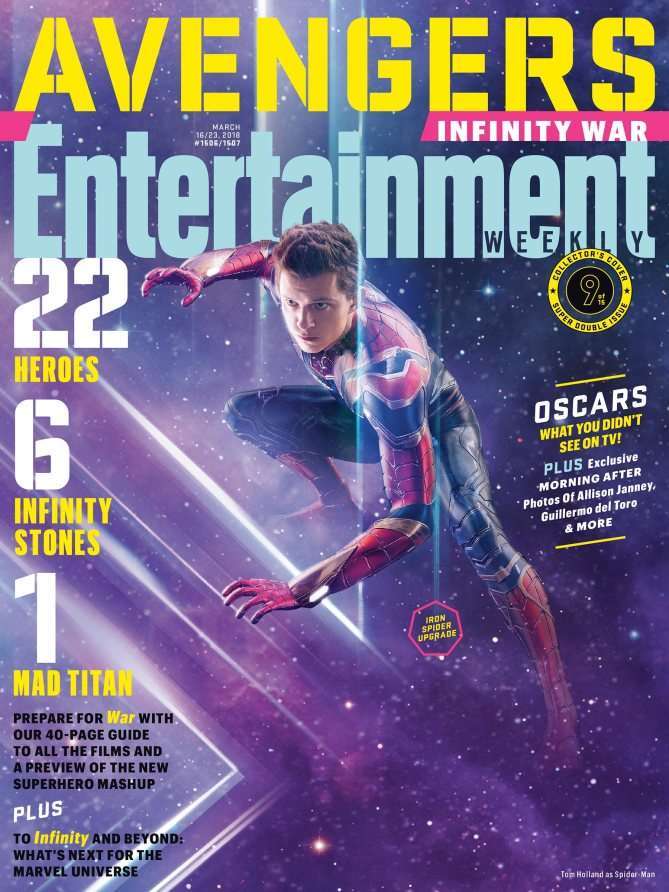 This is probably the best look at the Iron Spider that we have got till now as we can see almost the entire suit in this angle, and we can see the new Web Shooters and everything, except the iconic Spider arms that will show up in the movie.
Mantis and The White Wolf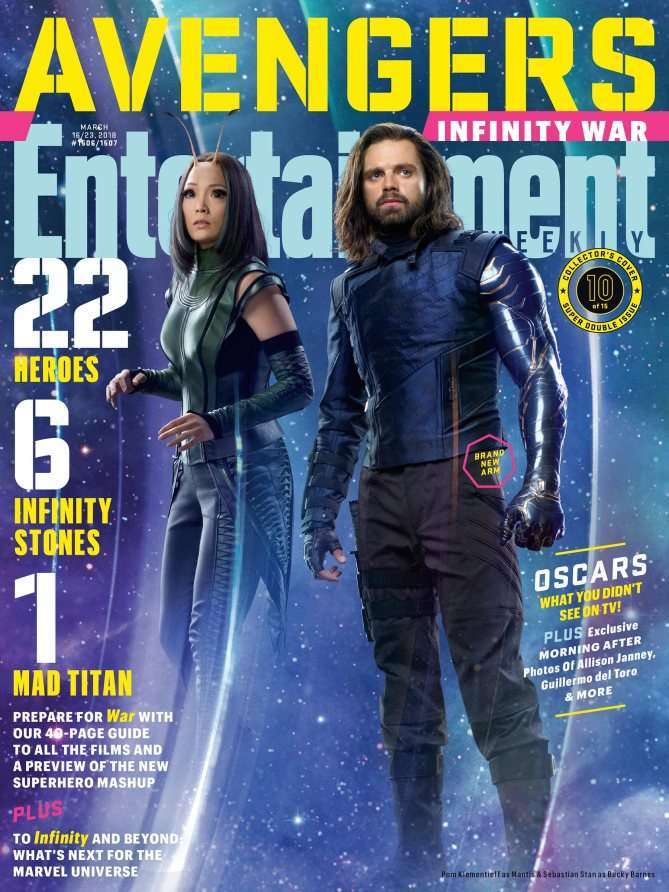 White Wolf is the name the Winter Soldier is now going to carry on with, and this was teased in the post-credits scene of Black Panther. We can see his Golden-Vibranium arm and Mantis looks to be exactly the same.
WAR MACHINE AND DRAX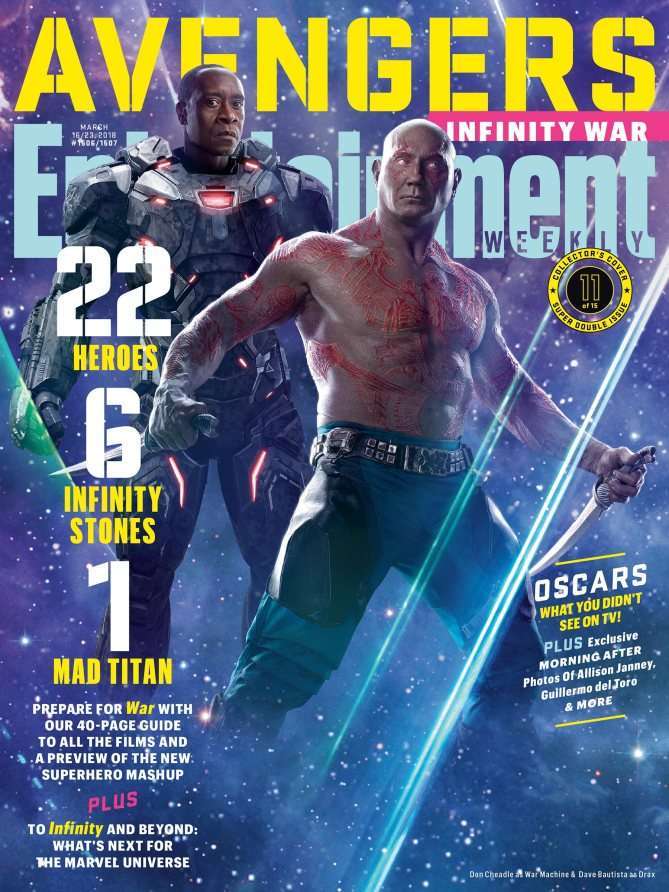 Drax is probably sporting his new pants, and rest there is nothing else to look different. War Machine, on the other hand, has an almost new looking suit which looks even bulkier and the color pattern looks amazing for the entire armor.
IRON MAN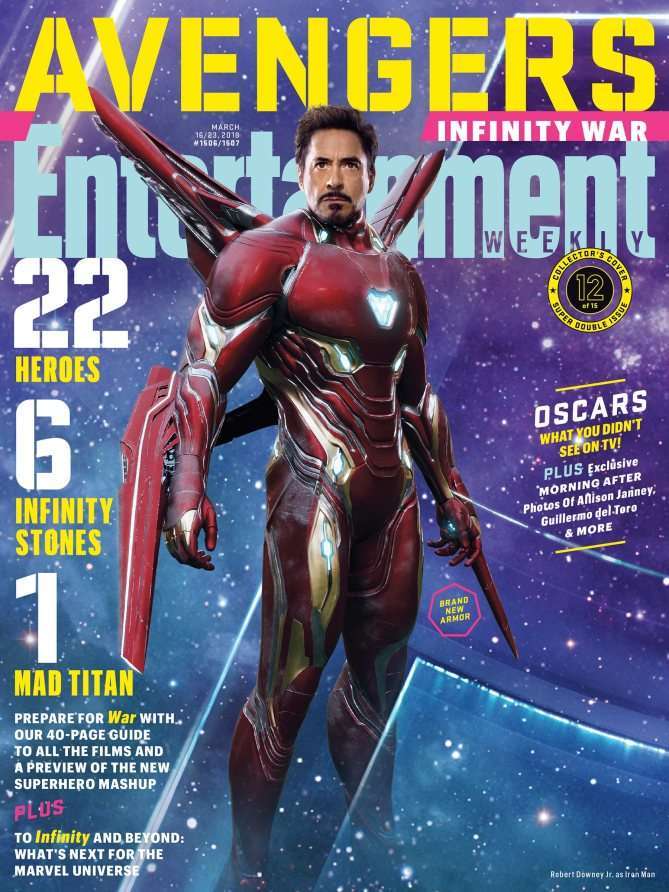 This is the suit we have all been waiting to see in live action. There are so many new upgrades that look awesome and it is nothing like we have ever seen before. It seems as if he has new Supersonic thrusters that will allow him to fly at insane speeds in Space.
BLACK WIDOW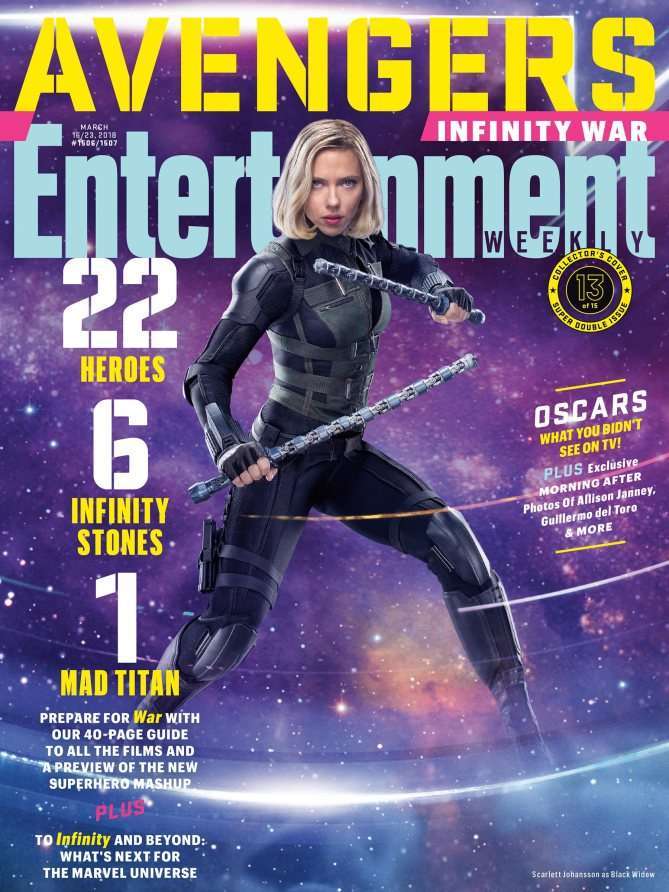 This cover shows us the full look of Black Widow's new suit and she is sporting a lot of green this time around.
CAPTAIN AMERICA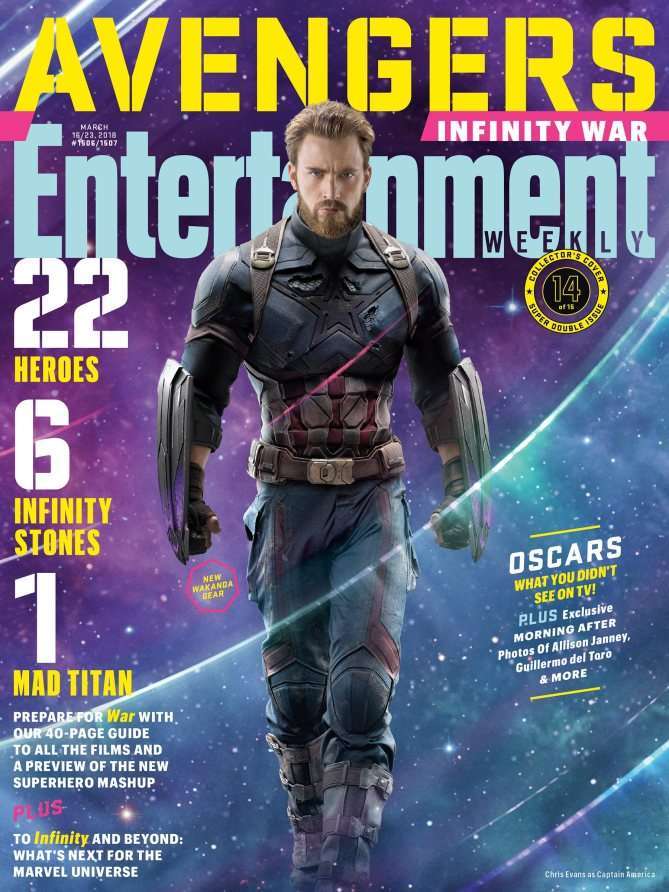 Honestly, the beard looks funny in this cover but we know that it will be fixed. He is wearing his new Shield gauntlets and looks to have been changed drastically as a person. The suit is all dirtied up and the star has been ripped out. Well, Cap will be leading 'Secret Avengers' in his fight against Thanos and his forces in the Nomad suit with a new Shield to be made by Black Panther's guys.
 FALCON AND GAMORA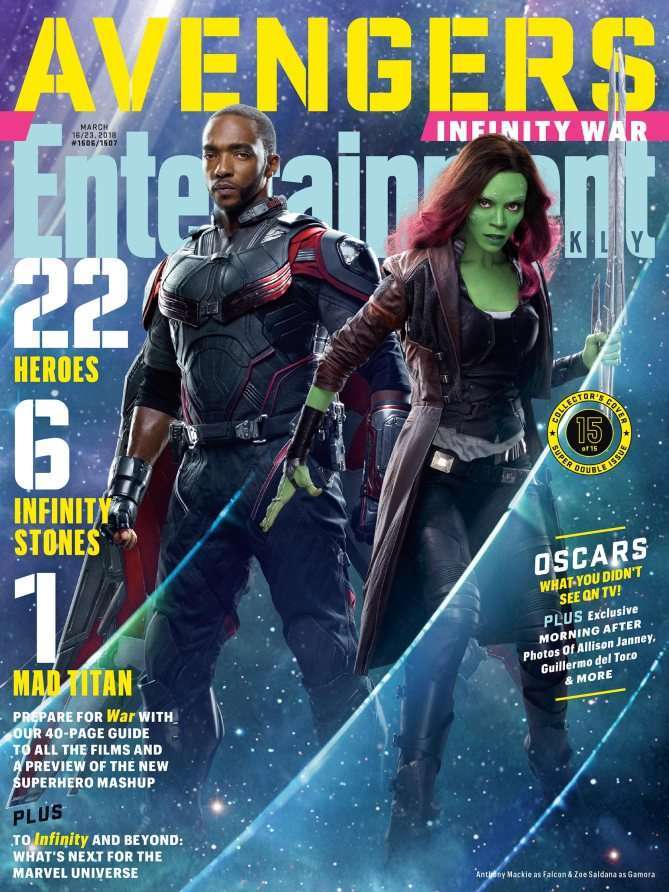 Falcon seems to have a new style of beard, and other than that, nothing seems to look different with both these individuals. Well, this is definitely the strangest of all pairs.
GROUP COVER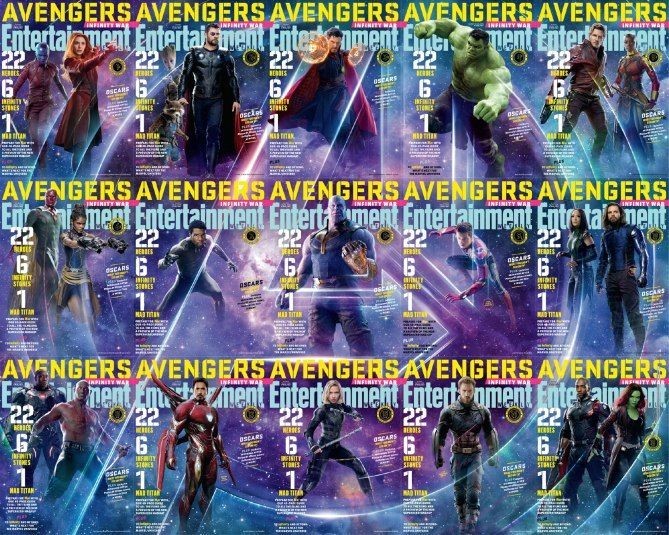 This is the assimilation of all these covers, and each and every one looks marvelous when compiled together. But still Ant-Man and Hawkeye are nowhere, but we know that something amazing related to them is being saved for us. Avengers Infinity War will open on April 27, 2018.
The movie is directed by Joe and Anthony Russo aka Russo brothers and produced by Marvel head Kevin Feige. There are also a set of executive producers including Louis D'Esposito, Victoria Alonso, Michael Grillo and chief architect of Marvel comics Stan Lee. The screenplay has been written by an amazing duo – Christopher Markus and Stephen McFeely.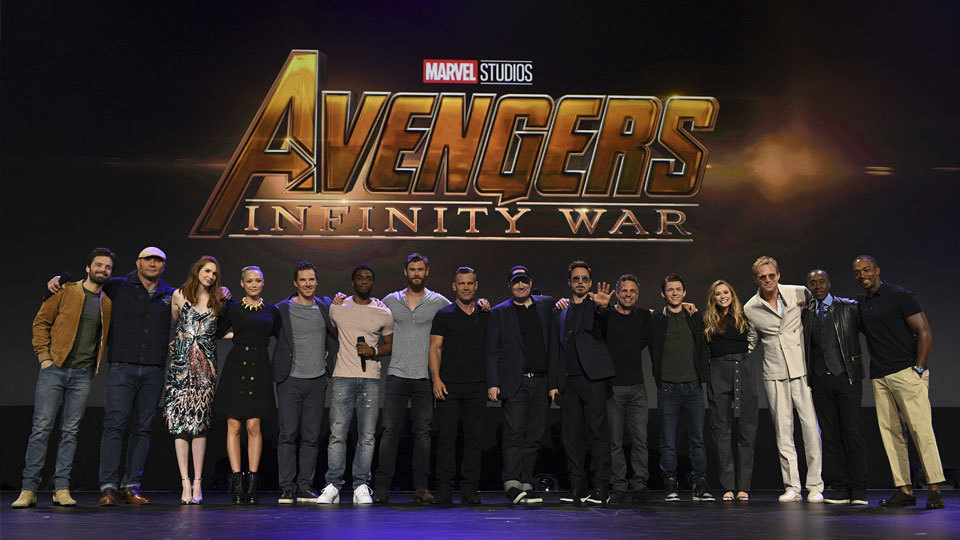 It has got a stellar casting including Robert Downey Jr. (Iron Man), Chris Evans (Captain America), Anthony Mackie (Falcon), Sebastian Stan (Winter soldier), Chris Hemsworth (Thor), Mark Ruffalo (Hulk), Scarlett Johansson (Black Widow), Jeremy Reiner (Hawkeye), Benedict Cumberbatch (Dr. Strange), Tom Holland (Spiderman), Letitia Wright (Shuri), Chadwick Boseman (Black Panther), Paul Rudd (Ant-Man), Evangeline Lily (Wasp), Elizabeth Olsen (Scarlett Witch), Paul Bettany (Vision), Tom Hiddleston (Loki), Josh Brolin (Thanos).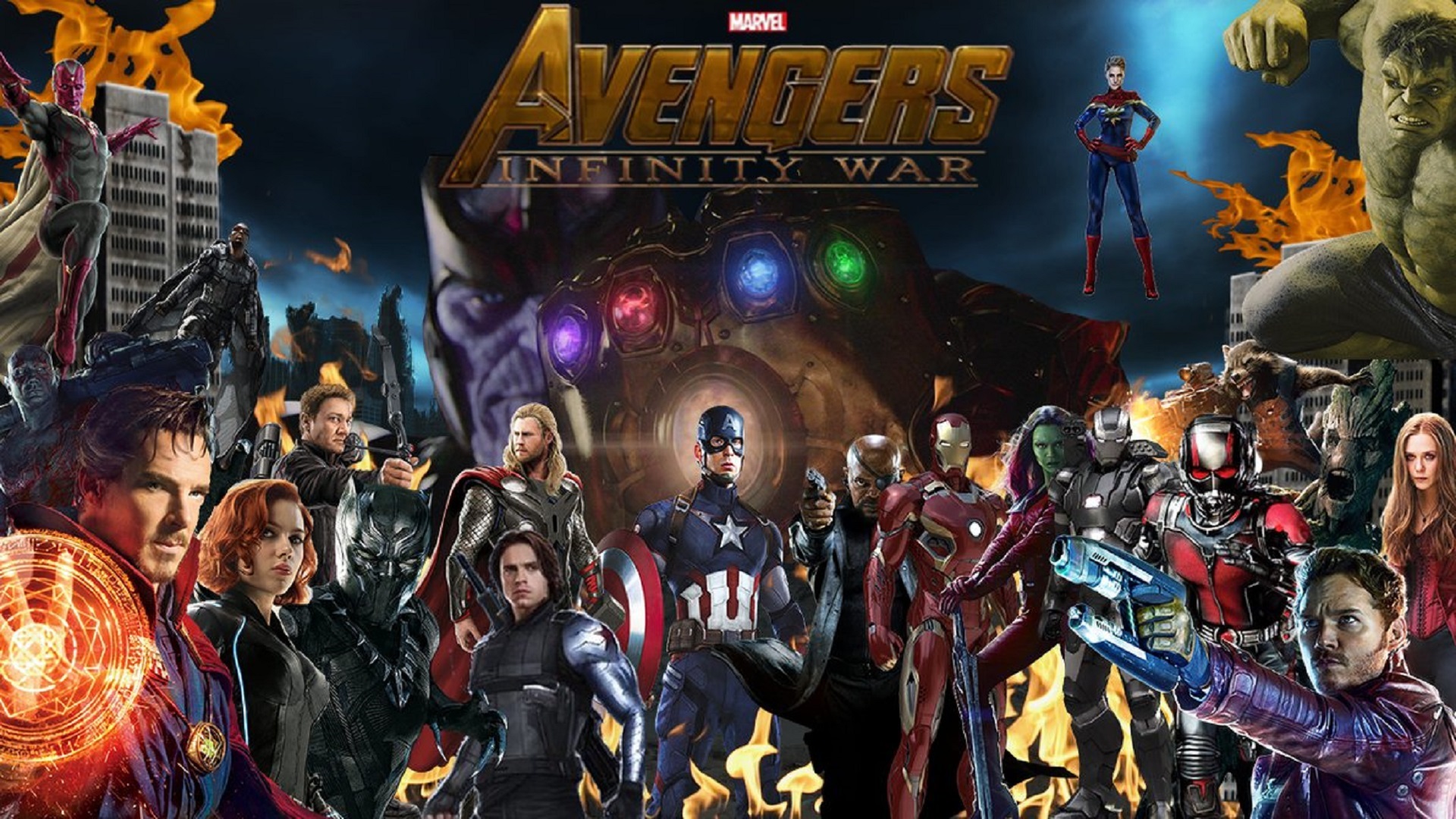 The official synopsis for the movie released by Marvel studios is as follows:
"As the Avengers and their allies have continued to protect the world from threats too large for any one hero to handle, a new danger has emerged from the cosmic shadows: Thanos. A despot of intergalactic infamy, his goal is to collect all six Infinity Stones, artifacts of unimaginable power, and use them to inflict his twisted will on all of reality. Everything the Avengers have fought for has led up to this moment – the fate of Earth and existence itself has never been more uncertain".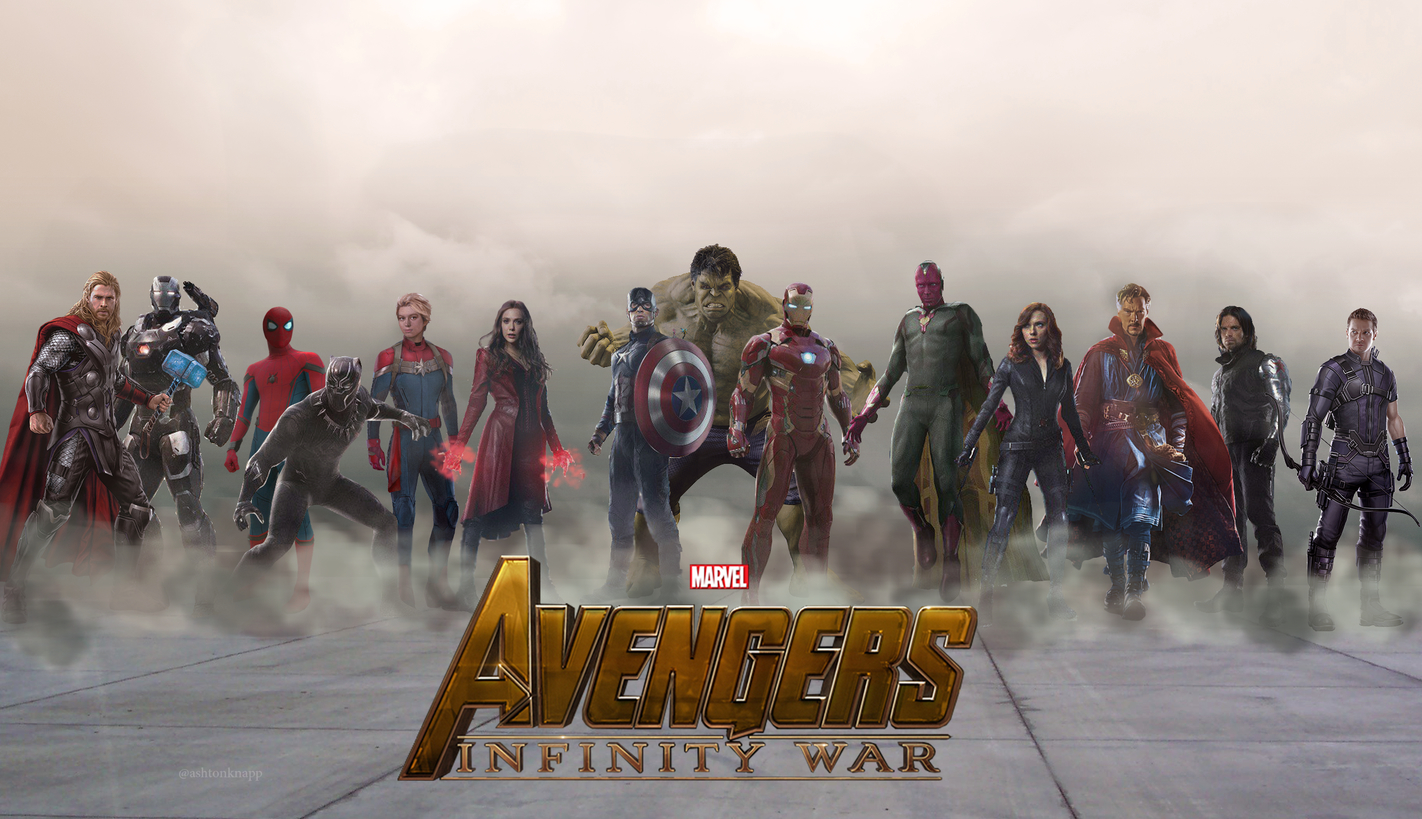 "An unprecedented cinematic journey ten years in the making and spanning the entire Marvel Cinematic Universe, Marvel Studios' "Avengers: Infinity War" brings to the screen the ultimate, deadliest showdown of all time. The Avengers and their Super Hero allies must be willing to sacrifice all in an attempt to defeat the powerful Thanos before his blitz of devastation and ruin puts an end to the universe".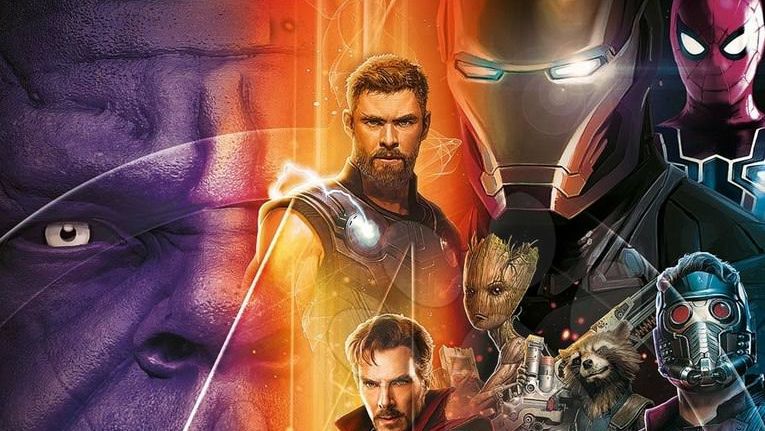 "Iron Man, Thor, the Hulk and the rest of the Avengers unite to battle their most powerful enemy yet — the evil Thanos. On a mission to collect all six Infinity Stones, Thanos plans to use the artifacts to inflict his twisted will on reality. The fate of the planet and existence itself has never been more uncertain as everything the Avengers have fought for has led up to this moment".
Don't Miss: 15 Upcoming Non-Superhero Movies To Look Forward To In 2019