Heidi Klum is a supermodel who is well-known for being provocative and bold. Heidi Klum sparked an online frenzy as she flashes her bare body in a new sizzling shower clip that showed her hot figure. Heidi Klum has been soaking up the sun with her boyfriend Vito Schnabel on a luxury yacht. Heidi Klum is 44 and has 3.8 million Instagram followers who got a glimpse of her side-boob (which is a thing now) as she covered her breasts as the water trickled over her body.
//platform.instagram.com/en_US/embeds.js
Her fans were quick to respond. One said "OMG", another posted "Hooottt".
//platform.instagram.com/en_US/embeds.js
In another picture, she put the caption We LOVE you St. Barth Thank you ….until next time !!!!!! 😘 #familievacation #Love #fun#Thefastest10daysever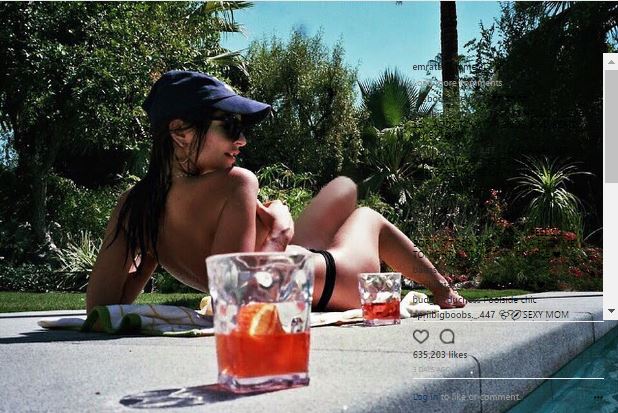 She is not the only one who is recently engaging her fans with hot pictures. Emily Ratajkowski is a model turned actress who starred in popular movie Gone Girl. She just went a step further and decided to go topless and enjoy the sun gently warming her body.
She took another saucy picture with her lying beside a pool in her bottoms with cocktails next to her. She also stripped topless for a mirror selfie.
On her naked images on Instagram, she said to an Allure magazine:
"It really bothers me that people are so offended by breasts. That's when I realized how f***ed our culture is. When we see breasts, we don't think of beauty and femininity. We think of vulgar, over-sexualized images."
Sofia Vergara is extremely talented and vivacious actress popular for her role in Modern Family TV series. She is 45 now and is still one of the hottest stars in the industry.
She did a shoot for the magazine cover of Women's Health where she is totally naked as it's the theme of the issue. Here's what she had to say: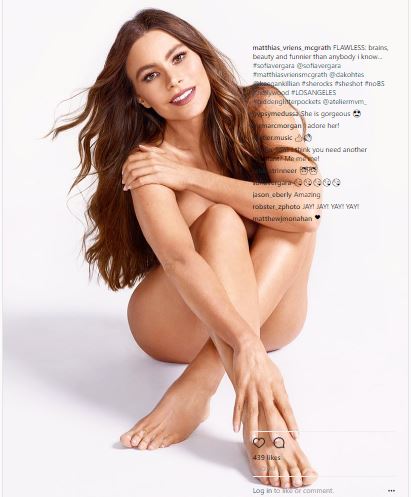 "I told my agent, 'I'm going to be 45 years old! Stop putting me in naked things! Let me age with dignity!' People say, 'Oh, you look like you're in your twenties.' Well, it's not true. Our skin is different. I had never thought of the word pore, then I'm like, 'Sh-t! What do I do with these?' [I agreed to the shoot because] here's a woman, 45, being able to show her body. It's not like before when it was just young girls."
She added:
"I don't start cheating until Thursdays! We were shooting 'Bent' in Rome, and I was eating like I'm on my honeymoon—how can you not eat in Rome? I ate like an animal! Most photo-shoots are all of tall models holding their boobs with one arm. But I can barely cover my boobs with two arms—I'm a 32-triple-D! My boobs are real, and I had a baby. If I grab them, I can't even cover the nipple!"
Miley Cyrus is willing to let her clothes hit the floor at the earliest opportunity. Her new image is that of a West Coast hippie with her country pop style that catapulted her to fame in the 2000's.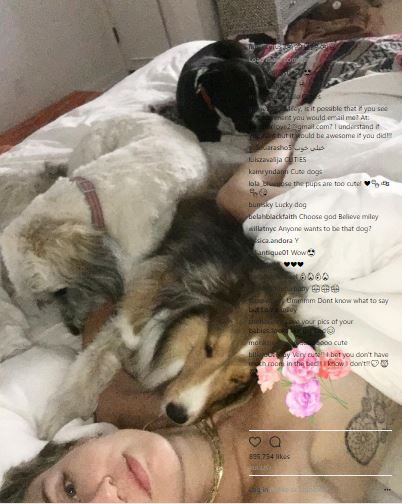 Recently, she posted her own image on Instagram where is lying on her bed topless with her dogs. The image is not as provocative as tabloid magazines are making it out to be given the nudity benchmarks Miley has set for herself. Sure, she could have covered herself but she is better when she let it all go.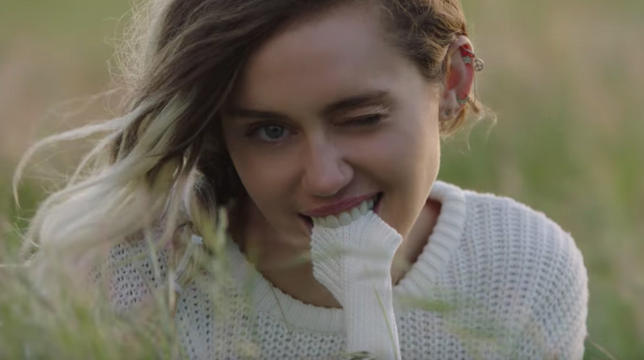 In an interview with ITV's Lorraine, she talked about her new sound and image:
"I feel like I proved what I wanted to do. I feel like I have respect and I feel like my charity Happy Hippie has given me that and I feel like I have the respect as an artist that I want, so it's less that I have to prove myself, and that gives me a lot of contentment. I think that makes me have more freedom in my music, because I feel like I can really just be myself and my fans are so accepting of me. But it's just hard for people that are looking out from the outside inside my life all the time and going through every little thing."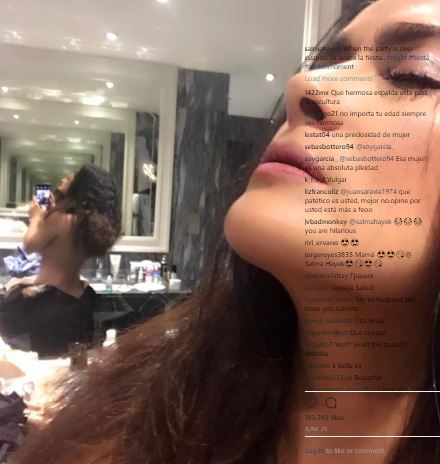 Recently, Salma Hayek posted her topless mirror selfie on her instagram page proving that one can be hot as hell at any age and it's never too late to have a figure to die for. The caption of the image says "When the party is over" in both Spanish and English. When you look at this saucy shot, you will feel party has just begun.
She is one of the hottest Mexican actress working in Hollywood today. She is a veteran who has been there in the industry for over 25 years, she turned 50 last year and she is still ravishing as ever. It seems aging hasn't caught up with her as she continues to be sexy and drop dead gorgeous.
Recently, in an interview with a lifestyle magazine DuJour, she rejected "botox" as a measure to look beautiful and talked about "ageing gracefully". She want to look like a "lovely lady" into her 70's. She said:
"Listen, if there was something you could do that would keep you looking good, I would do it. But I'm in love with my husband, and I want to look like a lovely lady when I'm 70. I want him to see me and think, 'Okay, my girl is old now, but there's still beauty there.'"
Well, you just can't get enough of these awesome women. CHEERS!
Don't Miss: 26 Most Controversial Images Of Kim Kardashian Which Broke The Internet