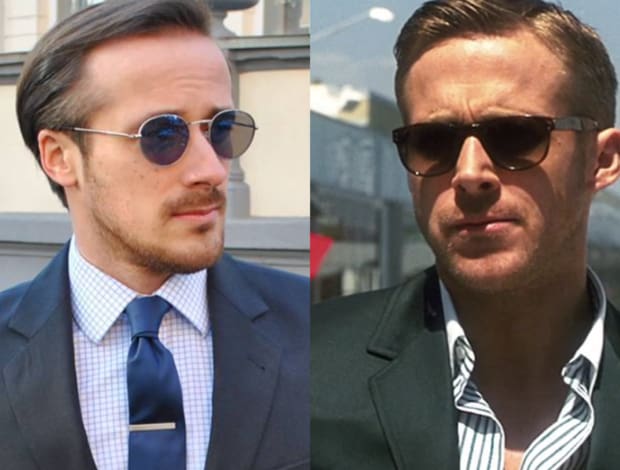 Ryan Gosling is one the suavest and handsome actors working in Hollywood today. He has a massive female fan following and everywhere he goes he is almost accosted by female attention. He starred opposite Rachel McAdams in "The Notebook" which made him a heart-throbbing celebrity. His killer looks and an ability to make girls cry made him desirable. But what if you come across a law student who is shockingly similar to Ryan Gosling, you will stop and take notice.
Johannes Laschet, an online blogger and Law student is almost a mirror image of actor Ryan Gosling. He not just looks like him, but he dresses like La La Land actor too. This is not the first case of having found doppelganger of a famous celebrity, but this one is particularly shocking. Here're some of his official Instagram pictures:
The caption reads – Casual office Look for Fridays with a white Jackett made out of linen. Feels like a Stairway to Heaven. Hello, there sweet weekend.
The caption reads – The warm weather makes the outfit today. Bright colors and light fabrics. Enjoy your weekend everybody!
The caption reads – Tomorrow I will leave Germany for @pittimmagine in Florence with @gentleszym and @chorengel . Really excited for the most stylish place on earth.
Do you believe this? The law student told GQ magazine that being Ryan Gosling can be exhausting when asked how it feels to be constantly compared to another human being. He said:
"It often occurs and sometimes is exhausting. It's better than when people say, 'He looks like Danny DeVito".
Recently, the internet went crazy when two Instagram users Kari Lewis and Megan Flockhart bears a shocking resemblance to Emma Watson and it's not wizardry. Another case of Edsel Ched, a young girl who looks similar to actress Chloe Grace Moretz. Well, doppelgangers do exist.
Don't Miss: All Spiderman Villains Ranked From Worst To Best