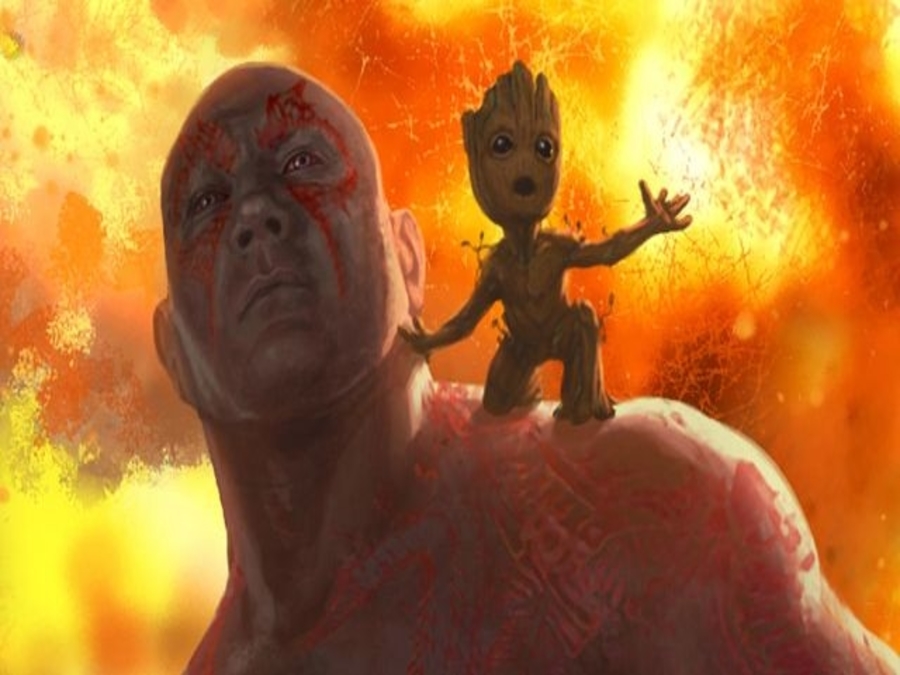 For anyone who has seen Guardians Of The Galaxy will know, Groot who is a pivotal character whose actions saves the Guardians from many dangers all the while saying only three words for every interaction he makes in the movie-"I AM Groot." And the last we saw of the fan favorite, the once gigantic tree-like being had been turned into a very cute sapling of a being leaving Rocket Raccoon to care for the little baby Groot. As Guardians of the Galaxy Vol. 2 will take place only a couple of months after the first film, the sentient being has not grown back into its adult form, instead will look more like a toddler who will fit at the crook of Rocket's shoulder.
Which leads many to question-Who will voice Baby Groot?It should be noted that Groot is voiced by Vin Diesel who has a very raspy deep-toned voice, nothing that seems close to a baby's voice which does seem like a complicated problem and a costly one at that if they used voice altercation.
Director James Gunn was asked about this supposed problem for the new film by fans and the Twitterverse, which Gunn answered on Twitter. When asked by a fan if Diesel's usual voice will be used, the director replied that it would be "science fiction." But then later elaborated when asked by another fan, stating that Diesel is 'an actor capable of doing all sorts of voices,' which basically confirmed many speculations about Baby Groot's voice. Gunn also confirmed that Baby Groot doesn't grow up in this sequel. When a fan asked if we'd be seeing Baby Groot through "most of the movie," the director responded that "Most (of the movie) would likely be an understatement."
Simply because I'm getting asked this question more than any other. #BabyGroot #GotGVol2 pic.twitter.com/dNwjQOFGDO

— James Gunn (@JamesGunn) September 4, 2016
Movie lover who writes about movies.