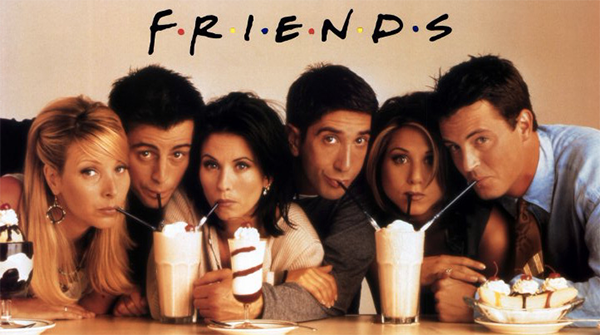 There will be no human on this earth who hate this sitcom about the gang of 6 reckless friends. And you will cherish some of its moment till your last breath. Here are top 5 F.R.I.E.N.D.S moments that will always be there for you!
 Pivot "The one with the Cop"
Ross was responsible for some of hilarious moments on the show. Who can forget the moment when he attempted to play the bagpipes. But for me, a hilarious one is when he gets a new couch but refuses to pay for movers to help get it up to his apartment. He enlists Rachel and Chandler to help him. Unfortunately, the couch got stuck and Ross attempts to direct his friends by repeating the word pivot over and over again, eventually, Chandler got irritated and snapped shut up shut up!
Monica with the Turkey on her head "The one with all the Thanksgivings"

One of the things this show did best effectively mixed comedy with serious topics. Chandler learns the reason he lost a toe because he called Monica fat, he angrily storms out of the room. Monica attempts to cheer him up by wearing the Thanksgiving Turkey on her head.
She Got off the Plane "The Last one"

There is no denying of Ross and Rachel's relationship was one of the main story lines of friends. Beginning with their first kiss, they were on again off again throughout the series with things looking bleak in the finale as Rachel boarded a plane for her new job in Paris.
Phoebe Tries to Seduce Chandler "The one where everybody finds out"
After discovering the secret relationship of Chandler and Monica, Phoebe decides to force the truth out of them by pretending to be romantically interested in Chandler. Things come out of control when Phoebe exposes her bra and attempts to seduce him.
The seven Erogenous zones "The one with Phoebe's uterus"

Monica's depiction of the seven erogenous zones is completely hilarious. Monica attempts to coach Chandler with a diagram but soon gets caught up in zones herself and eventually can't even talk.