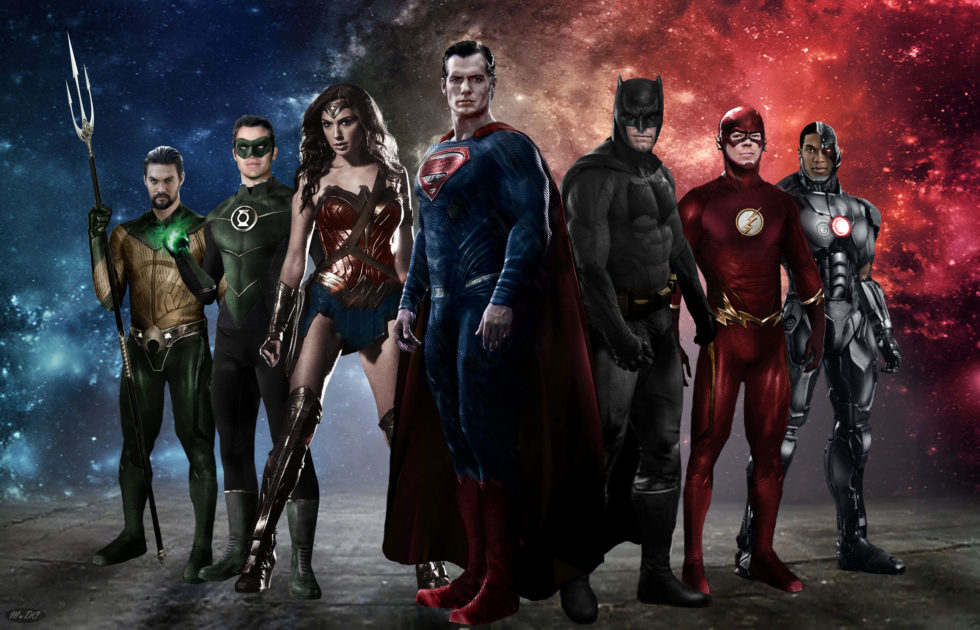 We may not get to see the movie until next year but Warner Bros. has just released the newly revamped logo for the Justice League movie. The logo uses large textured silver/metallic fonts outlined in white set in front of a black background.It has many similarities to the Suicide Squad logo. D.C seems to be making an intentional change to steer itself away from the Marvel Cinematic Universe as its going with darker aesthetic and tone — at least for this film.
In an interview with Collider, Zac Snyder confirmed that he had drawn the Batman V Superman and Man Of Steel logo himself, and since justice League is a film helmed by Snyder, the website speculated if the Justice League Logo was from the director himself. Snyder had said:
"The Batman v Superman logo I drew so long ago. I know there's versions of it that existed anyway, but that one, in particular, I [drew]. The thing that's kinda cool about the Batman suit [and] our Batman logo is that the dimension is the same as the Man of Steel logo, the bottom of the bat. So I said, "No, it's cool. It's okay. It's mythologically okay."
Whether the logo is Snyder's creation has not been confirmed. This is but the second press release by WB in showcasing the Justice League movie this year. The trailer for the movie premiered in July.
The film finds Batman and  Wonder Woman putting together a team of superheroes after the death of Superman, which includes Aquaman and The Flash to fend off an extraterrestrial threat, Steppenwolf. The tone of the film, like many Snyder movies, seems to be darker in tone as compared to David Ayer's Suicide Squad. In recent interviews, Ezra Miller and James Wan have assured fans that their films, The Flash and Aquaman, will be much more fun.
Justice League is a long way from being released,and for now,we can only speculate from the little materials that have been available so far. Warner Bros. will only amp up or give more teasers for promotion as the year closes to an end.
Suicide Squad is in theaters now. Wonder Woman opens on June 2, 2017; Justice League on November 17, 2017; Aquaman on July 27, 2018; an untitled DC Film on October 5, 2018; Shazam on April 5, 2019; Justice League 2 on June 14, 2019; an untitled DC film on November 1, 2019; Cyborg on April 3, 2020; and Green Lantern Corps on July 24, 2020. The Flash, the Batman solo movie and Man of Steel 2 are currently without release dates.