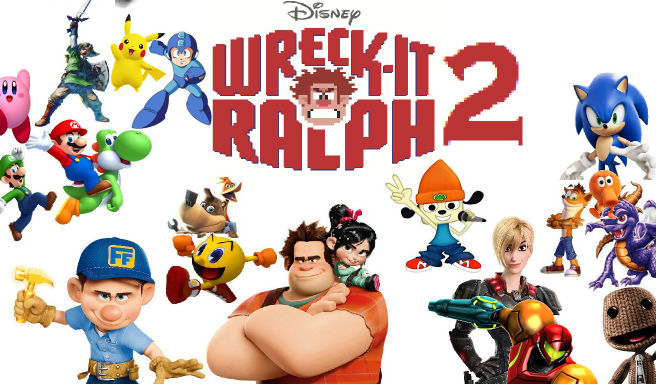 For all you animated movie buffs (including me!) another major animated sequel is in production and this time it's none other than Wreck-It Ralph with his partner in crime Vanellope. In a recent announcement or rather on a live Facebook broadcast Disney announced Wreck-It Ralph 2 would release on March 9, 2018.
In the first part, Ralph is a villain who wants to become a hero and sets out on an adventure to fulfill his dream of becoming a hero, but his quest only brings havoc to the whole arcade where he lives.
While the new concept art released on Facebook Live shows Ralph voiced by Reily himself, going digital, standing with sidekick Vanellope von Schweetz, voiced by Sarah Silverman in the first film. The art features parodies of major online brands like Google, Amazon, and more.
The studio also showed the first concept art for the sequel which they later shared on Twitter: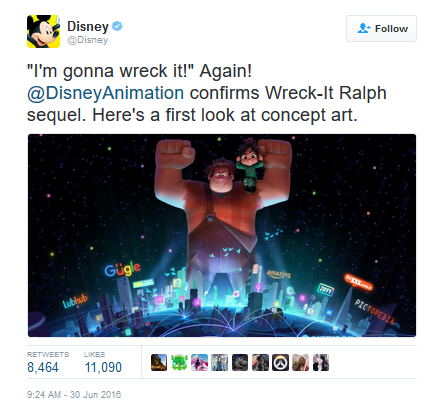 Reily has been constantly teasing the fans with bits and pieces of the movie plot, saying "It's top secret but I'll tell you this much… Ralph leaves the arcade and wrecks the Internet," Reilly teased. "What could go wrong?" well, knowing Ralph I bet many things could go wrong.
Director Richard Moore had indicated earlier about the possible sequel of Wreck-It Ralph with IGN, going on to say that he'd like to feature Mario in the upcoming sequel. Moore had expressed his desire to make a sequel of Wreck-It Ralph since its release in 2012, exploring the online game and would also love to do a cameo of Tron in the film.
Though recent Disney Animation Studios pictures have been proclaimed as record successes, Wreck-It Ralph made an impressive box office collection when it hit theaters in November 2012.
The movie, released in 3D, managed to collect $189 million domestically and just under $500 million worldwide, becoming the 12th-highest grossing film of that year.