News
9 Harry Potter Stars Who Flocked to Game of Thrones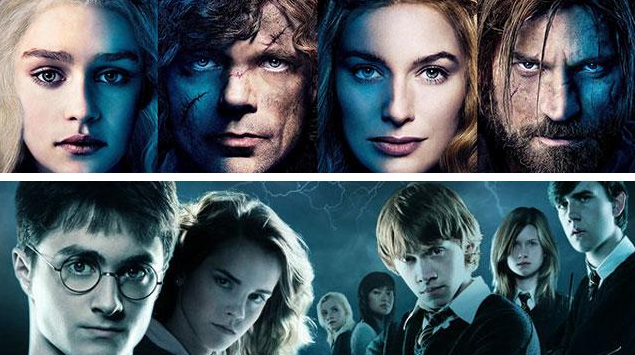 Over the years we have switched our likings from Harry Potter magical world to a world of Game of Thrones where you either win or you die. But did you know that some of your favorite Harry Potters stars have also evolved to characters from Game of Thrones? Check out the list:
1. Michelle Fairley as Catelyn Stark and Mrs. Granger
A mother to Starks in Game of Thrones, and muggle mother to Hermione Granger in Harry Potter and the Deathly Hollows.
2. David Bradley as Walder Frey and Argus Filch
Betraying the Starks and hosting the Red Wedding is the awful head of House of Frey, Bradley has done some good being Hogwarts caretaker.
3. Natalia Tena as Osha and Nymphadora Tonks
Helping Bran and Rickon escape from Winterfell, Natalie has traveled a long way from her role as feisty Nymphadora, the wizard with multi hair color.
4. Ciarán Hinds as Mance Rayder and Aberforth Dumbledore
Before being sentenced to death by Stannis Baratheon, Mance was the King Beyond the Wall, while he played the righteous brother to Albus Dumbledore in Harry Potter.
5. Freddie Stroma as Dickon Tarly and Cormac McLaggen
Brother to Sam Tarly, Freddie also played the role of Cormac, the flirty Quidditch player, one of many Hogwarts students.
6. Julian Glover as Grand Maester Pycelle and Aragog
The mean old man playing advisor to the Lannister is seen voicing the role of Aragog the giant scary spider.
7. Stephen Dillane (Father) / Frank Dillane (Son) as Stannis Baratheon
The would be king of Stannis is the elder Dillane, while son Frank Dillane played the role of young Tom Riddle aka Voldemort.
8. Ian Whyte as White Walker, the Mountain, Wun Wun Giant and as Madame Olympe Maxime
Standing at 7"1, he's portrayed many characters from Game of Thrones and Harry Potter.
9. Sally Mortemore as Irma Pince and Braavosi Woman
Seen sitting next to Snape, played the role of Librarian at Hogwarts in harry Potter and Chamber of Secrets, can also be seen in Game of Thrones as a Braavosi woman in season six.