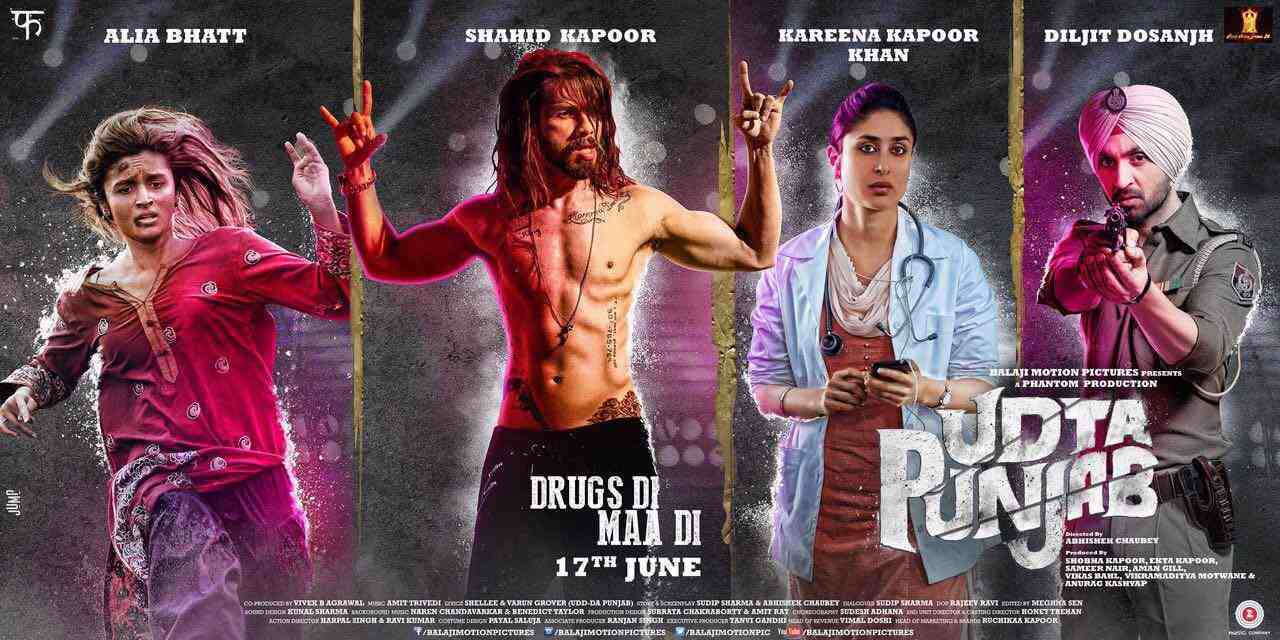 After all the controversies and tensions Udta Punjab is finally out in the theaters. The movie is directed by Abhishek Chaubey. Shahid Kapoor, Diljit Dosanjh, Kareena Kapoor and Alia Bhatt play the lead roles. Is the movie worth all the buzz and hype? Let's find out.
In the opening scene of the movie, we are shown that someone throws a packet of heroin towards the border of Punjab. There begins the pulsating and dark shaded story of Punjab. The movie focuses on the life of four characters, Rock Star Tommy Singh (Shahid Kapoor), a migrant laborer from Bihar who is referred as Mary Jane only in the climax (Alia Bhatt), Doctor Preeti Sahni (Kareena Kapoor), and a Police officer named Sartaj Singh (Diljit Dosanjh). The lives of four of them are affected one way or the other by a single factor; Drugs.
The movie is so realistic and touching as well as entertaining. Abhishek Chaubey and Sudip Sharma did a wonderful job by penning the movie with a subject that will haunt you and make you think. Rajeev Ravi is highly talented both as a director and cinematographer. He did a commendable work by capturing both the beauty and darkness of Punjab. The songs by Amit Trivedi were catchy and perfectly synced with the story. The background score by Benedict Taylor and Naren Chandavarkar also requires special applause.
Coming to the performances, everyone did an excellent job. Shahid Kapoor is so perfect and cool Tommy Singh. He is growing bigger and bigger as an actor. Haider was the last film which utilized his acting potential and now it's Udta Punjab. One thing that Kareena Kapoor hasn't lost in all these years is her screen presence and you will be delighted to watch her on screen. Diljit Dosanjh delivers a charming and subtle performance with ease. But the show stealer is the gorgeous and highly talented Alia Bhatt. She completely overpowers everyone with her stunning performance. She will make you feel and cry for her.
After watching the movie, you guys will feel like slapping the censor board members who demanded a ban on the movie. They don't have any sort of problems with movies like Mastizaade, One Night Stand, Great Grand Masti etc. but they want to ban a movie like Udta Punjab which has a strong social message against the use of drugs. These guys should feel ashamed of themselves.
Udta Punjab is not promoting drugs or urging anyone to use it, rather it showcases the miserable and sympathetic life of the drug addicts especially the youth. The director warns the political leaders and Police offers of Punjab that if they hesitate to take necessary steps to eradicate this social evil from their state at least by now, Punjab will soon become a Mexico! But how is it possible to eradicate drugs from a state where the political leaders and Police officers are the main drug dealers?!
Udta Punjab is one of the best Hindi films in the recent years and undoubtedly the best film of this year so far. This one is a must watch from the theaters. Rush to the nearest theater and grab your tickets as the movie is worth every penny you spend.
Joyal is an ardent movie lover and he tries to watch all the movies at the very first day of its release and even the very first show. He loves to remain simple always just like his inspirational hero Ajith Kumar (Actor). His love for Paul Walker is never ending and he misses him like anything. He loves his sister more than anything else in this world. One of his most favorite hobbies is to review movies, but he never rates them. According to his concept, he is no one to rate someone else's work. The ultimate aim of his life is to become a script writer in the Malayalam film industry.