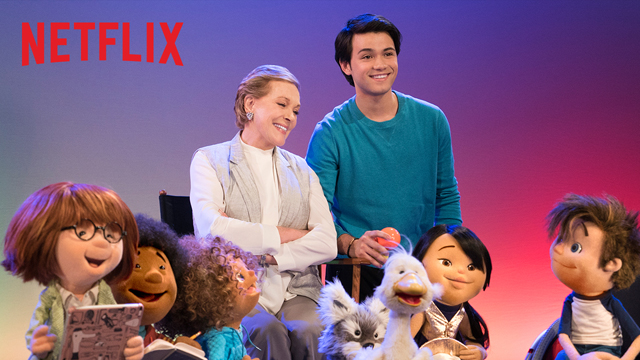 Award-winning actress Julie Andrews will star in Netflix and Henson series – Julie's Greenroom, a new primary school show featuring kids in the form of puppets, learning and performing arts under the guidance of The Jim Henson Company. There will be total thirteen episodes of thirty minute each, the premier worldwide on Netflix in early 2017.
Julie Andrews, the creator of the series along with her daughter Emma Walton Hamilton and Judy Rothman-Rofe, will star as Mrs. Juile as a director of the art performing center named as the Wellspring Center for the Performing Arts, where Mrs. Juile  will teach how to carry out art both in her Theatre and Greenroom. Mrs. Julie, along with her assistant Gus teach art to new generation kids in the form of puppets known as the "Greenies". Greenies are the original puppets created by  the renowned Jim Henson's Creature Shop. The Greenies include a diversity of kids who are fascinated by all the arts performed. Under the inspiration and guidance of Mrs. Julie and several visiting guests, the kids created an entirely new show that is the mashup of several art forms like circus art, mime, dance, music and more. Every episode will welcome a guest star, who will guide kids on some specific art form. The implausible array of committed guest stars includes Robert Fairchild, Ellie Kemper, Idina Menzel, Tituss Burgess, Carol Burnett, Josh Groban, David Hyde Pierce.
According to Mrs. Julie, it is a long-term project to teach children about the wonders of the arts. This show is a new way to develop interest among the children regarding arts and creating a new era of puppets in this animated world. The shooting of the show already started in May in  Long Island, New York. Julie's Greenroom is a Netflix original production with Julie Andrews, Emma Walton Hamilton, and Steve Sauer as executive producer.  Lisa Henson and Halle Stanford will be representing The Jim Henson Company. Joey Mazzarino an Emmy Award-winning actor and writer is co-producer and director, while Tom Keniston is the producer of the show.