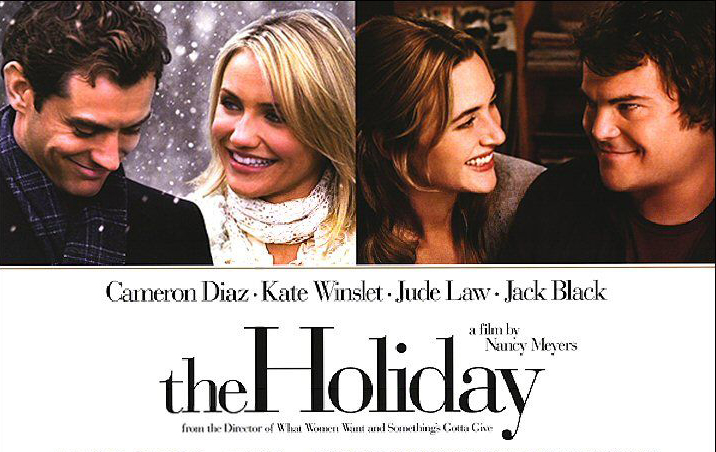 The Holiday, starring Kate Winslet and Cameron Diaz, where the two girls, Iris, and Amanda, exchange homes for two weeks over Christmas, is one of a kind. It teaches us not to lose hope in the worst of times. It teaches us that love awaits all of us, sooner or later, we are going to find it, just as we are going to find happiness too.
ANYTHING CAN HAPPEN
Iris is definitely enjoying her stay in L.A. at Amanda's place, while one morning, at the pool, she develops a thinking process wherein she repeats the lines said Miles the first time they had met. She utters the words out to herself, beautifully enough to make us believe, that ANYTHING CAN HAPPEN.
FROM THE MOMENT I MET YOU, IT'S BEEN AN ADVENTURE
Amanda's surely not the sort of girl Graham has met before. As he exclaims the very first time itself, when he meets her that she has turned out to be one of the most interesting girls he had ever met. Now as Amanda behaves very much like her own self, he claims the truth that he feels. FROM THE MOMENT HE MET HER, IT REALLY HAD BEEN AN ADVENTURE FOR HIM.
YOU'RE SUPPOSED TO BE THE LEADING LADY OF YOUR LIFE
Arthur is the best character in the film. Not that the others are bad, but he turns out to be the one who makes us learn most of the things. He well explains why age is supposed to be one big factor to wisdom. But he better explains that more the experience better is the ideology of an individual. As Iris feels bad, he explains it to her in such a beautiful manner, saying –
"in movies, we have the leading lady and the best friend, you, my dear, are supposed to be the leading lady but for some strange reason, you are behaving as the best friend."
Iris understands him and says it beautifully too "YOU ARE SUPPOSED TO BE THE LEADING LADY OF YOUR LIFE, GOD DAMN IT."
I'M GONNA BE MYSELF. IT'S NEVER EASY, BUT I'M GONNA TRY
Everybody has their strange own personas and so does Amanda. Graham and her start talking to each other while she behaves strangely for a first date. Finally, surrendering, once again. She exclaims, "I'M GONNA BE MYSELF. IT'S NEVER EASY BUT I'M GONNA TRY."
This one thing said by her, teaches all of us that we must never be scared of being who we really are. We must understand, however much difficult might it be but we should never settle for who we are not. One should always remain the true individual they are, never being ashamed of it.
IRIS, IF YOU WERE A MELODY
Miles, the beautiful melody creator, has certainly fallen in love with Iris, which, they are both unaware of. While one evening they sit together, he plays to her, a beautiful note, saying what she would sound like if she was a melody. Adding to the happiness of the moment is the part where he says 'I used only the good notes.'
He exclaims to be one of the sweetest people alive for he creates something of her that he excels in, that he is passionate for and loves.
MAYBE IT WON'T GET ANY BETTER THAN THIS
As weird as Amanda is, as scared as she is, she finally turns out to exclaim it to Graham that probably, that was all they could have, that was it. That, maybe, it wouldn't get any better than what they already had. It's another truth of life. We get a lot in life. Most of the times, we are not satisfied. What we must understand is that sometimes, probably, what we have is the most we can have. Maybe, it wouldn't get any better than what we already have and we must be happy with it.
That is the truth, we must be happy with what we get, one might never know if they get a lot more than that too, but there isn't any harm in staying happy at the moment too.
I CAN'T FIGURE OUT THE MATHEMATICS OF THIS, I JUST KNOW I LOVE YOU
Love is something we experience every day, for someone or the other. If not the feeling of love for a certain person, but maybe, for our family as well. It really is inexplicable. Just as rightly said by Graham, he couldn't have figured out the mathematics of it for there doesn't exist one. He just knew that he was in love with Amanda.
NOW, I'M GONNA KISS YOU FOR A MILLIONTH TIME AND SAY, "BE SEEING YOU"
The unsaid rules are a promise to meet again. Turned out, Amanda and graham set no rules for themselves as they hoped to meet again. As a matter of fact, Amanda says it clear while she kisses him goodbye and says "BE SEEING YOU." That is an utterly beautiful moment.
Also Read: List of Best Unknown Romcoms Movies That Are A Must-Watch