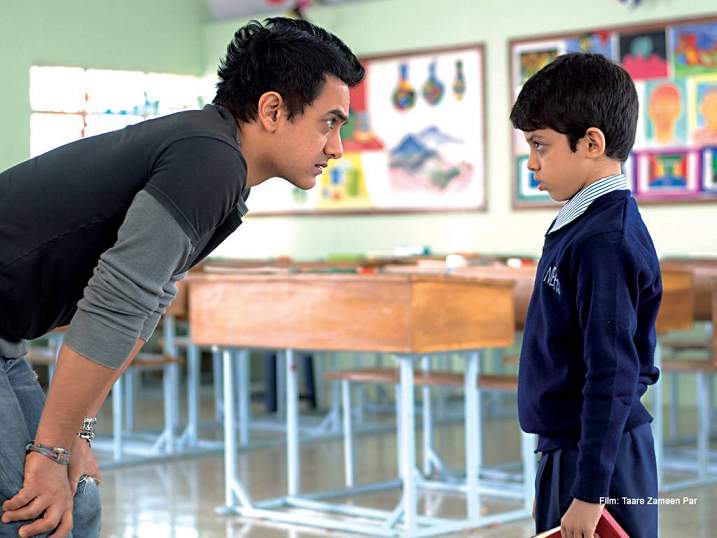 Art is always considered to be the best medium to spread awareness. The only thing that matters is how aesthetically one portrays it.
Hindi Films have not just showed dance, drama, romance and action. Many times they have shown the issues of disabilities beautifully. Here is a list of seven such movies.
Paa
This Amitabh Bachchan starrer R Balki directed movie depicted Progeria. From the story to de making everything was beautifully done. The subject came emotionally and touched everyone. Amitabh Bachchan portrayed the character that has the disease. The effects caused in the characters life due to the disease are fantastically shown.
Black
This Sanjay Leela Bhansali movie starring Amitabh and Rani in pivotal role was about Alzheimer disease. The acting, the making and the fine background score made each and every scene emotionally strong. It also showed that it is always important to remain positive in every situation. The struggle of the main character did bring tears to our eyes.
Taare Zameen Par
Aamir Khan's directorial debut was about a young boy Ishan's struggle with Dyslexia. The movie showed how things like studies and success takes a lead in life. It depicted the Parent-children relationship with ease. The song " Ma" playing in the background when Ishant is left all alone in a hostel room made us feel his situation completely.
My name is Khan
This comeback movie of SRK-Kajol was about Autism. Though it had the main subject as terrorism and its effects. But somewhere the struggle of an Autism hit person was also beautifully shown. The need for love over sympathy was the message given. Karan Johar did a fine job by executing the movie brilliantly.
Karthik Calling Karthik
This Farhan Akhtar & Deepika Padukone thriller was based on Dissociative Identity Disorder. The effect brought by the disease in daily life style of a common person was the backbone of the story. It did weave a mystery around. Slowly the character Karthik is shown getting mad due to the effect of the disease.
Guzaarish
This Hrithik-Aishwaria starrer Sanjay Leela Bhansali movie was about paralysis. The story revolves around the character played by Hrithik who has petitioned for suicide. He wants to end his pathetic life of paralysis. The emotions and need for freedom from the pain is shown magnificently. The cinematography had brought life to the characters and made them look real.
Anjali
A story about the mentally challenged only child of a couple had own many a hearts. The movie was sensitive, genuine and emotional. The pain and struggle that parents having children with disabilities undergo was very well shown in this Mani Ratnam movie.
This film won three national awards and was the official entry for 1991 Oscar. The film was originally made in Tamil and later dubbed in Hindi. The last scene where Anjali dies in her sleep not only just touches everyone but also teaches us to accept, love and forgive.