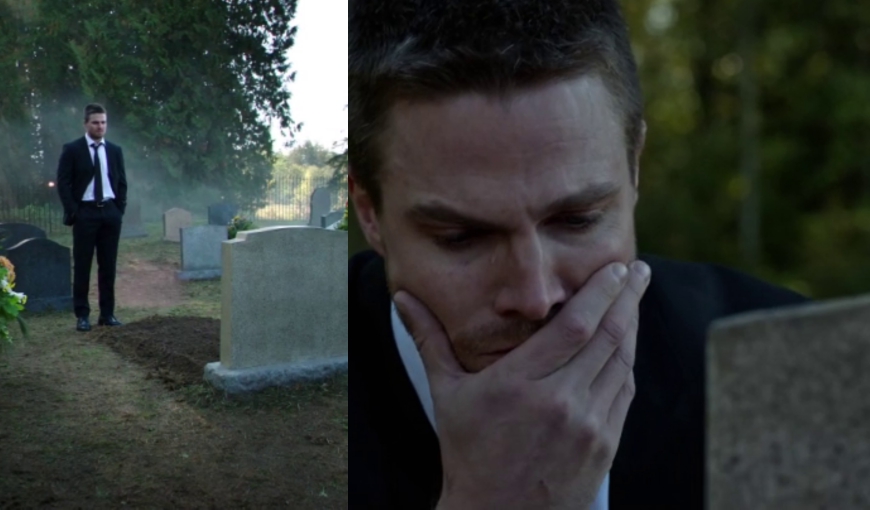 Bam! Boo yeah! Not enough slangs for the season 4 premiere of Arrow. That is how you make a show. As expected, or lets re-phrase, it has gone beyond expectations. With the season 4 premiere, Arrow has scaled to new heights. Arrow Season 4 might set standards for the show to come in the future in this category. Drama, Action, Suspense and Emotion! Did I miss something? Yeah maybe. The perfect episode.
Now, all Arrow fans might have watched the episode and already know it was the best. I dont need to ponder over it. In short, Damien Darhk is amazing and Stephen Amell; boy haven't you grown!
Now, the episode was amazing. I know I am saying it like the zillionth time but just can't do away. Still, I am gonna skip to the last 2 minutes of the episode, when Oliver is standing over a grave with Barry. Now this is 6 months ahead from the present time. So technically, Arrow is now doing it in past, present and future; and we were worried about what will happen after 5 seasons. (Oliver was only gone 5 years; unless a wormhole opened.)
Now who is dead on Arrow Season 4 ? Here are a few possibilities:
First name that came to my mind was Thea. Yes, Speedy was definitely off-track, results of the Lazarus Pit. She was agressive and Oliver was the only one who noticed. Since, Damien Darhk was targeting Arrow's closest relatives, it is possible that Thea in her rage tried to take Mr Darhk alone and ended up paying a very huge price.
Next name, can it be Laurel? Definitely, She was Oliver's first love and he still thinks he was responsible for whatever happened to Sara. So, it could be that Laurel was killed in a fight with the "ghosts".
Please don't hate me for saying this name! Please! I don't want to say it. FELICITY. Yes, it is likely that Felicity could have been killed. Why I am saying this is that Oliver deserves happiness but he can't get it. He has given everything to help people but in return, people closest to him keep dying. Also Mr. Terrific is on the show later this season, so TEAM ARROW will have services of a hacker. But FELICITY is irreplacable. DONT' F**KING kill her!
Now I am gonna give a name which nobody or maybe only a few would have entertained, TATSU. She saved Oliver. She was with him in Beijing and Oliver definitely cares for her. Her son, Akio died and then she had to kill Maseo. So, it could be she died while helping Oliver with Damien Darhk.
If you wanted DIGGLE, NOT A CHANCE!
If any other theory regarding who is dead on Arrow season 4, pops up in your mind, do share in the comments section below!