News
Television
10 Reasons why Lily and Marshall from How I Met Your Mother epitomize love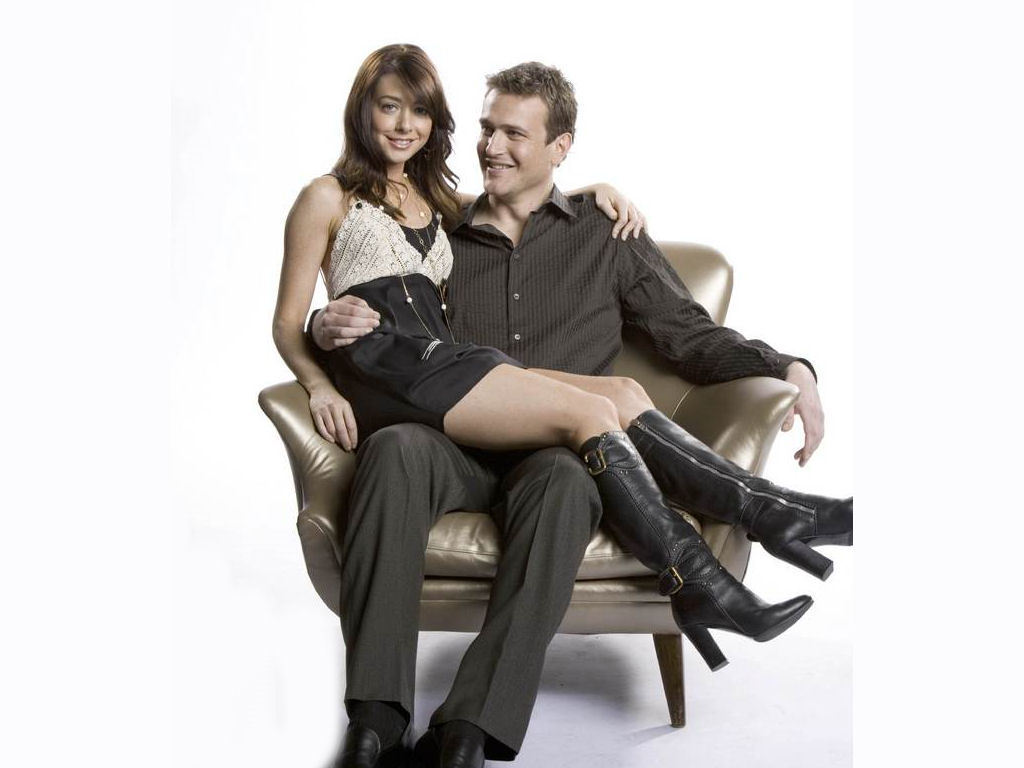 Let's face it, Romeo-Juliet, Heer-Ranjha, or for the students of Classical Literature, Pyramus and Thisbe may be the paradigm of romance, but there relationships were always doomed. For true romantics, the classic paradigm of love have to be Lily and Marshall.
From the time Lily's lactose intolerance acted up because Marshall ate yoghurt to the time Marshall managed to alleviate all of Lily's fears just by repeating "Don't bogart all the funions" in Italian, Lily and Marshall have been power couple numero uno. Here are ten reasons why Lily and Marshall epitomize love.
How Lily and Marshall met.
Here's the classic disclaimer Lily and Marshall always give before reciting their story: it is going to end with you going, 'Awww'. Lily needed to set up her stereo on her first day at Wesleyan, so she walked up to Marshall and Ted's room, which she had 'a strange feeling about', and saw Marshall. To quote them, 'it was love at first sight'. They were together since.
How whenever they have an ongoing fight, they pause to talk about other things.
Whenever Lily and Marshall have a major fight, they say 'pause' to put a momentary end their fight and "talk" about other things , and 'unpause' to continue fighting- here's some advice every couple can take!
How a break up for them was a minor bump in the road.
Even our power couple did break up for a while, at the end of Season 1. But, just as GOT fans know Jon Snow is coming back, everyone knew they were getting back together. They spent their time apart in misery, even as Lily thought he was pursuing her dream. Finally, when they get back together, it is with Marshall saying he doesn't need a 'nice, normal girl', but Lily, who has "the craziest eyes he's ever seen."
How they always wear matching Halloween costumes, no matter how old they get.
From being Salt and Pepper, to Sonny (Lily) and Cher (Marshall), to Jack Sparrow and a parrot, to being Ahab and Moby Dick, Marshall and Lily are always in sync, especially around Halloween.
How, even after 11 years of being together, they couldn't spend a night apart.
In Season 2, during the follow-up to their wedding, Lily and Marshall decided to spend time apart in order to make their first few days as a married couple more meaningful. While Robin, Barney and Ted were assigned the responsibility of keeping them in check, they found out that no matter what, they just couldn't spend time apart, even after 10 years of being together.
How they always found new things to discover about each other.
In Season 1, even as Lily and Marshall realize one of the obvious pitfalls of long-term relationships: you run out of new things to discover about your partner- they find novelty in the unlikeliest of places. They conquer another 'first', when Marshall sees Lily pee for the first time.
How they've always supported each other, through the best and worst.
The best part about Lily and Marshall is that no matter what, through the minor road-bumps to major upheavals, they have supported each other. From Marshall's unemployment, to his father's death, Lily has always lent her full-hearted support. Just like that, Marshall has always been there for Lily, be it by helping her realize her dream job in Italy and giving up his own dream job in the process to coming through, even while completely drunk, when Lily slips into labour. There is no couple like this one when it comes to unconditional support, no matter how tough it gets.
How, in Season 4, Marshall meets Lily with a marching band.
Even as Marshall and Lily accept that as 'their relation matures, they mature with it', they can't stop from acting out their everlasting traditions. Despite a snow storm, and the mutual decision to not perform tall, romantic gestures, Lily gets Marshall a keg of beer in place of a six-pack and Marshall meets Lily with the usual 'Lilypad' signboard … and a marching band playing Auld Lang Syne.
How they accept each other's quirks.
This point is mainly for Marshall, who is superstitious to a fault. Lily always accepts Marshall's belief in the Sasquatch, Nessie and other mysterious creatures. She even accompanied him everywhere he went- including the bathroom- when he was scared that he may die. This culminated into Lily becoming pregnant- and of course, to make the baby lucky, Marshall licked her belly.
How their vows (both sets) are the best.
When Lily and Marshall first took their vows, they were idealistic and loving. When they re-took them before Barney and Robin's wedding, they were realistic, and yes, loving. Marshmallow and Lilypad always nail it.