News
6 Spectacular Water Falls in India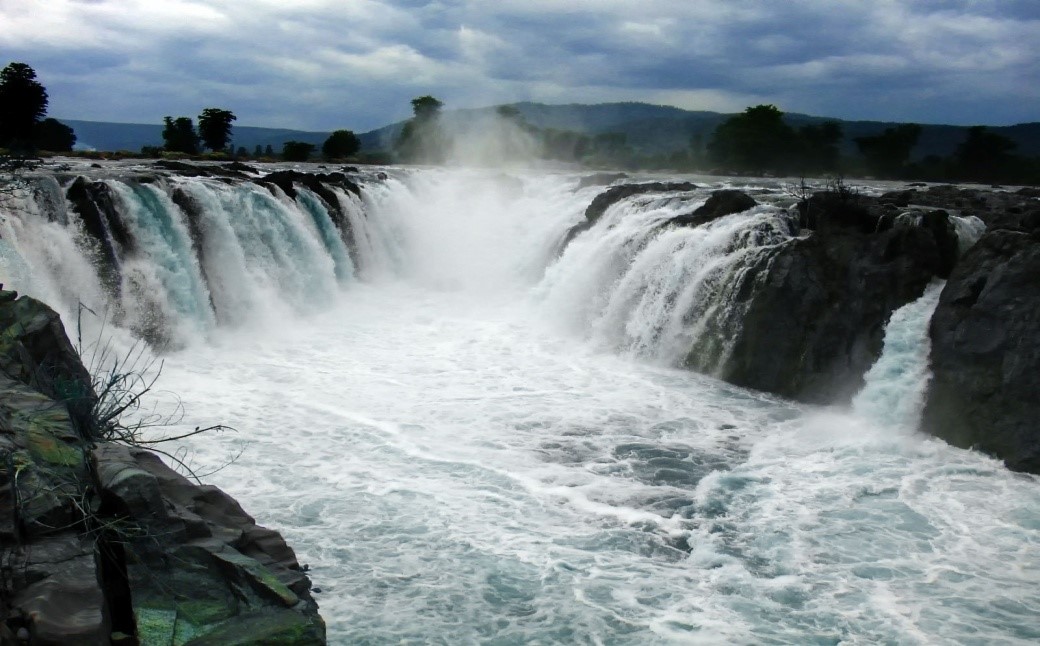 India has most beautiful and stunning waterfalls. Every state in India has a unique and mesmerizing type of water fall to visit. When you try to list down all the waterfalls in India, you will get to know that there are more than 40 in number. Here are a few spectacular waterfalls in India that you must visit:
Nohkalikai Falls –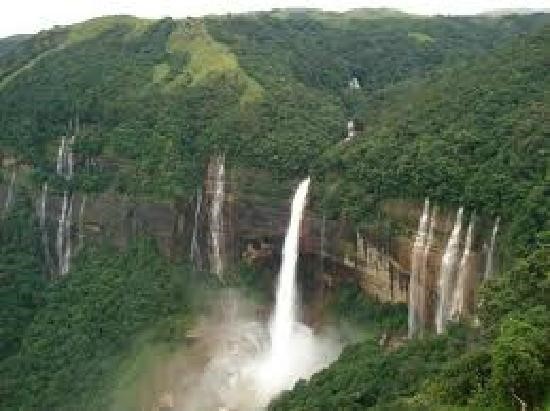 It is the highest waterfall in India, with height of 1100 feet. It is located 5 km from Cherrapunji in Meghalaya. Nohkalikai means 'Ka Likai's jump' in Khasi language. It is based on the tragic story of a woman, who jumped off the cliff. There is a staircase which ends up in mid way, after that you can trek down to the base of Nohkalikai Falls to view it. The best time to visit is in September- October, as in monsoon it is heavily foggy.
Source: trip advisor
Jog Falls –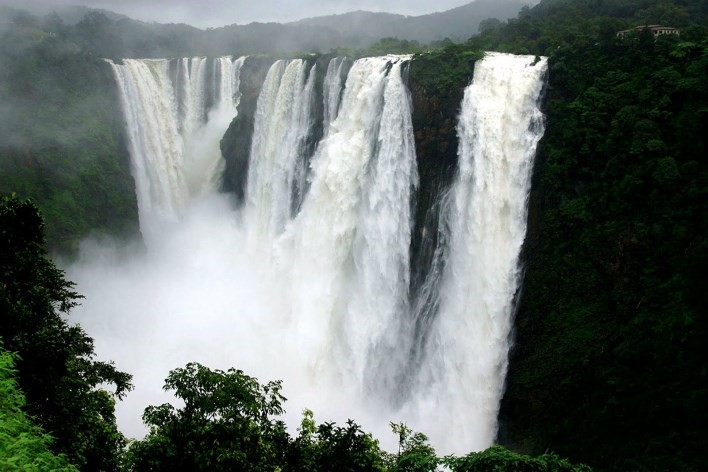 It is the highest untired water falls in India, with height of 830 feet. It is located in Shimoga district border of Karnataka. It is formed by Sharavathi River. The water flows in four series named as Raja, Roarer, Rocket and Rani. Approximately 1400 steps are built by the tourism department to reach the bottom of hills. The best time to visit is during monsoons, when the flow of water is at maximum making the view breathtaking.
Source: Karnataka.com
Dhudhsagar Falls –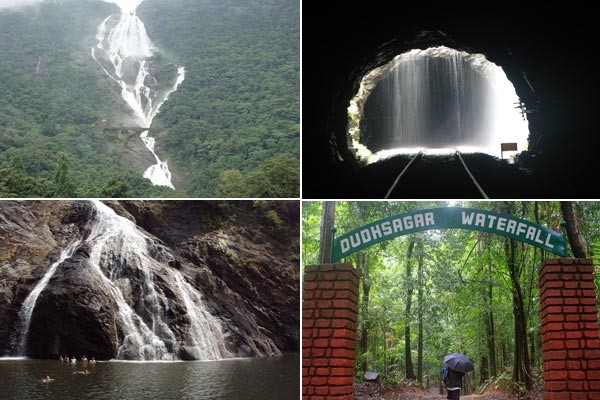 Located in Bhagwan Mahavir Wild Life Sanctuary at Collem in South Goa. It shares the border with Karnataka along with Western Ghats. It is among the highest waterfall in the world, with a height of 1,017 feet. It is a four-tired waterfall on the Mandovari River. You can go to the falls either by rail or road. The road journey is possible only when the level of water is less (January to May). There is a railway line near the top of the falls that crosses the edge, which embarks the magnificent view. You must have definitely seen this view in 'Chennai Express' movie. If you are an adventure junkie, go for a trek to these Falls. The trekking through the rail tunnels will make your journey memorable.
Source: indiatvnews
Athirappilly Falls –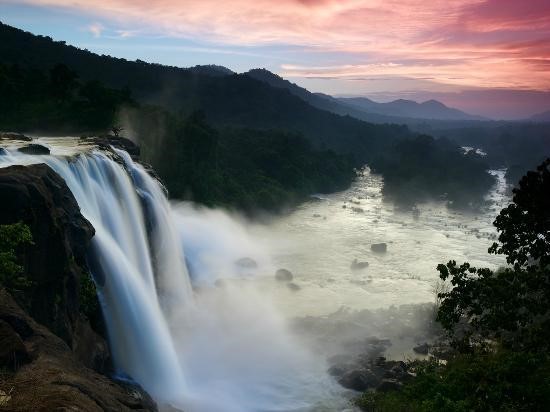 Situated in the Thrissur District of Kerala. It is the largest waterfall in Kerala, with height of 80 ft. It is located 60 km away from Kochi. Not only the destination is mesmerizing, but the road from Kochi to Athirappilly is breathtaking. You will experience snake roads on your journey. Your journey will be packed with all greenery. The whole journey is picturesque, making your trip memorable. The moment you enter the forest area, you can hear birds humming. This fall is the favorite destination of Bollywood. You can also visit Vazhachal Falls, which is 5 km away from Athirappilly Falls.
Source: trip advisor
Chitrakoot Falls –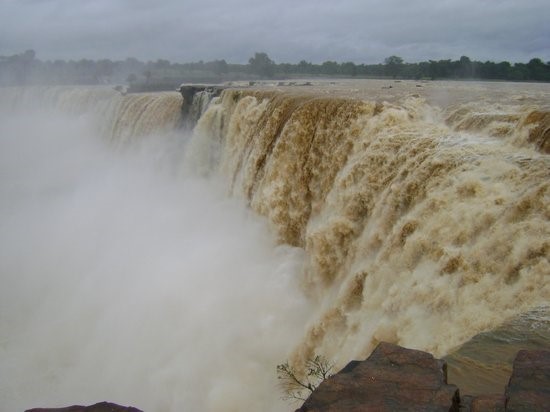 Located in the middle of Vindhya Range on Indravati River to the west of Jagdalpur in Chhattisgarh. The falls form a horse-shoe shape, therefore referred as "Niagara of India". It is also a religious Hindu pilgrimage, which makes it most visited place. The color and flow of the Water falls varies from season to season. To hear the wildness of flow, visit it in monsoon (July- October) and because of sludge it turns a little brown in shade. And in summer it is white and clear and you can enjoy the calmness of flow. During monsoon, it enlarged upto 150 m. The area surrounded is full of flora and fauna. You can enjoy the beauty of Mother Nature.
Source: trip advisor
Hogenakkal Falls –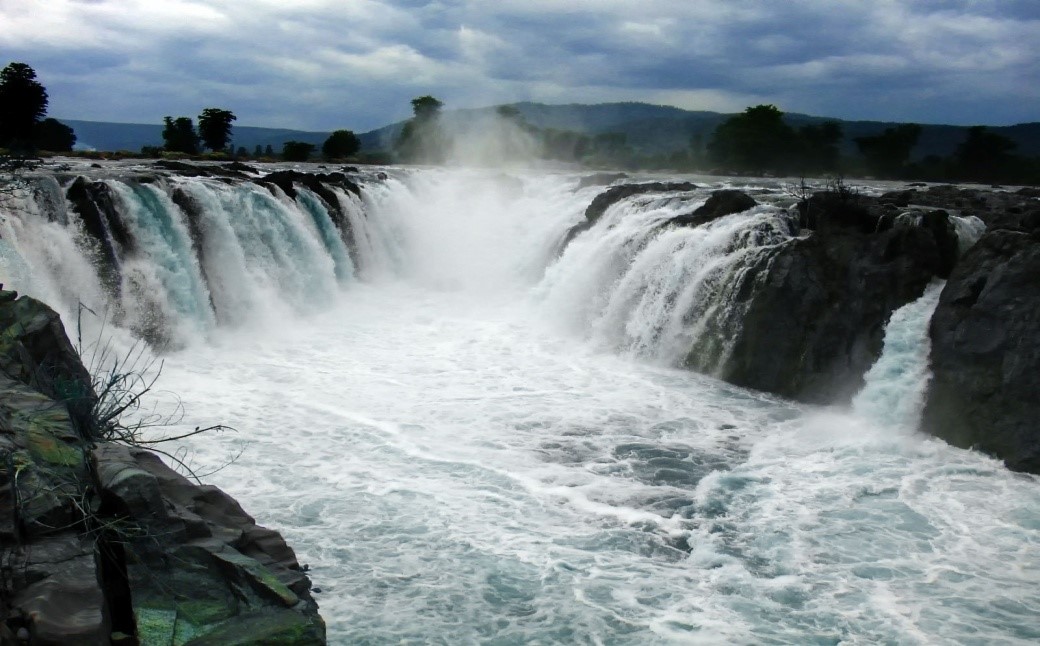 Located on Kaveri River in Dharmapuri of Tamil Nadu. It is famous for the Carbonatite rocks found near waterfall which is one of the oldest in the world. Hogenakkal means smoky rock because of the haze created by water when it hits the rock. You can go for trekking in Melagiri Hills. You can have a good view of falls by riding coracles. Boating is allowed only after monsoon, when there is no current. The best time to visit is after monsoon (August- May), as in monsoon it is not safe to go due to slippery condition. Better go during winter, to avoid the huge rush.
Source: Wikipedia
Plan your next trip to visit these beautiful Waterfalls. And also tell us about your experience of other stunning and magnificent waterfalls of India. Also if I have missed any waterfall please mention it in the comment section.