News
6 Reasons Why You Should Visit Ladakh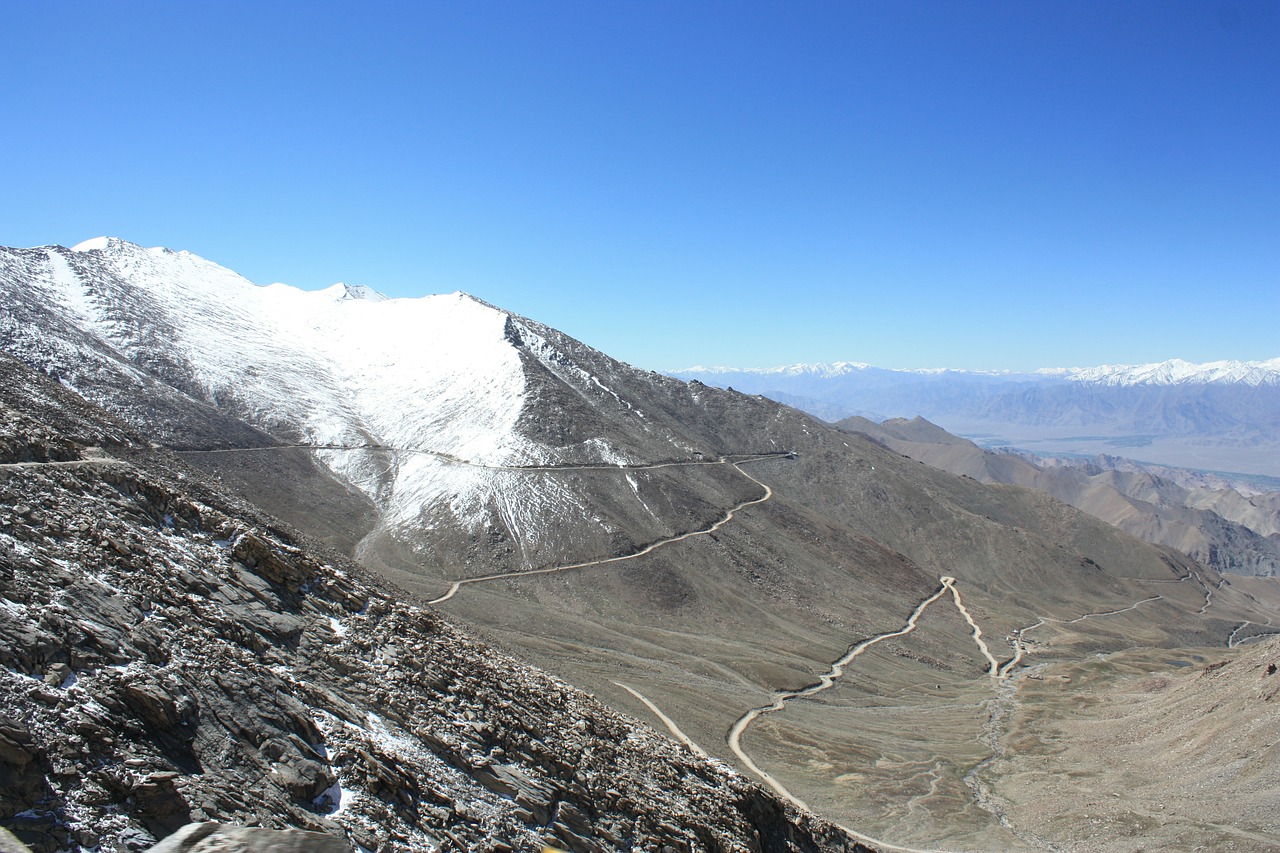 Landing into Ladakh
"Go-air flight G8-193 to Leh is ready for departure, passengers are requested to proceed towards Gate #10"…and so it was announced at the airport. I looked down at my boarding pass and strutted excitedly towards Gate #10. "Ladakh, here I come!!!"
It took us about one hour to reach Leh Kushok  Bakula Rimpochee Airport from Indira Gandhi Airport, New Delhi.  Leh is the capital city of Ladakh. It was a pleasant flight…the sun had risen and large fluffy clouds danced in the blue sky. The plane flew over a wide stretch of snow capped mountains before landing into Ladakh. A representative from Himalayan Travel Studio, my tour operator, received me at the airport and was transferred to my hotel. The hotel-service was quite good and I rested till lunch to acclimatize, since Ladakh is a semi-arid high altitude region with low oxygen levels.
Post lunch I did some sightseeing around Leh. Leh Palace, located at the heart of Leh-town, is a 17th century, nine story structure, built by King Sengge Namgyal of Ladakh. The palace is now in ruins and is maintained by the Archaeological Conservation Organization of the Indian Government. There is also a museum housing traditional artifacts.
If you walk a little up the Namgyal hill you will reach the Namgyal tower. 'Namgyal'  means' victory' in Ladakhi and it was built in the memory of the triumphant brave Ladakhi soldiers who fought the invading army of Balti Kashmiris in the 15th Century. Legend says that the cut- off heads of hundreds of defeated soldiers lay buried near the tower. Quite spooky!
My next stop was Shanti Stupa, a Buddhist white-domed stupa on a hilltop built in 1985 by a Japanese Buddhist missionary. The word 'peace' kept ringing in my head when I first looked at the stupa. The site offers a panoramic view of the Leh-town and the surrounding mountains. Also one mustn't miss watching sunset/sunrise from this spot. It's ethereal!
Back at the hotel I was so exhausted from the day's trip that I felt asleep as soon as I put my head on the pillow….and yes I missed my dinner!!
Monastery Circuit 1- West of Leh :Alchi/Likir/Basgo
There is no need for an alarm clock when sparrows come at the window to wake you up early in the morning. I had a hearty homemade and organic breakfast in the hotel's orchard dining area. The car picked me up on time and we drove west of Leh. Ladakh has Buddhism as its dominant religion so there are monasteries in every major village. The ancient Buddhist monasteries in Ladakh are the main source of attraction for the tourists as they truly represent the age old religion and culture of Ladakh. The monasteries are repositories of exquisite murals, gilded statues, religious icons, religious books, religious scrolls locally known as 'thanka, carvings and so on.
Monastery Circuit 1 covered major monasteries which lie on the western part of Leh, namely Alchi, Likir and Basgo. Alchi monastery is built on flat ground, as opposed to Likir and Basgo monasteries which are built on hilltops. Each monastery has huge statues of the Buddha and other prominent Buddhist scholars. The walls are adorned with beautiful wall paintings depicting scenes from the life of the Buddha. Each monastery has distinct architecture with elaborate wood carvings and art-work but they have the ideals of Buddhism at its core level.
It builds up and up till it comes to the brim…I desperately wanted to channelize the urban angst that was growing inside of me…I was in search of a retreat and a visit to the monasteries helped me find a way out. I felt light as a feather afterwards!
Shades of Pangong Lake
My much awaited destination….Pangong Lake was my next stop. We drove for about 4 ½ hours from Leh to Pangong via Changla-pass, 17,350ft, third highest motor-able road in the world. It was very cold at Changla and I must say that the 'masala' milk 'chai' tasted heavenly for the first time…
Pangong Lake is situated on Changthang plateau at a height of about 4,350m(14,270ft). One third of the lake lies in India while the rest falls under the Chinese territory. The lake is a dead salt lake which supports no vegetation and aquatic life. During winter the lake freezes completely, despite being saline. I cannot help but get mesmerized by the beauty of the lake, the vibrant colors of the water and the majestic surrounding mountains. The swift cirrus clouds played merrily in the air and "now they struck light to the earth, now darkness"- Virginia Woolf.
Evening was spent taking nature-walks near the lake or building cairns. A cairn is a man-made stack/pile of stones, found often in a conical shape and are used as trail-markers or for religious purposes. We camped at Spangmik village for the night. The sky was filled with millions of stars and I dozed off to Rihanna's "shine bright like a diamond" song….
Monastery circuit2 –East of Leh: Shey/Thiksy/Stakna
As we drove back to Leh from Pangong, we did another monastery circuit and this time it was the monasteries that are on the eastern part of Leh. Visiting these monasteries was just like meditating…the aura was very spiritual. I got a lot of time to reflect on myself and listen to my heart as I stood there looking at the Maitreya Buddha statue at Thiksey monastery. Apart from the spiritual essence, the monasteries, being located on hilltops, provide a spectacular view of the surrounding landscapes. I am sure one wouldn't want to miss capturing these panoramic sights in their cameras!!!
Nubra Valley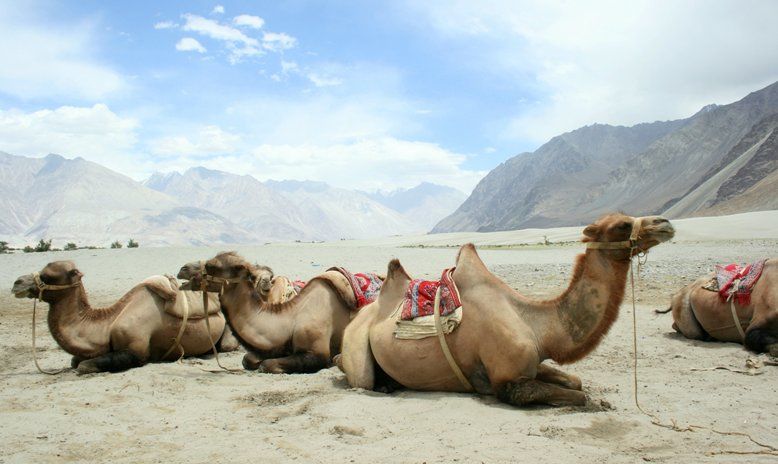 Last but not the least…Nubra valley was my next destination. We drove through the Khardung-la pass, (18,380ft, highest motorable road in the world) and arrived at Deskit by afternoon. There is an impressive gigantic 160ft tall Maitreya Buddha statue at Deskit monastery. The best thing about Ladakh is that it's an all rounder in terms of landscapes…it's a valley, hill-station, plateau and a cold desert. Speaking about desert, camel safari in Hunder was good, but not satisfactory. The best part of my Nubra valley trip was taking a dip in the hot-springs, believed to have healing powers, at Panamik.
Souvenir-shopping.
My last day in Leh and I didn't want to leave this place…forever! There are still lots of other interesting places in Ladakh for me to explore but time constraints chained me back to my normal life. But I promised myself that next time my trip to Ladakh is going to be loaded up with adventures like biking, cycling, rafting and trekking and so on.
I am really thankful to my travel operator Himalayan Travel Studio for making my trip a memorable one. Souvenir shopping in Leh Bazaar was fun, there were cool T-shirts, soft pashmina shawls, antique artifacts, boho-style jewelery, dried apricots, Tibetan incense, the list goes on and on… Also the Ladakhi-Tibetan cuisine served in the majority of the restaurants made me care less about the calories, but more about the taste. No wonder my mother told me that I looked a little "healthier!" The trip was rejuvenating and here my Ladakh-travel-ecstasy ends until next time…!!