Watching TV is not an easy thing.
I get addicted to things with no trouble. I am vulnerable that way, the way when I start listening to a song, you can be 400% sure that I'll listen to that song 1000 times over and eventually, hate it. I also get carried away sometimes with TV shows. Oh, yes. I know what you're thinking: OMG ME TOO! Hold back sister, cause' we're going on a rollercoaster ride of the most painful fictional deaths in recent TV era.
YOU READY? NO?!
ME NEITHER.
Harry Opie Winston: Sons of Anarchy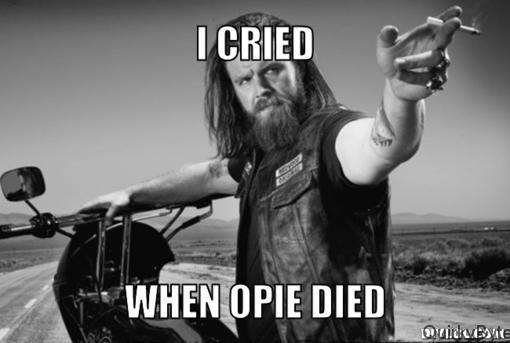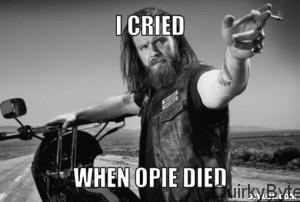 A kind man, a loving father, devoted husband and a proper best friend to Jax Teller.
This is everything Opie was. Everything he will be.
The club was all he had.
Let's face it; Opie died a painful and brutal death, a death he didn't deserve. Despite his history with the club, he was the good one, he needed some more, something more. He was a warrior, a legend and he is remembered for better things. He never got the chance to go out on the last ride, but we know he did.
"My ol' man get to say anything… before you BLEW A HOLE IN HIS CHEST? Sit down!"
Bodie: The Wire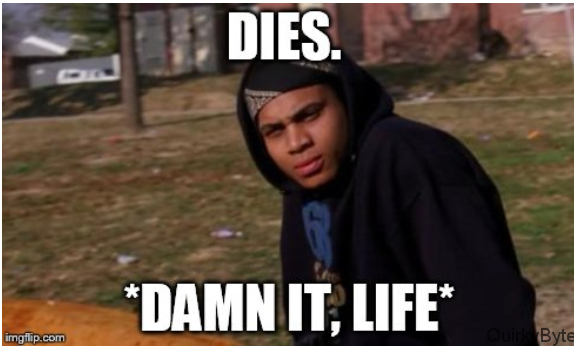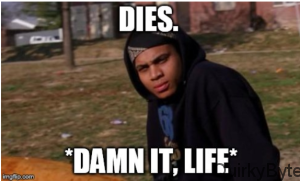 I know I'm supposed to hate him; I know he's just a minor character but the fact that I lost sleep over a 'minor' character tells you about how good the writing of the script was. The Wire is one of the best TV shows I've ever watched. It grasps you into its storytelling in a way that you can't escape it anymore, and why would you want to? It's brilliant.
Bodie was the enemy. He was the one the police are fighting against, I have all the reasons not to root for him, but when he died I knew a part of the show has just died too. He was loyal and respectful. He knew his rules well and he wanted to follow them. There's a reason why McNulty felt so strongly about him. There's a reason why Jimmy McNulty finally paid his respects to Bodie. He deserved it.
Robb Stark: Game of Thrones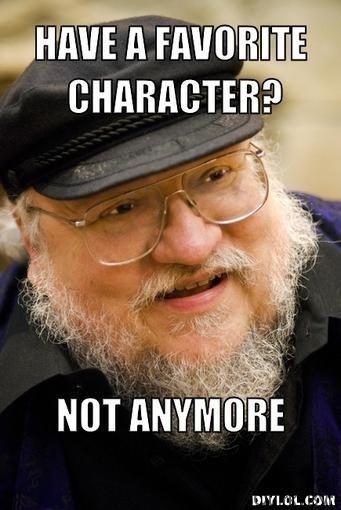 Do you really want me to elaborate? Do you? Okay.
He was everything a father wants a son to be, every mother would kill to have a lad like him. His brother and sisters looked up to him and his wife? They were perfect.
You know what's not perfect? Cutting Robb Stark's head off and then stabbing his pregnant wife and subsequently killing his mother.
CERTAINLY NOT WHAT I HAD IN MIND.
You see, it's not even about the fact that Robb Stark was one of the best characters in the show/book, also not about the fact that he was a close competition to his enemies (Well, maybe a little) but the point is, you don't kill people off like that, you don't make the audience love the character so much that it hurts every time someone says 'Robb'. YOU DON'T.
George Martin: Yes, dear. You do.
You know what it felt like? It felt like someone had stabbed a cute puppy repeatedly.
A PUPPY.
STABBED.
Derek Sheperd: Grey's Anatomy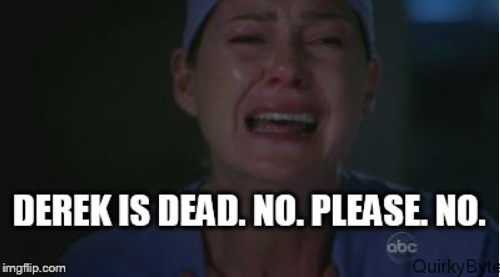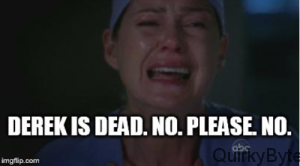 He told her he'd come back, he kissed her goodbye and left only for his body to come back in a casket. Dr. Derek Sheperd was a brilliant neurosurgeon and an incredible husband. He loved Meredith Grey from the very first time he saw her. How many times does that happen?
The way he looked at her, said her name and the way he never left her side even though he had enough reasons to.
He was a perfect example of what a life partner should be.
Professionally, he was a god. He was a Neuro god. You have a brain tumor, he's the go-to guy. Too bad he's dead, you're going to die.
THAT MAN SURVIVED A PLANE CRASH, A GUNSHOT WOUND, AND A DEADLY STORM, YOU'D THINK HE WOULD SURVIVE A CAR ACCIDENT BUT DIES CAUSE OF A MISSED HEAD CT. OH, SOMEONE KILL ME, NOW.
Derek's death made me realize how much the show depended on him. Patrick Dempsey did an amazing job giving depth to his character and making us feel the 'McDreamy vibes'.
No, I'll never forget him or his deadly looks or the way he cared too much but hey, life goes on. He lives on.
In our memories.