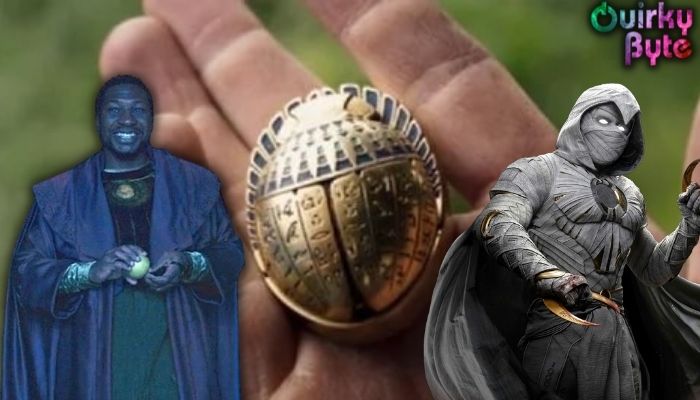 Moon Knight just premiered on the Disney+ streaming platform and gave us something we didn't expect from a Marvel Cinematic Universe project. The series was actually one of the most hyped projects as it was the live-action debut of the titular character. Fans are trying to go through every single detail and Easter egg from the episode in order to get an idea about the movie. While we cannot be sure about every detail, there is an interesting item that has appeared in the episode and it seems to be something that will have some importance throughout the series. The Scarab shown in the Moon Knight series could have some connections with the multiverse, time travel, and even Kang the Conqueror.
Moon Knight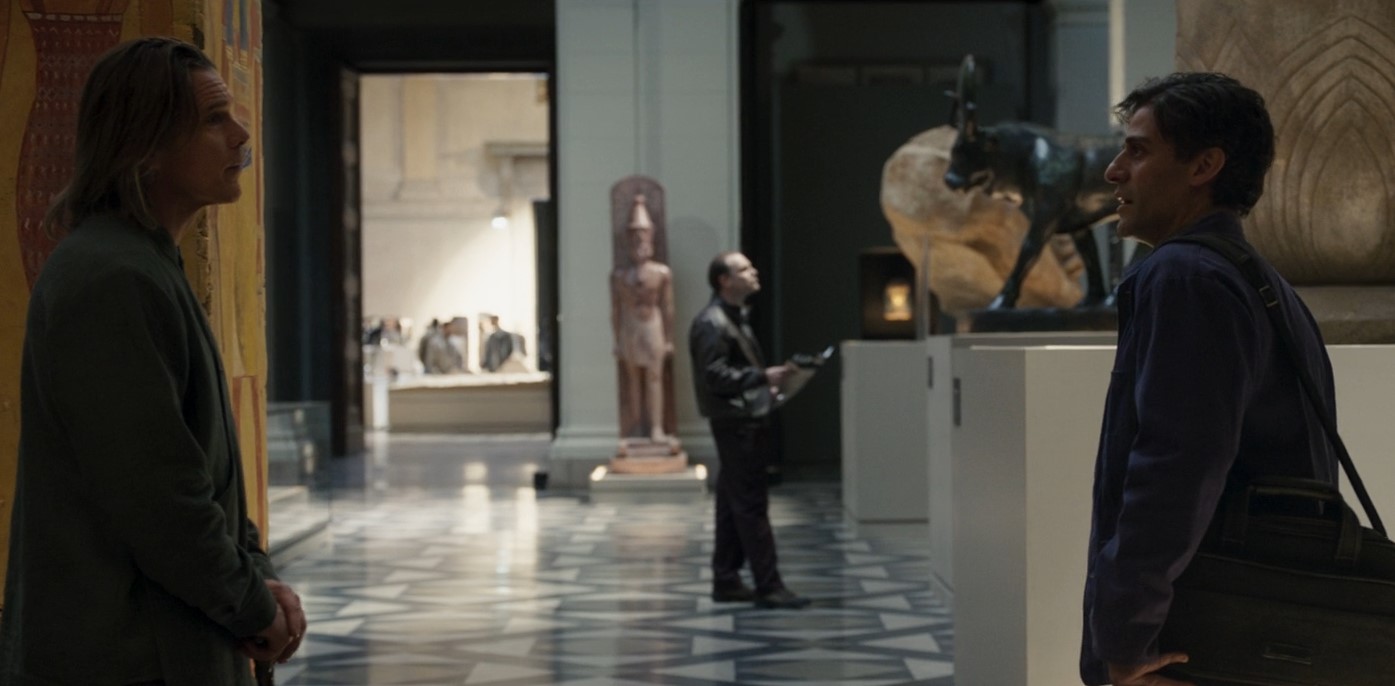 The first episode of the series is finally here and fans got to see a lot of exciting details about the character here. This episode has been able to give us some answers regarding the plot and the characters. But at the same time, it manages to leave us with a lot of questions regarding everything that we got to see in the series. Fans are wondering about the true motives of Ethan Hawke's Arthur Harrow and why he went ahead and killed that old lady. We are also wondering about what happened between Marc Spector, Arthur Harrow, and Layla that has not been revealed yet. But apart from all this, there is a mysterious item that might give us some answers.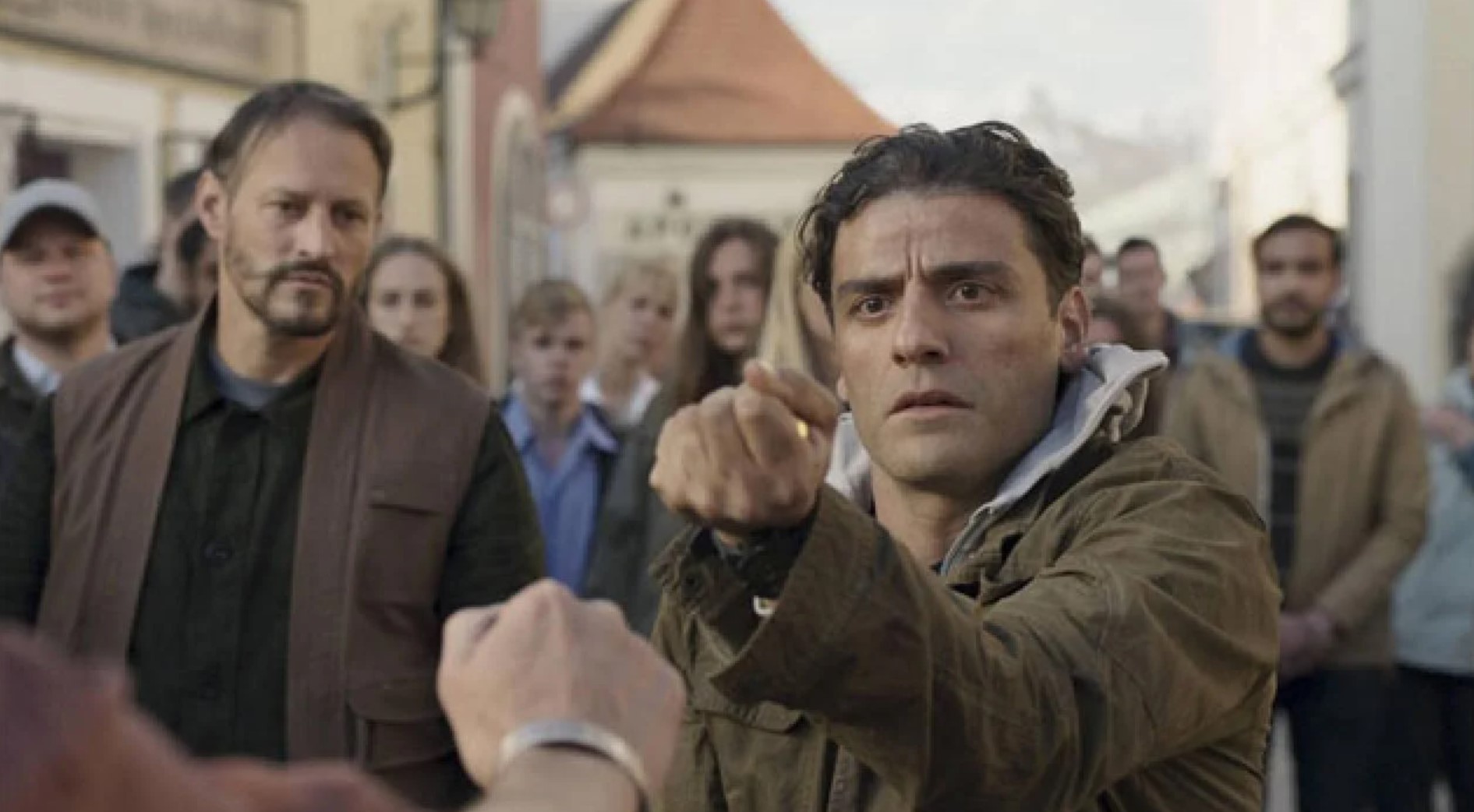 A scarab appears in the series and this was actually seen in one of the promos for the show. We had seen this item when Oscar Isaac's Steven Grant and May Calamawy's Layla were trying to run away from Arthur Harrow and his men. Layla hands it to Steven so that they don't end up giving it to Harrow. But this item also ended up appearing in the first episode along with a flip phone which was probably used by the Marc Spector persona. In Steven's dream (or was it a dream?) Harrow asks him to hand over the scarab but his Marc Spector persona prevents him from giving it away. It seems that this scarab could actually mean a lot more than we might have imagined.
Scarab In Marvel Comics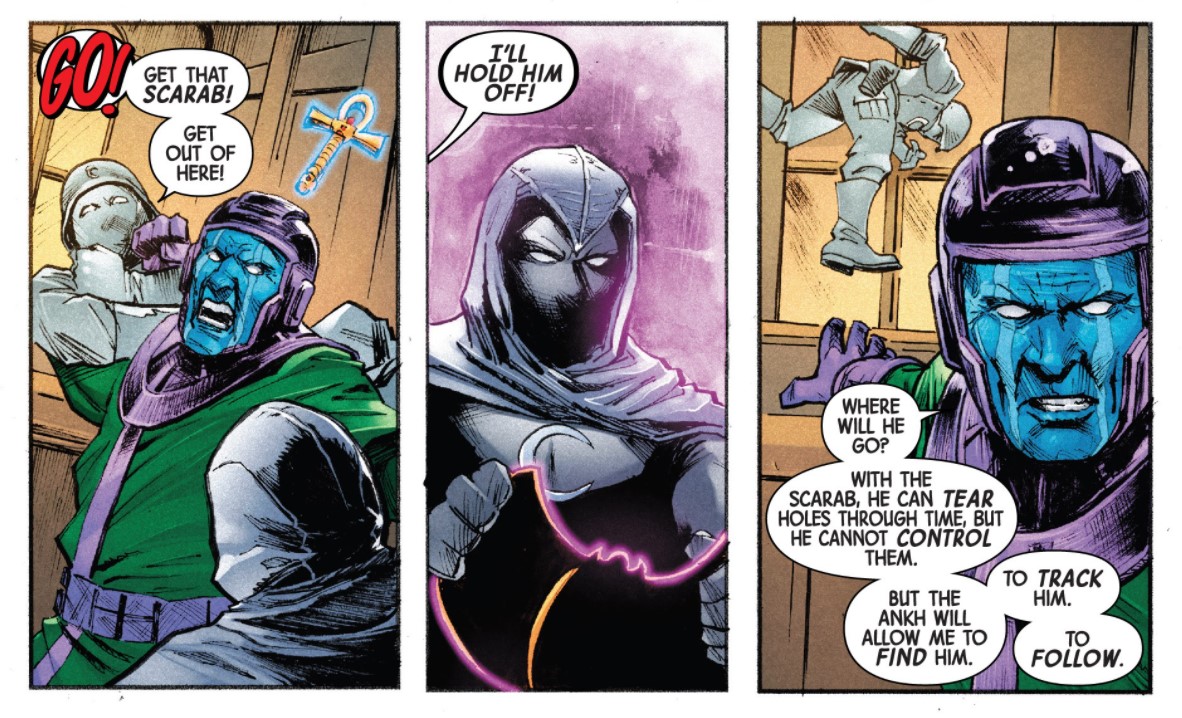 The beetle scarab that we saw in the series looks quite similar to another item that we saw in a much recent issue of Marvel Comics. In 2019's Moon Knight Annual #1, from Cullen Bunn and Ibrahim Moustafa, we see various versions of Moon Knight fighting with Kang the Conqueror throughout time. The reason behind this is associated with the ancient Egyptians managing to acquire three totems – a scarab, an ankh, and a scepter which were Kang's possessions. Kang manages to acquire two of them but the rest of the narrative sees him going after Moon Knight as the latter protects the beetle-shaped scarab.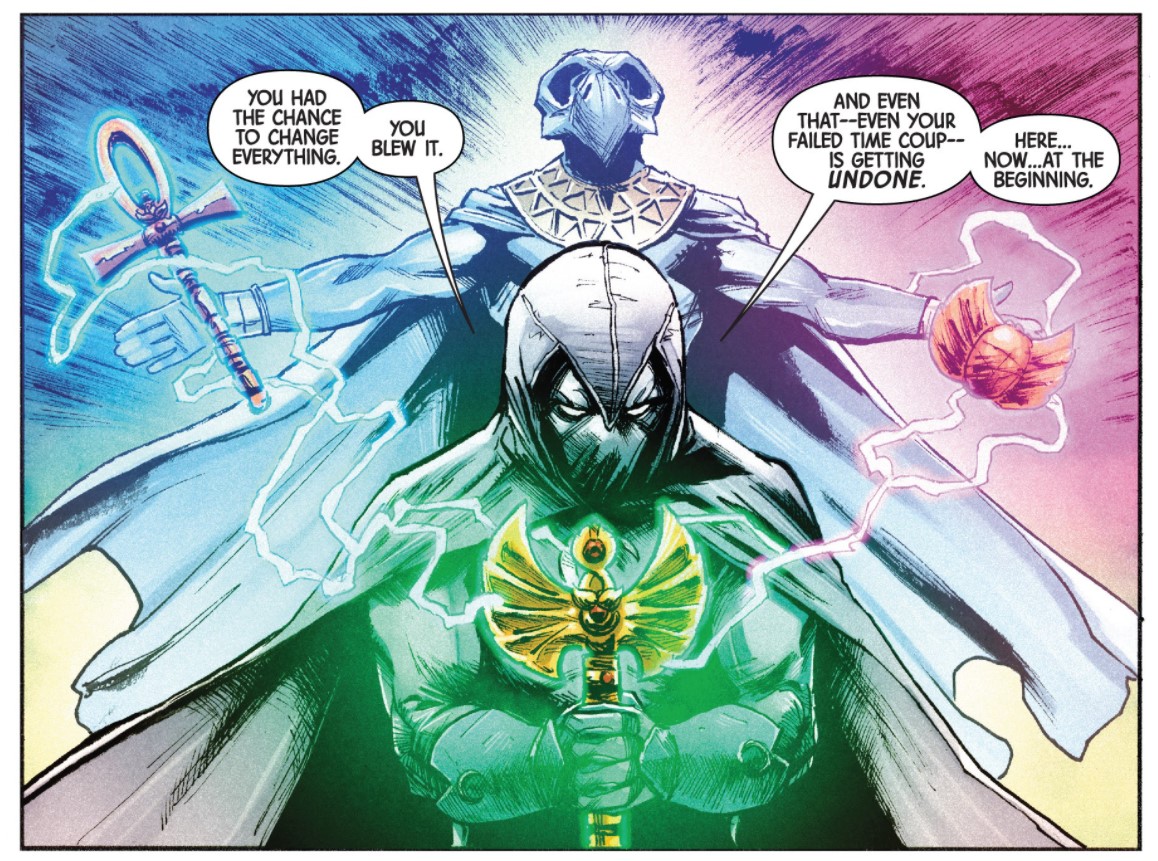 Here we discover the scarab has the power to create time rifts. This could actually mean that the Moon Knight series might be indicating towards featuring their own version of these totems and the device. If this narrative turns out to be true, then we can be sure to get a chance to witness Marc Spector traveling through time. Not only that but this would also mean that this will follow another narrative where time travel ends up being an essential player. We can also be sure that at some point in the future Kang the Conqueror will end up coming opposite Moon Knight.
Does The Scarab Really Have An Importance?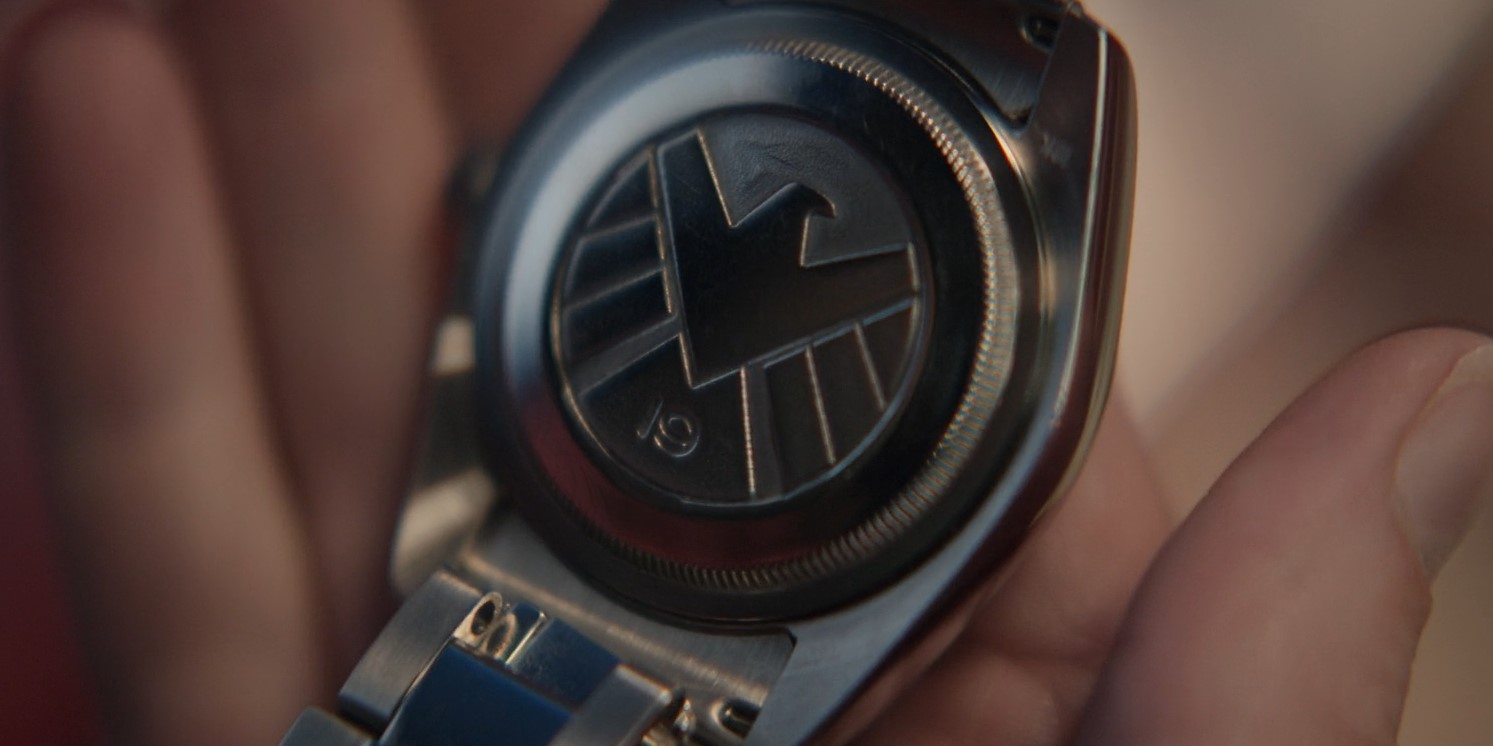 Fans might remember that the Hawkeye series had shown an interesting item right with the first episode. We got to see a watch that the thugs were after and it even ended up appearing later in the series. But there was no clear indication about what it could mean except that it was acquired from the wrecks of the Avengers lot. It was only in the very end that we found that it was a watch that was owned by Laura Barton when she was working for S.H.I.E.L.D. This confirmed that she is Agent 19, also known as Mockinbird but it didn't really have any other purpose. Let's hope that the scarab in Moon Knight will have a larger role to play.
Episode 1 has left fans wanting to know more about the Scarab in Moon Knight, what do you think its significance can be? do let us know about it in the comments.
Follow us on Facebook, Instagram & Twitter for more content.
Also Watch:
https://www.youtube.com/watch?v=4WEOfCUpGCQ