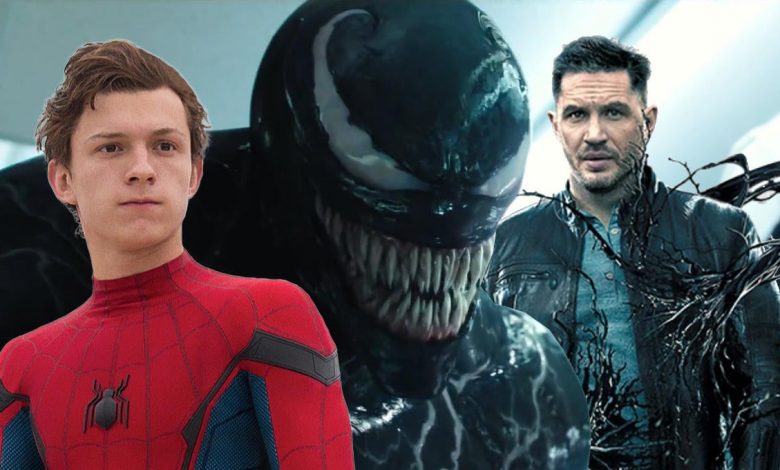 Sony had been working on their own Spider-Man universe of characters over the time that the MCU was working on Tom Holland's Spider-Man. There have been long rumors that the two franchises will actually come together. This will allow us to witness a narrative that will see the characters from Sony come across Tom Holland's Spider-Man. The only character we have seen in a movie from the Sony Universe so far is Tom Hardy's Venom / Eddie Brock in the Venom movies. It was actually revealed that we will get to see Tom Hardy's character come across Tom Holland's and fans have been exciting to see when it will come true. Spider-Man: No Way Home might have actually hinted at a possible way that Venom will take on Spider-Man in Venom 3.
Venom 2 Post-Credits Scene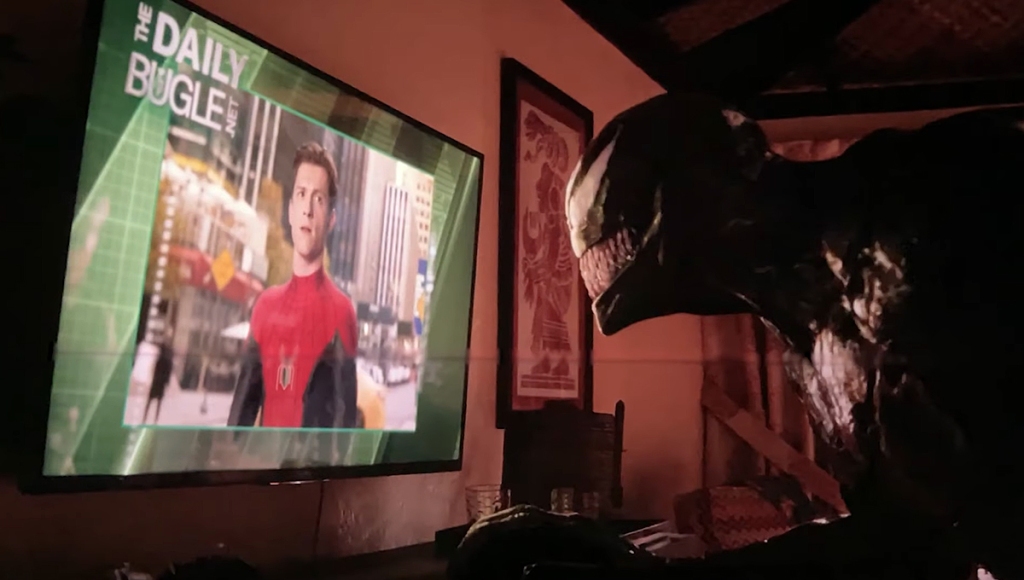 Fans got to witness one of the most bizarre post-credits scenes this year with Venom: Let There Be Carnage. The movie ended by showing that Tom Hardy's Venom/Eddie Brock actually ends up being in the Marvel Cinematic Universe. One minute we see him in a motel room and the very next minute we see some major thing happen and Venom is seen in a rather expensive hotel room. As Eddie comes to terms with this transition, the TV in front of him shows the news of  J. Jonah Jameson announcing Spider-Man's true identity. This was a clear indication that we are getting closer to the concept of Venom appearing opposite Tom Holland's Spider-Man. 
**SPOILERS AHEAD**
Venom in No Way Home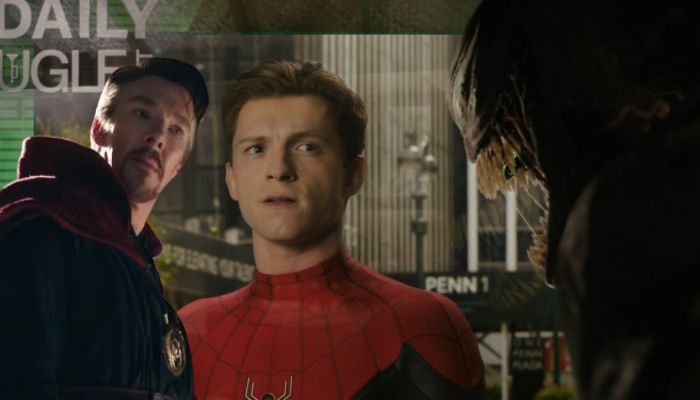 The mid-credit sequence of No Way Home is actually in continuation to the previous post-credits scene. We are now aware that Venom and Eddie Brock got teleported into the MCU because he was amongst the characters to appear in the MCU because of Doctor Strange's botched-up spell. Here, we see that Eddie is now talking to a bartender in order to find out more about the MCU. He speaks about some of the things that he has been informed about which include Iron Man and Thanos himself. After a while, Venom tells him that they are drunk and suggests they go for skinny dipping. But before they could do anything else they are teleported back to their own universe in the same way that we saw the rest of the characters get teleported due to Doctor Strange's spell. Right before this scene ends we see a drop of the black Venom goo on the bar table.
What Does This Mean For Venom?
One of the biggest issues with this is what might this mean for the character of Venom and Eddie Brock. Also, we are left wondering how Eddie or Venom might have found out about Spider-Man's true identity to get classified amongst the villains who got brought into the MCU. There is a possibility that Venom might have been aware of all this because of his Hive Multiverse knowledge. At the same time, Eddie might have gotten some awareness of this based on the sneak peek Venom allows him to take during the end of Let There Be Carnage.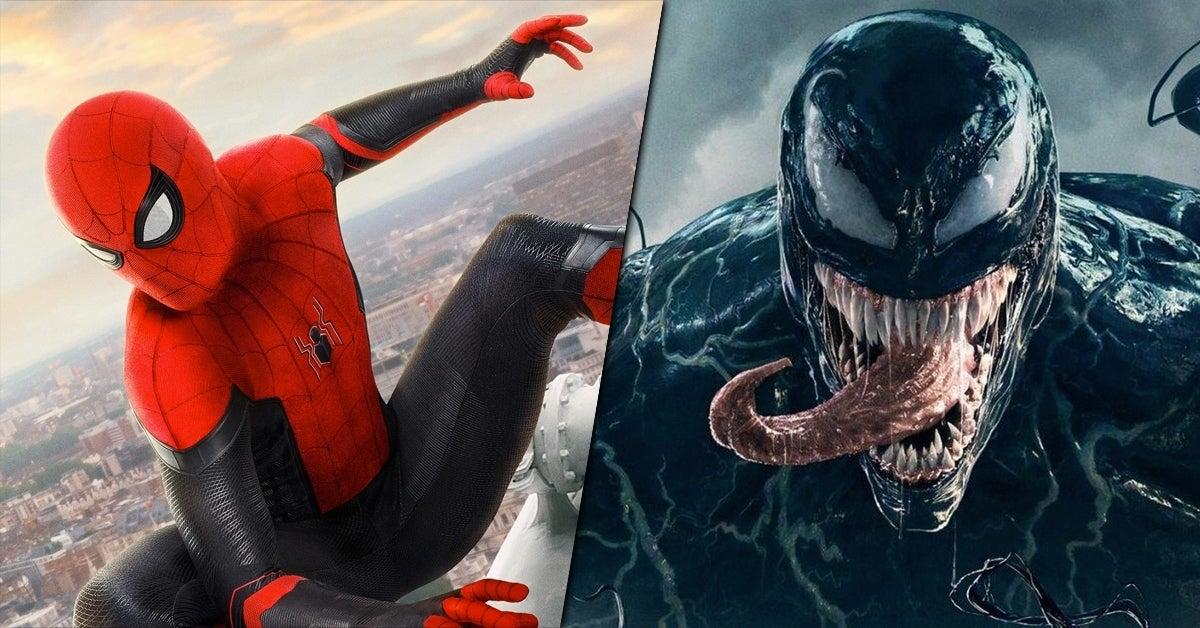 The post-credit scene basically indicates that we will get to see Spider-Man battle out with a version of the Venom in the MCU. Now that Venom is in the MCU we will get to see this take over some sort of a host and actually battle it out with Spidey. We even saw that Venom had an interest in Spidey and this might be an antagonizing factor that will play out in that possible narrative. Fans even might get to see some rather interesting narrative where just like Tobey Maguire's Spider-Man we might see Tom Holland's Spider-Man being taken over by the Venom.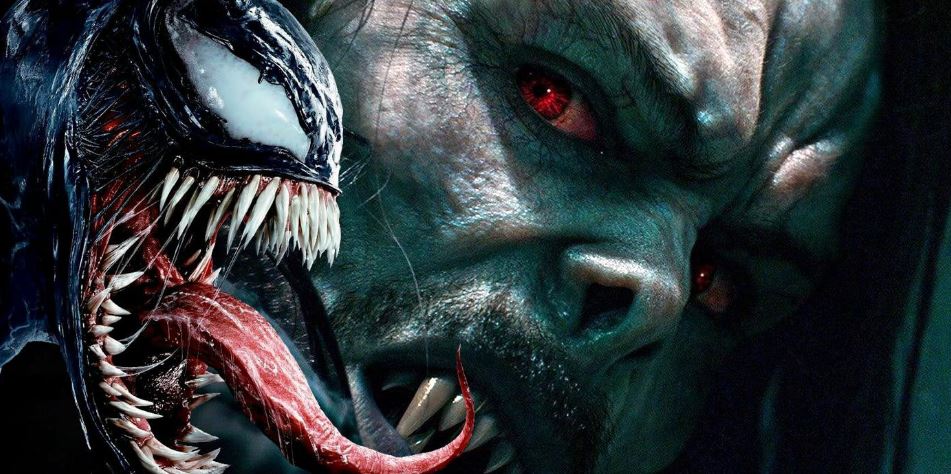 But the most exciting bit is the fact that this scene might actually mean that we will get to see Venom and Eddie Brock return to the franchise. With the Multiverse now open there is a chance that Eddie will have more interest in exploring this world. Venom will be his key to navigating through these different universes and thus giving us a chance to see Tom Holland battle out with the characters of Sony Spider-Man Universe.
Spider-Man: No Way Home stars Tom Holland, Zendaya, Jacob Batalon, Tony Revolori, Martin Starr, J.B. Smoove, Marisa Tomei, J.K. Simmons, Jon Favreau, Alfred Molina, Jamie Foxx, Rhys Ifans, Thomas Haden Church and the previous two Spider-Men.
Follow us on Facebook, Instagram & Twitter for more content.
Also Watch: