Hollywood blessed us with some of the iconic movies at the beginning of this millennium. Just calling them great would be an understatement as they have engraved their names in the history of cinemas. No matter how many years and decades pass, the audience will never get tired of watching these classic pieces. The incredible imagination, creativity, story, and visuals took us by storm. Interestingly, most of these films happen to be the first installment and beginning of a major franchise- from Harry Potter to Fast and the Furious. Here are the 10 legendary movies that are turning 20 this year.
2001 welcomed the longest-running and most profitable franchise "The Fast and the Furious". It's been two decades but the franchise has no plans to slow down. It's ready to push out more installments as well as spin-offs. The film started with street-racing but soon elevated the plot to more action and suspense. It starred the late Paul Walker, Vin Diesel, and Michelle Rodriguez.
Lord of the Rings: The Fellowship Of The Ring
December 10, 2001, saw the beginning of one of the most legendary franchises. LOTR film series translated the iconic books on the screen in the best way one can think of. It stars Elijah Wood, Ian McKellen, Viggo Mortensen, Cate Blanchett, Orlando Bloom, and more talented stars. In spite of being two-hours and 58 minutes long, it held the audience's attention till the end.
A Beautiful Mind
One more iconic film that we were proud to add was "A Beautiful Mind", a biopic on a mathematician genius John Nash. It stars Russell Crow as John Nash, along with Jennifer Connelly, Paul Bettany, Christopher Plummer, and Ed Harris. This is the story of an alienated mathematician whose life changes completely after he signs a deal with William Parcher. It's a sin to not watch this exceptional story.
Ocean's Eleven
This crime comedy stars the legends, George Clooney, Brad Pitt, Julia Roberts, Matt Damon, Andy Garcia, Don Cheadle, and Bernie Mac. It takes you on a heist where Danny Ocean hires eleven people to steal money from three Las Vegas casinos owned by his rival, Terry Benedict.
Shrek
"Shrek" became an instant hit for its incredible and delightful animation as a non-Pixar movie. It catered to both kids and adults for its insane comedy and dig at cliché fairytales. The movie depicted the quirky love story of an ogre who has to rescue a princess. However, this princess was not some damsel in distress, nor was Prince Charming the ideal hero. The success of "Shrek" went on to make more installments on the lovebirds' "happily ever after".
Legally Blonde
This movie may be a comedy but its impact echoed over a meaningful lesson and also changed Reese Witherspoon's career. "Legally Blonde" depicts the story of a stylish diva who gets dumped by her boyfriend for a smarter woman. Her drive for vengeance motivates her to enroll for Harvard Law School like her ex but the whole process ends up making her more independent and empowered. It premiered in July 2001 and went on to make a sequel.
Harry Potter and the Sorcerer's Stone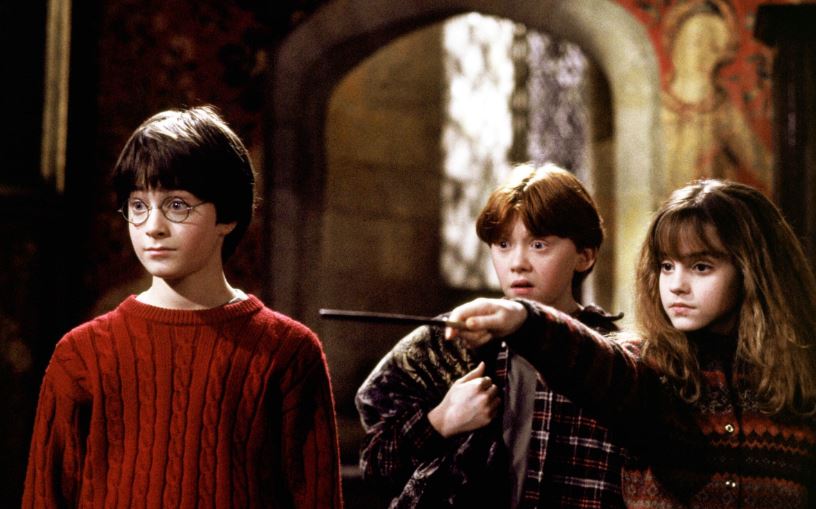 Most of our childhoods (and Christmas) was blessed with the introduction of the most iconic story ever- Harry Potter. The 2001 movie was based on J.K Rowling's 1997 children's novel. Warner Bros. gave justice to this fantasy story by turning every intricate detail of the Wizarding World and Hogwarts into reality on the screens. As children, Daniel Radcliff, Emma Watson, and Rupert Grint's Harry Potter, Hermione Granger, and Ron Weasley became a part of our world.
Vanilla Sky
One of Tom Cruise's popular and earliest films is the thriller "Vanilla Sky". He plays a publisher whose perspective about life takes a hard turn after he meets with an accident. He stars along with Penelope Cruz, Cameron Diaz, and Kurt Russell. It is a sort of movie that requires close attention for its in-depth philosophy.
Lara Croft: Tomb Raider
Lara Croft starring Angelina Jolie shows the world how a video game must be translated into films. It attracted mixed reviews but Angelina Jolie's mind-numbing action stunts and badass performance left an imprint in our minds. There is a reason why Jolie is one of the best action stars out there. In fact, her stunning appearance as Lara Croft became an iconic look.
Moulin Rouge!
The charming musical romance is about a poet who travels to Paris and falls in love with the star performer of the night club, Moulin Rouge. The romantic film stars Nicole Kidman and Ewan McGregor as love interests. It is worth mentioning that the movie wasn't meant for everyone. It caters to the taste of someone who relished diving into literature, art, poetry, and culture.