Tobey Maguire Join MCU's Spider-Man 3
FandomWire was the first one to report that after Jamie Foxx, Andrew Garfield and Tobey Maguire are in talks to reprise their Marvel roles in MCU's Spider-Man 3. Then, this rumor was blown out of proportion as people started to believe the two former Spider-Men are confirmed to return in the forthcoming Spider-Man movie. But that isn't the case just yet as when ET Canada got to talking with a Sony representative, he responded:
"Those rumored castings are not confirmed."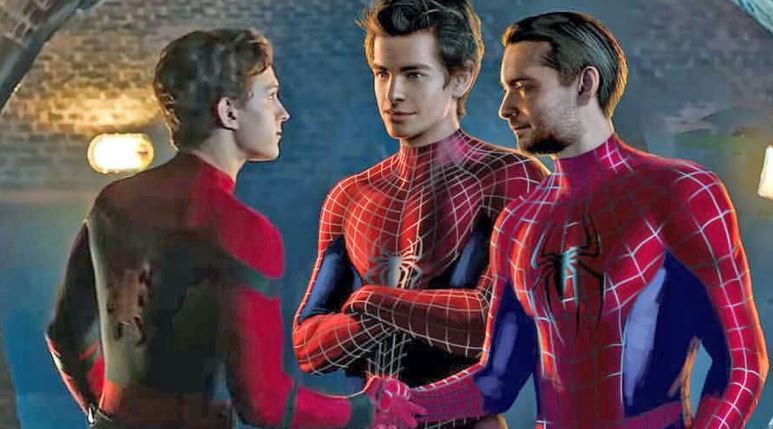 You may think that this reply renders the rumor of Andrew Garfield and Tobey Maguire's casting pointless. But no, it doesn't do that. This is some very specific wording which has been used by the Sony Rep. And, those castings were never confirmed in the first place. It was always being said that the two actors are in talks. The rep didn't deny those talks, which they may be happening as we speak and they may not have come to a close just yet. Maguire and Garfield could still be in the loop and we just have to wait and see how things turn out.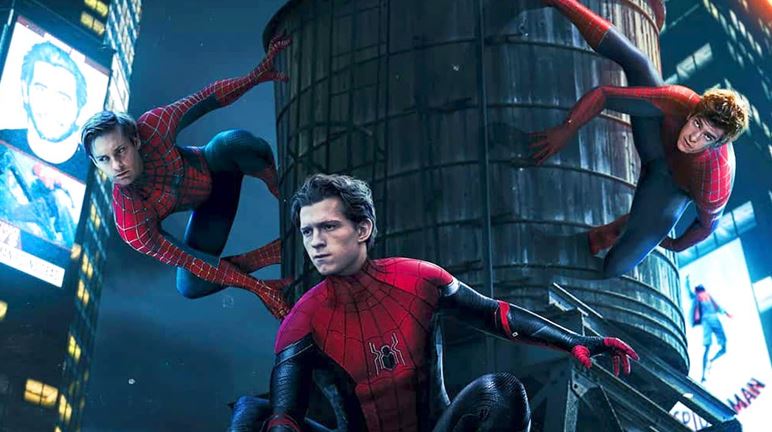 In fact, we've got some new intel upon the matter and this time, it comes from the YouTuber, Grace Randolph. She has various sources in different places. Sometimes, her scoops turn out to be right while sometimes, they are very incorrect. So, we should consider the probability of her new intel being partly or fully incorrect. But let's at least check out what she has tweeted: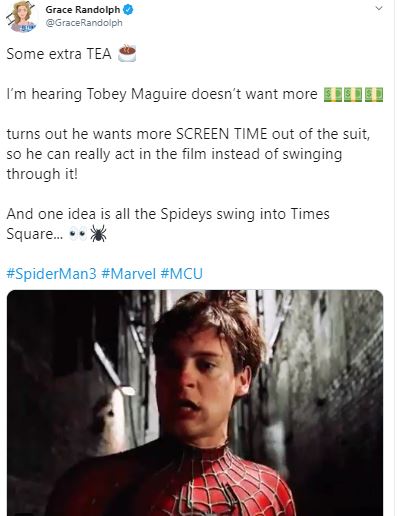 If this intel is real, then FandomWire's report about both Tobey & Garfield being in talks could also prove to be spot on. But, here's where I think that this report doesn't fully feel accurate. According to the tweet, money isn't an issue, but screen time is. It's understandable that Spider-Man 3 cannot give so much of screen time to the other two Spider-Men besides Tom Holland because it is Holland's film after all. So, both Maguire and Garfield might only get to swing in for a cameo.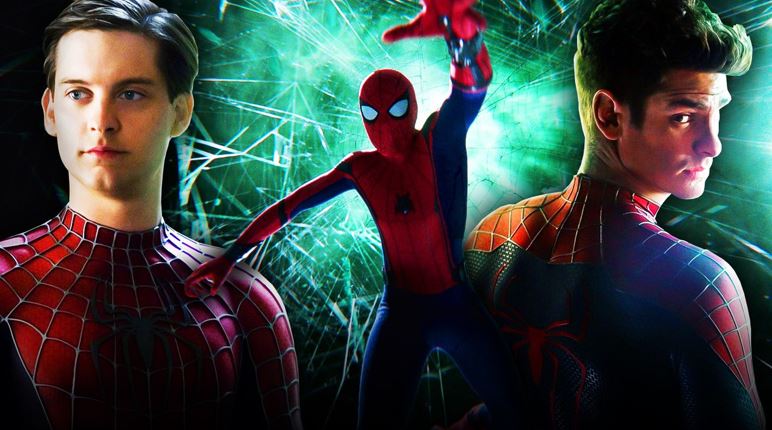 But, why would Tobey Maguire demand for extra screen time in Spider-Man 3? The purpose of his cameo here would be to set up a live-action Spider-Verse movie. It won't be to just be there to establish the Multiverse because Doctor Strange 2 will be doing that anyway. So whenever the Spider-verse movie happens, Tobey Maguire will automatically get more screen time to act. Hence, this kind of issue shouldn't even arise. That's why I personally don't know what to make out of Randolph's tweet apart from the fact that Maguire & probably even Garfield are currently in talks to return as Spider-Men. Whatever the situation may be, we know that it might be sorted out soon enough as Spider-Man 3 has already begun production. If Maguire was going to have a sizable role in the movie, then he would have already signed up by now. So, it's sort of clear that he & Garfield probably won't have a lot to do in the film but could still have a cameo. Let's wait and see how things turn out.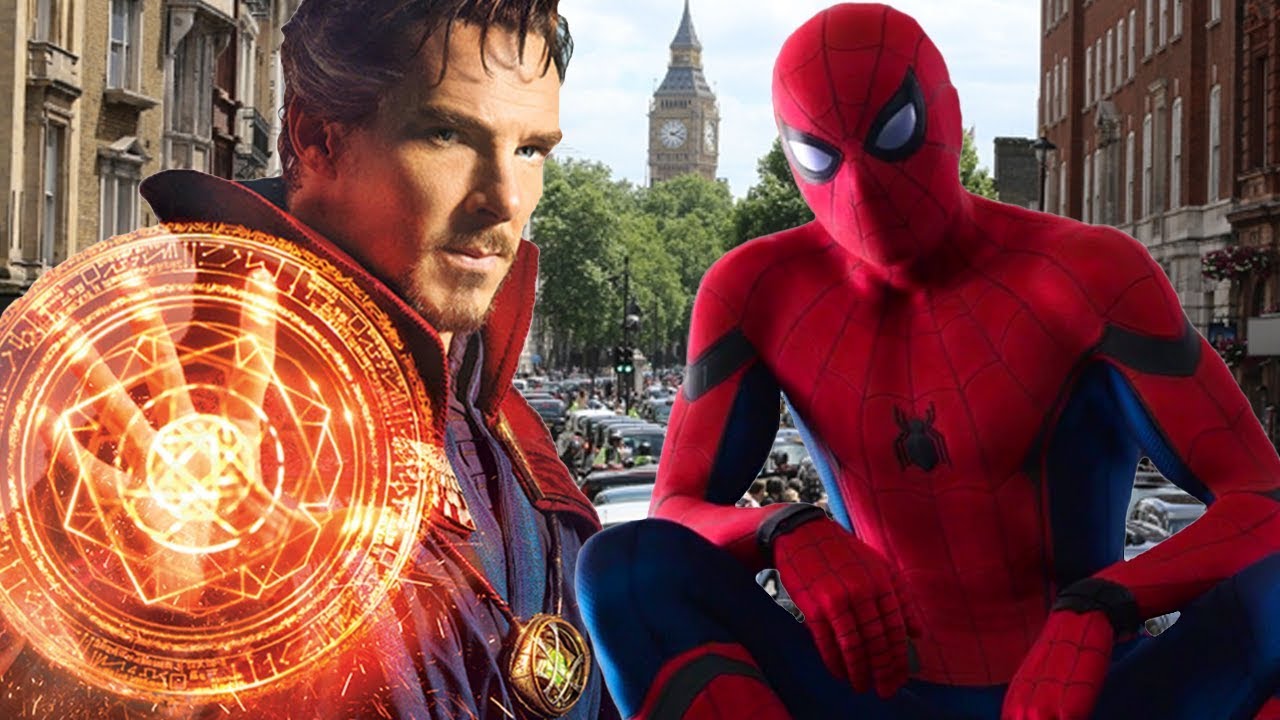 Till then, here's how the of the future slate of MCU looks – WandaVision is set to arrive on Disney+ in 2020. The Falcon and the Winter Soldier is confirmed for 2021 and it could arrive in Spring. Black Widow releases on May 7, 2021, Shang-Chi and the Legend of the Ten Rings on July 9, 2021, Eternals on November 5, 2021, Marvel & Sony's Spider-Man 3 on December 17, 2021, Thor: Love and Thunder on February 11, 2022, Doctor Strange in the Multiverse of Madness on March 25, 2022, Black Panther II on May 6, 2022, and Captain Marvel 2 on July 8, 2022. Blade, Ant-Man and the Wasp 3 & Guardians of the Galaxy Vol. 3 are also confirmed for future releases. As far as other TV shows are concerned, Loki, What if…? & maybe even Hawkeye will arrive next year. Ms. Marvel, Moon Knight, She-Hulk & the Nick Fury (SWORD) series will possibly arrive in 2022.