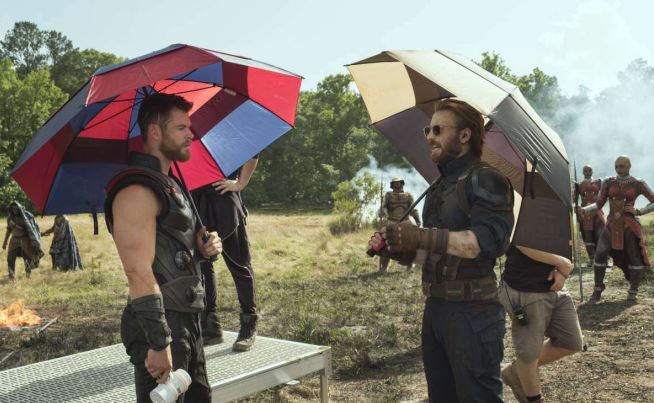 Avengers: Infinity War Set Photos:
It has been 2 years since Avengers: Infinity War came out. It is arguably, the best MCU movie. And to our benefit, we're still getting new set photos to this very day. A lot goes into making films of such a big budget, scale & magnitude. Not only did Marvel have to design a bunch of sets, but after shooting, 1000s of VFX shots are added to complete the films. Such rigorous and extensive filming could take its toll on the actors and other crew members. The following set photos (via Disney+) will give us an idea of what all went into making Infinity War.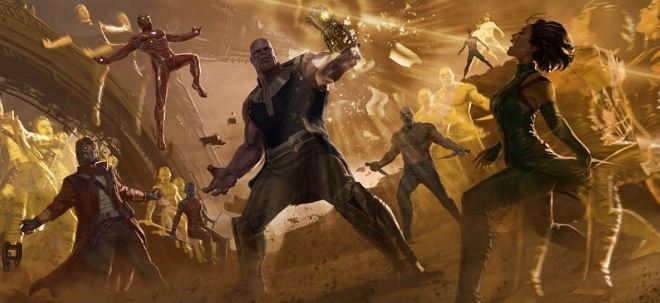 You've already seen the first photo of Chris Hemsworth & Chris Evans talking about their new haircuts and beards while preventing themselves from the sun. Here's the next image of King Boseman ready to cry "Ebombay" along with his army: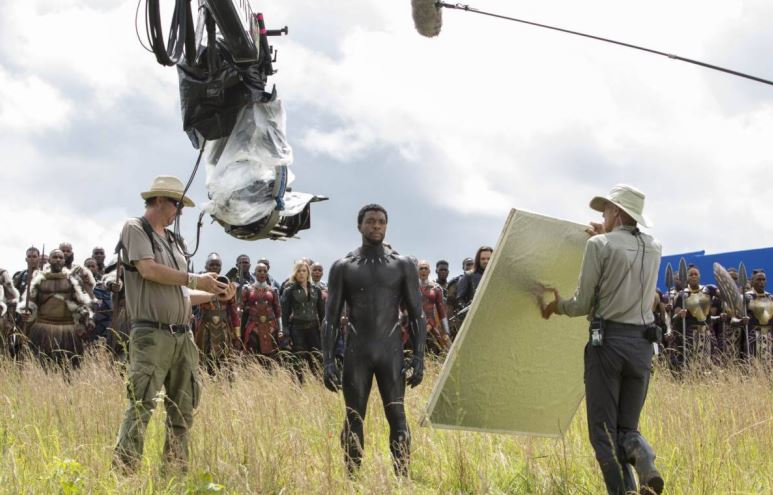 This was right before he & his army took the charge in order to fight the army of Outriders. Next up, we have Scarlett Johansson posing for a shot that will only be used in the trailers: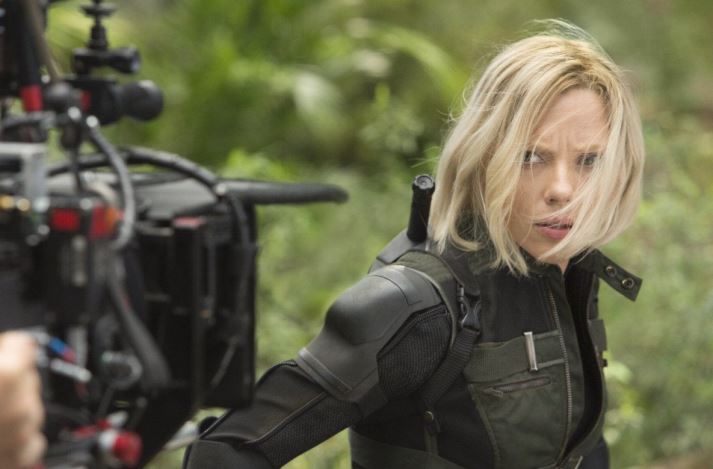 It is amazing how the creatives only take some shots that are to be exclusively used in the marketing, and not in the final cut of the film. It'd be interesting to find out whether the creatives plan and take some of these shots for the marketing, or is this decision made later on in the editing process. It has to be a mix of both. Next up, we have a photo of Drax and twin Nebulas.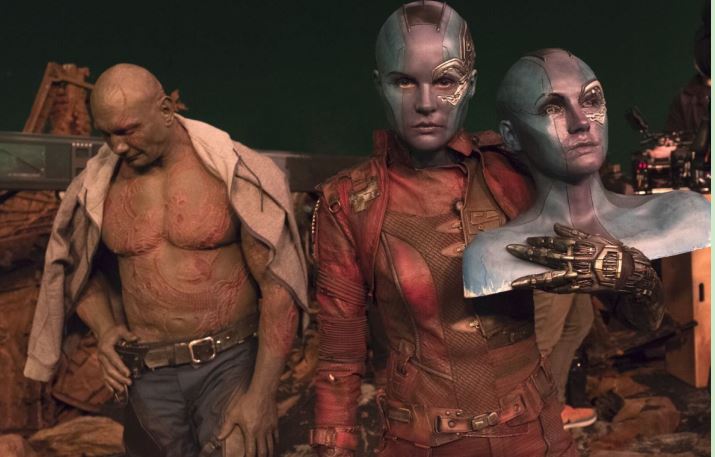 Nebula is a total bad-ass even when she poses with a sculpture of herself. Can anyone figure out what big Dave is thinking over here? If you think that he has got a towel on his shoulders, you're wrong. But don't worry, even I had to take a closer look to figure out that it was his hoodie. Next up, Wong & Ruffalo: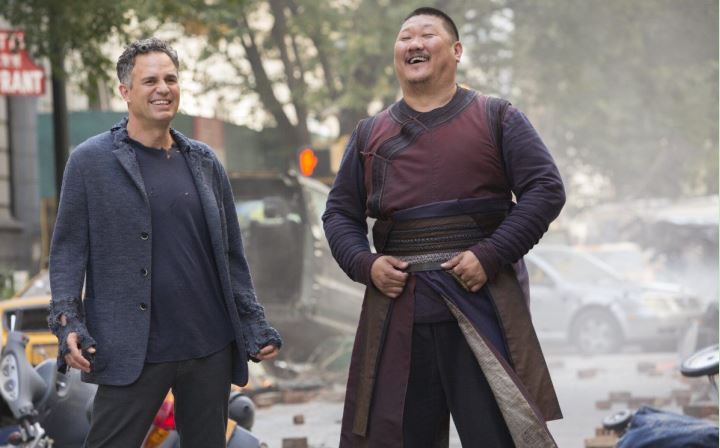 They could literally be laughing at anything. Let's see who comes up with the funniest reason for their laughter in our comments section on Facebook. Take a look at Joe Russo trying to teach Lizzie Olsen how to do a Shahrukh Khan special – Chhammak Chhallo: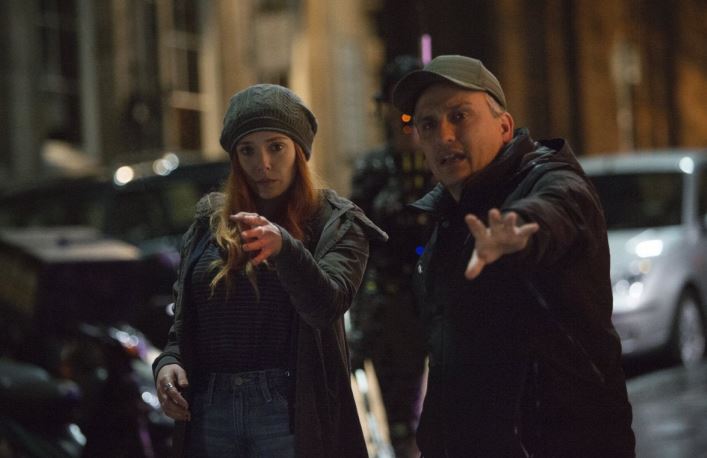 It's great that Elizabeth Olsen and Benedict Cumberbatch just have to do cool hand movements on the set. But they certainly do those with extreme finesse. The next photo is of the best shot in the entire movie. It is of Thor, Groot & Rocket making their dramatic entrance in Wakanda right before Thor unleashes his true strength upon the Outriders. Take a look: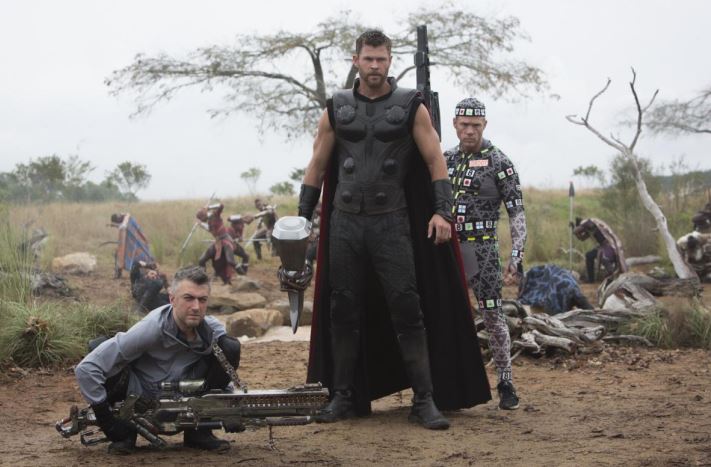 You've already seen various shots of Chris Hemsworth on the set that was created to resemble Wakanda. But it is probably the first time you're seeing Terry Notary (the Motion Capture actor for Groot in the MCU) on the Wakandan set. It's interesting that he is also holding a weapon here. So, the initial plans probably were some for Groot to have a weapon as well. But then, it might not have made sense later since Groot can use his body as a weapon. We also see Sean Gunn here holding Rocket's Twin Barrel Blaster. He has done an amazing job portraying Rocket in all 4 of his MCU appearances.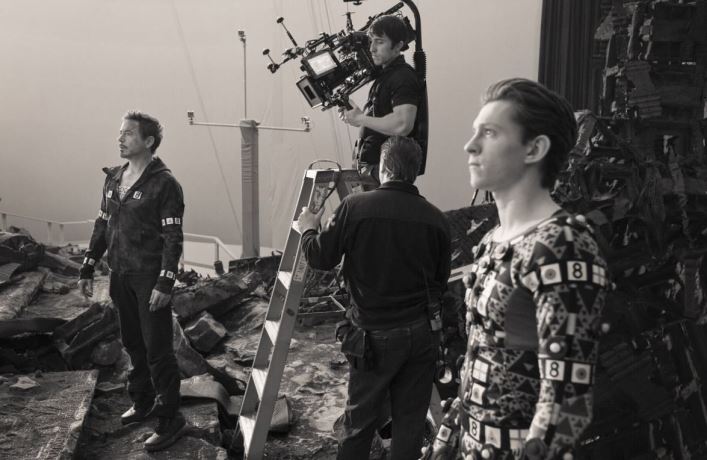 The last photo here is of Robert Downey Jr. (Tony Stark/Iron Man) and Tom Holland (Peter Parker/Spider-Man). They're wearing their motion-capture suits because this shot is of Titan where they were mostly seen in their super suits.
The official synopsis of Avengers: Infinity War reads:
"As the Avengers and their allies have continued to protect the world from threats too large for any one hero to handle, a new danger has emerged from the cosmic shadows: Thanos. A despot of intergalactic infamy, his goal is to collect all six Infinity Stones, artifacts of unimaginable power, and use them to inflict his twisted will on all of reality. Everything the Avengers have fought for has led up to this moment – the fate of Earth and existence itself has never been more uncertain."
Read More:
Thor Has Just Unleashed His Most Colossal Attack & We're Losing It