Television
COMEDY CENTRAL Pranks Viewers On April Fool's With Ek Desi Surprise Of F.R.I.E.N.D.S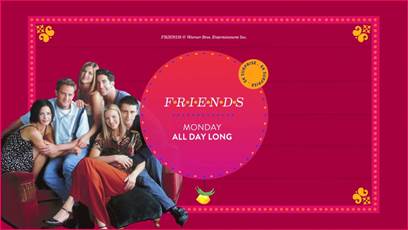 National, Monday, April 1, 2019: Prepare to LOL, LMAO, LMFAO, ROFL and even ROFLMAO, as COMEDY CENTRAL celebrates April Fool's Day with the best of F.R.I.E.N.D.S in a way never seen before. Crafting an insane laughter riot, starting 6 am, COMEDY CENTRAL airs the world's highest-rated sitcom in a new avatar, with one character in every episode speaking in the conspicuous voice of a prominent Bollywood personality, that too in Hindi.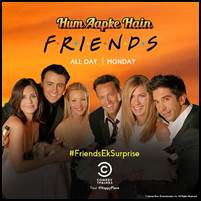 Commenting on the quirky direction of the channel's special programming, Hashim Dsouza – Head of Programming, English Entertainment, Viacom18, said
"Comedy Central has been the home of F.R.I.E.N.D.S and we've continually presented this iconic show through fresh and innovative programming that week-on-week keeps it at the pinnacle of most-watched shows in English entertainment. Delving deep into the spirit of April Fools, we're giving viewers a unique and bizarre version of their favorite sitcom, ensuring they enjoy this ultimate prank-day. For the longest time, Indian fans could only imagine and hope for a Desi F.R.I.E.N.D.S, but now that wait is over as we give them a glimpse to a whacky Hindi-speaking avatar of the show."
So, buckle up and binge on this wild marathon as Rachel, Monica, Phoebe, Ross, Chandler, and Joey find their voice with much gusto from some of the most iconic stars of Bollywood including Sonam Kapoor, Kajol, Kangana, Amitabh Bachchan, Saif Ali Khan and Shah Rukh Khan in this string of rib-tickling episodes.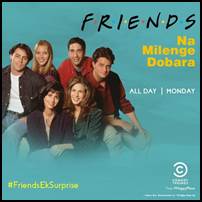 Catch the funniest episodes of F.R.I.E.N.D.S with a dab of Desi-ness all-day-long only on COMEDY CENTRAL
About Comedy Central India:
Comedy Central India launched in 2012, lines up powerful programming including hit TV series such as Friends, Anger Management, Episodes, Saturday Night Live, Whitney, The Office, Seinfeld, Frasier, That 70s Show, South Park and Suits. The country's first 24-hour channel dedicated to English language comedy, Comedy Central is available in over 27 million households across the country and across analogue, digital cable & DTH. Since late 2006, Comedy Central has expanded globally with localized channels in Poland, Germany, Netherlands, Italy, Hungary, Sweden, Ireland, United Kingdom, New Zealand, Israel Spain & Singapore.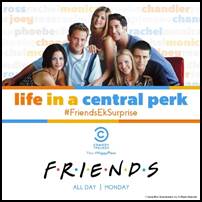 ABOUT VIACOM18:
Viacom18 Media Pvt. Ltd. is one of India's fastest growing entertainment networks and a house of iconic brands that offers multi-platform, multi-generational and multicultural brand experiences. A joint venture of TV18, which owns 51%, and Viacom Inc., with a 49% stake, Viacom18 defines entertainment in India by touching the lives of people through its properties on air, online, on ground, in shop, and through cinema.