Movies
Avengers: Endgame – Chris Evans Leaked Spoilers of The Film to a U.S. Senator
Avengers: Endgame comes out in less than 2 months, and it has some big thrilling story threads in store for us. So far we only think that we know quite a lot about the film having seen the set leaks and merchandise images, but in reality, what we know is almost close to nothing. Everything revealed by the trailers and the merchandise is all from the first half of the film and there's a whole second half that people are totally unaware of!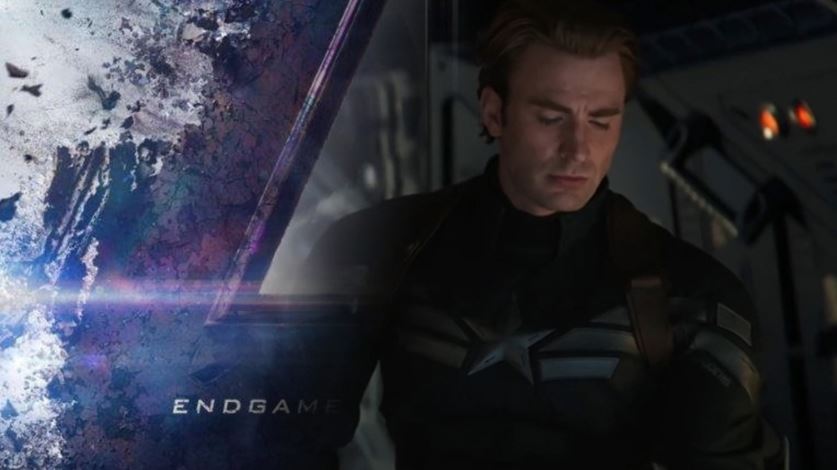 There are only some people in this world that know certain plot details about the film. The people that fall into this category are Kevin Feige, Avengers: Endgame directors Joe & Anthony Russo, Screenwriters, Christopher Markus, and Stephen McFeely, a few more Marvel producers, and some of the cast members. Not everyone knows what's going to happen in the entire film.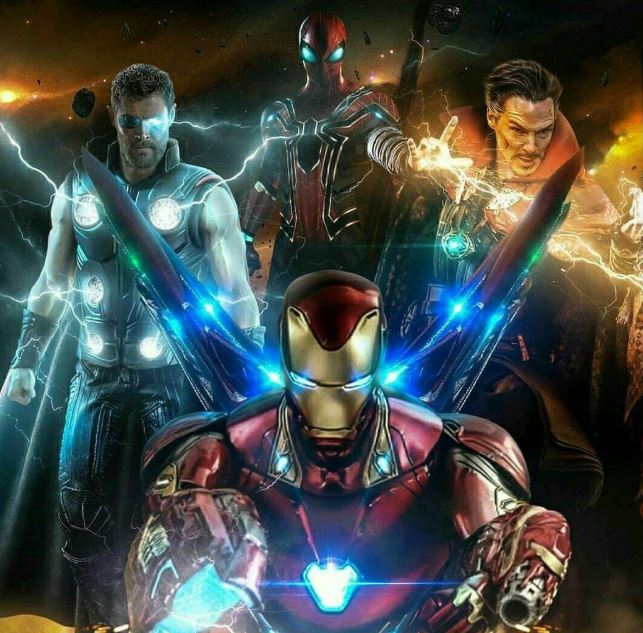 Only the likes of Benedict Cumberbatch, Robert Downey Jr., Chris Evans and possibly even Chris Hemsworth would be the ones to know that since these are the characters that are going to play the most important role in the movie.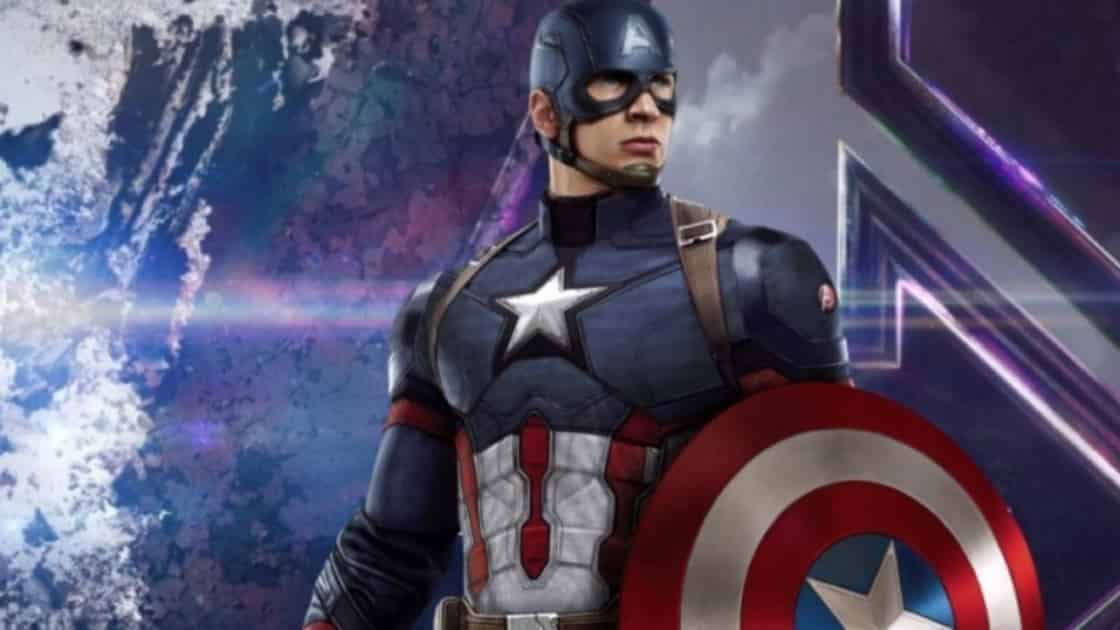 Now we could imagine that these actors must have talked about their roles to someone at least. Robert Downey Jr. must have told his wife or kids, and the same goes for others. But what would be interesting to know is whether these actors tell anyone else apart from their families? As it turns out, at least Chris Evans does that!
The Captain America star recently took a visit to meet with South Carolina Senator Tim Scott, and Scott took to twitter to celebrate their meeting. Here's what he wrote:
"Great to meet @ChrisEvans this morning and talk education, workforce development, criminal justice reform, and bipartisanship," Scott wrote. "Thankfully, neither of us turned to dust at the end."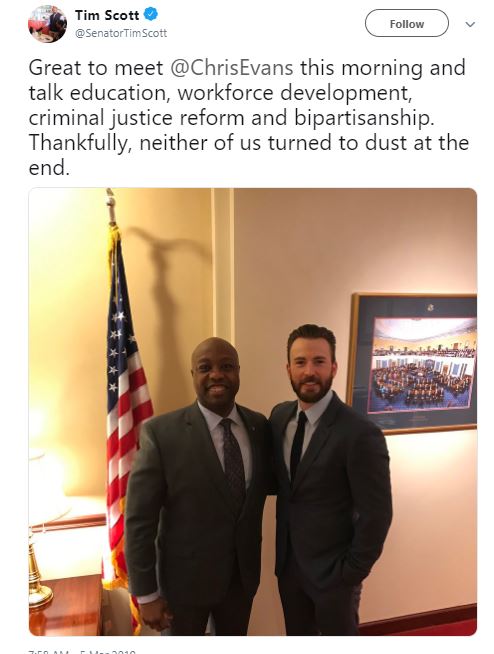 Evans revealed something really interesting giving a reply to this. Here's what he wrote:
"Honor to meet you, sir. Thank you for taking the time. And if you repeat the secrets I told you about Endgame, Marvel will make sure we BOTH turn to dust."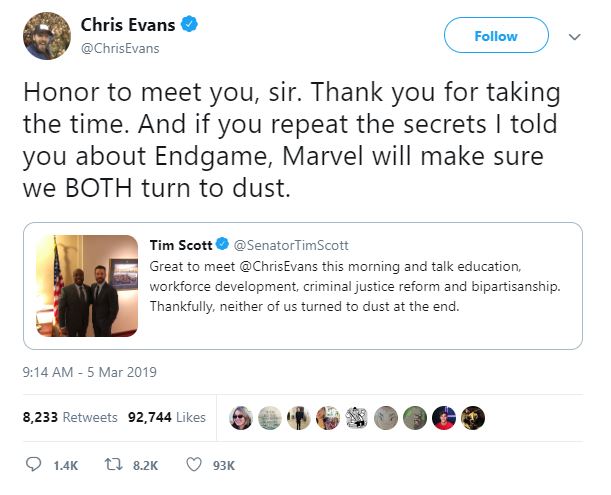 Well, Marvel has snipers sitting everywhere, so if Evans wants to survive in the real world even though fiction is about to kill him, he'd pray that Senator Scott doesn't leak anything to anyone. Well, he has assured Evans of doing the same, so he should be safe for now. Here's what the Senator responded with – "
my
,
"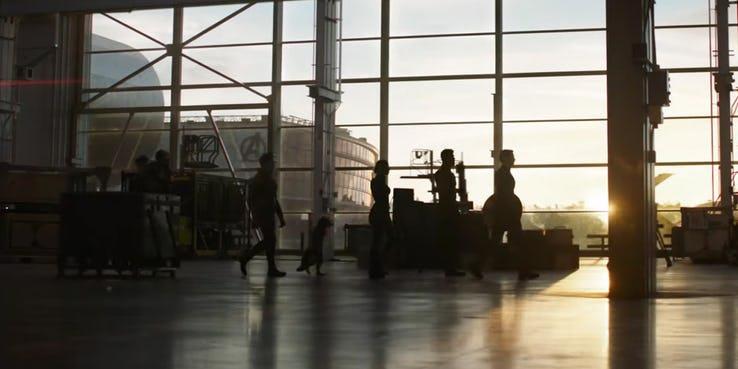 Right after Captain Marvel comes out, Marvel probably let it run free for a week, and then they will focus upon the next big thing, i.e. Avengers: Endgame. The final marketing campaign of the movie is going to begin as a new trailer will be released (probably) and EMPIRE Magazine is going to make a big reveal for the film, along with certain posters, set photos and details from interviews. The Empire reveal is coming out on March 21, so the trailer should release close to that.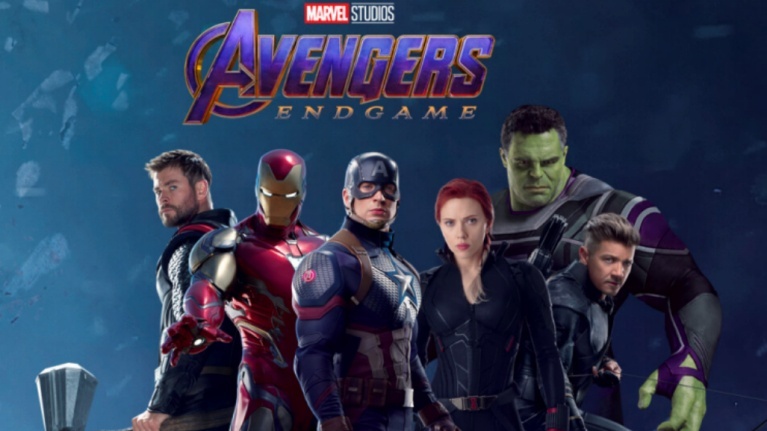 Directed by Joe & Anthony Russo, Avengers: Endgame will open on April 26, and it'll presumably star Robert Downey Jr., Chris Hemsworth, Mark Ruffalo, Chris Evans, Scarlett Johansson, Benedict Cumberbatch, Jeremy Renner Don Cheadle, Tom Holland, Chadwick Boseman, Paul Bettany, Tom Hiddleston, Idris Elba, Danai Gurira, Peter Dinklage, Benedict Wong, Elizabeth Olsen, Anthony Mackie, Sebastian Stan, Gwyneth Paltrow, Benicio del Toro, Josh Brolin, Pom Klementieff, Karen Gillan, Dave Bautista, Zoe Saldana, Vin Diesel, Bradley Cooper, Chris Pratt, Paul Rudd, Samuel L. Jackson, Cobie Smulders, Tessa Thompson, Evangeline Lilly, Aaron Taylor Johnson, Cate Blanchett, Michelle Pfeiffer, Michael Douglas, Tilda Swinton, Jeff Goldblum, Katherine Langford, Stellan Skarsgard and Brie Larson.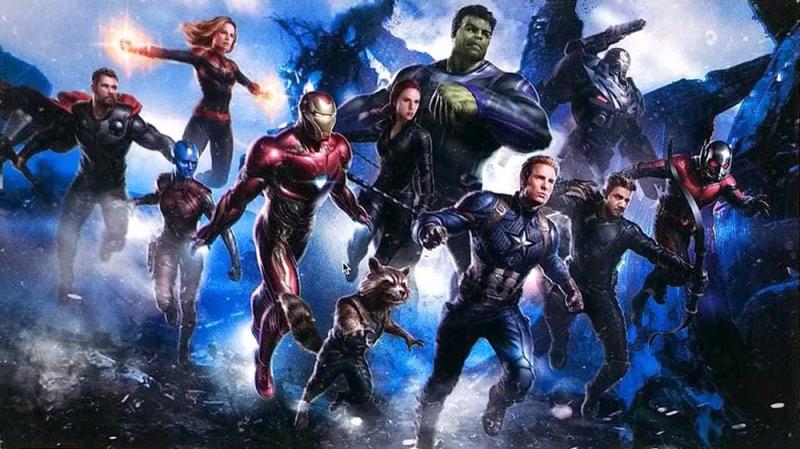 Here's the official synopsis:
"After the devastating events of Avengers: Infinity War (2018), the universe is in ruins due to the efforts of the Mad Titan, Thanos. With the help of remaining allies, the Avengers must assemble once more in order to undo Thanos' actions and restore order to the universe once and for all, no matter what consequences may be in store."