Movies
Avengers: Infinity War – Here's an Alternate More Vicious Look at Ebony Maw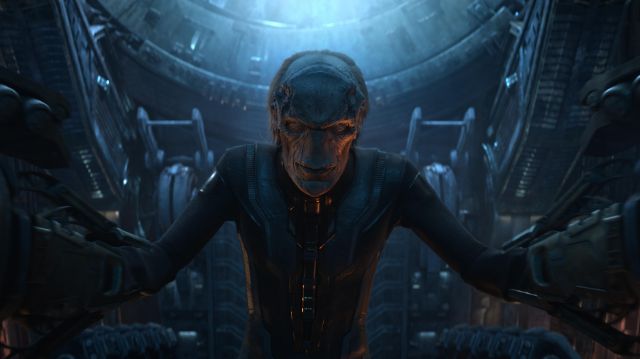 Avengers: Infinity War brought in a diverse set of characters. Some characters were obviously used much better than the others. The great part about the film is that along with Thanos and a generic army, there were some other villains for the Avengers to take on as well. The Black Order was used pretty well in Infinity War all things considered, but due to the limited screen time, their story arcs couldn't be portrayed to their full potential. Ebony Maw was surely the strongest among the 4 children of Thanos, but he actually became the first one to die amongst the villains.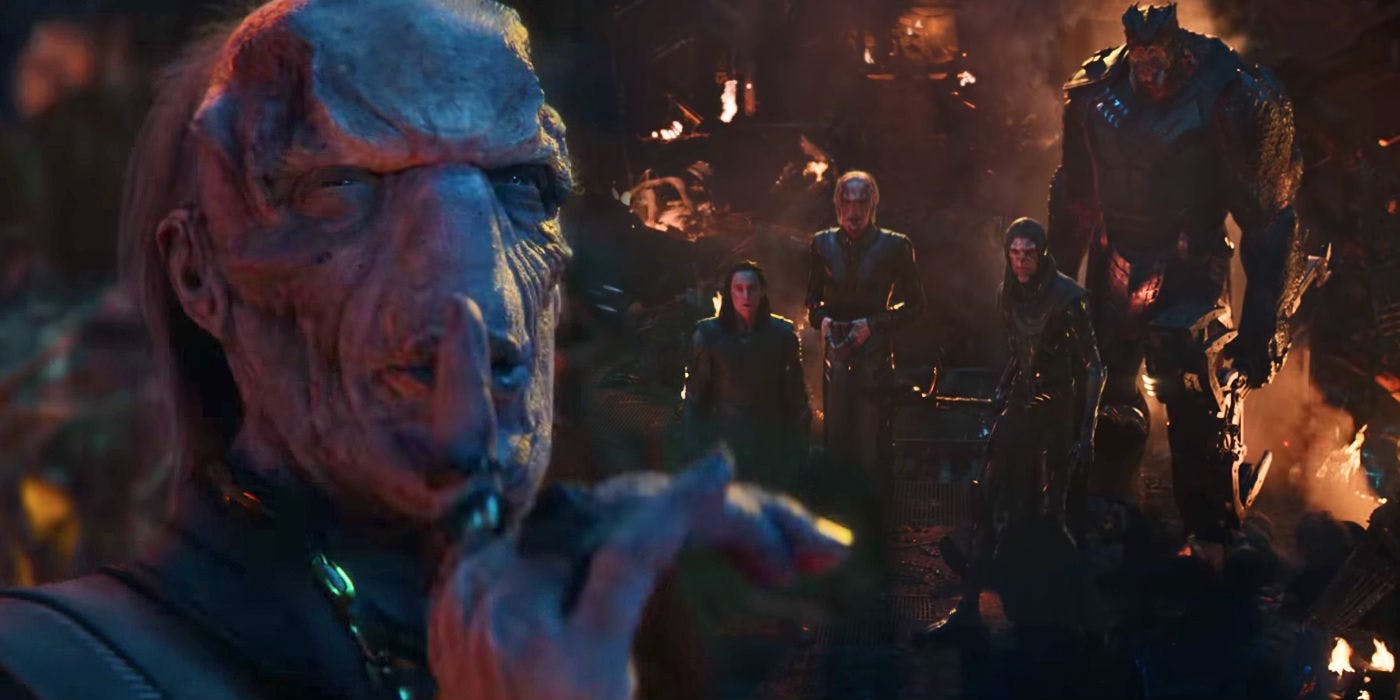 Ebony Maw was played by Irish actor Tom Vaughan-Lawlor, who did do justice to the character. Even the look of the Maw adopted by the VFX heads was true to the comics. He looked frightening and disgusting at the same time. The best part about the character was his set of powers.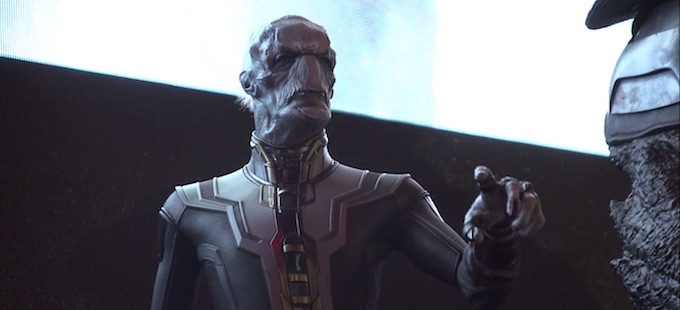 Given more time, the Maw surely has a great potential to be a formidable villain. Avengers: Infinity War actually displayed the best use of telekinesis till now. Not even Jean Grey or Magneto have used the power as well as Squidward did.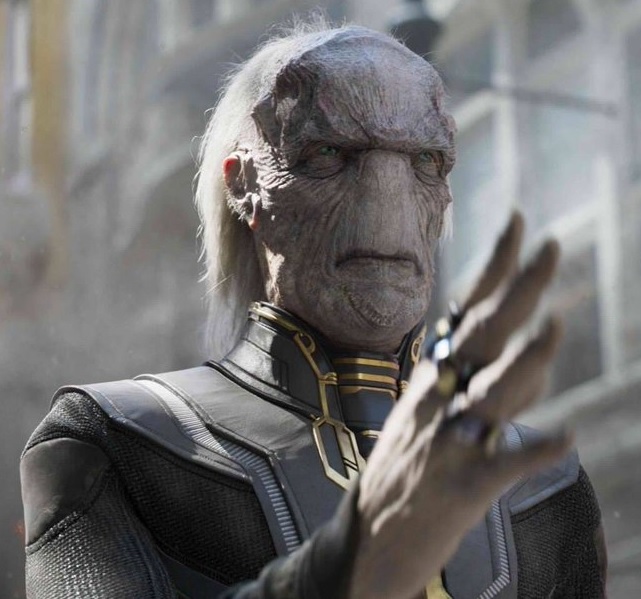 But you would actually be surprised to know that there was an even freakier and weirder looking design that artists came up with, for this character. Marvel Studios concept artist Jerad Marantz recently shared a design that he came up with for Ebony Maw. You'd be surprised to know that he almost got a Mohawk. Have a look: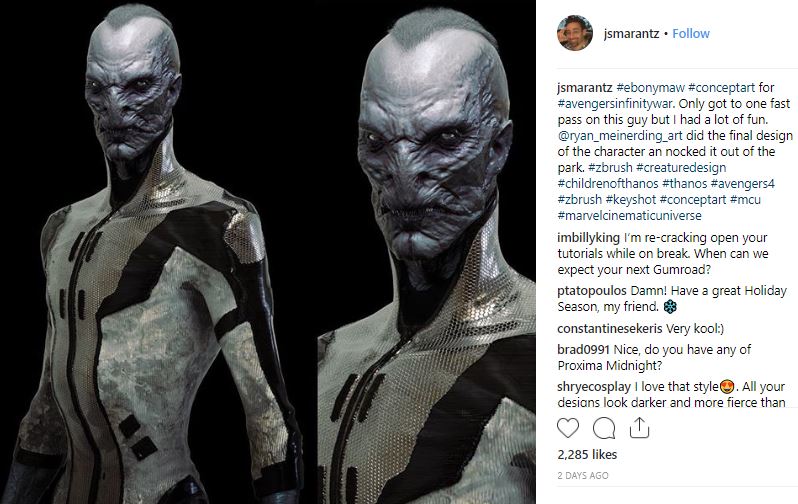 Now if you think that this is creepy from the front, wait until you actually get a side on look from the strongest adopted child of Thanos.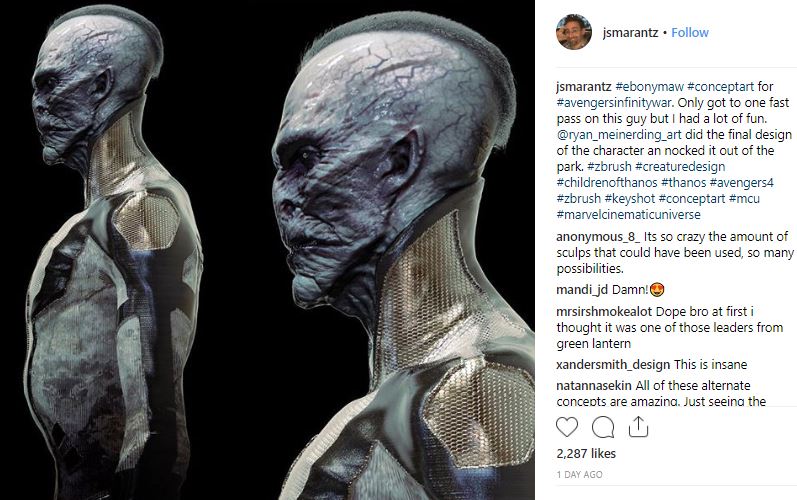 A part of me actually wishes this to be the final version of the character, but what we ultimately got was pretty cool as well. With Cull Obsidian and Corvus Glaive having freakish faces, it is good that Ebony Maw looked different and Unique. The Mohawk is certainly unique, but with this design, the face looks much similar to Corvus Glaive. So that is probably why the look might have been changed altogether.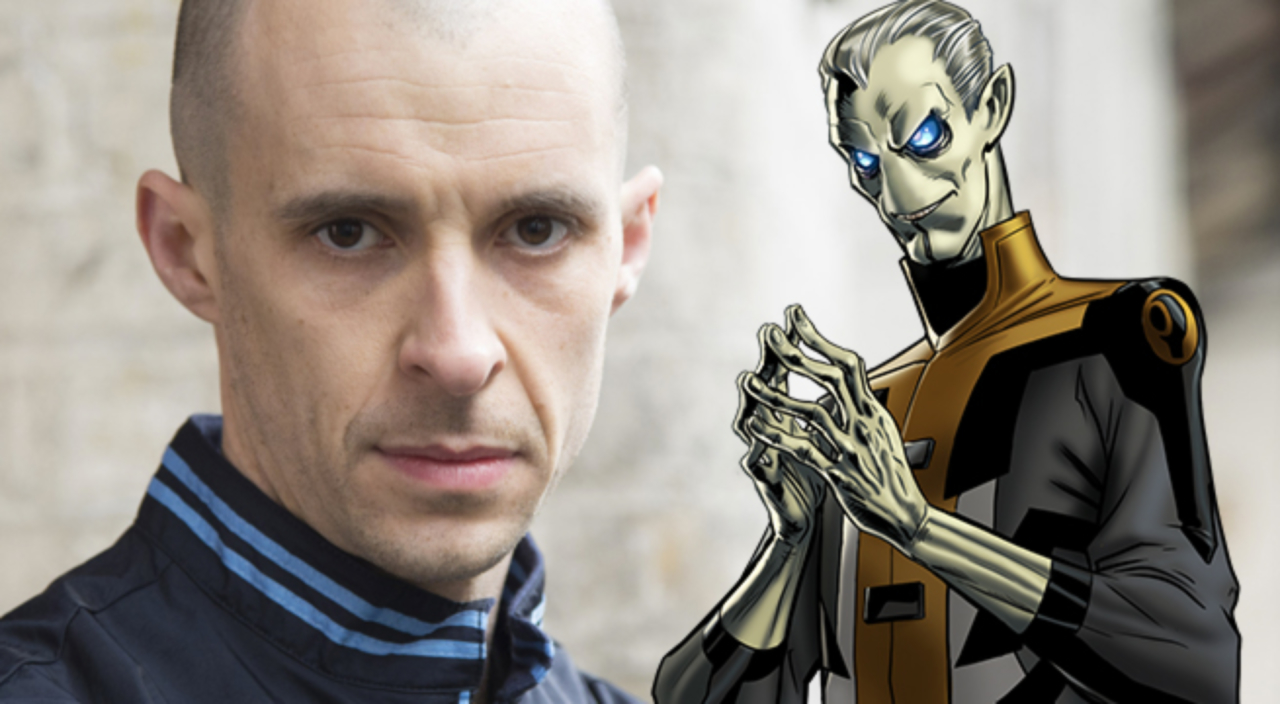 Here's the reason why Marvel cast Vaughan-Lawlor as Ebony Maw according to Joe Russo. Here's what he said:
"We really were looking for actors to embody these characters of the children of Thanos, called the Black Order. This character Ebony Maw in particular is like Thanos' herald. He's a little bit of his hype man. And Thanos is sort of a culty character. Ebony Maw, the character who Tom plays, is the one that builds up the cult."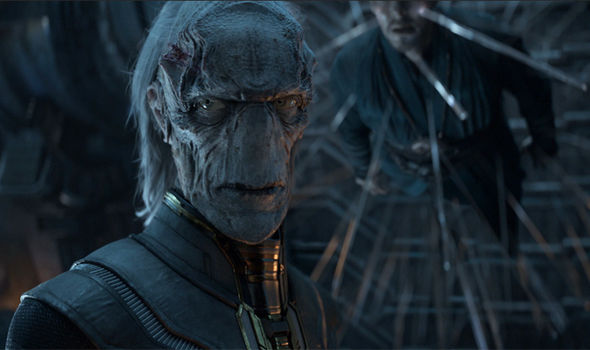 Actor Taylor Vaughn-Lawlor also talked about how he enjoyed playing the character. Here's what he had to say:
"I think he's a great character and fun to play. It's a brilliantly written character, some of the language and the dialogue that I got to say was just so much fun. Those parts are kind of gifts to actors. Also the physicality, it's a very playful character. And yeah, it was wonderful to do, and given the opportunity, I'd love to revisit it if possible."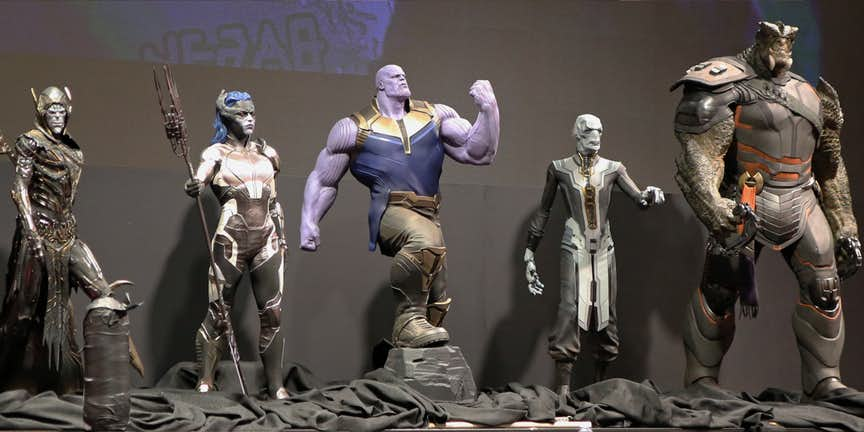 Joe Russo then spoke about the Black Order overall, and how the Chidren of Thanos fit in the MCU. He said:
"The Black Order, in particular, we worked hard to adjust them to the Marvel Cinematic Universe," co-director Joe Russo explained on the film's commentary track. "In the [Jonathan] Hickman run, I thought the characters were too powerful. And nobody wants the sub-villain to outshine the villain. And we adjusted their power sets so that they lined up in a way that was more interesting with our heroes. Which is why Maw's a 'wizard.'"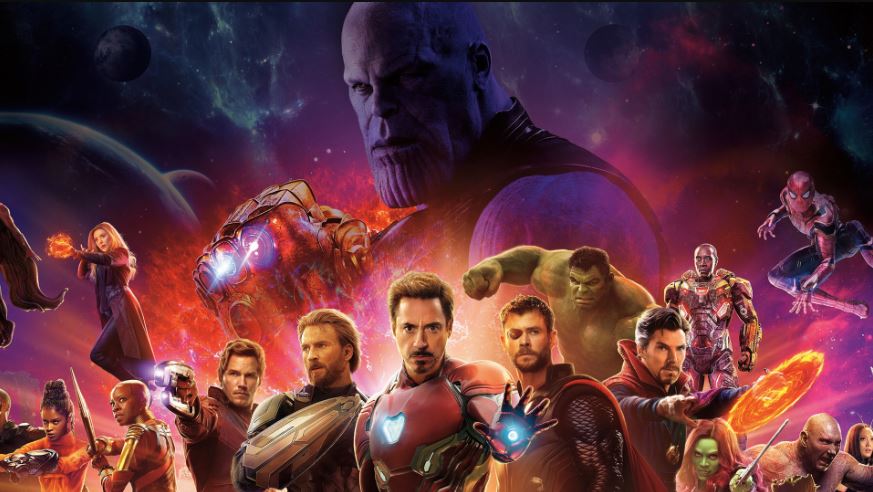 Avengers: Infinity War stars Robert Downey Jr., Chris Hemsworth, Chris Evans, Scarlett Johansson, Mark Ruffalo, Benedict Cumberbatch, Don Cheadle, Tom Holland, Chadwick Boseman, Paul Bettany, Elizabeth Olsen, Anthony Mackie, Sebastian Stan, Tom Hiddleston, Idris Elba, Danai Gurira, Peter Dinklage, Benedict Wong, Pom Klementieff, Karen Gillan, Dave Bautista, Zoe Saldana, Vin Diesel, Bradley Cooper, Gwyneth Paltrow, Benicio del Toro, Josh Brolin, and Chris Pratt, and it was Directed by The Russo Brothers. Writers Christopher Markus & Stephen Mcfeely wrote the film and they have also written the upcoming Avengers: Endgame.