Movies
Avengers: Endgame – Thanos Action Figure Provides Best Look at His Armor & Sword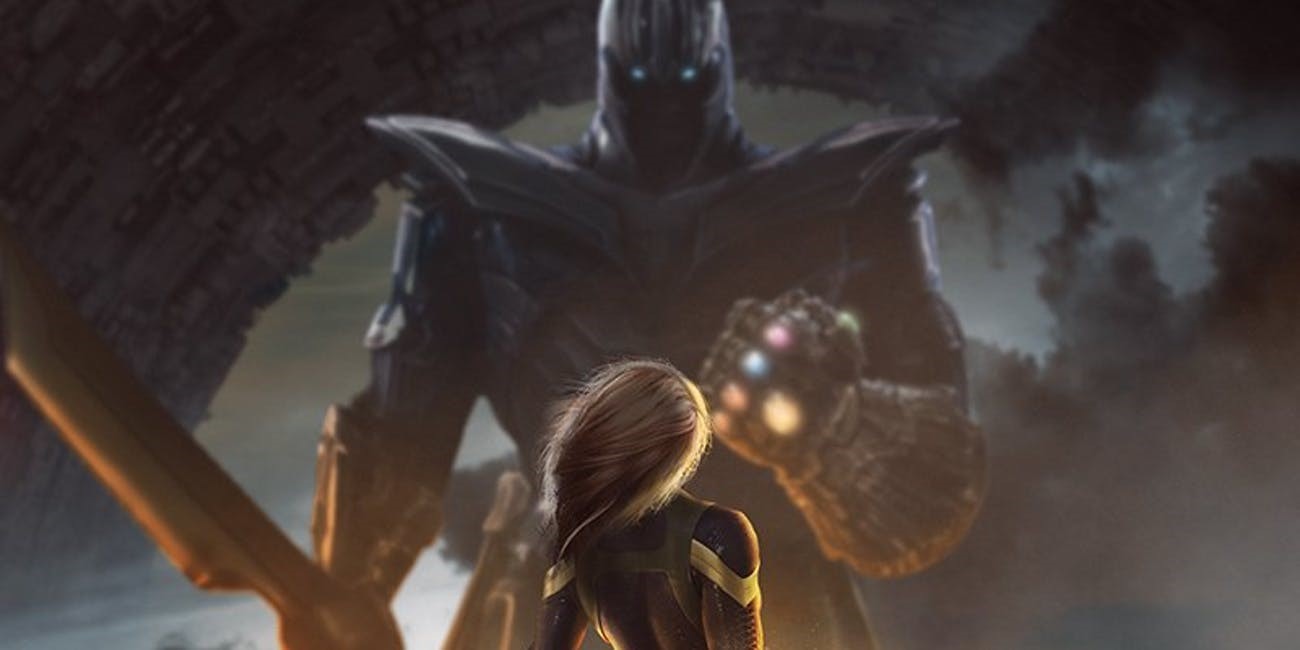 Avengers: Endgame will bring Thanos back into the mix of things. He fulfilled his destiny and because of that, half the population of the Universe ceased to exist. He established himself as one of the best, if not the best comic book movie villain of all time.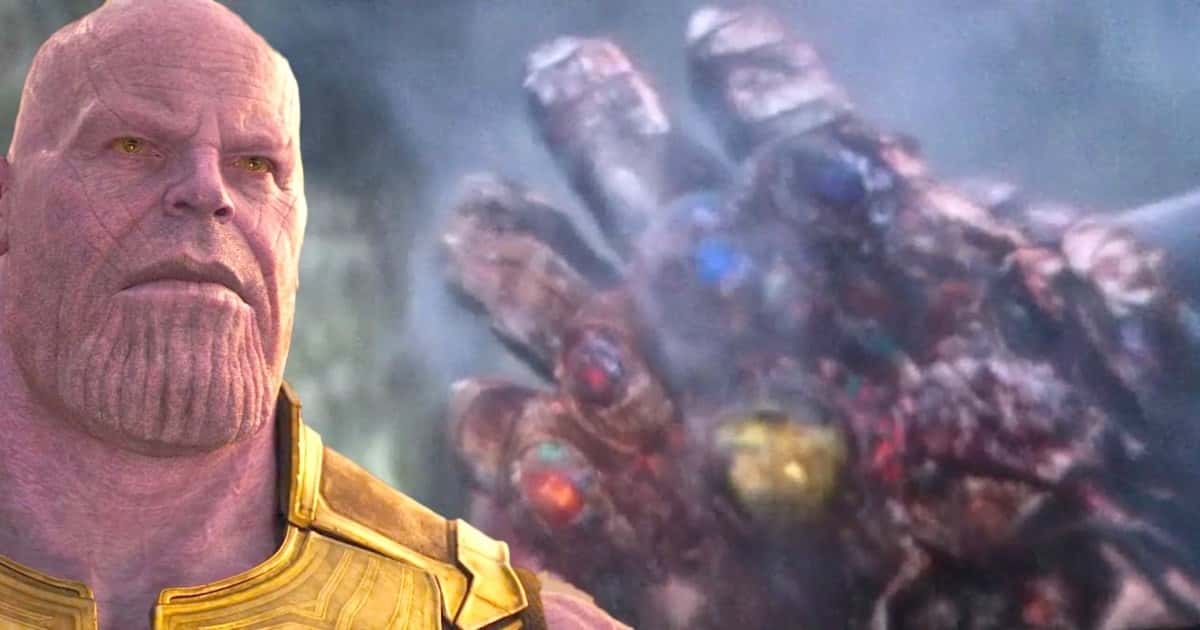 Surely there are not a lot of comic book villains that can compete with his magnificence and insanity. There's probably just one, i.e. Heath Ledger's Joker. And now we get to see Thanos one more time in Avengers: Endgame, and he will surely exceed every other supervillain to be the best of all time.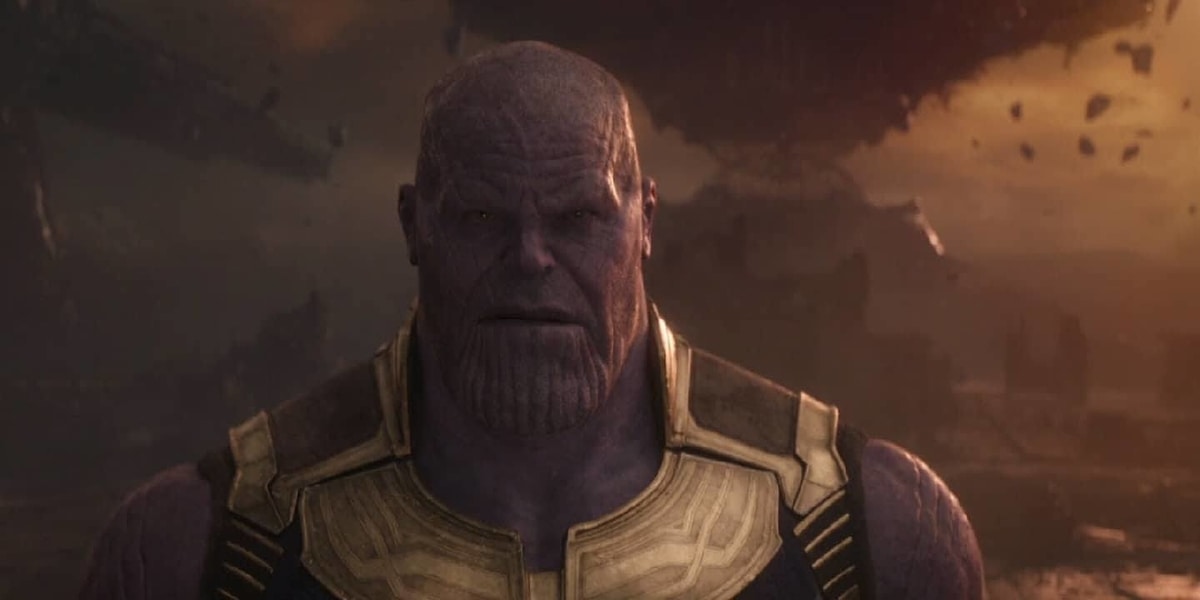 His motivations were so relatable to the real world, and that is why he worked so very well on screen. He wasn't just the big bad alien who wanted to annihilate the entire Universe. His motivations at the deepest level were human, or rather inhumane if you see it from a different angle. He was very intimidating and frightening at the same time and kudos to writers Christopher Markus and Stephen McFeely & Directors Joe & Anthony Russo for making him the way he was.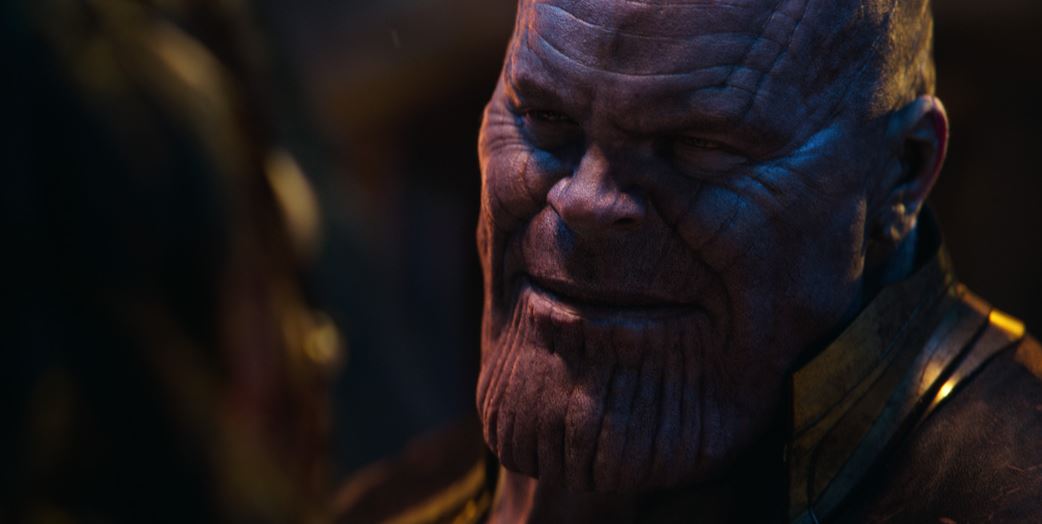 Josh Brolin has done a remarkable job bringing the character to life. Here's what the directors of the movie, Joe and Anthony Russo had to say about Brolin's work as Thanos:
"Anthony Russo – He's such an amazing performer and so uniquely suited to Thanos. What we were looking for in the character of Thanos is the strongest, most intimidating figure in the universe. While at the same time we wanted to tell a story about a character with a really complex and empathetic interior life. There are not a lot of actors that can give you both of those things. Josh Brolin is perhaps the best example that you can find where you have somebody who has a physical presence and brings that level of intensity and threat, while at the same time having another layer always at work underneath that, which is a very complex inner life and a lot of emotional depth and texture."

"Joe Russo – Josh created an incredibly nuanced character who is both frightening and oddly emotional."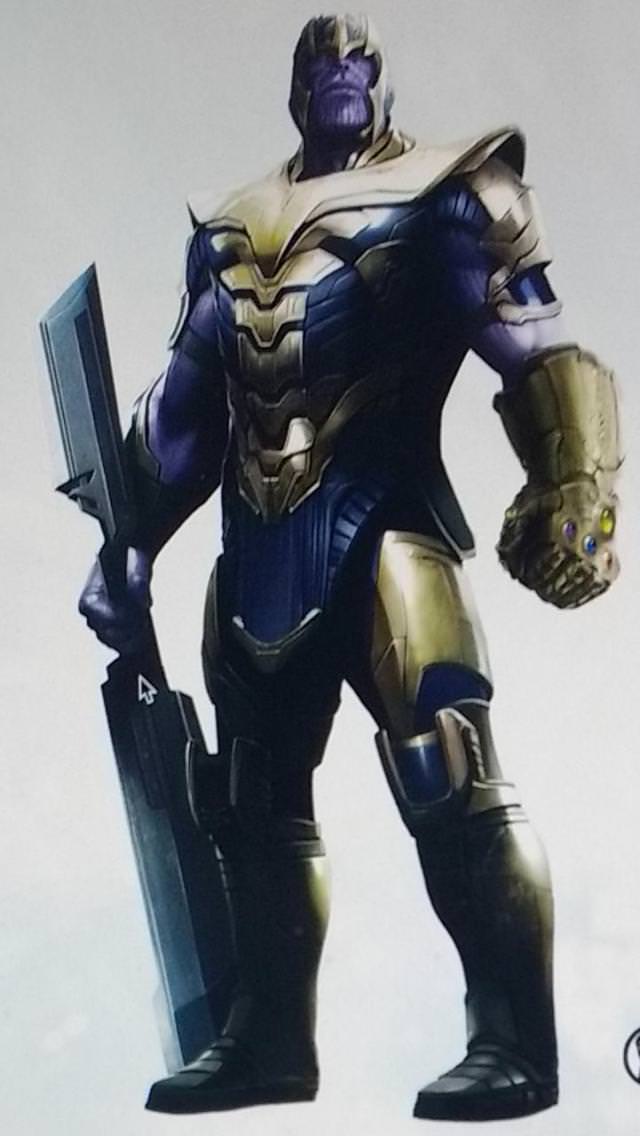 As we have seen through a leaked concept art, Thanos will be donning his armor again, which has also been teased by the new trailer. And he will also be carrying a new weapon, which is a giant two-bladed sword. While Thanos did not fully show up in the Avengers: Endgame trailer, we did not get a clear look at his new weapon. But a new leaked image of an action figure may give us a hint of how he might look in the final cut of the film. Also, he will supposedly get a new armour, so have a look: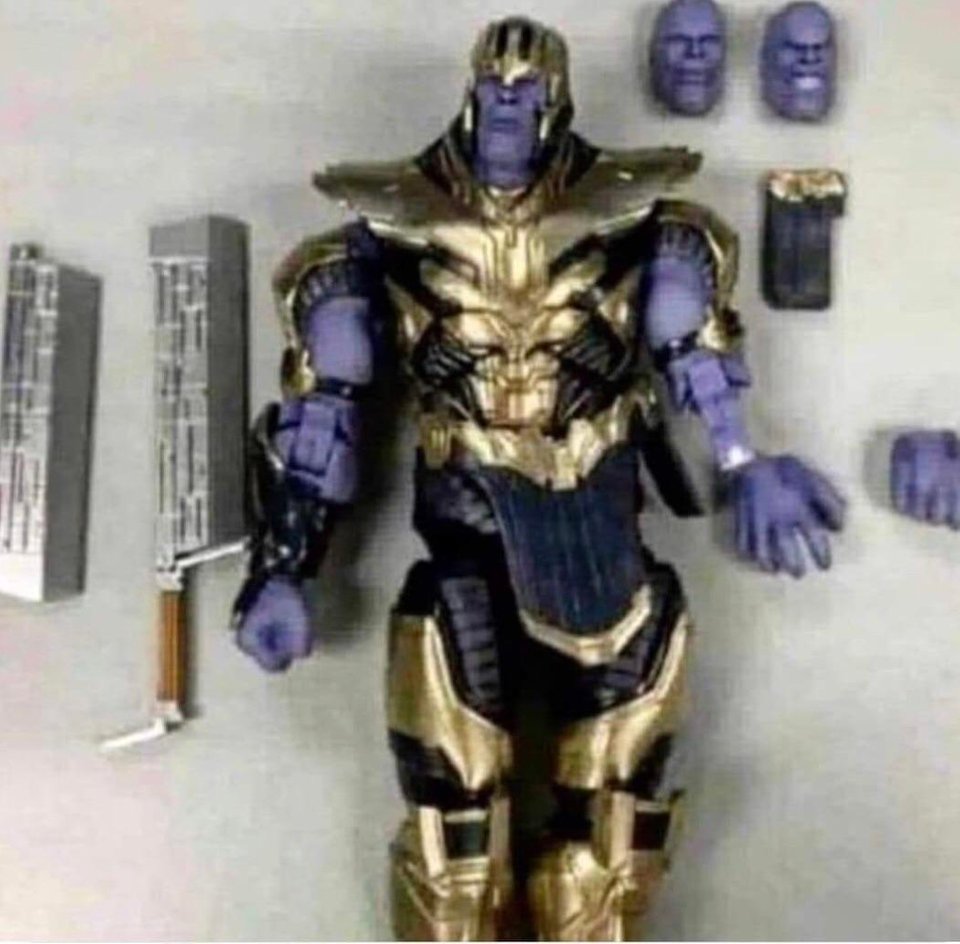 We also got a leaked image of a set action figure of Thanos, and the armor looked a little different in that particular figure. So, we can only know for sure when the next trailer reveals it, but still, have a look if you missed it: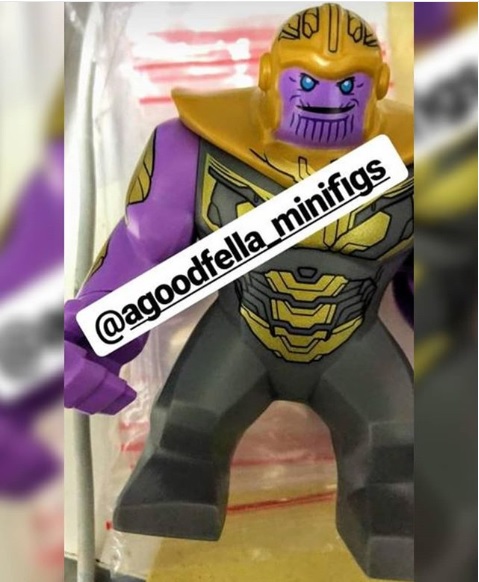 One thing we can be sure of looking at these two action figures is that the new armor will adopt more black/grey over Gold this time. The Gold will still stay prominent, but so will black. Rest, only the next step of marketing could clear our doubts.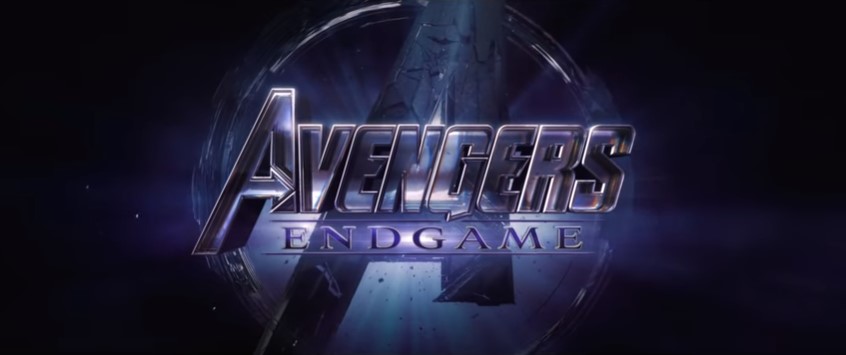 Avengers: Endgame comes out on April 26. Here's the official Synopsis of the movie:
"A culmination of 22 interconnected films the fourth installment of the Avengers saga will draw audiences to witness the turning point of this epic journey. Our beloved heroes will truly understand how fragile this reality is and the sacrifices that must be made to uphold it."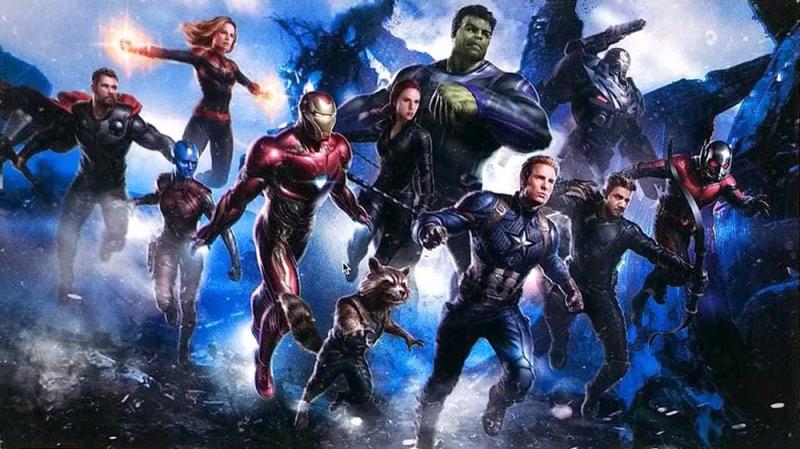 Directed by Joe & Anthony Russo, Avengers: Endgame will presumably star Robert Downey Jr., Chris Hemsworth, Mark Ruffalo, Chris Evans, Scarlett Johansson, Benedict Cumberbatch, Jeremy Renner Don Cheadle, Tom Holland, Chadwick Boseman, Paul Bettany, Tom Hiddleston, Idris Elba, Danai Gurira, Peter Dinklage, Benedict Wong, Elizabeth Olsen, Anthony Mackie, Sebastian Stan, Gwyneth Paltrow, Benicio del Toro, Josh Brolin, Pom Klementieff, Karen Gillan, Dave Bautista, Zoe Saldana, Vin Diesel, Bradley Cooper, Chris Pratt, Paul Rudd, Samuel L. Jackson, Cobie Smulders, Tessa Thompson, Evangeline Lilly, Aaron Taylor Johnson, Cate Blanchett, Michelle Pfeiffer, Michael Douglas, Tilda Swinton, Jeff Goldblum, Katherine Langford, Stellan Skarsgard and Brie Larson.