Movies
Mark Ruffalo Lost His Backpack & Marvel Fans Think It Is Full of Avengers 4 Spoilers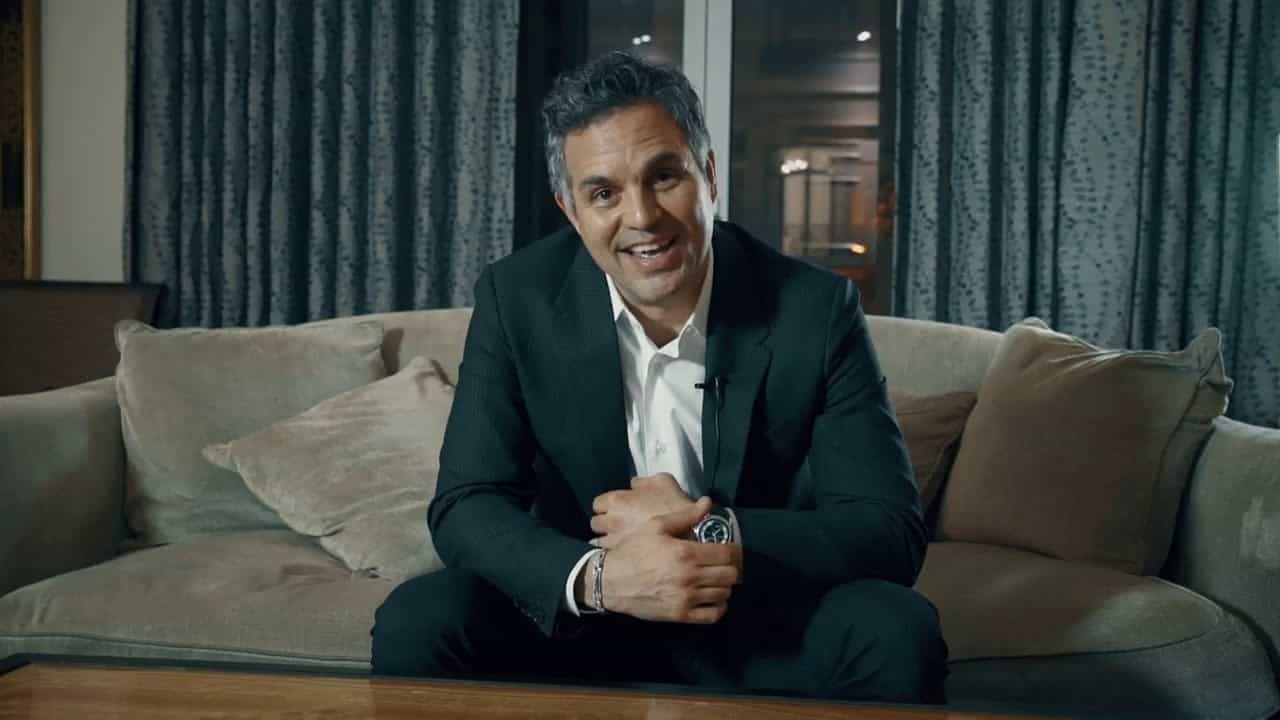 We all know that Mark Ruffalo is one of the most important stars of the Marvel Cinematic Universe because of a simple reason that he portrays the role of Hulk, which we all know is one of the biggest strength if Avengers. But Mark Ruffalo, the star of Avengers 4 movie is in kind of trouble as he lost his bag in a cab and now requesting people to return it to him if they find it as there is some reward also in the process. But, Marvel fans think the bag is full of spoilers in the shape of documents and surely something big is going to happen.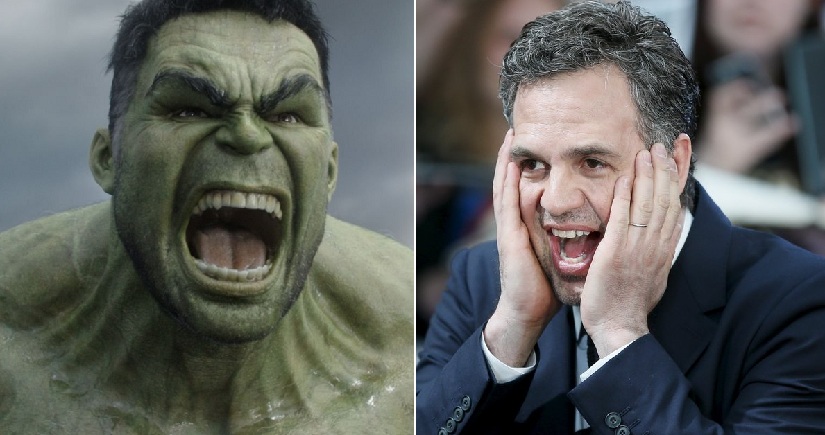 I find this really funny as whenever I look into the stars who are playing some of the biggest superheroes on screen seems to be really silly and weird in their human self and this is what makes me laugh.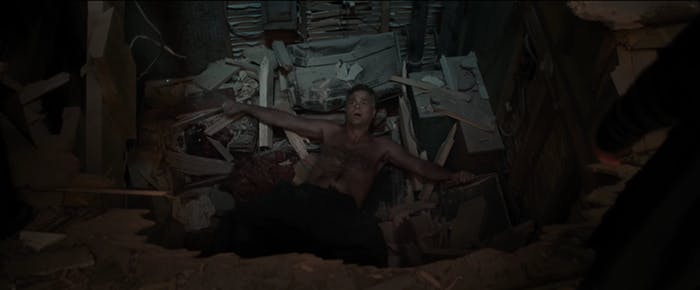 Well, in order to make you understand better, simply close your eyes and think about Hulk walking or jumping with a briefcase in his hand and somehow he simply lost it somewhere and is now using a smartphone which is really tiny in his hands and trying to tweet that he wants the help of people. It's really funny.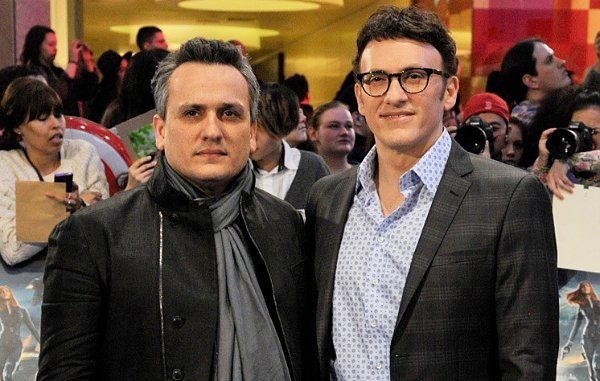 Well, cut this off and come back straight to the things which we know as Mark Ruffalo seems to be the biggest health hazard for Russo brothers and also to Marvel Studios because he has done a lot of things in the past which has a very amazingly bad effect on the marketing of their movies as he has been a part of some spoilers revelations in the past and now having lost his briefcase in a cab somewhere in New York. It's maybe a publicity stunt as there will be something for the one who is going to find this.
But, if this isn't going to be publicity or a marketing stunt than people around Russo Brothers should start taking care of them because if something related to the movie is going to be in it then we can expect some fireworks at Marvel Studios, in other words, we can find a really bad moment coming for Mark Ruffalo as it's not the first time he has put Marvel Studios in some sense of vulnerability.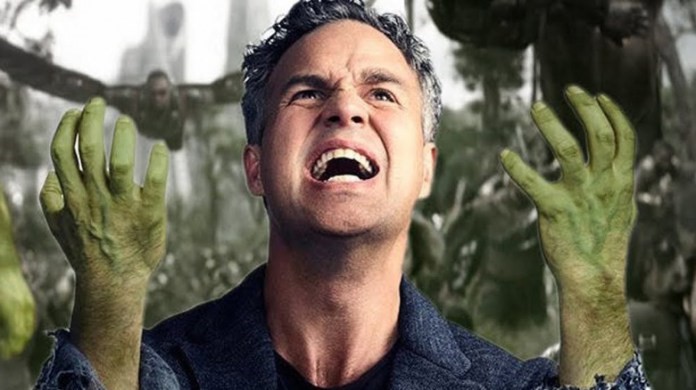 On the other side, fans are running like wolves on a hunt as they all want to get their hands on the bag as it's going to make them famous, going to give them some kind of reward from Mark Ruffalo, or maybe something about the movie Avengers 4 is going to be in it.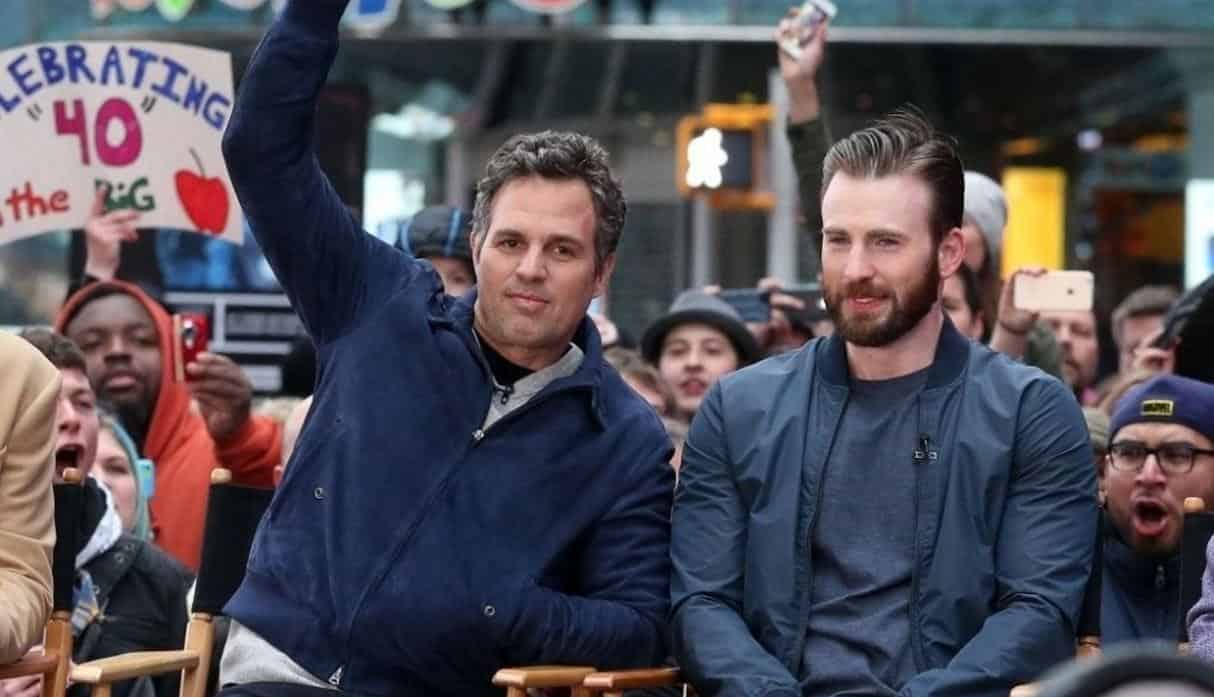 There are a lot of possibilities both in the sides of positive and negatives and the post, Ruffalo has shared on his Twitter account is down below and you can have a look at it. Also, Ruffalo has written a long message with the picture of his bag for the people out there as the caption is,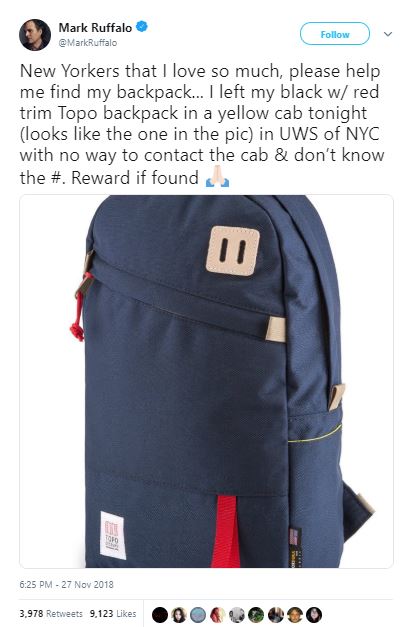 "New Yorkers that I love so much, please help me find my backpack, I left my black w/ red trim Topo backpack in a yellow cab tonight in UWS of NYC with no way to contact the cab & don't know the #. Reward if found."
As soon as the tweet made its way on to the internet, the whole fanbase of Marvel Studios seems to be on top of funny mode as a lot of tweets in context of this started coming up and some of the responses are seriously funny and we simply want to show them to you as we want to show you the other bright and funny side of this thing.
Well, it's going to really interesting to see who'll find the bag and also what it's going to contain as carrying a bag like this seems to be like he was traveling with some kind of important things as we don't usually see actors coming up with bags like these.




So, are you going for the search? If yes, then all the best and if no, then do tell us and predict what is going to be inside of Ruffalo's bag? Tell us in the comments section below.