Movies
Spider-Man: Far From Home Set Video Hints at a New Relationship Building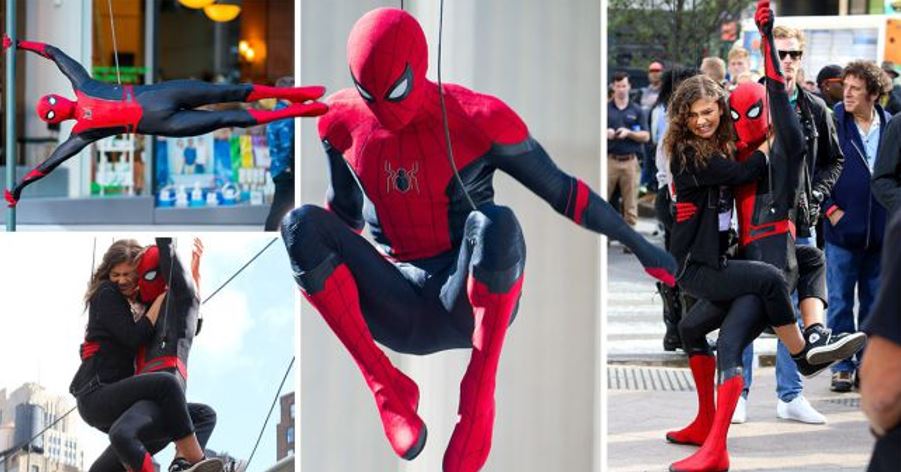 Even after moving the production back to America, Spider-Man: Far From Home set video has not stopped from making their way to the net. Almost every day of the week where ever the shoot takes place, we get a new set leak that reveals minor spoilers about the film. Marvel is getting some free marketing without actually having to invest in a marketing campaign for this particular film. Set reveals have disclosed the involvement of Nick Fury and Maria Hill along with a new stealth suit reveal. Now, we have got a slew of photos and a very new video with the new Red-Black suit that will feature quite a lot in the film.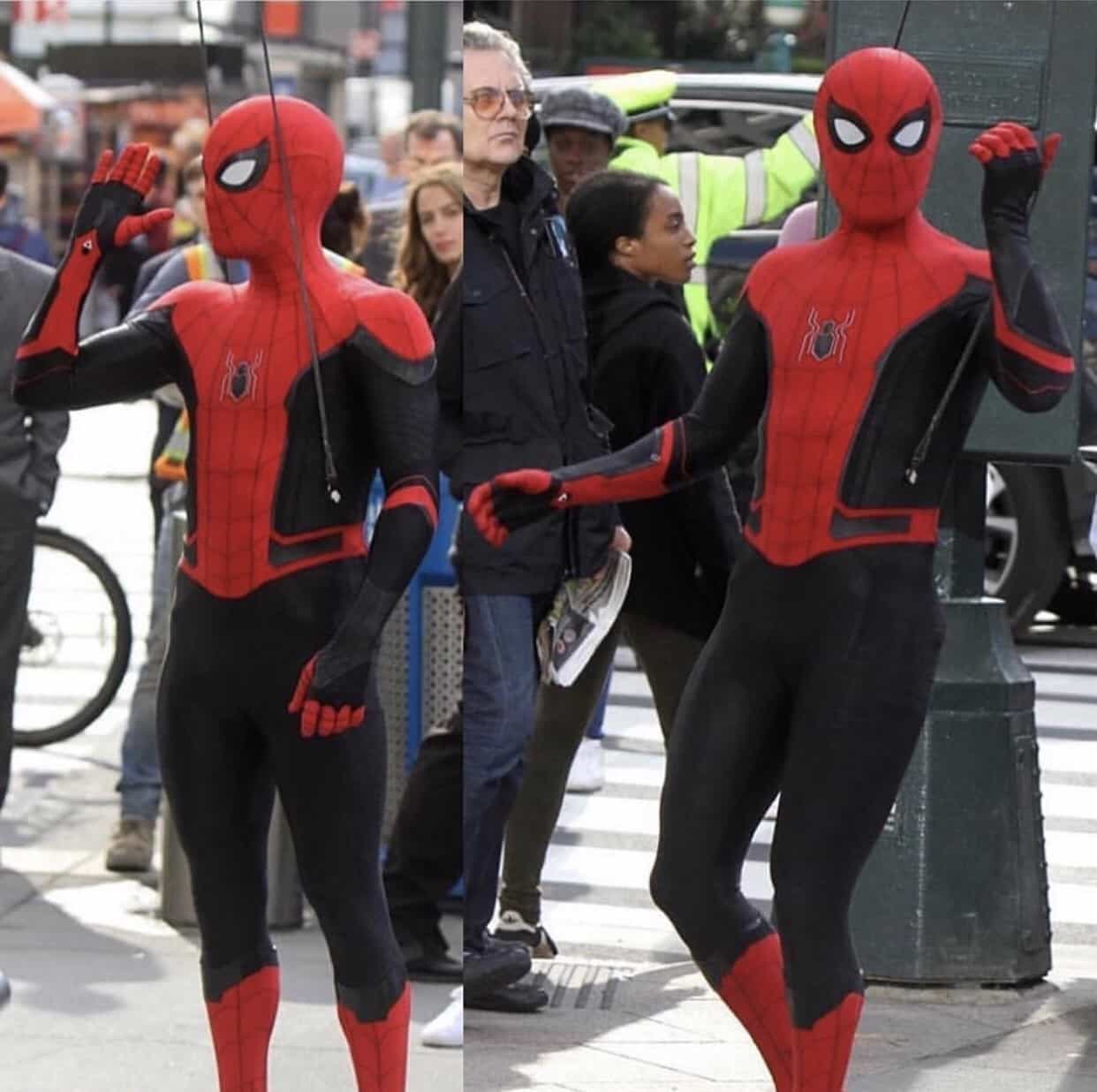 So it is apparent that we will get at least 3 different Spider-suits in this film as Spidey will don his old suit from Homecoming for starters, then we have the black Stealth suit which will feature in a sequence shot in Prague showing Spidey taking on Mysterio and then finally the sequences in New York will give Spider-Man a whole new suit with the Red and Black colour pattern this time. This suit is based upon an unused Concept Art from Spider-Man: Homecoming and it is really great to see the films really playing with a variety of Spidey suits.
A new set video that has hit the net shows Spider-Man giving MJ a swing right through New York City. It should bring back memories form Sam Raimi's Spider-Man films as Mary Jane got similar swing rides with the Web-Slinger.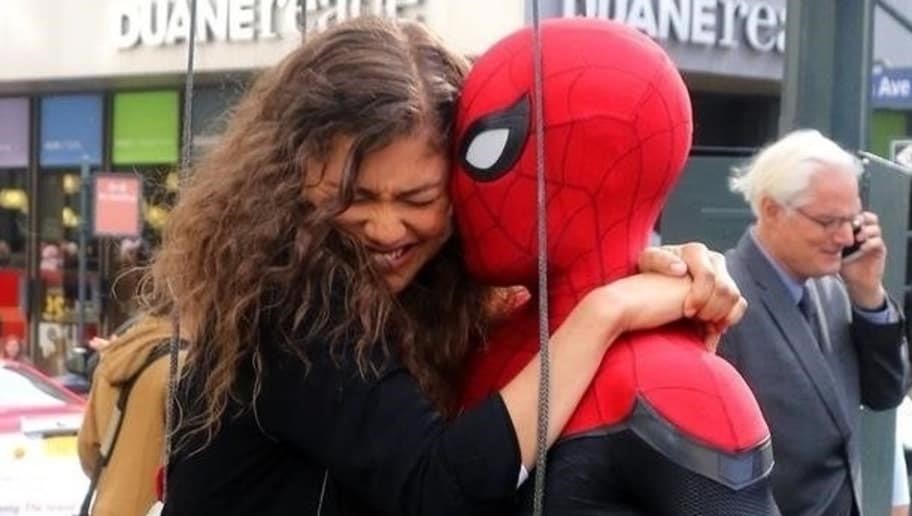 So, this gives away the fact that the film will now build Michelle as a love interest to Peter Parker/Spider-Man. While the first movie focused entirely on Peter and Liz, it gave a major hint of a future Michelle-Peter relationship by exiting Liz, and revealing Michelle to be called as "MJ." We also seem to have the first dialogue from the film. Have a look at the video:
#SpiderMan has got some new threads – check them out in this new video and behind-the-scenes pictures: https://t.co/3vK5DthrR3

🕷 🕸🕷 🕸🕷 🕸#SpiderManFarFromHome | #Marvel | #MCU pic.twitter.com/atG0oht5X3

— Digital Spy (@digitalspy) October 15, 2018
It is hard to make out what Michelle and Spidey are talking about, but the conversation ends with a solid crisp High Five. So that gives away the fact that Michelle does not yet know of the secret identity of Spider-Man. She seems to have enjoyed swinging around New York along with the Friendly Neighbourhood Superhero of New York.
But if the film is building a potential relationship between the two characters and with Peter Parker being absent while Spider-Man is present every time and everywhere, it is highly likely that Michelle of all people will surely figure out the Secret Identity of Spider-Man. The plot of the film will obviously revolve around this aspect for a while as it does with almost every Spider-Man film. But still, the Homecoming series of all has taken a very uniquely different road in conveying stories of the Wall Crawler.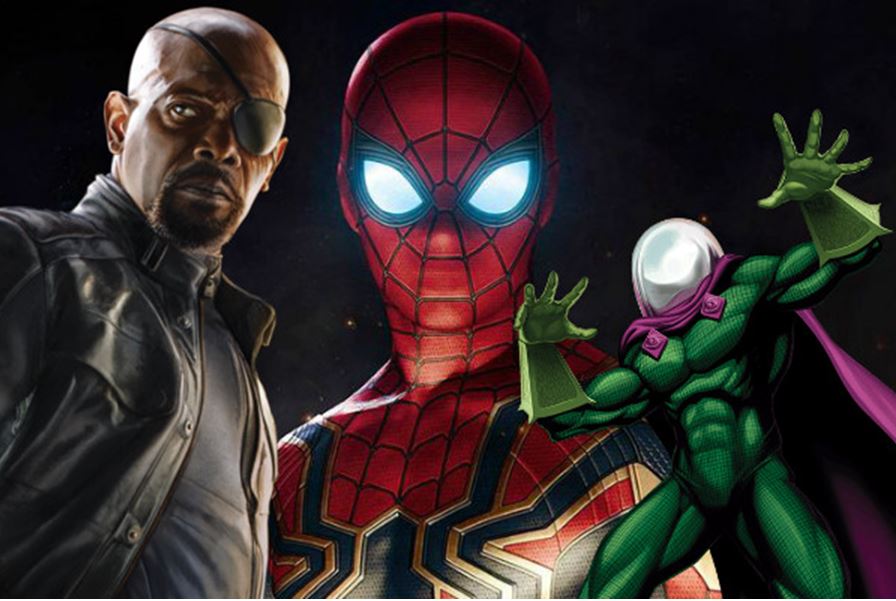 Spider-Man: Far From Home is going to be a refreshing MCU outing after the insanity of Avengers 4. Here's what Feige had to say about the film:
"Much like Ant-Man, there are things that people know about that movie, which is a great deal of the movie: the villain of the movie, the storyline of the film, that we're shooting in Europe and that Peter Parker goes on continuing that [Captain America: Civil War] was a big giant super hero class movie. The fall out of that in Homecoming was John Hughes and him going to his high school. So that's what's fun to us about the Spider-Man movies. And again going from Infinity War to Ant-Man and the Wasp, the tonal shift. So, there's a lot of fun stuff. How it connects, where it connects, when it takes place, very similar to Ant-Man and the Wasp in that we're not gonna say right now."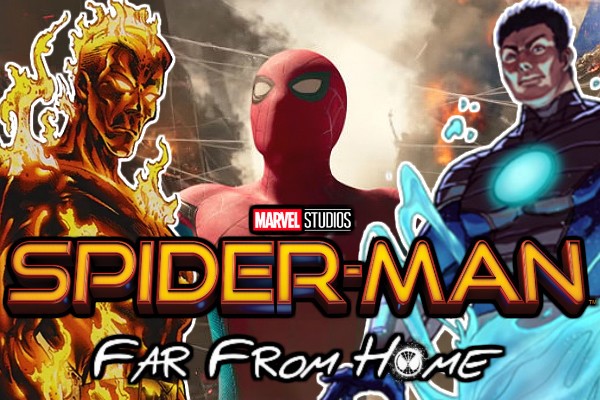 Spider-Man: Far From Home comes out on July 5, 2019 and it is going to star Tom Holland (Peter Parker / Spider-Man) Marisa Tomei (May Parker), Jacob Batalon (Ned), Tony Revolori (Flash Thompson) Zendaya (Michelle Jones), the Deli Owner from Homecoming, Michael Keaton (Adrian Toomes / Vulture), Jon Favreau (Happy Hogan) Samuel L. Jackson (Nick Fury), Cobie Smulders (Maria Hill), Jake Gyllenhaal (Quentin Beck / Mysterio), JB Smoove (possibly as J. Jonah Jameson) and Numan Acar (possibly as Dmitri Smerdyakov / Chameleon).