Movies
Dave Bautista (Drax) Ready to Join the James Gunn Directed Suicide Squad 2
With the news breaking out that WB has hired James Gunn to write and possibly direct Suicide Squad 2, people went crazy. DC fans, in particular, were happy to see this come true and many fans actually want Dave Bautista to join the film as well. After Gunn got fired by Disney from Directing Guardians of the Galaxy Vol. 3, the entire cast of the franchise issued a statement vouching for Gunn. They wrote a letter which was signed by all the cast members. Here's what the letter read: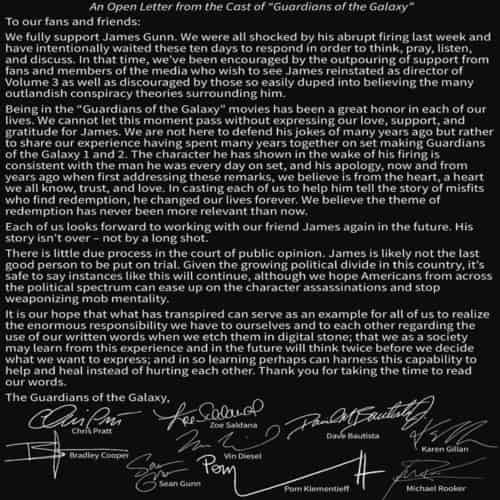 "It is our hope that what has transpired can serve as an example for all of us to realize the enormous responsibility we have to ourselves and to each other regarding the use of our written words when we etch them in digital stone; that we as a society may learn from this experience and in the future will think twice before we decide what we want to express; and in so learning perhaps can harness this capability to help and heal instead of hurting each other."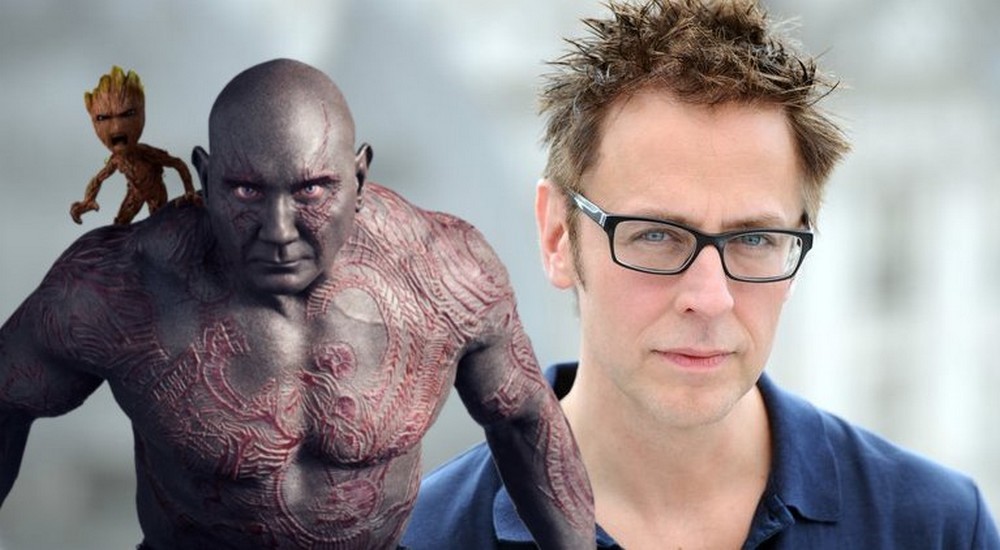 But none of that came to be any good and Disney elected to ignore the plea to rehire James Gunn. When all voices were down, Dave Bautista who plays Drax in the MCU still kept on bad mouthing Disney for what they did with the Director. He even claimed the fact that he wouldn't care if Disney would fire him from Guardians of the Galaxy Vol. 3. He did acknowledge that he knows what he is doing and is ready to face the consequences as he revealed in an interview: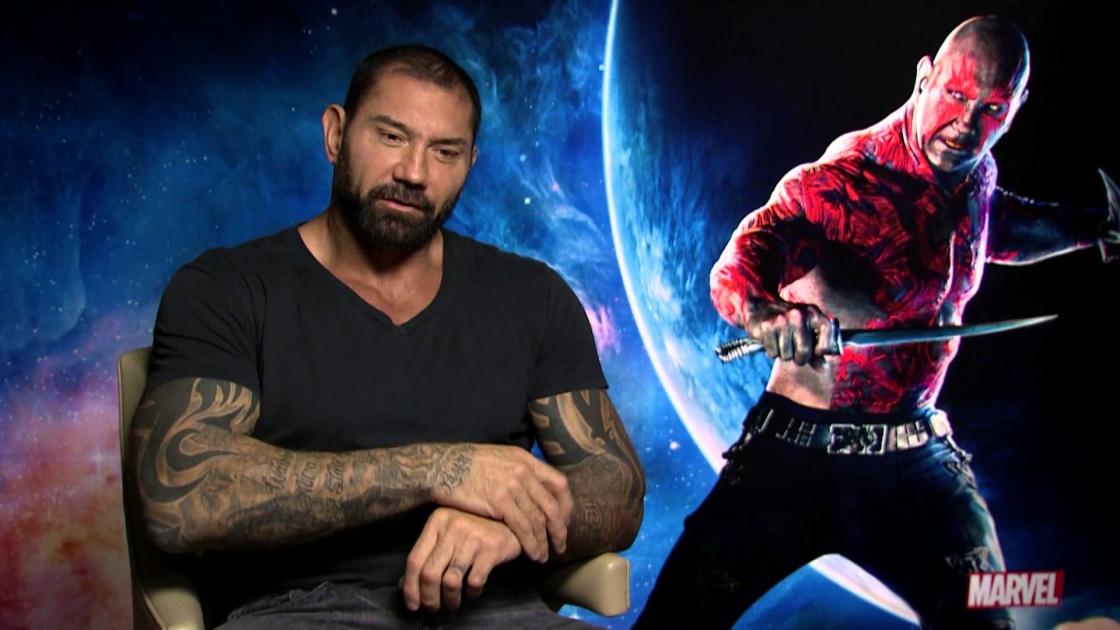 "No, I'm aware that this could possibly cost me a job that I care for very much, but at the same time it's an integrity issue. It's also a loyalty issue, so now I'm not going to… I'm not [going to] bite my tongue or anything. That's just who I am as a person."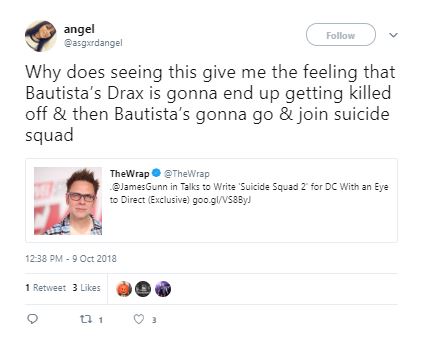 Recent rumours have suggested that the Avengers 4 reshoots which are going on will probably kill off Drax and the Guardians franchise will move without him. This would push him out of Marvel before his contract ends, but he is ready to go out anyway, so it's not a big deal at least for him.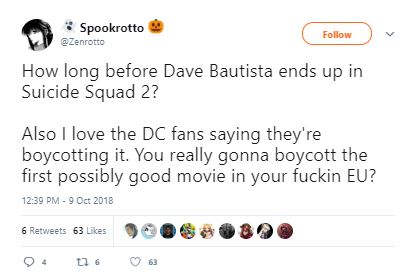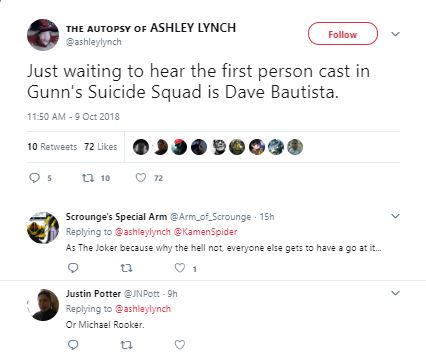 But looking at this news update, many fans have already suggested that Dave Bautista should actually join Suicide Squad 2 with James Gunn helming the film. Well, it is good to know that Dave Bautista took no time to respond to those fans, and he straight up agreed to the fact confirming James Gunn's involvement with Suicide Squad 2 as he tweeted: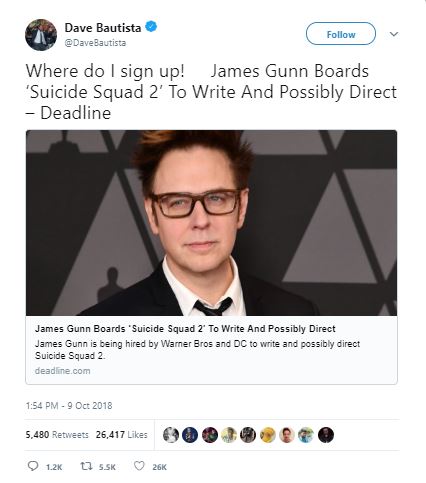 It would honestly feel good to see Dave play another Superhero role. He did nail it with Drax and it would hurt to see him get killed off in the MCU before Vol. 3, but we do get the incentive of getting him in DC. He could play a variety of roles in the Worlds of DC and the fan suggestions do include the likes of Bane, King Shark or even Lobo. Bringing Lobo in Suicide Squad 2 would be a far stretch, but Dave Bautista does have the capability to play the Main Man! Also, Gunn literally has experience involving characters from Space, so why not do it!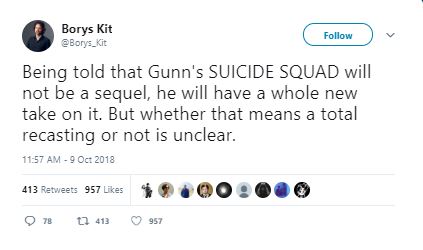 According to The Hollywood Reporter's Borys Kit, James Gunn's version of Suicide Squad 2 will not be dependent upon what was established in the first film. It will be its own thing but we don't know whether the characters in the film would be recast or not. Now we don't want the characters to be recast, but the film could afford to be continued from a point where it only bases a very loose connection to the previous one. Also, it could involve new characters and that's where Dave Bautista's character could come in.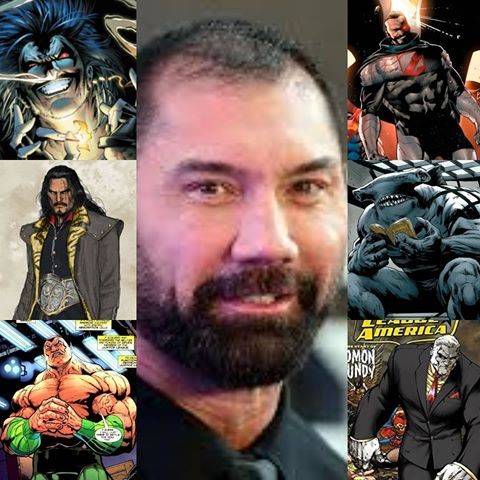 We don't know whether Bautista's MCU contract would allow him to be a part of the Worlds of DC as Chris Hemsworth did mention in an interview once that the MCU actors are not allowed to appear in DC movies, but if Drax does get killed off in Avengers 4, then no one can raise questions about it.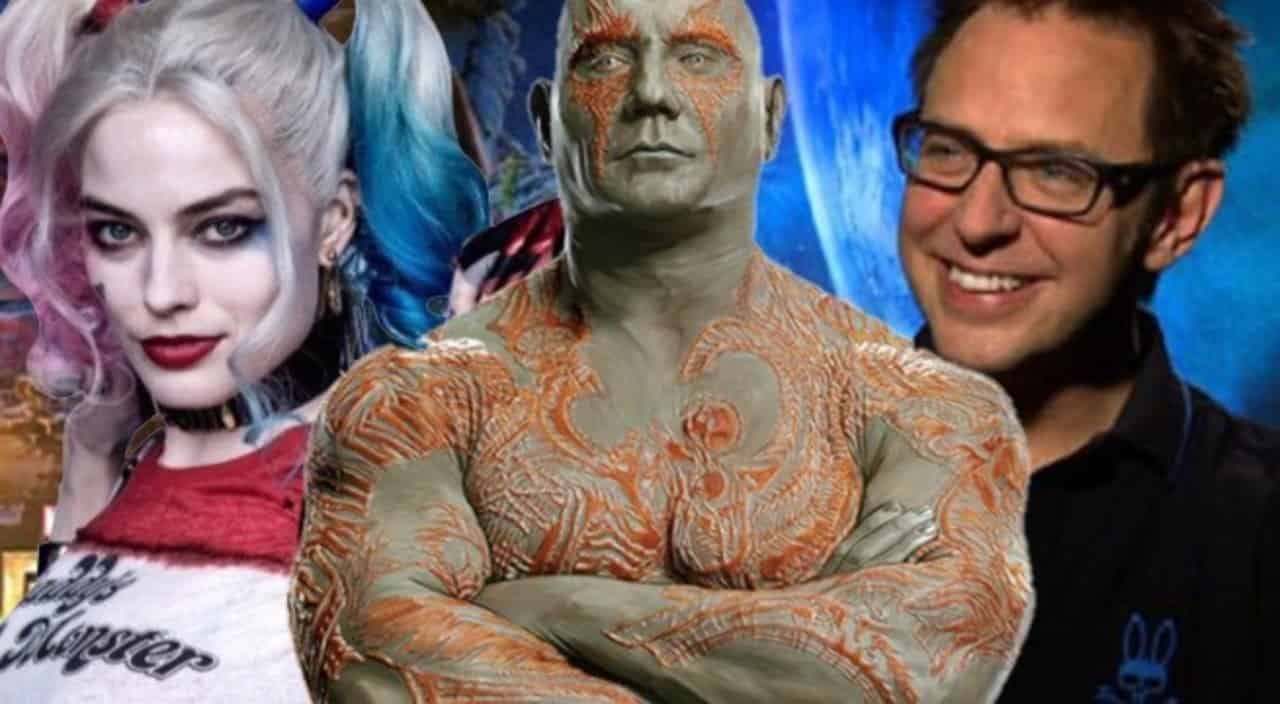 Let's see what happens. The film is in very capable hands and WB could now actually hope for the critics to be on board with Suicide Squad with the involvement of James Gunn. We could expect Suicide Squad 2 to come out in 2021.