MCU is the biggest shared universe and the most profitable franchise whose box office earnings are over $15 Billion worldwide with so much more to look forward to. Marvel serves its fanbase really well and has given back more than their fair share. For instance, Marvel: Hero Acts was launched in 2016 ahead of the release of Doctor Strange.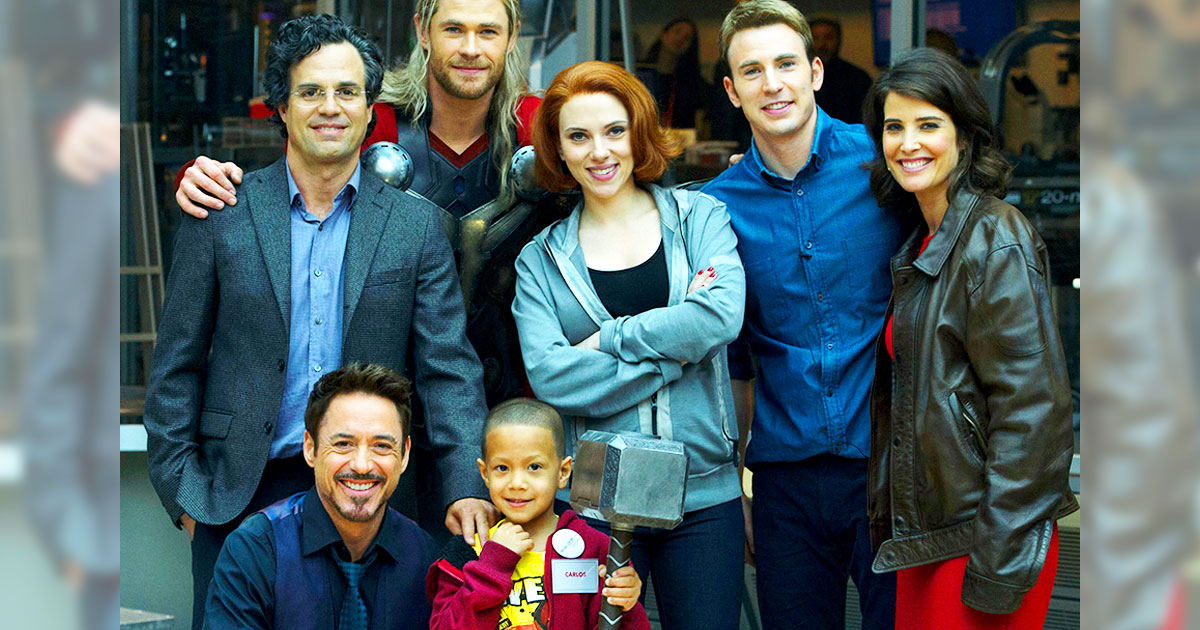 Marvel has undertaken several charitable initiatives in the past few years. They contributed $250,000 to Starlight's Children Foundation, made a generous donation to Make-A-Wish foundation i.e small portion of product sales. Further, Tom Holland, Chris Evans, Chris Pratt visited children's hospitals in full costumes ahead of big releases.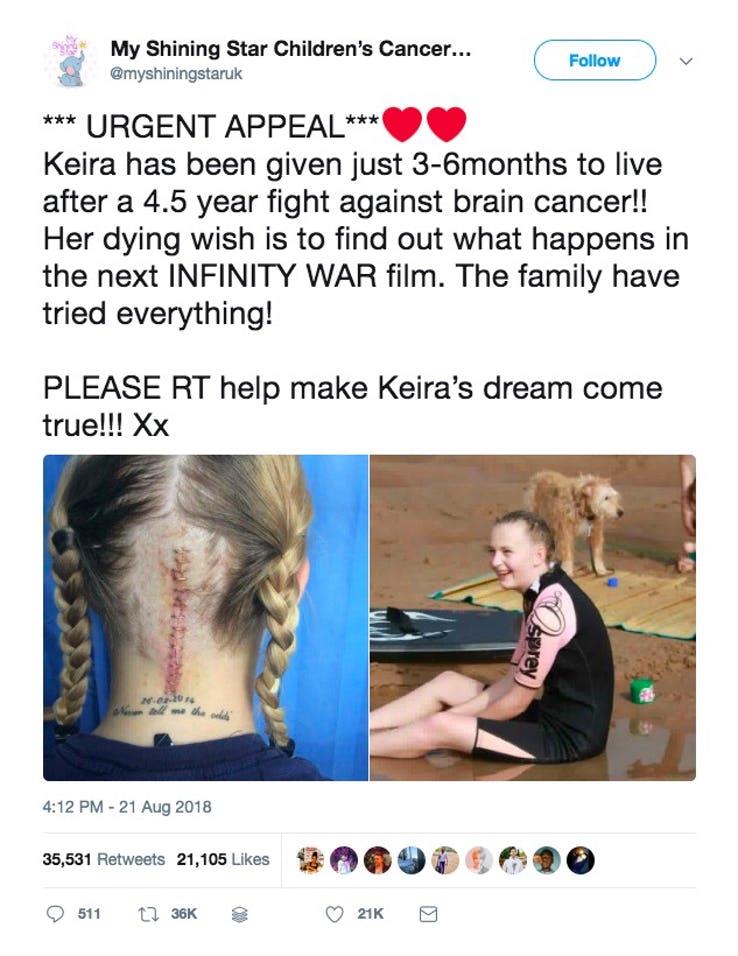 Recently, My Shining Star Children Cancer Charity put out an urgent appeal that a young girl namely Keira is suffering from breast cancer and unfortunately she only has 3-6 months left in this world. Her dying wish is to know the ending of Avengers 4, her family has done everything possible to fulfill her wish and along with them a lot of fans are doing their bit.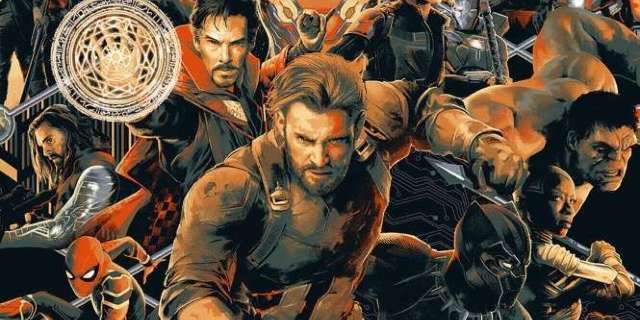 The legion of fans have tried to reach out to MCU stars, the Russos by tagging them with the twitter post which has gained 36k retweets and 20k likes, but there has been no official response as Marvel is known for keeping a massive cloud of secrecy in their projects. But if Marvel does tell her the ending, it would be the greatest, kindest gesture ever.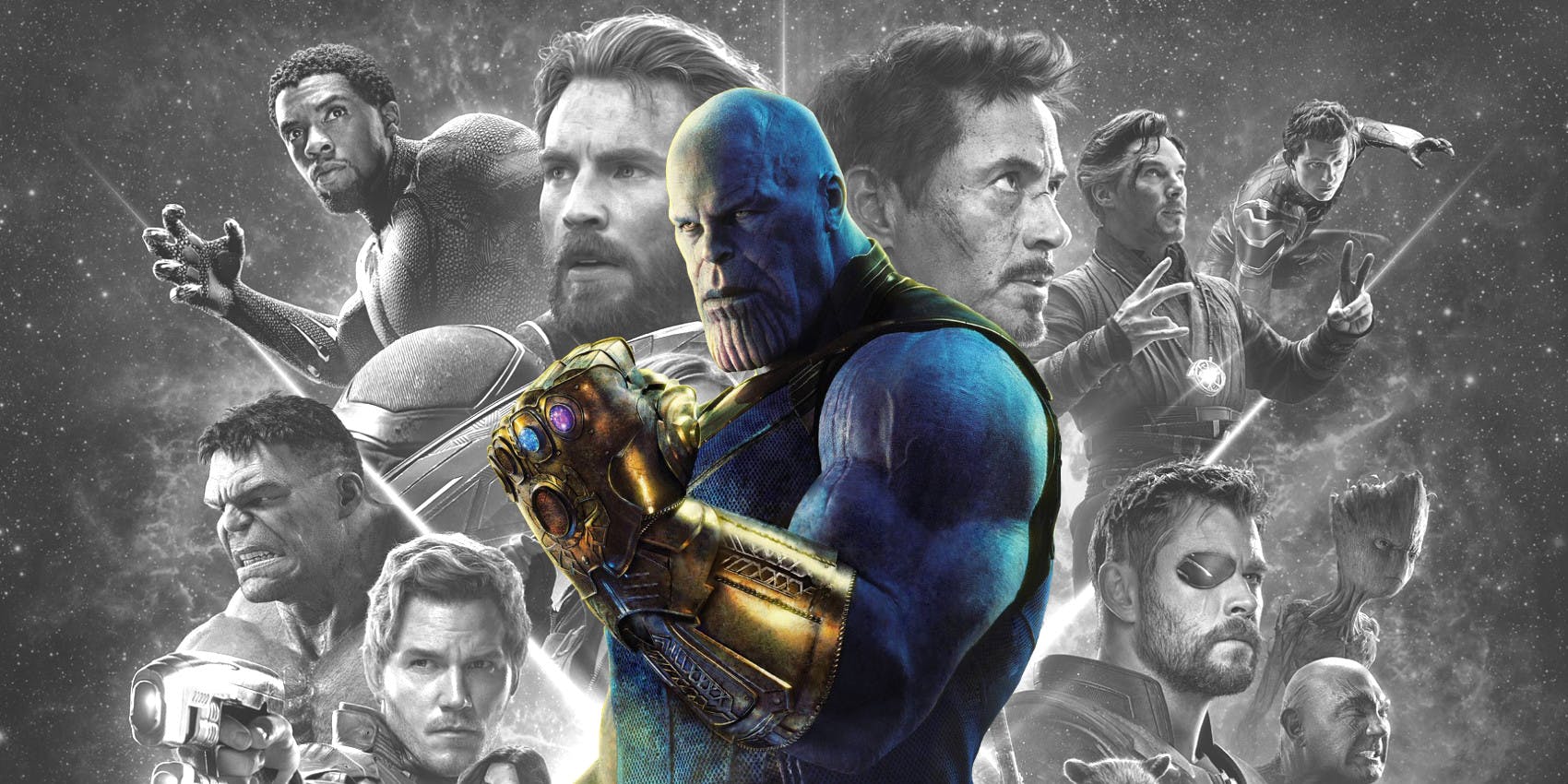 The MCU as it currently stands is in turmoil as Thanos achieved his purpose of rebalancing the universe by wiping out half of all beings. He did that through a snap of his fingers wearing Infinity gauntlet with six stones. The fans believe that the superheroes who were turned to dust will return but writers disagree.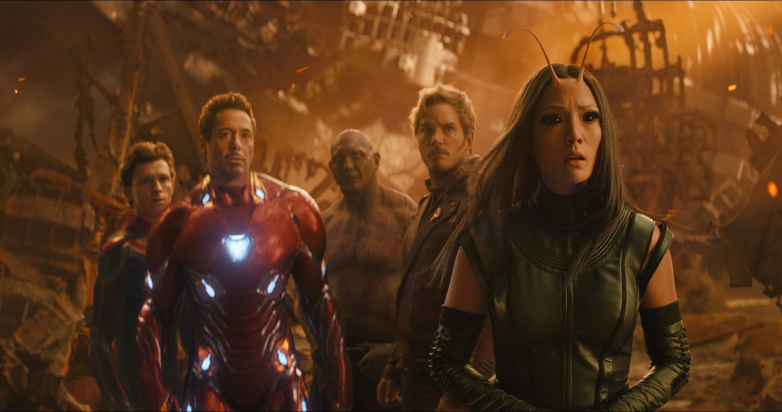 Here's what the Infinity War writers said:
Markus – "[Avengers 4] doesn't do what you think it does. It is a different movie than you think it is. Also…[the deaths are] real. I just want to tell you it's real, and the sooner you accept that the sooner you will be able to move on to the next stage of grief".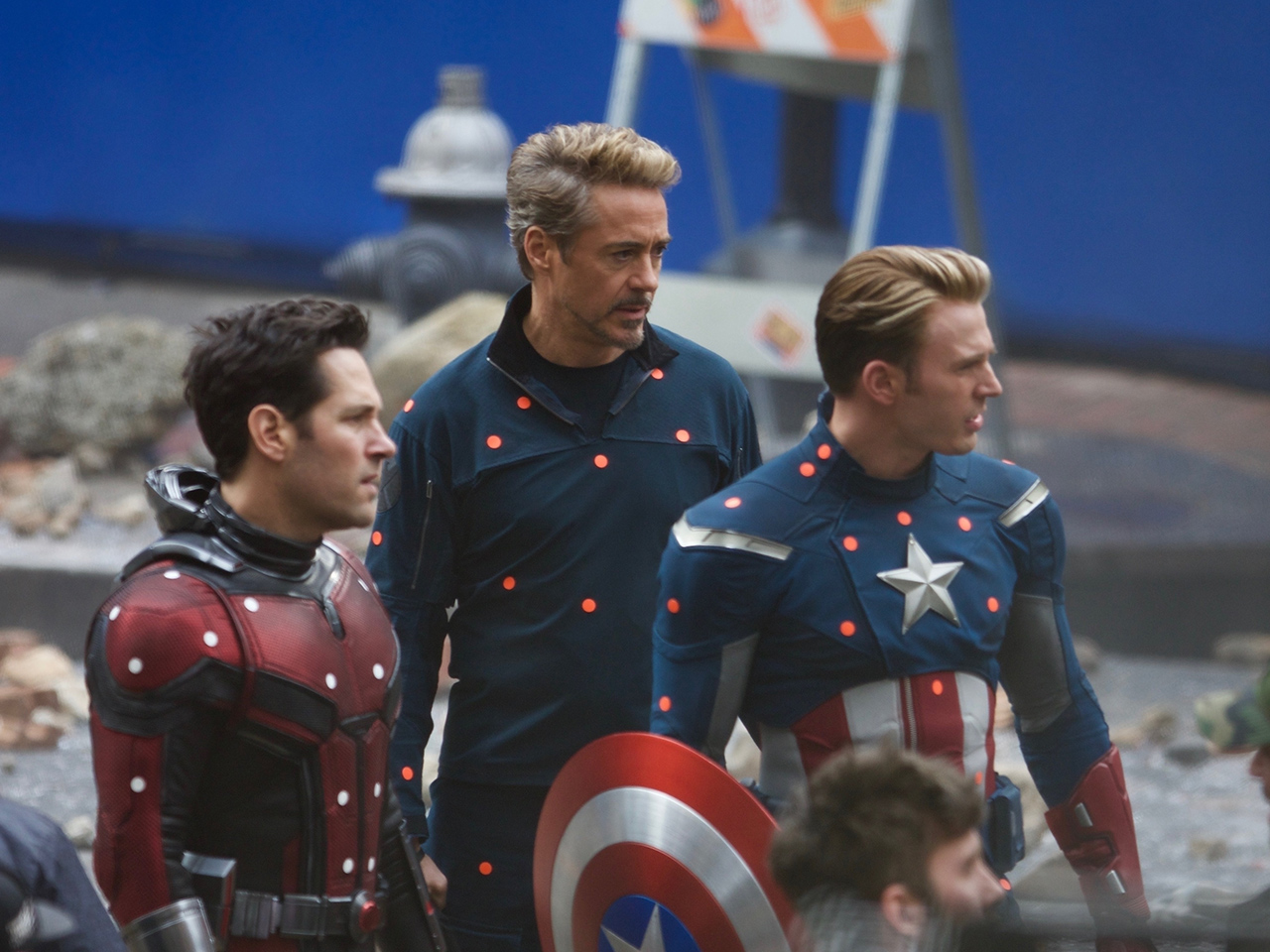 McFeely – "Nobody knows, and that's what makes me particularly excited. I look all the time on the internet: people have no idea. [Avengers] 4 resolves the intrigue of Infinity War; [the movies are] clearly linked, but they almost seem to belong to two different genres. We did not want to cut a film in half and say, 'Pay now and come back in a year for the rest!' These are two very different stories, on a tonal and structural level."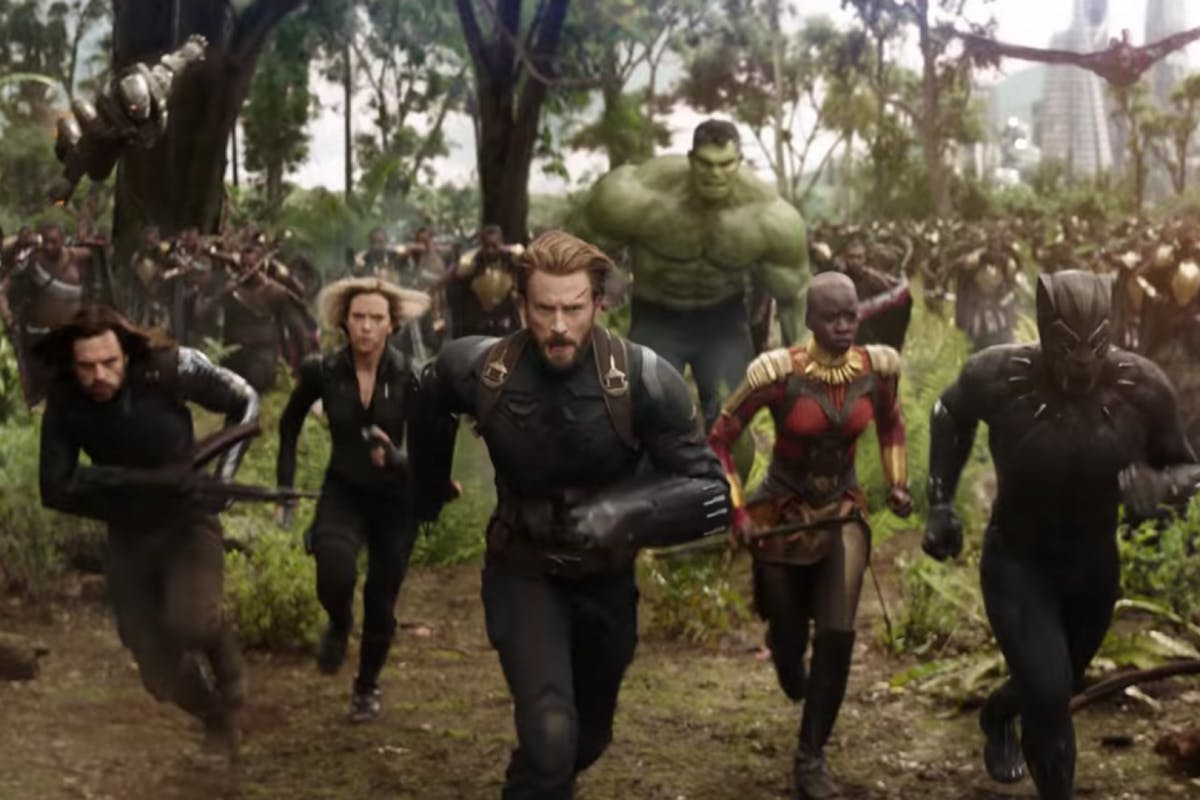 He added:
"Put it this way. I think [Infinity War] is a fairly mature movie for a blockbuster. It's got a lot of fun in it, obviously, but boy, it gets very mature. The second one is also mature. We're going to own these choices, and hopefully surprise and delight you and get you invested. It's by the same studio, the same filmmaking team. They were written at the same time, shot at the same time. They're clearly connected, but they are definitely two different movies, one of which is dependent on what happened previously".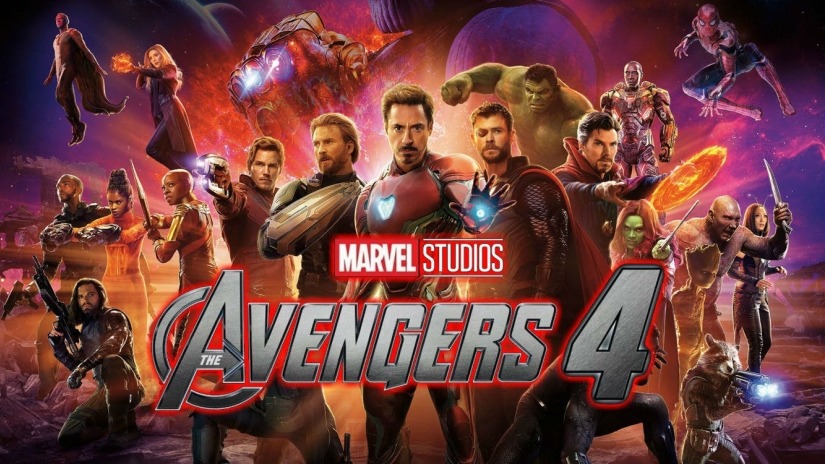 The ensemble cast of Avengers 4 is simply mind-boggling as Marvel has brought some of the biggest actors under one roof including Robert Downey Jr. (Iron Man), Josh Brolin (Thanos), Chris Pratt (Starlord), Chris Evans (Captain America), Sebastian Stan (Winter Soldier), Chris Hemsworth (Thor), Tessa Thompson (Valkyrie), Pom Klementieff (Mantis), Tom Hiddleston (Loki), Mark Ruffalo (Hulk), Scarlett Johansson (Black Widow), Jeremy Reiner (Hawkeye), Benedict Cumberbatch (Dr. Strange), Benedict Wong (Wong), Tom Holland (Spiderman), Chadwick Boseman (Black Panther), Letitia Wright (Shuri), Paul Rudd (Ant-Man), Evangeline Lily (Wasp), Elizabeth Olsen (Scarlett Witch), Paul Bettany (Vision), Zoe Saldana (Gamora), Karen Gillan (Nebula), Dave Bautista (Drax), Vin Diesel (Groot), Bradley Cooper (Rocket Raccoon), Tessa Thompson (Valkyrie), Brie Larson (Captain Marvel).
The plot synopsis for Avengers 4 has been released, it reads:
"A culmination of 22 interconnected films, the fourth installment of the Avengers saga will draw audiences to witness the turning point of this epic journey. Our beloved heroes will truly understand how fragile this reality is and the sacrifices that must be made to uphold it."
A Voracious reader. An explorer. An Intellectual. A Die hard fan of Leonardo dicaprio and a Game of Thrones fanatic. Love to dabble in different things at the same time – Politics, International Cinema, History, Music, Literature etc. Welcome you all…