Marvel's strongest hero ever is coming out and we will finally be able to see the mammoth power of Captain Marvel. While we have only got a tease at Captain Marvel till now in the post-credits scene of Avengers: Infinity War, she will be fully unleashed in her upcoming solo movie. Captain Marvel will be the first MCU movie to come out next year and even though we haven't really got an official look at Carol Danvers in her final Captain Marvel suit, we surely do know quite a bit about the movie.
This will be the first-ever female-led Superhero movie in the MCU as Marvel is really looking at more diverse options now, and they are bringing in so many creative people making use of every opportunity they get. Phase 3 was full of new innovative movie plots and it there are still 4 movies left that are going to continue to do exactly that. Doctor Strange was amazing, then came an even bigger origin story of Black Panther. Let's not forget how amazing Thor: Ragnarok was. Infinity War does not need an introduction, the Ant-Man and the Wasp trailer blew us all away and finally, the cast and the plot of Captain Marvel has kept us all waiting for a look at the movie.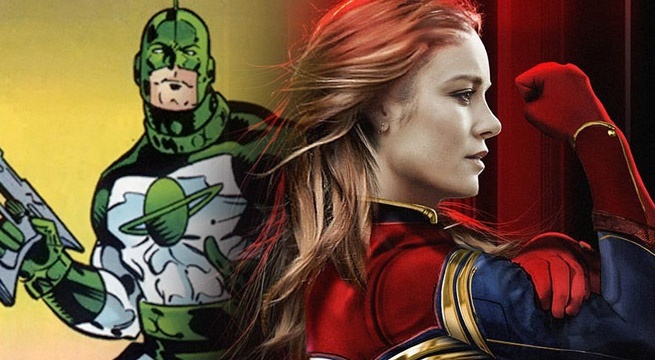 The first footage for the movie was shown at CineEurope recently but we can imagine that the special effects on the movie would not have been finished since the movie recently finished shooting. Kevin Feige has mentioned the fact there are still months left until the first trailer for Captain Marvel comes out and we could put our bets on October to be the month that finally gives us the first trailer for the movie. We could get it in September. But Marvel seems to be taking things slow for now.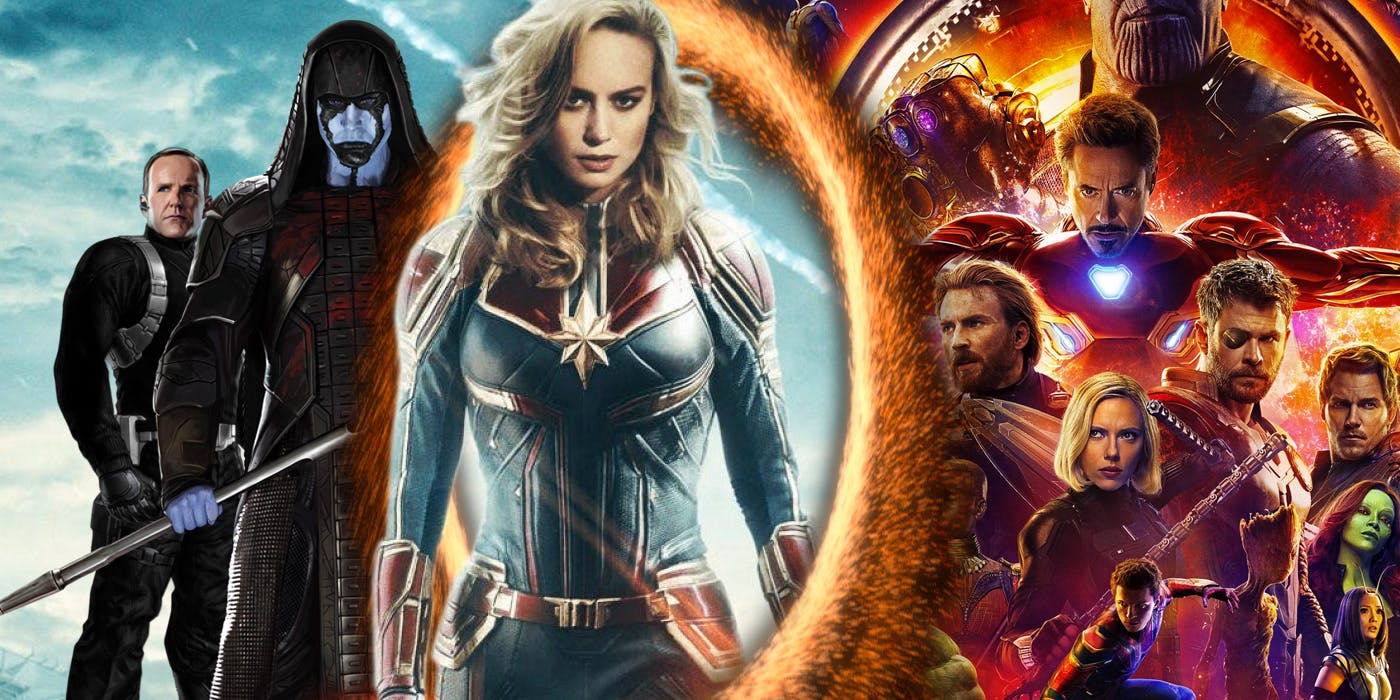 At Comic-Con 2017, Feige revealed many more details about the movie as Nick Fury was confirmed to be back for this movie and is going to have his "both eyes open" as the movie will be set in the 90s. Along with Brie Larson and Samuel L. Jackson, Jude Law is going to be a part of the movie and he is going to play the character of Mar-Vell, who would probably be the Captain of the Kree Army. It was recently revealed that Ronan, Agent Coulson, and Korath are also returning for the movie, and it will be based on the infamous Kree-Skrull wars storyline which will see the Skrulls as the main villains of the film. Here's what Feige said:
"All of the Marvel characters have flaws to them, all of them have a deep humanity to them. With Captain Marvel, she is as powerful a character as we've ever put in a movie. Her powers are off the charts, and when she's introduced, she will be by far the strongest character we've ever had. It's important, then, to counterbalance that with someone who feels real. She needs to have a humanity to tap into, and Brie can do that."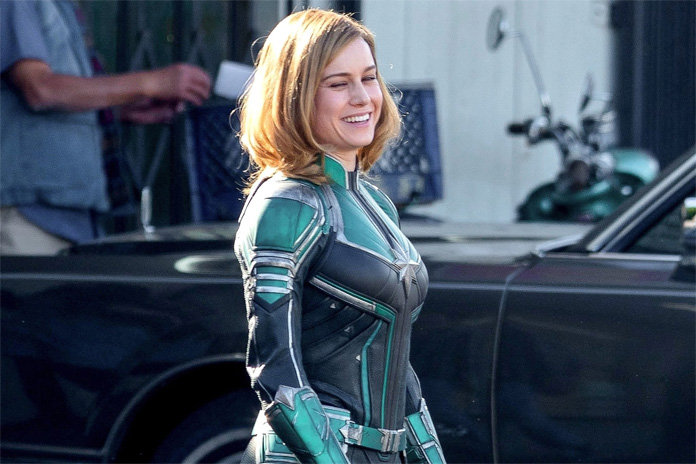 Well, until now we have only seen Brie Larson in set photos, why she has only appeared in her basic Green Suit in the set photos that have hit the net until now. We only got a glimpse of Captain Marvel in the Avengers 4 promo art, and now we finally have the first clear look at the costume design of Captain Marvel. The images have been tweeted by AJ Designs and we also get the classic Comic book look of Captain Marvel in her leather jacket.
More #CaptainMarvel Art.. 🔥🔥 pic.twitter.com/XMmIQZHcmP

— Aj Designs (@ajdesigns0220) June 28, 2018
While the suit does seem to be awesome, one of the highlights in these images is certainly Samuel L Jackson's younger version of Nick Fury who still has both of his eyes open. Honestly, this movie has us all really excited as Captain Marvel is shaping up to be the hero who will be the most Unique out of all other MCU heroes, and her solo movie will really prove why she is going to be the Most Valuable Player in Avengers 4.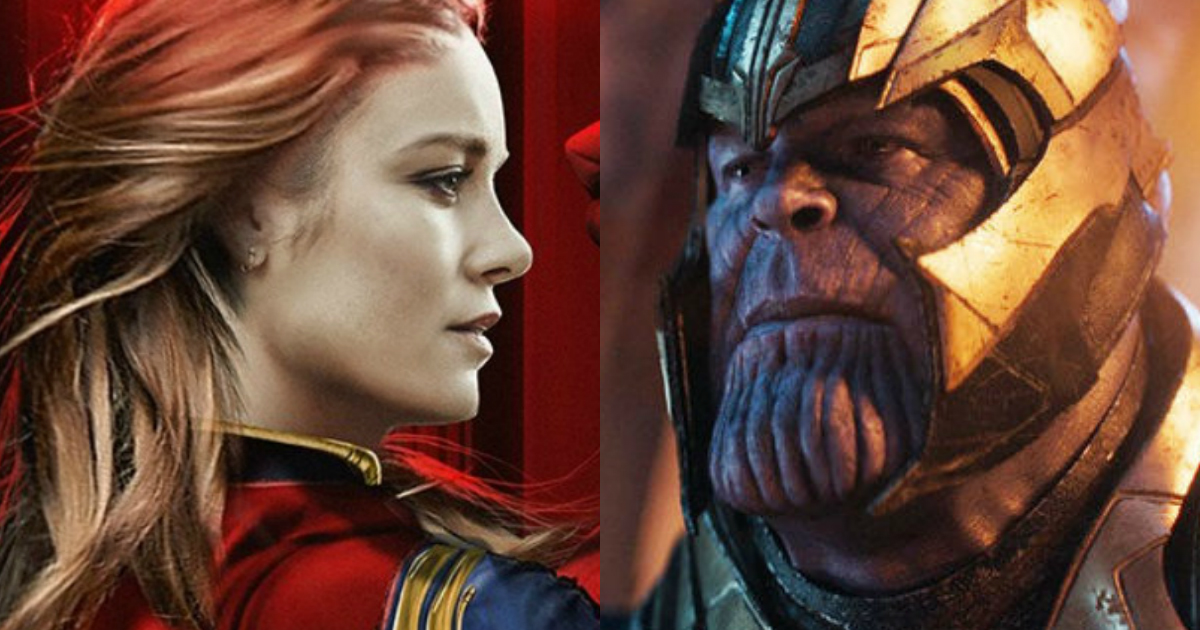 Thanos should be very afraid now as MCU's Captain Marvel has the strength to literally move planets! Captain Marvel will hit the theatres on March 8.
Play Now: The Mad Titan Quiz: (Click on the link below to begin)
The Ultimate Thanos Challenge! Do You Know Everything About The Mad Titan?