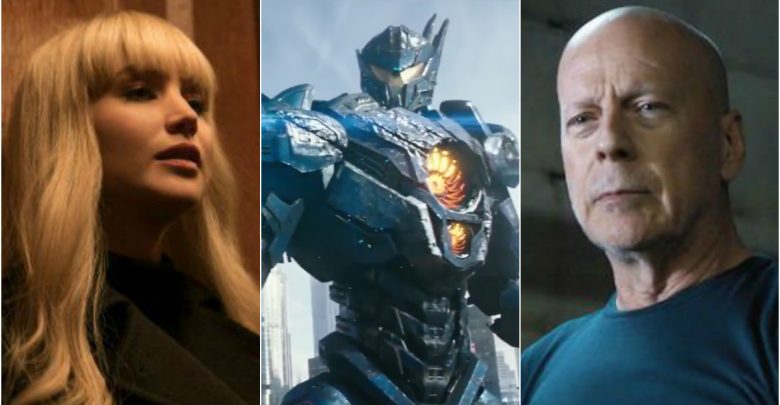 2018 is going to be full of amazing movies, and surprisingly, many supposed blockbusters are coming out in the month of March. Here is a list of the hotly anticipated movies which are coming out in March 2018.
Gringo
Starring Charlize Theron, Joel Egerton and David Oyelowo, Gringo is coming out on March 9. This is an action comedy in which A mild-mannered American businessman finds himself in over his head after traveling to Mexico. He soon turns from a citizen to a criminal as he tangles with international mercenaries, shady colleagues, drug lords and the DEA. It is directed by Nash Edgerton.
Unsane
This horror movie has  a 71% fresh rating on Rotten Tomatoes and has been rated 7 on IMDb. The movie stars Claire Foy who plays Sawyer Valentini in an epic story where Valentini relocates from Boston to Pennsylvania to escape from the man who's been stalking her for the last two years. While talking to her therapist, Valentini volunteers for a 24-hour commitment to the Highland Creek Behavioral Center. Her stay at the facility soon gets prolonged as nurses and doctors begin to question her sanity. She now believes that one of the staff members is her stalker — and she does whatever it takes to fight her way out alive. The movie will come out on March 23.
Death Wish
Bruce Willis stars in a crime, drama action flick that will open on March 2. Along with Willis, Vincent D'Onofrio and Dean Norris are also a part of the movie where, Dr. Paul Kersey (Bruce Willis) is a surgeon who often sees the consequences of the city's violence within the emergency room. Kersey becomes obsessed with delivering vigilante justice to the perpetrators who brutally attacked his wife and young daughter. When the anonymous slayings come into media's attention, the public begins to wonder if this brutal killer is a guardian angel, or the Grim Reaper itself.
Tomb Raider
The reboot of the hit franchise of Anjalina Jolie's Lara Croft looks pretty good. Even though the actress cast in the role of Lara Croft is not as big as Angelina Jolie, it still seems that the movie would do quite well with the reports that have hit the internet till now. The movie will open on March 16 and it stars Alicia Vikander as Lara Croft.
Red Sparrow
Jennifer Lawrence's upcoming flick is going to be yet another success in the R-Rated action genre.  She stars along with Joel Egerton and the movie is directed by Francis Lawrence. Lawrence plays the character Dominika Egorova who joins the secret Russian programme that turns her into a Sparrow (Spy). She faces a tough decision to go on as she has to choosebetween dying or becoming a Sparrow. The movie will hit the theatres on March 2.
Pacific Rim: Uprising
The sequel to Pacific Rim picks the story years after the first movie ended. The second movie stars Scott Eastwood and John Boyega in the lead. It is directed by Steven S DeKnight. This Action blockbuster will open in the theatres on March 23.
Love, Simon
This upcoming movie has an 8/10 rating on IMDb and has been rated 89% Fresh on Rotten Tomatoes. This movie is surely going to be successful as it is a very sweet love story that stars Nick Robinson, Keiynan Lonsdale (Kid Flash), and Katherine Langford. The movie is directed by Greg Berlanti and will open on March 16.
Isle of Dogs
This is a stop-motion animated movie, one which we have not seen in a decade from Wes Anderson. The movie takes place in a near-future Japan where all the dogs have been exiled to a vast, offshore garbage dump called Trash Island. The movie looks to be visually stunning. The movie will release on March 23.
Ready Player One
Warner Bros' next big project is looking really incredible as it is going to be a visual spectacle telling a unique sci-fi story of the future. Imagine a digital world where you could do anything, be anything with the possibilities beyond the real world we are living in. It is a great concept and a must watch! The movie is coming out on March 29.
A Wrinkle in Time
Disney's upcoming feature stars Oprah Winfrey and Chris Pine and it is directed by Ava DuVernay. So far Disney has had an incredible start with Black Panther and they will look to continue this success with this movie. This movie follows a story of a young girl who teams up with 3 Astral Travelers in order to rescue her kidnapped father. The movie will open on March 9.
Don't Miss: 10 Superhero Movie Endings That Were Changed At The Last Moment