News
Here's A New Look At The New Iron Man Suit From Avengers: Infinity War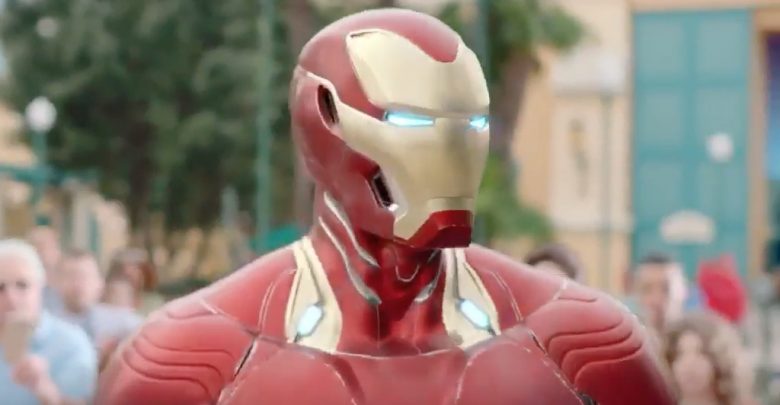 Avengers Infinity War is an upcoming Marvel movie which will feature over 40 comic-book characters that we admire and have grown up loving since childhood. For the first time, we will see all of them in a single movie which is touted to be the greatest extravaganza ever put on screen and we will be able to see it in less than 4 months.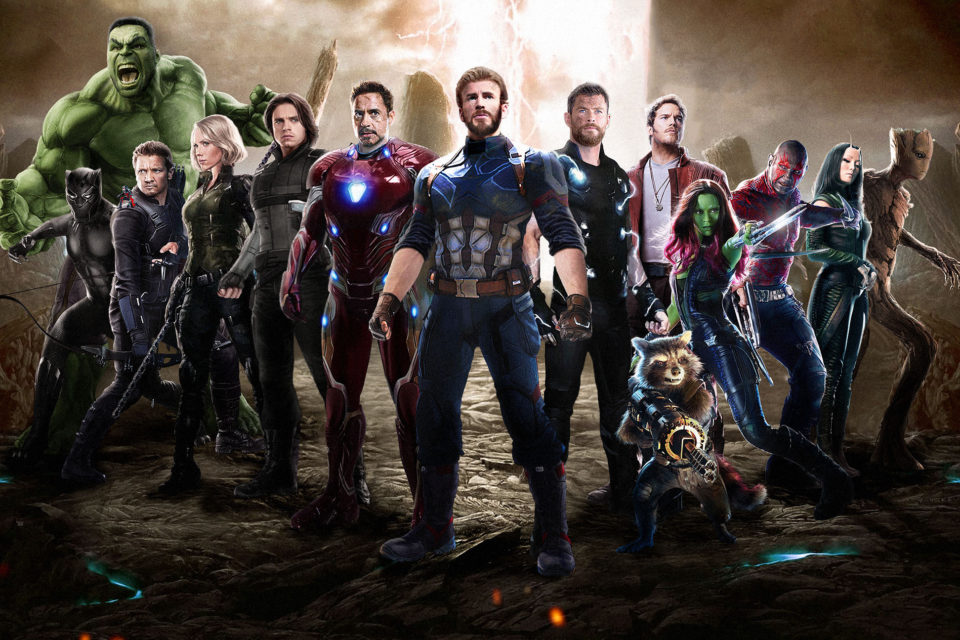 It will mark the culmination of everything that has happened in the MCU till now and bring closure to all the storylines that are going on currently. The Infinity War saga will be in two parts and the second movie is still untitled and will be released in May 2019. The makers believe that title will be revealed at the right time as it's a huge spoiler for now.
For the first time, we will see the Mad Titan 'Thanos' taking a more direct approach, coming to Earth with his Black Order to steal Infinity gems in order to assemble an all-powerful Infinity gauntlet which gives the user god-like abilities. The five Infinity stones have been discovered while Soul gem is yet to be found. Thanos already has possession of two Infinity gems – Space stone (Tesseract) and Power stone (Orb).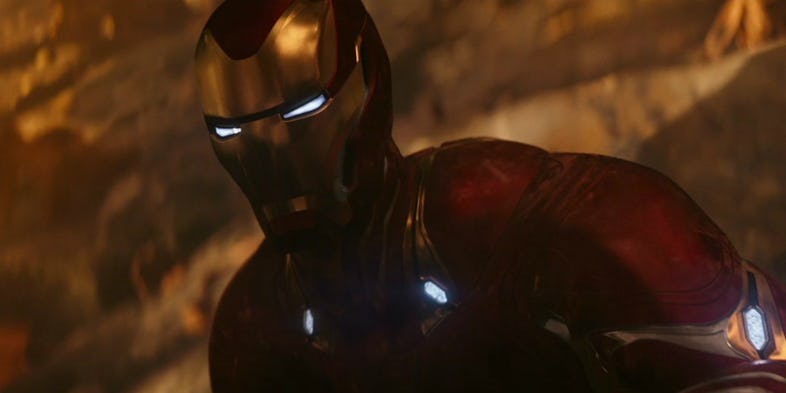 One of the most awesome things about this movie will certainly be Iron Man. Every movie, we have seen the Iron Man suit evolve with new tech and looks being added to the suit. And it is going to be the same consistent evolution this time as well.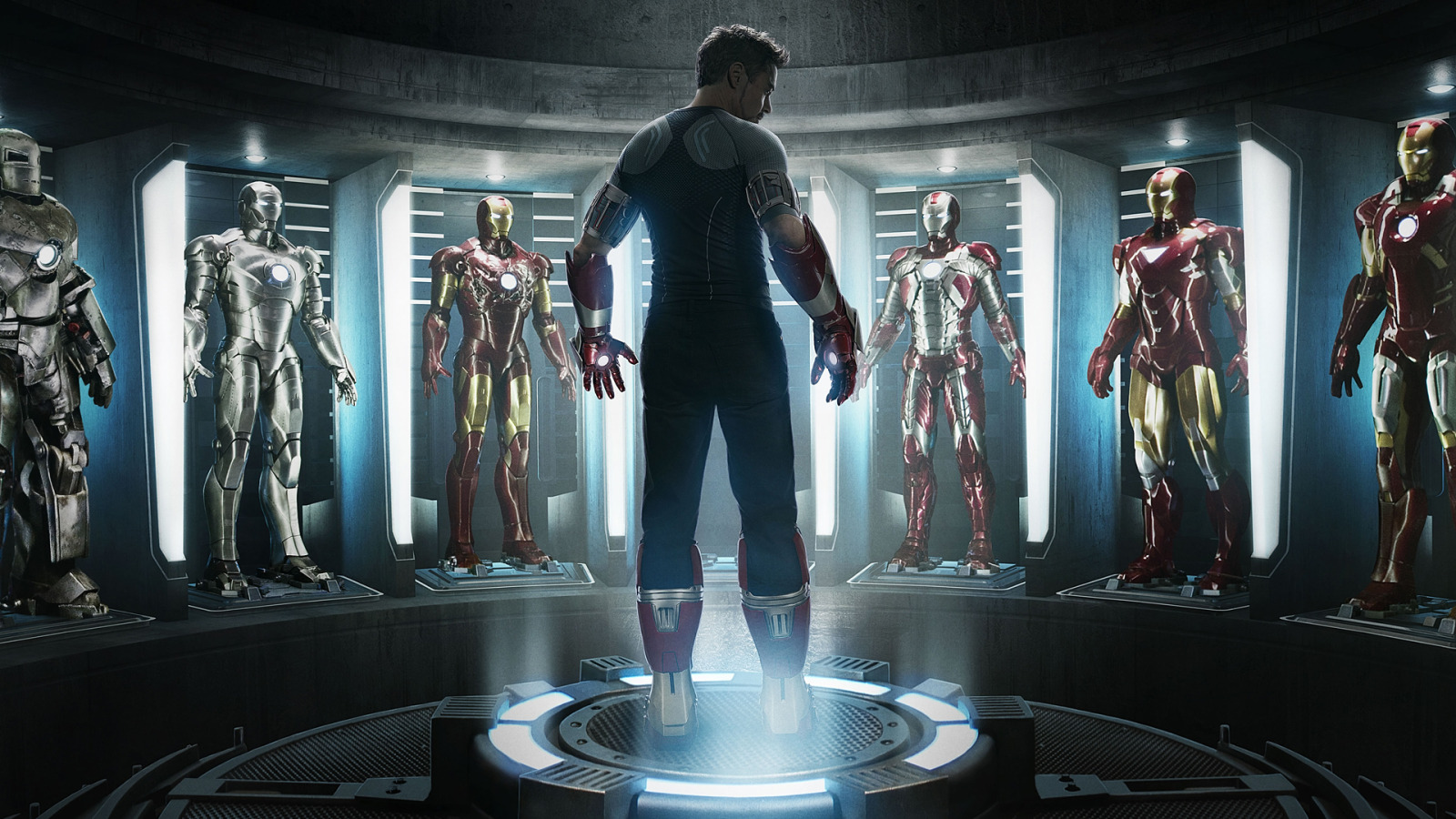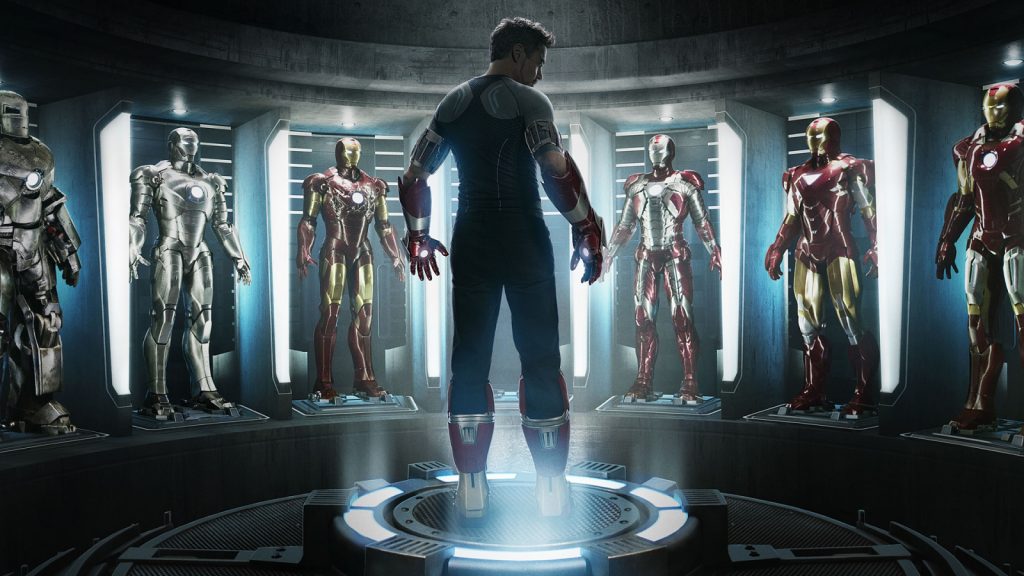 Even after the trailer hitting the insane internet, we haven't yet got the proper look at the new Iron Man suit which we would love to. But now, the wait is over, as the new promo of Disneyland Paris – "Summer of Superheros" stars Iron Man in his brand new Avengers: Infinity War suit.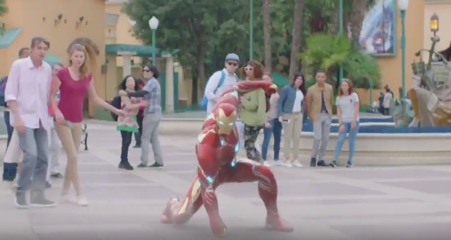 As time has passed ever since we saw the first Iron Man suit on screen, we have seen a change for the better in the looks of his 50+ suits. He has worn dozens of armors specifically designed to combat enemies with unique abilities. For instance, Tony Stark designed an armor using the Asgardian substance, forged weapons after learning Uru and mixed his Extremis armor with the divine will of Odin which is the same stuff used in Mjolnir.
It's pretty obvious that Iron Man suits will need a major upgrade to fight against cosmic creatures like Thanos. In 'The Avengers' when he was carrying nuclear missile on his shoulders, we saw that his suit did not operate in space and he barely survived.
Earlier they used to be more bulky with a lot of armor, then Iron Man 3 started a new trend of these sleek looking suit with new cutting edge technology. And now, the suit looks really close to the body, as if Tony is wearing it as clothing. Here's a famous quote of Tony Stark from Iron Man 3 which explains his attitude, he said:
"My armor was never a distraction or a hobby, it was a cocoon, and now I'm a changed man. You can take away my house, all my tricks, and toys, but one thing you can't take away – I am Iron Man".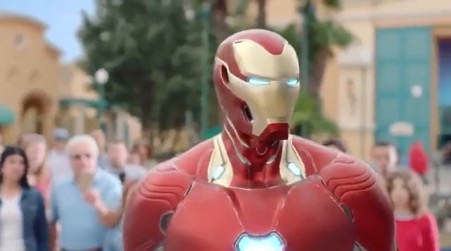 Well, there has been a lot of speculation around the suit as we believe that this time, the entire suit will actually come out of his arc reactor which we have seen is attached to the cool looking outfit we saw him wearing on the sets of Infinity War.
Most people believed that this Black and Orange suit is actually some kind of mo-cap CGI suit. This new Disney Land promo actually proves the following theory as if we look at the suit closely, we can see how slim and neat it looks.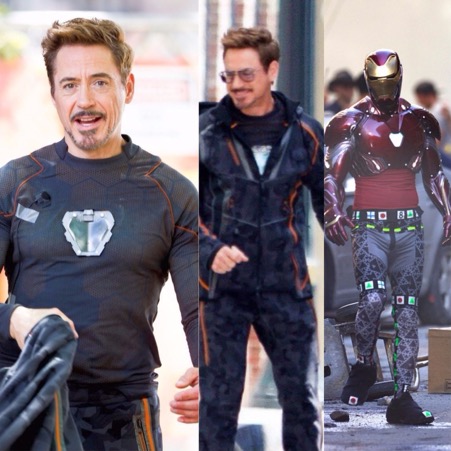 The Black and orange suit is not a CGI suit, instead, it is the suit that provides Tony Stark with new abilities. We all know that Tony fixed his heart problem by removing all the shrapnel from his body, taking out the Arc reactor from his chest. Now in the photo above, if we focus clearly, we can see that the Arc reactor is actually attached to the cloth Tony is wearing.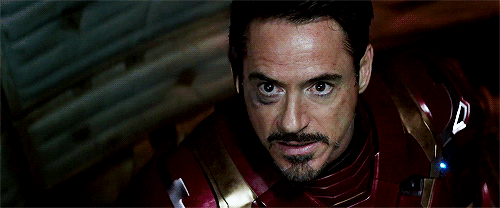 We saw in Captain America Civil War, the upgrades Tony made to his tech and suit. Tony made an entire gauntlet grow out of what we thought was just a watch. And now Tony does not need to remove his helmet while wearing the suit, the helmet just folds and fits right into the suit.
Now, what is really insane about Tony's new suit is that it is actually MCU's version of the iconic Extremis Armor from the comics. The Extremis armor actually has the ability to hide in Tony's body.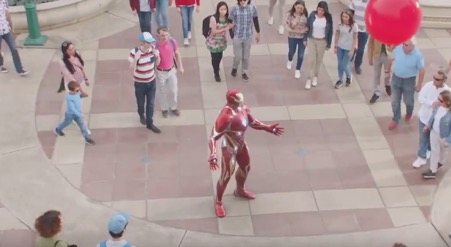 While it sounds a little too unrealistic for the movie, Marvel has worked on it and will give us a new form of Extremis Armor as the armor will be installed within the arc reactor fitted on the cloth that is mentioned above. Tony will be able to transform into Iron Man anytime he wants as the Armor will come out of the clothes he is wearing.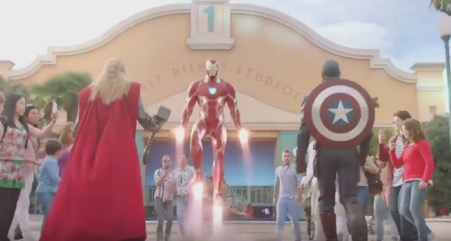 Well, that's enough insight about the suit, as we know it is going to be awesome. The promo ends with the big three of MCU lining up looking for recruits as they will be coming to Disneyland Paris this summer. Here, have a look at the actual promo – Summer of Superheroes
Tony Stark aka Iron Man will be next seen in Avengers Infinity War. The official description of the movie is as follows:
"Iron Man, Thor, the Hulk and the rest of the Avengers unite to battle their most powerful enemy yet — the evil Thanos. On a mission to collect all six Infinity Stones, Thanos plans to use the artifacts to inflict his twisted will on reality. The fate of the planet and existence itself has never been more uncertain as everything the Avengers have fought for has led up to this moment".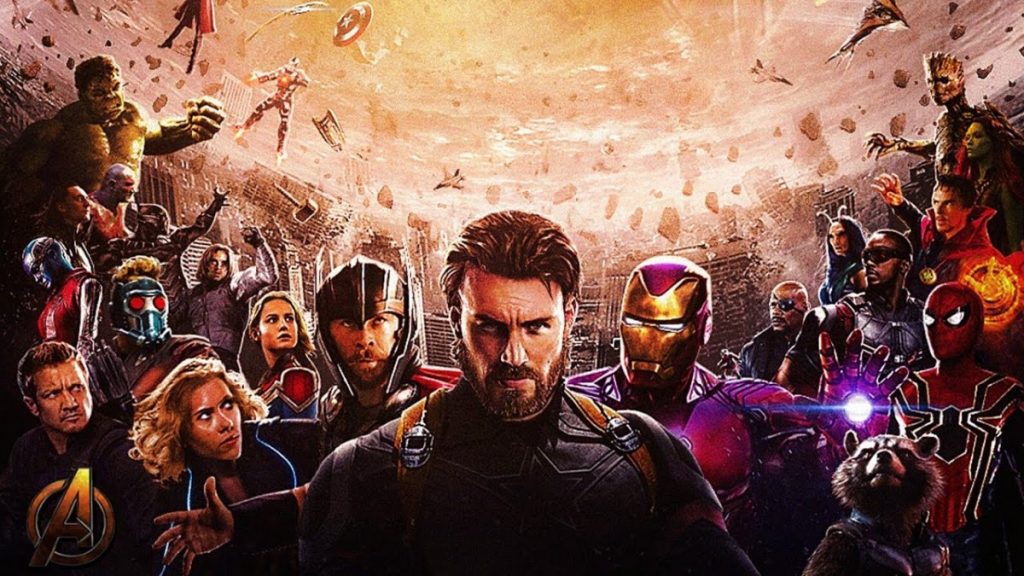 Synopsis 1:
"As the Avengers and their allies have continued to protect the world from threats too large for any one hero to handle, a new danger has emerged from the cosmic shadows: Thanos. A despot of intergalactic infamy, his goal is to collect all six Infinity Stones, artifacts of unimaginable power, and use them to inflict his twisted will on all of reality. Everything the Avengers have fought for has led up to this moment – the fate of Earth and existence itself has never been more uncertain".
Synopsis 2:
"An unprecedented cinematic journey ten years in the making and spanning the entire Marvel Cinematic Universe, Marvel Studios' Avengers: Infinity War brings to the screen the ultimate, deadliest showdown of all time. The Avengers and their Super Hero allies must be willing to sacrifice all in an attempt to defeat the powerful Thanos before his blitz of devastation and ruin puts an end to the universe".
Avengers Infinity War is directed by Russo brothers – Joe and Anthony and is set to hit the theaters on May 4, 2018. Can't wait for this anymore.
Don't Miss: 10 of Thor's Most Powerful Villains – Ranked From Least To Most Powerful