News
Television
The Leaked Set Photo Has Revealed The Identity of Earth-X Reverse Flash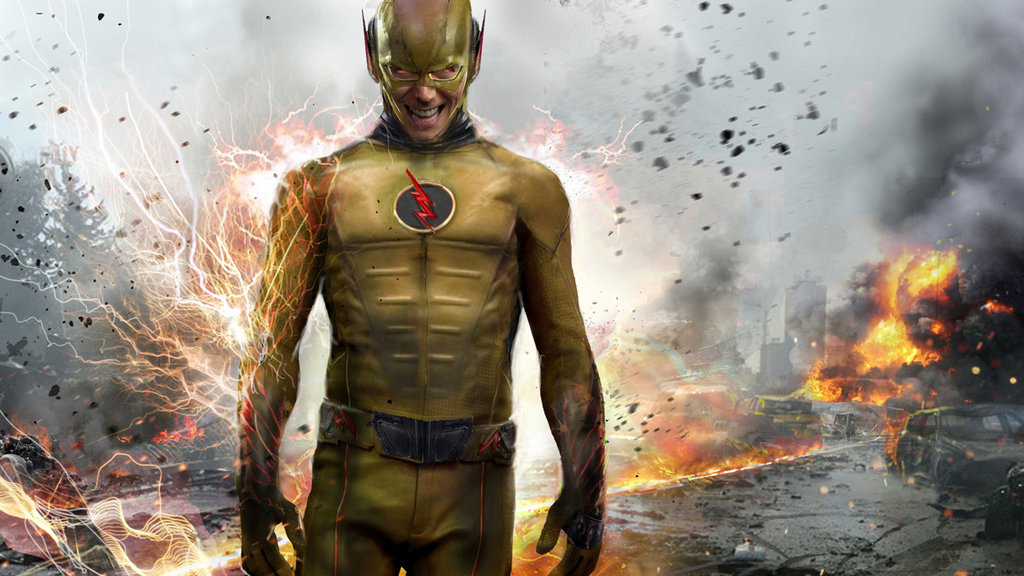 The DC fans are super excited for the annual gala event on CW i.e crossover between four major shows – Arrow, Flash, Legends of Tomorrow and Supergirl is just a few weeks away.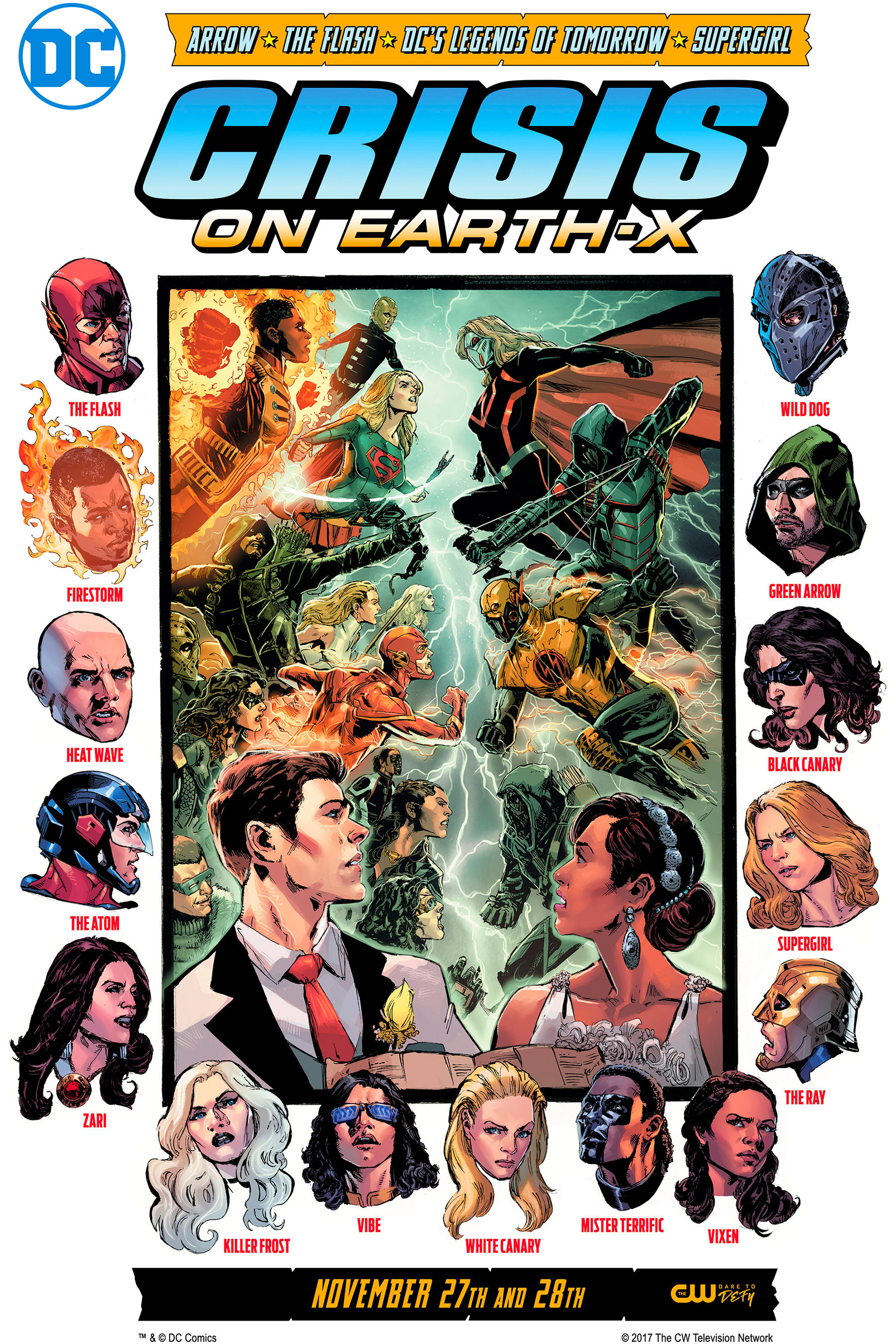 The format of the crossover will be more or less the same i.e there will be a huge villain who will unite the superheroes in a multi-verse to rally around a common cause and save the day. The CW has now officially revealed the theme of the crossover on social media i.e Crisis on Earth X through a poster designed by legendary Wonder Woman artist Phil Jimenez. The story will revolve around how the rogue versions of superheroes and villains crash the wedding party of Barry Allen and Iris West. It will be grander, deadlier and out of this world.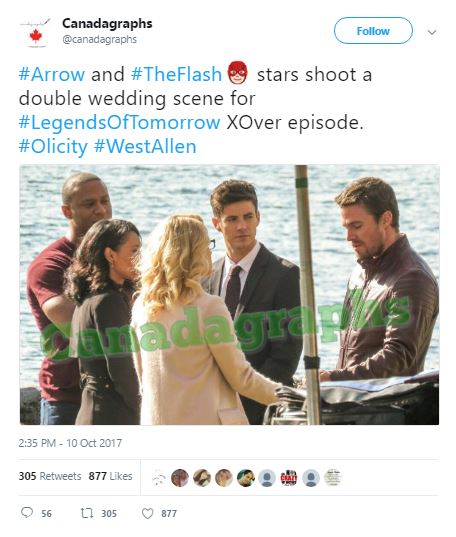 But it seems that Barry Allen- Iris West aren't the only couple who will get married, another high profile couple of Arrorverse will tie the knot – Oliver Queen and Felicity Smoak. Yes, you read it right. A set photo has revealed that CW Crossover is pulling off a double wedding with Diggle standing by their side.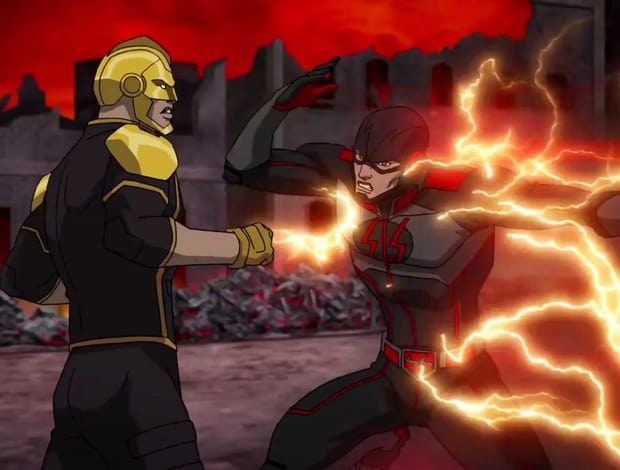 In DC Comics, Earth X is a parallel world set in a pre-crisis multiverse where Germany won the World War II which forces the freedom fighters to wage a war against the Nazis. Most fans believed that heroes will face their evil dopple-gangers, while it' s true but there may be more to it.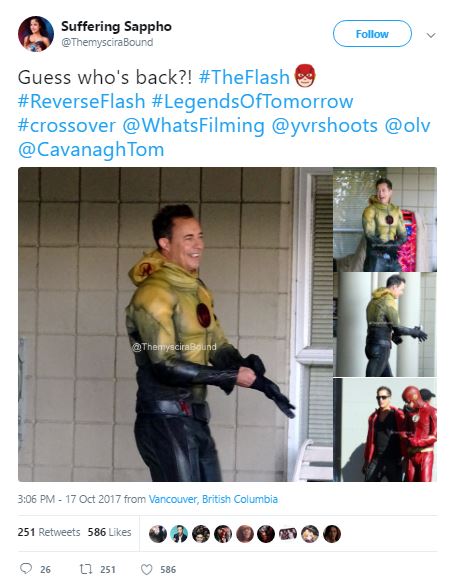 A leaked set photo has revealed that Flash could be facing an adversary who is far more devious than his own evil dopple-ganger. A fan's Twitter account posted the picture of Harrison Wells in his trademark yellow Reverse Flash suit for the mega CW crossover. If Grant Gustin's Barry Allen is not playing Reverse Flash on Earth-X, it's possible that other villains could be anyone from heroes past. It is also a mystery as to which Harrison Wells is he going to be. Is he Eobard Thawne's version on Earth-X? He could be Harrison Wells of Earth-2 who is a scientist and dad of Wally's ex-girlfriend Jesse. Could he be a version of deceased HR? Well, nothing is what it seems.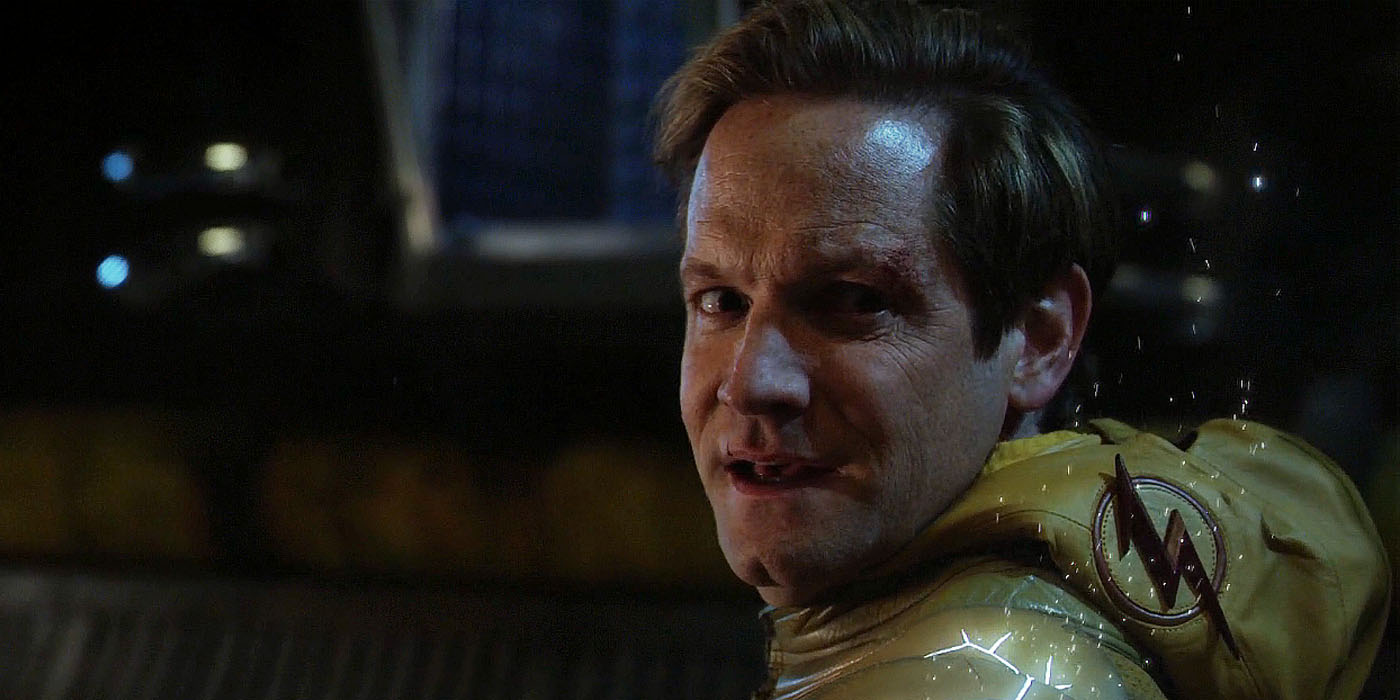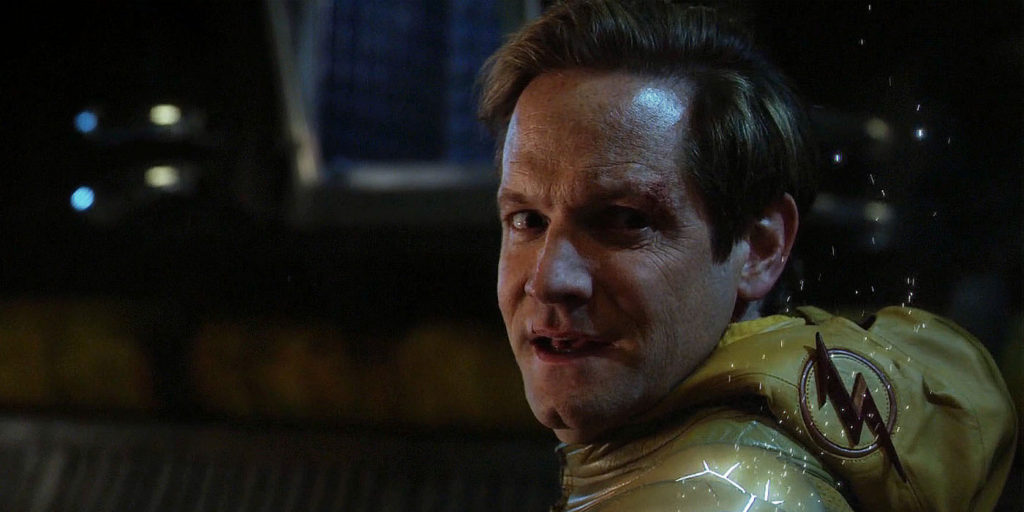 Let's take a walk down memory lane before we move on. In the last year's mid-season finale of Legends of Tomorrow, Sara Lance traded the mystical amulet with Reverse Flash for the life of Prof. Stein. He discovered that the powers of the talisman may be beyond anyone's imagination, he got his hands on "spear of destiny", a powerful artifact (reality gem) that can be used to reshape time & space. He found an artwork buried somewhere in the sands of time to activate the weapon he has already assembled. But right at the end, his plans got derailed and Legends saved the time. He had the ultimate weapon to rewrite the reality and still keeping speedforce intact. So What was the one thing he always wanted to accomplish? Erase the existence of Barry Allen without erasing himself from the timeline. Well…he failed and we all took a sigh of relief.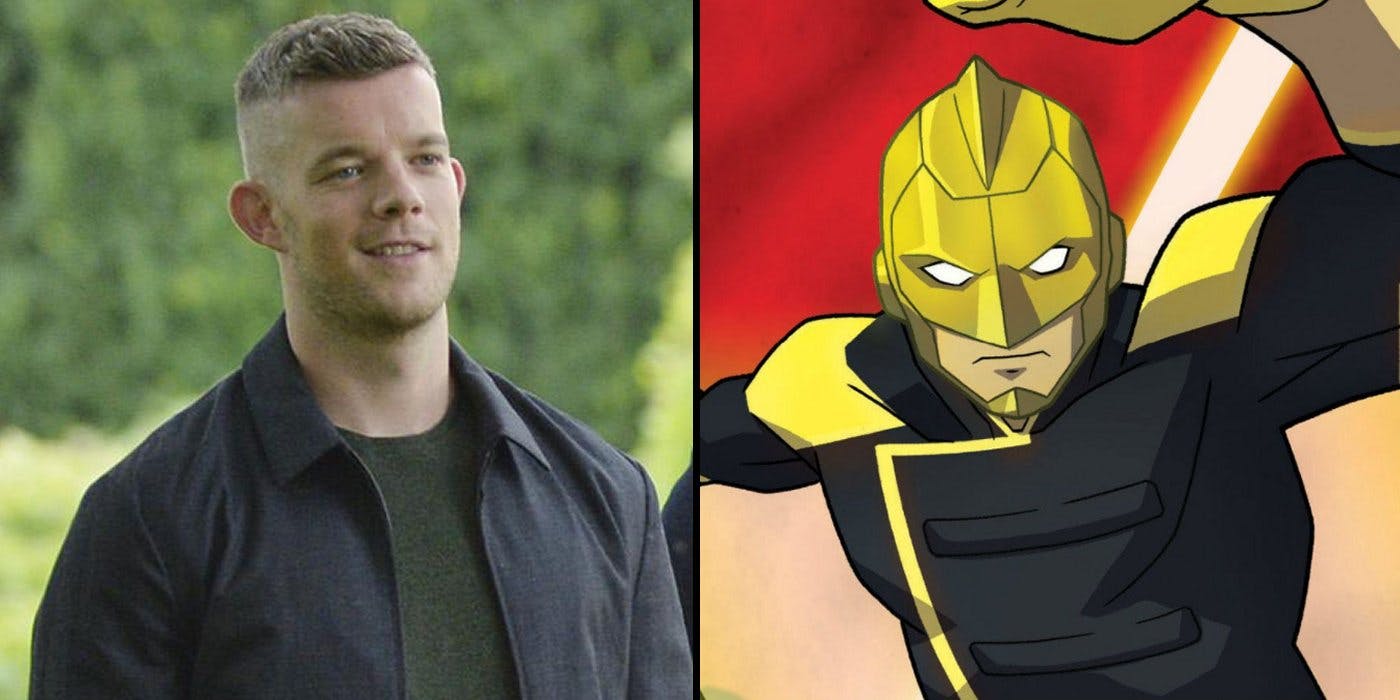 In the upcoming CW Seed animated feature Freedom Fighters: The Ray, we will learn more about the evil versions of our favorite superhero characters. According to TVLine, Russell Tovey (Quantico fame) will be playing the character of Ray in live-action as he is also the voice of the character in the animated version. His character description goes like this:
"Raymond "Ray" Terrill was a reporter who discovered a group of government scientists working on a secret project to turn light into a weapon of mass destruction. But before he could report on his findings, the project head exposed Ray to a "genetic light bomb." The bomb failed to kill him and instead gifted Ray with light-based powers. With these abilities, Ray realized he could go beyond reporting on injustice — he could take action to help stop it. Calling himself The Ray, he was recruited by Uncle Sam and the Freedom Fighters to fight violence and oppression wherever it exists."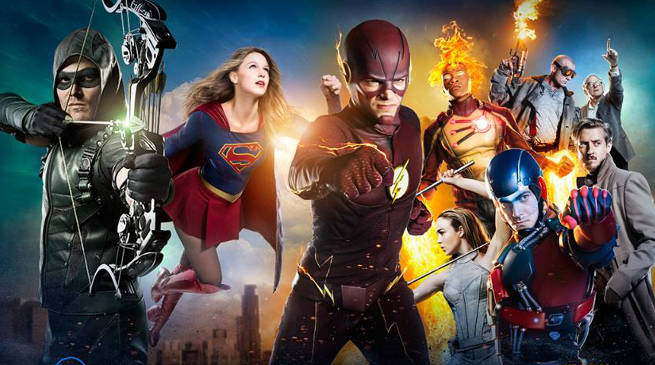 Last time, the crossover storyline was based on the comic-book plot of Super Friends coming together to fight the Dominators, a technologically advanced alien race hell-bent on destroying the potential threat of Earth's meta-humans. It was officially kicked off in Supergirl, came into its full avatar in the Flash episode titled "Invasion", continued in the special Arrow 100th episode and ended in Legends of Tomorrow.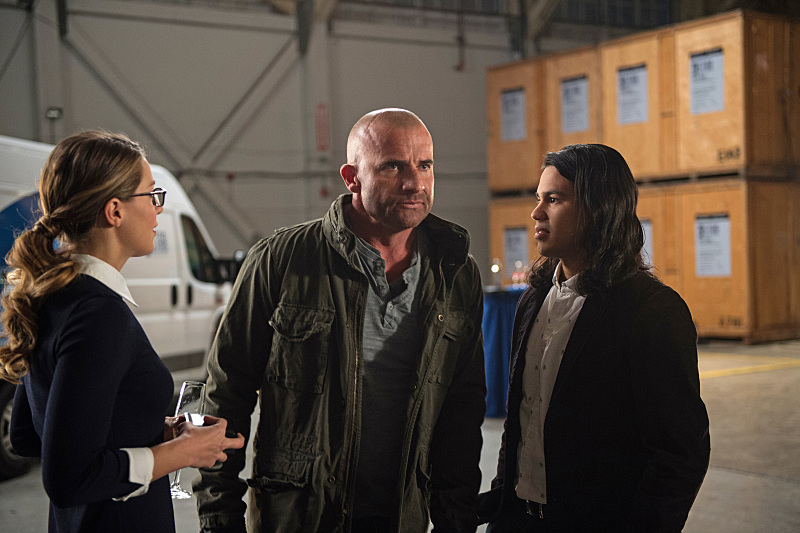 In Part 2 of the Crossover, it was funny when Supergirl asks Rori – why are you known as Heatwave, he replies he burned his family alive and he likes to light stuff on fire. Then Rori says to Kara "I am not going to say Supergirl as it's just stupid, Kara won't work out either. I will call you Skirt".
Barry Allen took Oliver inside the secret lair of Star Labs that he discovered in the debut season and showed him the news report dated April 25, 2024 "Flash missing, Vanishes in crisis". It was earlier written by Iris West Allen, now by someone else. Oliver told Barry how helpless he felt when his father sacrificed himself to save him and Slade Wilson stabbed his mom in front of him.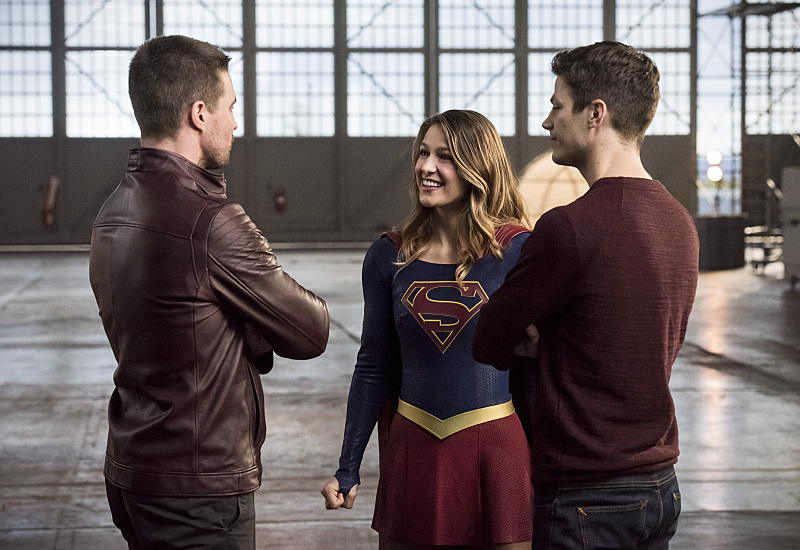 The show-makers revealed that Supergirl lives on Earth 38, Cisco & Barry opened a portal and asked Supergirl for help as the enemy is an alien force. But Green Arrow doesn't trust her, unlike Flash who partnered with her before to take down Livewire and Silver Banshee.
At the Paley fest last year, Greg Berlanti (the executive producer) stated that Flash is the perfect DC Superhero to come into Supergirl universe. He said "We needed to create a way to do it. We had to introduce Superman since you've heard about him and you've heard about who Supergirl is, but in the world of Arrow and Flash, they don't exist. We introduced the Multi-verse in Flash this year and that was always our way in". Fans complained as to why this is a one-sided crossover, the Flash is shot in Vancouver and Supergirl is shot in L.A. The real reason was Flash makers have already planned for all the episodes and spent its budget, they did not have space to accommodate a major character like Supergirl as of now. But this attempt has proven to be successful, so anything can happen in the seasons to come.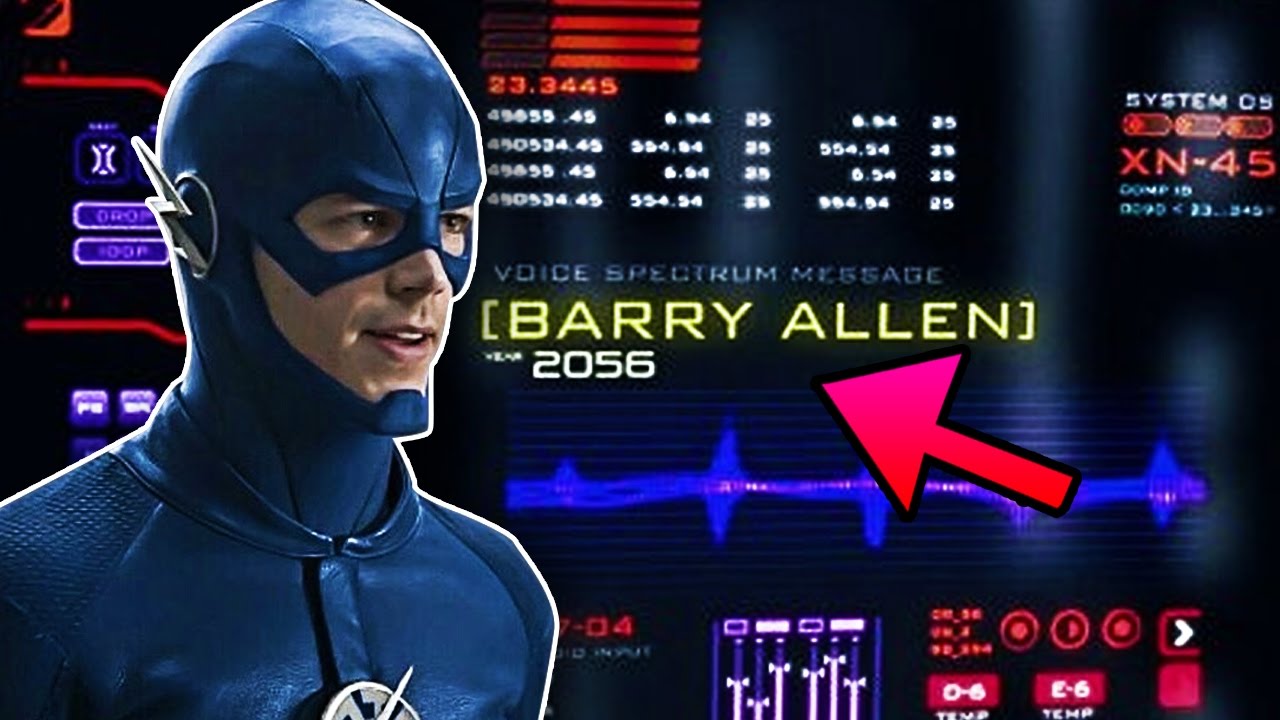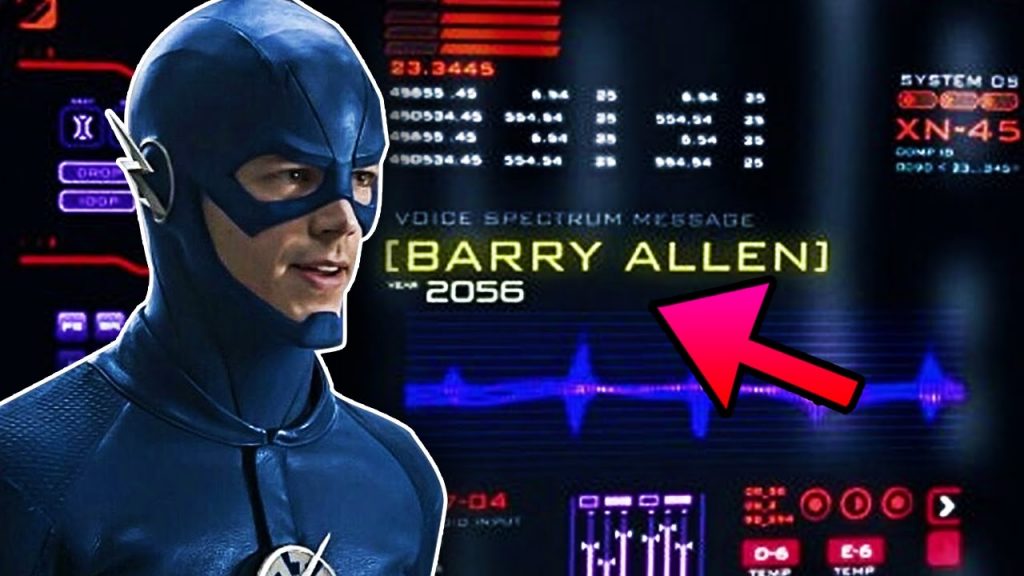 On the Wave Rider, Martin Stein & Jackson found something very unusual, a secret cabinet which Captain Rip Hunter has been hiding from the entire team. They discovered an elaborate techno-lab filled with heavy weaponry and an audio message from Barry Allen in the year 2056. He is saying to Captain Hunter that he couldn't endanger any more lives and that he must not reveal this piece of information to his team. Both of them then shared this message of future Flash with Barry Allen who is urging Captain Hunter not to trust him as he has messed up the timeline and things have spiraled out of control. Fan believed that future Barry may be having critical information about Legion of Doom who may be responsible for mass casualties in the future and he is giving a heads up to Captain Hunter, but that was not the case.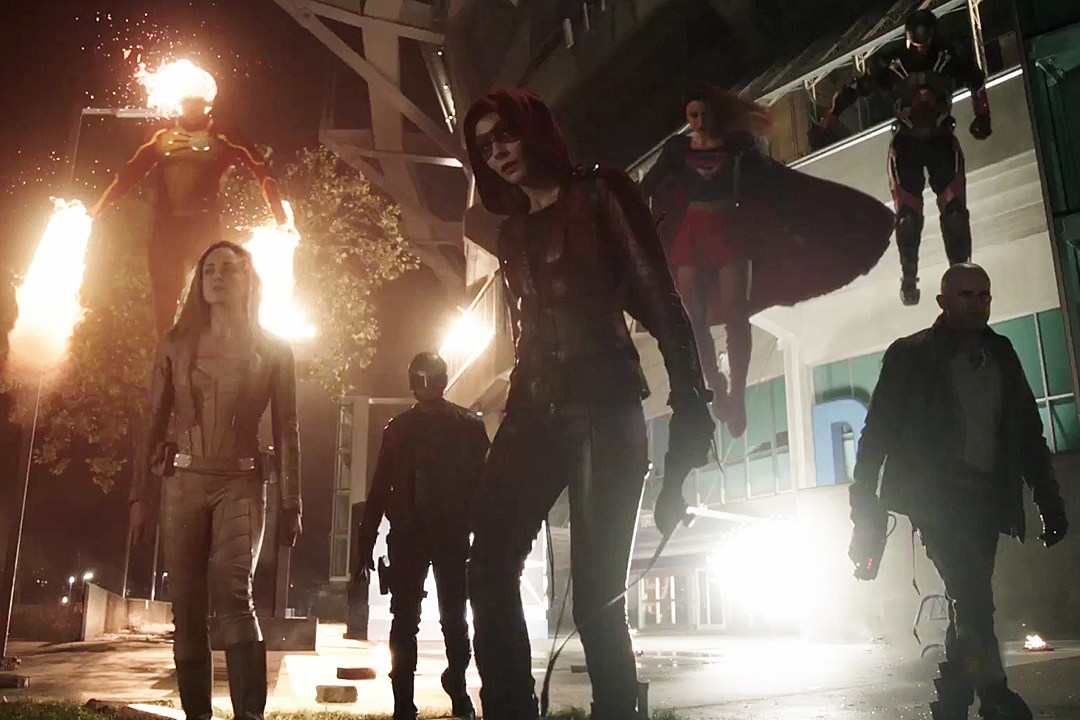 In Part 3, you knew that there is something wrong here as things are not adding up. The first reaction of everyone was why the Arrow's crossover episode is spending too much time on the past life of Oliver Queen, his relationships with his father, mother and girlfriend Laurel Lance (all of them are dead in present day). Then it was revealed all the characters – Oliver, Diggle, Thea, Sara Lance, Ray Palmer have been thrown into dominator matrix where there is no pain or suffering (Oliver's parents are alive and he is about to get married to Laurel). Everyone who went to take down Dominators fell into the trap and got mind-controlled. Now, Flash & Arrow are up against the enter roster of powered people. Believe it or not, they were saved by Kid Flash who then got hammered by Supergirl.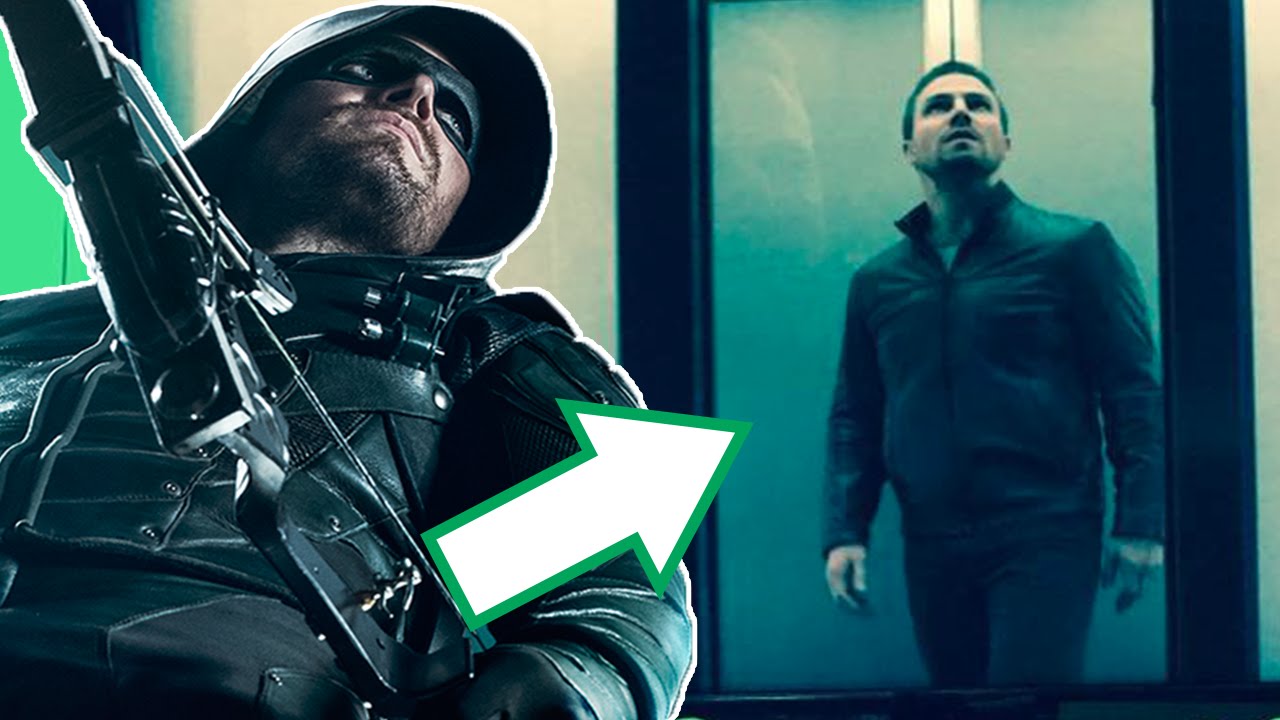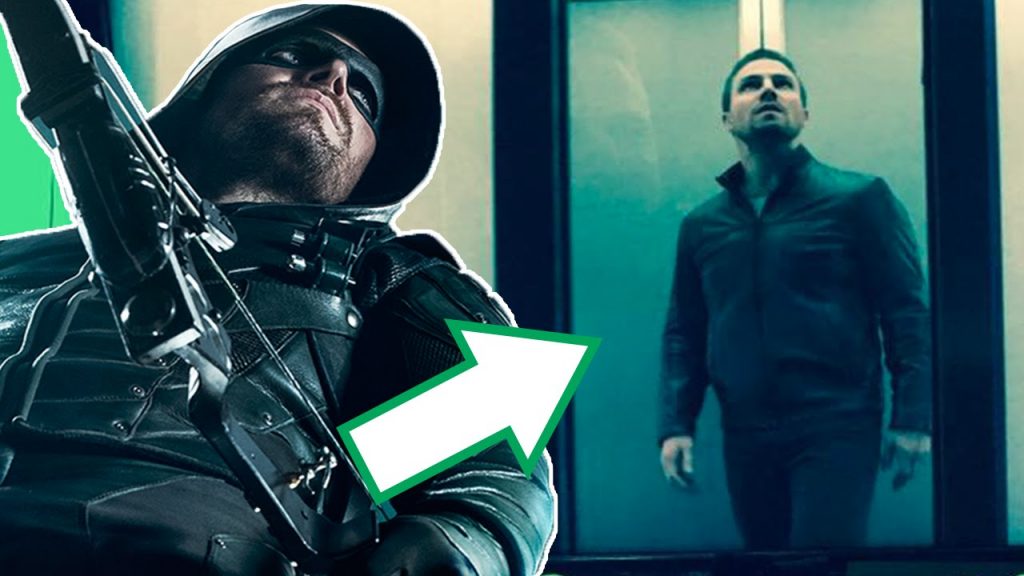 Greg Berlanti (the executive producer) then said "This was, sort of, Oliver's version of 'Flashpoint' or 'For the Girl Who Has Everything' from 'Supergirl. There's a reason why these stories are iconic or familiar tropes in comic books. When you show the protagonist the path-not-taken — and you basically put them in a situation where they can choose to stay on that path or go back to their life with all its ugly aspects — and they choose the selfless choice, it makes your character stronger."
In Part 4, Flash managed to destroy the mind-control source of dominators.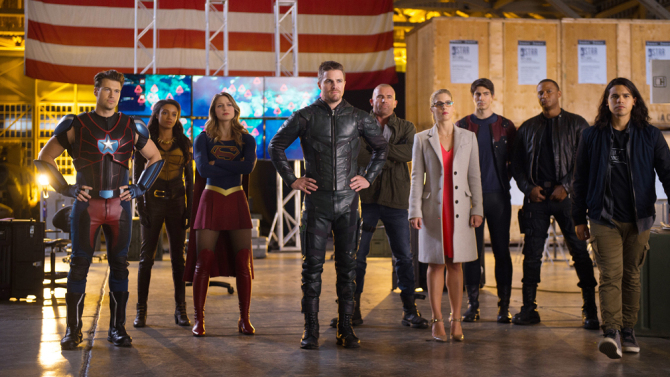 The CW is going all guns blazing to make this year's crossover bigger and better than last years' which was like a high-octane action adventure. This year the stakes are higher and the threat is more menacing and dangerous. The crossover will begin with Supergirl and Arrow on November 27 and concludes with Flash and Legends of Tomorrow on November 28.
Don't Miss: 13 Shocking Things You Probably Didn't Know About Green Arrow