News
Television
The Flash Season 4 Episode 2 Images and Synopsis Reveal Stunning Details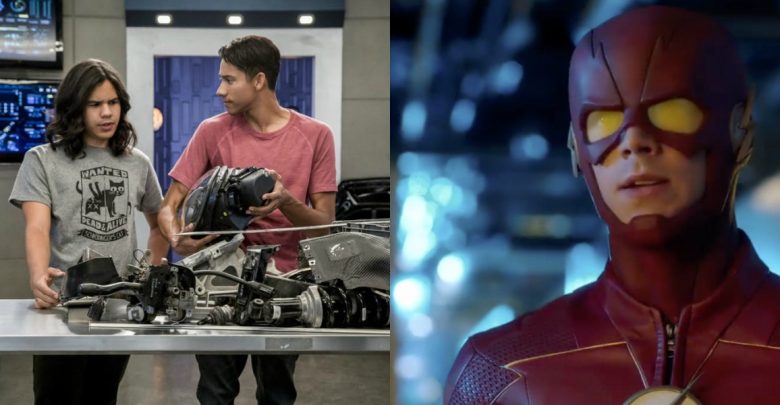 The Flash Season 4 has premiered and Barry is back. Though initially, he wasn't in his senses, now he is well, up and running faster than before. The Flash Season 4 Episode 1 had a lot of great moments with Caitlin coming back to Team Flash, Joe and Cecile, and a tease of Barry's new suit. The CW has released The Flash Season 4 Episode 2 Images and Synopsis.
SYNOPSIS FOR THE FLASH SEASON 4 EPISODE 2:
Barry has his hands full when he takes on a dangerous meta who can control technology; Gypsy breaches in for a date with Cisco, getting annoyed when his work keeps them apart.
Good news for Cisco and Gypsy fans. Both of them will be reunited again and possibly re-kindle their romance in spite of Cisco being busy because of "work".
The Flash Season 4 episode 2 is titled "Mixed Signals" and following are the images from the episode:
Caitlin is back with Team Flash and we will see her struggle in keeping Killer Frost at bay.
Wally has got a new haircut. Boy, oh boy!
The Brother and Sister Team-Up!

Look who's back for a date! Cisco, wake up.
Team Flash Re-Assembled!

What the heck is that?

Getting Good Romantic Vibes from this couple!

The EverGreen Couple!

Kid Flash, confused!

Time for a showdown!

Bad-Ass, Barry!

Wait, what?

Barry back to fighting criminals!

And finally, look who's got an upgrade! Barry gets a new SUIT!

All Image courtesy: CW, TVline
Certainly, these images promise a delightful second episode of the new season of The Flash and we can't wait to see the latest upgrade to Barry's suit. If you haven't watched the trailer for the next episode, watch it below:
Continue watching the Flash on The CW (in the US), Sky1 (UK) and Colors Infinity (India). Stay strong, keep running.
Don't Miss: 17 Upcoming Sci-Fi Movies That Will Blow Your Senses