Mandira Bedi is an extremely talented TV actress cum host who once dominated the small screen. Mandira Bedi was the protagonist in the popular daily soap "Shaanti" where she played the role of an investigative journalism.
Mandira Bedi never ceases to amaze her fans with her lifestyle whether it's her deep love for dogs or sharing hot pictures on social media.
Mandira Bedi recently put a topless picture of herself on Instagram and it seems she hasn't aged one bit.
Another pic has her taking a dip into the swimming pool wearing shades and a sexy outfit. Mandira Bedi is looking stunningly gorgeous.
Instagram is really becoming a tool for female celebs to share their hot pictures with fans.
Sol Perez, a hot Argentinian journalist cum TV anchor works with TyC Sports Argentine, also known as "world's sexiest weather girl" posted sexy pictures of herself on her Instagram page. She is relaxing in a bath naked while covering her modesty with bubbles.
She has over 1.6 million followers on social media. She also revealed that famous footballer Cristiano Ronaldo watches her weather show. She has become a huge social media celebrity in Argentina.
It is said that her morning show is helping men get up early than usual. She took part in the dancing competition and people just love her moves.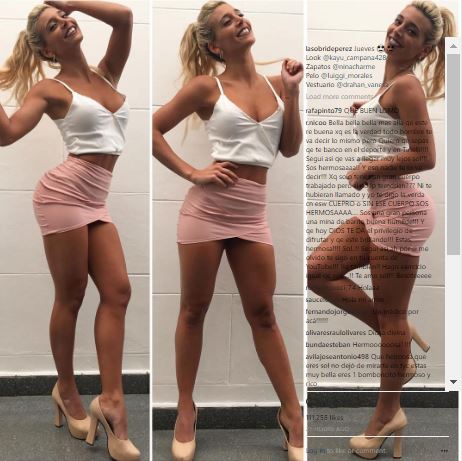 The famous singer Fergie who decided to go solo in 2005 after she broke up with Black Eyed Peas, announced an album titled "Double Dutchess" which is a sequel to highly successful Dutchess released in 2006.
She is making these promotional clips and teases in stunning costumes and make-up. She even went topless and she has never looked better. She is wife of Josh Duhamel, mother of a child and is now 42 years old.
Well, it seems 42 is the new 22. She is wearing black bikini at a luxurious getaway in Hawaii, sipping water, donning sunglasses and tasting fruit.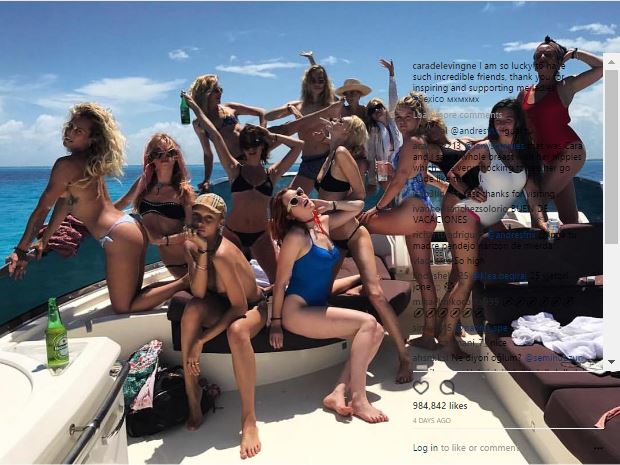 Cara Delevingne is a British supermodel turned actress who recently starred in Suicide Squad and played the role of Enchantress (the big villain). She turned 25 and threw a lavish party on the Mexico beach. According to an insider:
"She's invited all her closest friends, including Kendall Jenner, Suki Waterhouse, Georgia May Jagger, Jamie Winstone, and, of course, her older sisters Chloe and Poppy."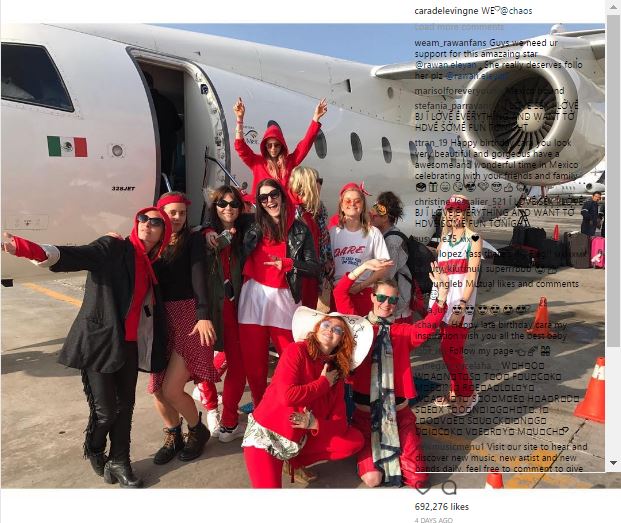 She captioned the image: "I am so lucky to have such incredible friends thank you for inspiring and supporting me ladies #Sexico."
Heidi Klum is a supermodel who is well-known for being provocative and bold. She sparked an online frenzy as she flashes her bare body in a new sizzling shower clip that showed her hot figure. She has been soaking up the sun with her boyfriend Vito Schnabel on a luxury yacht. She is 44 and has 3.8 million Instagram followers who got a glimpse of her side-boob (which is a thing now) as she covered her breasts as the water trickled over her body.
Her fans were quick to respond. One said "OMG", another posted "Hooottt".
Emily Ratajkowski is a model turned actress who starred in popular movie Gone Girl. She just went a step further and decided to go topless and enjoy the sun gently warming her body. She took another saucy picture with her lying beside a pool in her bottoms with cocktails next to her. She also stripped topless for a mirror selfie.
On her naked images on Instagram, she said to an Allure magazine:
"It really bothers me that people are so offended by breasts. That's when I realized how f***ed our culture is. When we see breasts, we don't think of beauty and femininity. We think of vulgar, over-sexualized images."
Sofia Vergara is extremely talented and vivacious actress popular for her role in Modern Family TV series. She is 45 now and is still one of the hottest stars in the industry. She did a shoot for the magazine cover of Women's Health where she is totally naked as it's the theme of the issue. Here's what she had to say:
"I told my agent, 'I'm going to be 45 years old! Stop putting me in naked things! Let me age with dignity!' People say, 'Oh, you look like you're in your twenties.' Well, it's not true. Our skin is different. I had never thought of the word pore, then I'm like, 'Sh-t! What do I do with these?' [I agreed to the shoot because] here's a woman, 45, being able to show her body. It's not like before, when it was just young girls."
Miley Cyrus is willing to let her clothes hit the floor at the earliest opportunity. Her new image is that of a West Coast hippie with her country pop style that catapulted her to fame in the 2000's.
Recently, she posted her own image on Instagram where is lying on her bed topless with her dogs. The image is not as provocative as tabloid magazines are making it out to be given the nudity benchmarks Miley has set for herself.
Sure, she could have covered herself but she is better when she let it all go.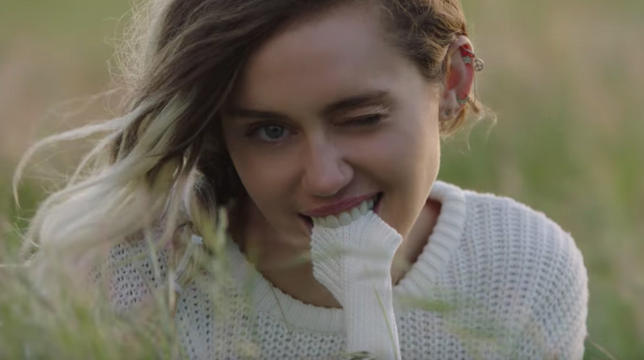 In an interview with ITV's Lorraine, she talked about her new sound and image:
"I feel like I proved what I wanted to do. I feel like I have respect and I feel like my charity Happy Hippie has given me that and I feel like I have the respect as an artist that I want, so it's less that I have to prove myself, and that gives me a lot of contentment. I think that makes me have more freedom in my music, because I feel like I can really just be myself and my fans are so accepting of me. But it's just hard for people that are looking out from the outside inside my life all the time and going through every little thing."
Recently, Salma Hayek posted her topless mirror selfie on her instagram page proving that one can be hot as hell at any age and it's never too late to have a figure to die for.
The caption of the image says "When the party is over" in both Spanish and English. When you look at this saucy shot, you will feel party has just begun.
She is one of the hottest Mexican actress working in Hollywood today. She is a veteran who has been there in the industry for over 25 years, she turned 50 last year and she is still ravishing as ever. It seems ageing has'nt caught up with her as she continues to be sexy and drop dead gorgeous.
Well, you just can't get enough of these awesome women. CHEERS!
Don't Miss: 20 Hottest Actresses Who Are Basically Hollywood Divas