News
10 Reasons Why Men Would Do Anything For Mia Khalifa
Mia Khalifa is one of the popular names in the world of entertainment. Known for her seductive and irresistible looks, the Lebanese American social media personality took the internet by storm the time she entered the porn industry in 2014. Those who don't know about this bombshell they must be lying under the rock. Due to some cultural restrictions in Lebanon, she faced criticism over a porn video where she was wearing a hijab. Moreover, she was considered as a disgrace to the industry. She moved to the US in 2000 whens she was seven years old and graduated from the University of Texas at El Paso with a Bachelor of Arts degree. With all of that, we bring you ten reasons why men drool over Mia Khalifa. 
 1. Mia Khalifa is passionate about food
After graduating from college, Mia was as confused as us about her career. But as she was always passionate about food, she joined a burger joint 'Whataburger' in Miami, Florida and worked there for a couple of years. Not only she is better at taking mouth-watering pictures she is pretty good at cooking. Going to new places and trying fancy dishes is a favorite pastime of her.
2. She is an avid reader
The hottie is not just about banging and sucking shafts in her videos, she is an avid reader. Check out her Instagram account, you will find her reading a book. Once she was spotted reading Robert Greene's 48 Laws of Power. What else? She is hot, sexy and has a jaw-dropping appearance on screen.
3. She is a funny-bunny
As much as her fans adore her, they are fascinated by her seductive and steamy selfies. But if you will go through her Twitter account, you will get to see some humour through videos, images and a good meme work. One of the best things about her is that she is always having a good time and her sense of humour is simply contagious.
4. She is simple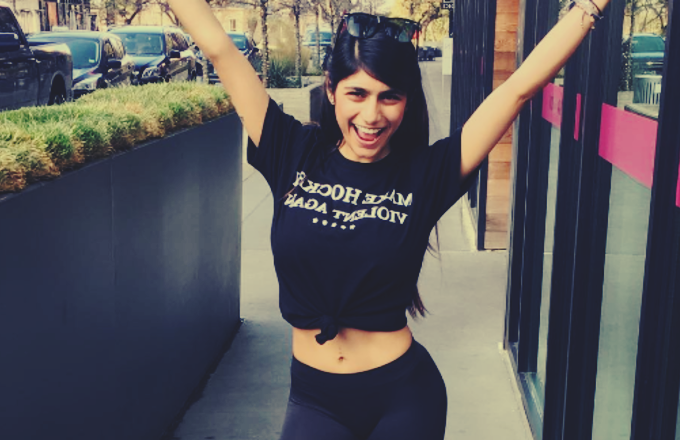 Mia loves a simple life and most of the times you will find her wearing no makeup. One of the best things about her is that she loves the way she is. Moreover, if you have seen her home videos when she is not shooting for her movies, she does not use cosmetics so much.
5. She can make every man happy 
It is quite easy to digest the fact that she has a strong seductive personality and can make every man on this planet happy following her steamy photos and videos. Moreover, she has helped shy men get over the fear of talking to women. She can kill depression in seconds.
6. She is humble and practical
We have seen her getting intense with a group of guys and having some "steamy" time, but talking about her real life, Mia has a down-to-earth personality. When she is not working, she gets busy and spends most of the time doing what she loves the most.
7. She is incredible at twerking
Watch her twerking and you would be like, "if there was any competition of twerking, guess who would bag the award all the time". Obviously her! Dressed up in sexy outfits, she can twerk on any song with full energy. Moreover, she comes under the list of best adult performers in the world.
8. She is a Sports lover
What could be so sexier than a woman loving sport? Not only in the bed, she likes to catch up some action out of the bed too. She loves football, hockey and lacrosse. This sounds crazy!
9. She loves Rock n Roll music
Who could be so hardcore and sexier than a girl dancing on rock n roll music? She loves listening to Pearl Jam. Eddie Vedder is one of the reasons why grunge and rock roll music is still alive. Totally impressed! Undoubtedly, Pearl Jam's music is sexy just like her.
10. She is a strong woman
Mia Khalifa is a full pack of entertainment and is a multitalented celebrity. She is good at self-defense despite all the criticism she faces. Moreover, she is pretty good at self-defense. Once she punched a fan who forcefully tried to take a picture with her. Well, she can dangerous at times.
Don't Miss: 15 Sexiest Images of Celebrities From 2017 Cannes Film Festival