It's stunning just how a Disney star is now a controversy child. Miley Cyrus is willing to let her clothes hit the floor at the earliest opportunity. Her new image is that of a West Coast hippie with her country pop style that catapulted her to fame in the 2000's.
Recently, Miley Cyrus posted her own image on Instagram where is lying on her bed topless with her dogs.
The image is not as provocative as tabloid magazines are making it out to be given the nudity benchmarks Miley has set for herself. Sure, she could have covered herself but she is better when she let it all go.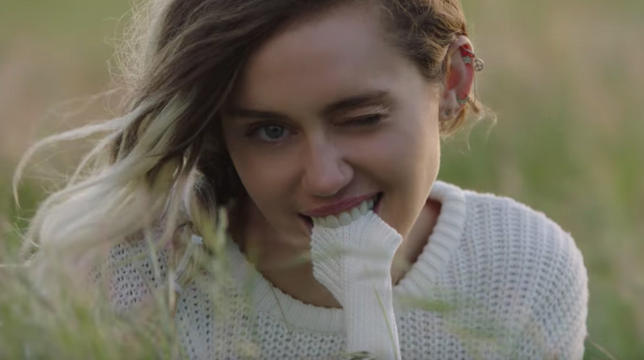 In an interview with ITV's Lorraine, she talked about her new sound and image:
"I feel like I proved what I wanted to do. I feel like I have respect and I feel like my charity Happy Hippie has given me that and I feel like I have the respect as an artist that I want, so it's less that I have to prove myself, and that gives me a lot of contentment. I think that makes me have more freedom in my music because I feel like I can really just be myself and my fans are so accepting of me. But it's just hard for people that are looking out from the outside inside my life all the time and going through every little thing."
Well, her music is evolving and so is she as a person. Let her be herself and explore her sexuality.
Recently, Salma Hayek posted her topless mirror selfie on her Instagram page proving that one can be hot as hell at any age and it's never too late to have a figure to die for.
The caption of the image says "When the party is over" in both Spanish and English. When you look at this saucy shot, you will feel the party has just begun.
Miley Cyrus is one of the hottest Mexican actress working in Hollywood today. She is a veteran who has been there in the industry for over 25 years, she turned 50 last year and she is still ravishing as ever. It seems aging hasn't caught up with her as she continues to be sexy and drop dead gorgeous.
Recently, in an interview with a lifestyle magazine DuJour, she rejected "botox" as a measure to look beautiful and talked about "aging gracefully". She wants to look like a "lovely lady" into her 70's. She said:
"Listen, if there was something you could do that would keep you looking good, I would do it. But I'm in love with my husband, and I want to look like a lovely lady when I'm 70. I want him to see me and think, 'Okay, my girl is old now, but there's still beauty there.'"
Her next movie is Beatriz At Dinner where she plays a hard-working LA based Health practitioner hail from a poor Mexican town. In the movie, she will confront a self-serving Billionaire who hates poor people and immigrants coming into the US. She has always been an activist in real life on the issues of poverty and immigration. She has spent a considerable amount of time empowering women, contributing to the causes and raising awareness in the public sphere. All the Best to her.
Don't Miss: 10 Celebrities Who Can Do Anything To Become Famous