Celebs
MTV's VJ and Ex-Roadie Varun Sood Feels Splitsvilla Is More Difficult Than Roadies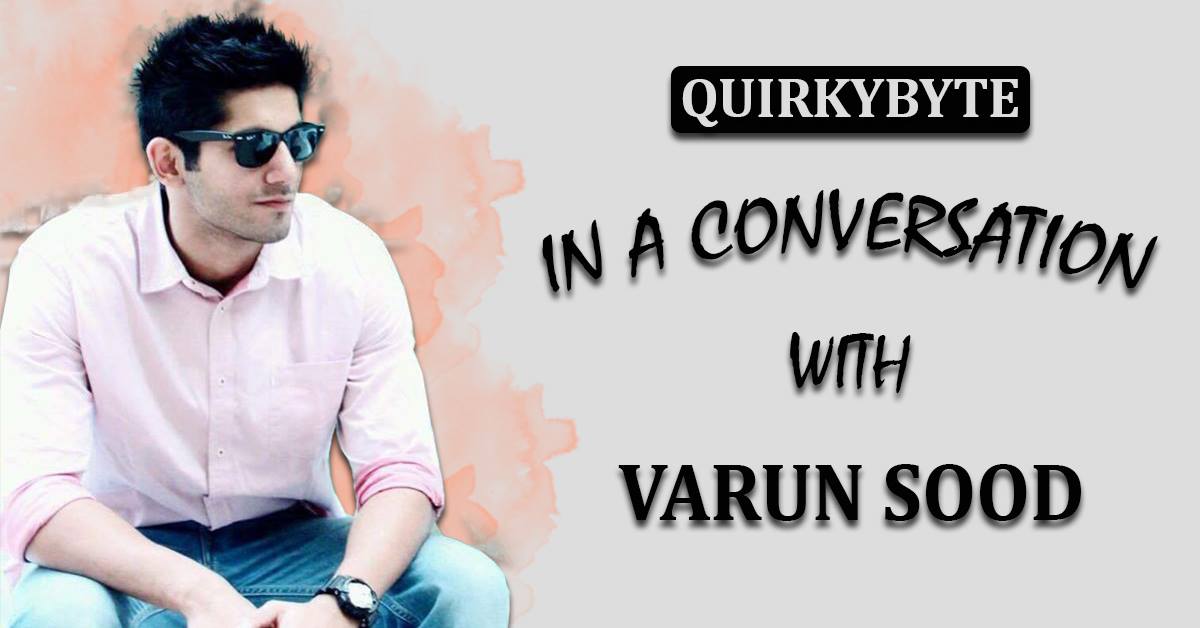 In an exclusive interview with Quirkybyte's Gourav Pilania, Varun Sood opened up about his time in Roadies & his affection for dogs and a lot more.
Varun Sood, ex-Roadie & Splitsvillain has stamped his place in the television business. Varun made his debut as VJ by hosting NBA Slam alongside Rannvijay.
In an exclusive interview with Quirkybyte, we caught up with him as he was the show-stopper for Roadies bottom wear by Beevee launched in collaboration with Viacom 18.
Quirkybyte: How was the 'Roadies Bottomwear' by Beevee product launch show?
Varun: The show was fantastic. This was the 2nd time I walked the ramp. For a show like MTV Roadies, it felt amazing.
QB: You were chosen as the show-stopper for Roadies Bottomwear for Beevee. How does it feel as you are an ex-Roadie yourself?
Varun: I never imagined that I could be associated with a brand like Roadies & be a show stopper with their own clothing line. It feels amazing to be a part of it. It's like one of those 'dream come true' moments.
QB: The products that will hit the market soon are perfect for someone who wants to indulge in any outdoor activities or gymming. Tell us how are they different from other brand clothing products?
Varun: A lot of trouser companies & jeans companies look very uncomfortable. I wouldn't wear them & go for a bike ride but Roadies bottom wear by Beevee collection is so comfortable that I can actually wear joggers, cargo pants & jeans and go out for a bike ride and go out for a trek. The products are very flexible & it move s with your body. That's the different part. It's tailor made for a person who is into adventure activities & trekking. People have also started becoming fitness oriented which is good to see. These products are perfect for the youth.
QB: Tell us about your experiences in Roadies & Splitsvilla. How has it changed the course of your life?
Varun: Roadies has changed my life to a different life. From a guy who wanted to be in Indian Army like his dad & his grandfather to become an MTV VJ. I was anchoring a show when I was 19 with no experience at all with so much confidence coming out & so much exposure. Representing India as a youth influencer in Singapore & Bangkok; it's immense. I got my chance in Splitsvilla as well. It has been an amazing journey for me. A lot more ahead but everything has been great until now.
QB: Which one was more difficult to survive: Roadies or Splitsvilla?
Varun: Splitsvilla was a lot more difficult to survive in.
QB: Which one among the two has been the driving force behind your success?
Varun: I would give the credit to MTV & Rannvijay for whatever I have today. If Rannvijay hadn't been such a great mentor to me, I wouldn't have reached where I am today. MTV guided me & gave me the right frame. That's how I moved forward.
QB: What does one need to do to reach where you are today? There's a long way to go for you. That goes with saying but you have achieved so much in such a short span. Tell us about the things you need to do in order to fulfill your aims.
Varun: It's basically working hard. Getting up & grinding every day. Make sure that you do something productive every day & you have to stay focused. What I would also suggest is that stay true to yourself. There are no shortcuts to success so you have to really work hard to achieve what you want to achieve.
QB: We heard you are an avid basketball fan. Who were you rooting for in the NBA finals? Golden State Warriors or Cleveland Cavaliers?
Varun: I was supporting Golden State Warriors throughout & I was very happy to see GSW win the NBA finals.
QB: Who's your all-time favorite basketball player & your current favorite?
Varun: Michael Jordan is my all-time favorite. My current favorites are Kevin Durant & Stephen Curry.
QB: Who is your favorite Bollywood & Hollywood actor?
Varun: My favorite bollywood actor would be Farhan Akhtar. I love Farhan. My favorite Hollywood actor would be Matthew McConaughey. I also like Bradley Cooper.
QB: If you get a chance to be paired with one of Farhan & Matthew, who would it be?
Varun: Farhan all day long.
QB: We also heard you are a huge pet lover. Are you aware about the ongoing Yulin Festival in China?
Varun: Yes. It has been going on for years & it is really sad to see it not being banned. I really don't see sense in killing so many dogs for your own please, it's absolutely depressing. I am a huge dog lover & I don't know why people kill such cute creatures.
QB: So what advice would you give to the young kids out there?
Varun: The young generation is kind of lost in their mobile phones & computers. I would like them to step out & explore the world. The world is a beautiful place. Do what you like to do. Do travel & explore. Don't think twice because once you are 40 years old, you are stuck. I don't want anybody to have regrets in their life. If they want to do something, just do it. Lastly, stay healthy & stay fit.