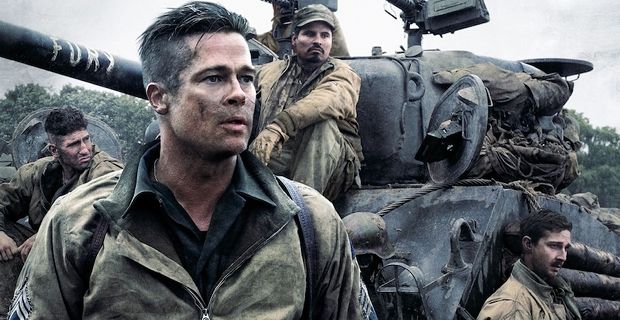 We can call wars a nasty presentation of negative beliefs that spring through the evil doorway of humans and between them. War has also been epitomized as the political turbulence between people and the economies worldwide. And these conflicts are being given a Hollywood treatment in order to convey the predicaments and they are after effects on humans. Catching the sentiments of soldiers fighting, dying and striving hard towards victory is an exhilarating experience for all the movies goers. So we are counting down on four best war movies of all time.
1) Fury
The 2014's drama action movie takes the moviegoers back to World War II. The film starred Brad Pitt, Logan Lerman, Michael Pena, Shia LaBeouf, and Jon Bernthal. David Ayers' direction built a strong relationship between the characters, where traumatized Lerman experience harsh realities in the war when he along with other US tank crews fights in Nazi Germany during the ending days of war.
2) We Are Soldiers
This 2002's war film covers the Battle of Ia Drang which occurred on November 14, 1965. The Randall Wallace directorial has Mel Gibson, who portrayed the role of Lt. Colonel Hal Moore in the lead fighting in the early days of Vietnam. Moore was given a task to deploy air cavalry units into the Ia Drang Valley. The film is based on Colonel Moore's book, We Were Soldiers Once… And Young.
3) Saving Private Ryan
This 1998's drama action film is based on the Invasion of Normandy in World War II. This Steven Spielberg directorial captures and portrays the feelings of soldiers effectively. Tom Hanks and Matt Damon starring received a huge response than any other war movie in last 20 years. This one emotionally resonated its message and a gripping tale asking about "what are they fighting for".
4) The Hurt Locker
This 2009's war film is based on an Iraq war where insurgents target a bomb-defusing squad in the late 2000s by remote control detonations, booby traps, and ambushes. The films star Jeremy Renner as William James. The movie got six Academy Awards in its basket was a huge among fans.