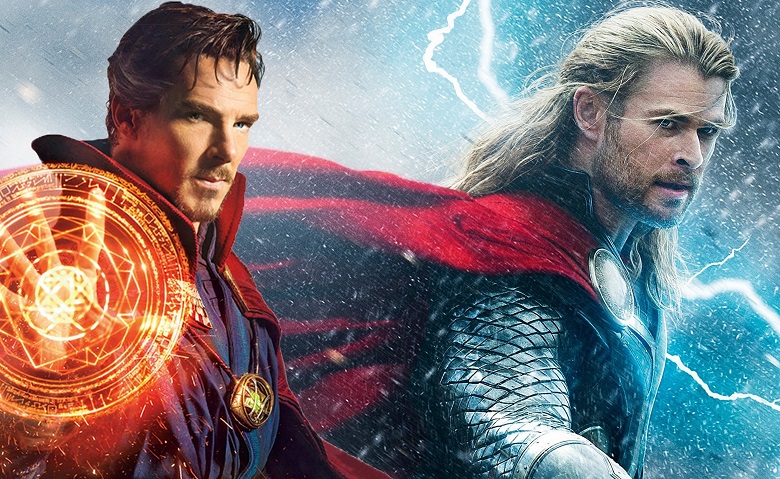 Thor Ragnarok has been busy shooting in Australia but that does not mean that its business all the time. The director and the cast have been very active on social media, with comedic skits and funny clips on Instagram by Thor star Chris Hemsworth and Mark Ruffalo to Tom Hiddleston finally joining the photo sharing site or maybe just randomly posting easter eggs for fans on the web. Hold up, are you asking yourself if you read it right? Did a picture from the Thor set containing an easter egg even before the movie release happen?
The answer to that is all a big fat YES. Back in August, Twitter user Daley Pearson posted some set pictures on his page. One particular picture that stood out featured a pony-tail wearing Chris Hemsworth holding a yellow card which on further inspection has Doctor Strange's New York address written on it-177a Bleecker Street in Greenwich Village. This little card caused huge speculations about a Doctor Strange link up amongst fans.
Thor: Ragnarok director Taika Waititi kind of confirmed this link up to Digital Spy:
"Ohhh I don't know," he told Digital Spy. "I am not sure if… I don't know actually. I can't comment on it. It may have just been something for the fans."

And what about a Cumberbatch cameo (a Cumbameo, if you will)?

"Might be something like that," said Waititi. "Might be a little tease. Or maybe a tease just for people who wanted to zoom into that photo."
If Benedict Cumberbatch does show up in the movie, he won't be the only one amongst Norse Gods. Mark Ruffalo's Hulk is also set to appear in the third Thor film along with Cate Blanchett, Tom Hiddleston, Idris Elba, Anthony Hopkins, Tessa Thompson, Jeff Goldblum and Karl Urban. And fans should not be disappointed if Doctor Strange does not appear, as the doctor is set to appear in future Avenger movies battling Thanos for Infinity Stones.