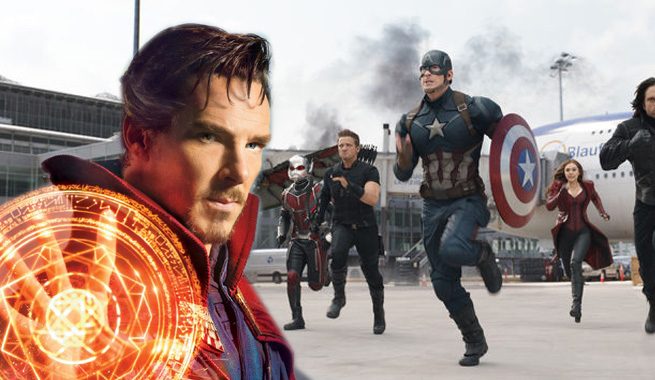 Although Doctor Strange will be gracing big screens around the world by the end of the year, it will not be the first time that the name has been referenced to on screen. As part of MCU's third phase, the movie is set to bring about a change in the world of Marvel superheroes. But could it be possible that Doctor Strange had already existed or been known about since the second Phase of MCU?

Captain America: Winter Soldier was released in 2014, and introduced a young Captain America to movie audiences. It was also in this movie that the name Stephen Strange was first uttered on screen, by a turncoat no less! In one scene- Captain America, Black Widow, and Falcon interrogate Jasper Sitwell regarding HYDRA plans for Project: Insight and initiative that would kill any potential threats of HYDRA. Jasper name drops Stephen Strange has one of their targets:
"You, a TV anchor in Cairo, the other Secretary of Defense, a high school valedictorian in Iowa City, Bruce Banner, Stephen Strange, anyone who's a threat to Hydra!"

The mention has been an afterthought for many fans as MCU was only at Phase 2 with no plans of Doctor Strange appearing at any part of their movies at that time. But the easter egg now seems to have gained some more curiosity from fans about this particular reference. Marvel head Kevin Feige gave the answer to this fan query:
"He is very well-known as a surgeon," Feige said "He has got various awards and plaques you're going to see over there; he attends various galas, might be driving at one point in this movie. He has name recognition and a talent and certain Hydra computers identified him as somebody that could cause trouble for their agendas."
Fiege's answer pretty much confirms the fact that Strange was always an individual with power even before acquiring his mystical power which was why he would come up in Hydra's radar.