News
Batman Cosplay Suit Enters Guinness World Records 2017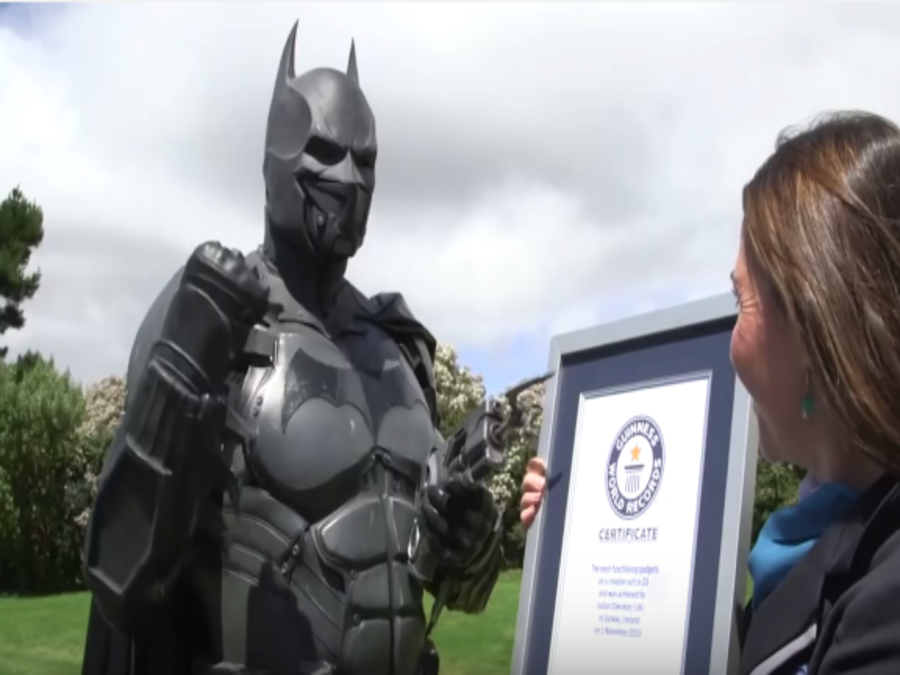 Everyone is a fan of Batman, some are just too crazy to handle. Julian Checkley, a costume designer from Ireland, has designed a Batman suit with 23 gadgets, and it earned him a World Record in Guinness World Records 2017: Gamer's Edition.
According to the Guinness, the creator designed the design after one featured in the Batman: Arkham Origins video game. He used a 3-D printer, flexible urethane rubber, and a costume undersuit to make the pieces come together.
Functioning gadgets which were included are: Fireball Shooter, Gauntlet Video Screens x 2, Bat Tracking Beacon, Bat Sign Projector, Folding Batarang, Grapnel Gun, Cowl Respirator, Pneumatic Tranquilliser Gun, Ultrasonic Anti Dog Device, Bat Shuriken x 4, UV Lamp, Ball Bearing Grenades x 2, Gauntlet Flashlight, Medi-kit, Battery Pack, Laser Designator, Bat-cam, Strobe Stun Gun, Gas Dispenser, Smoke Bombs x 2, The Bat Flask, Concealed Laryngeal Microphone, and Two-way Radio.
To earn the record, Checkley had to show that all gadgets were in working order.
Checkley said in a video, "When I was about seven years old, I made my very first cosplay costume – a little Darth Vader costume out of a balloon and papier-mâché."
"There were many long hours trying and devising the gadgets and finding ways to store them on the suit," Checkley said in a statement. "They are classic gadgets but also some are specific to Batman: Arkham Origins. I am immensely proud of my Guinness World Records title and to be part of the Gamer's Edition is just the next level."
Before becoming an effects expert, he used to work as a model maker and art director. But, he dreamed of constructing a tribute to the Dark Knight. "I've always been a Batman fan," he said. "He's kind of anti-hero, kind of dark, but he's still a good guy."
The Guinness World Records' 2017 Gamer's Edition will  hit the  shelves on September 8th.