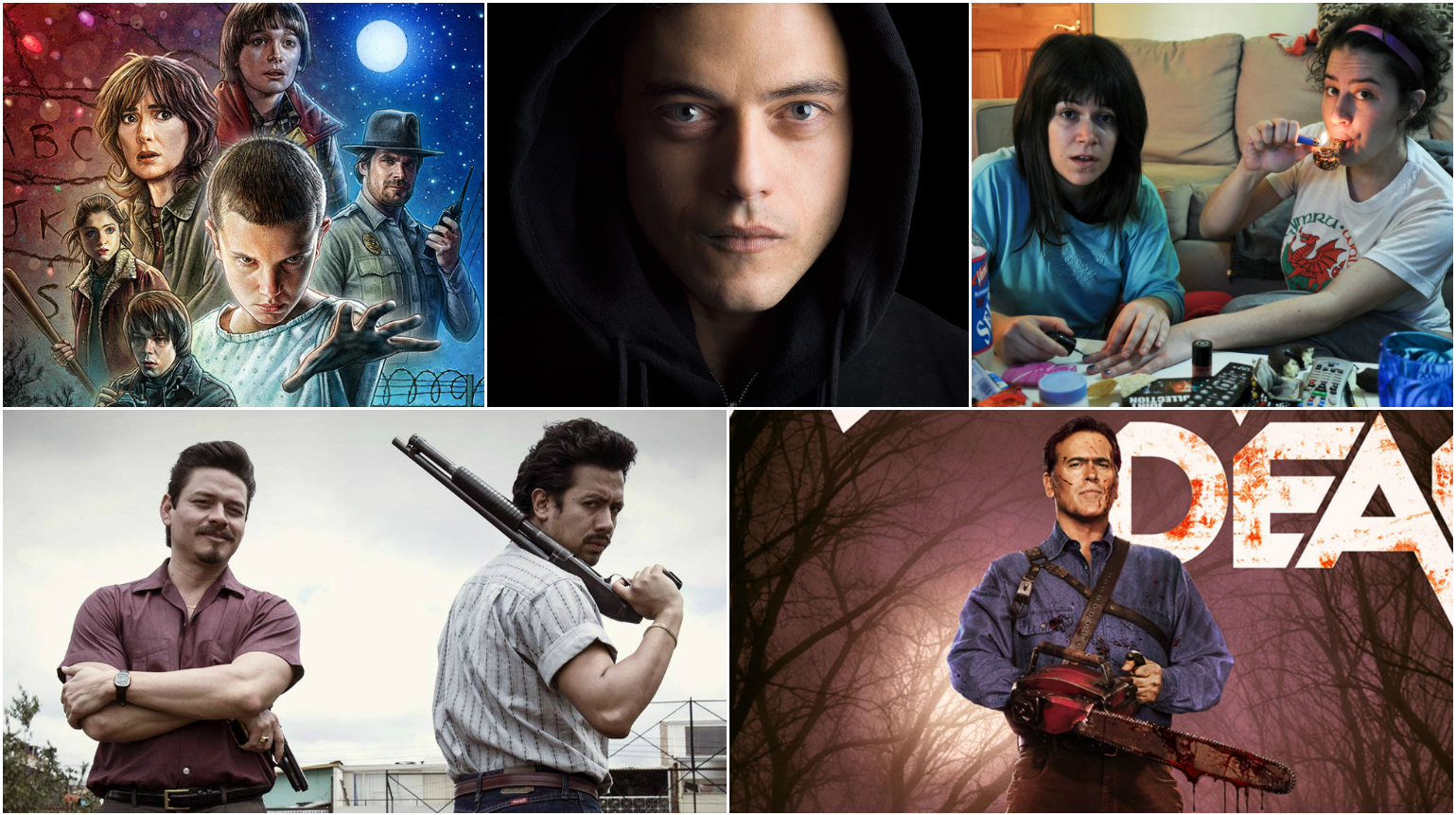 So you've just finished watching the last episode of your favorite TV series but you don't know what to do with yourself. The thought of waiting till next year to watch what happens in next season is making you restless and checking your search engine for any tidbits about the show. What the hell are you supposed to do till then? Fear not, QuirkyByte is here to save you out of your boredom. We have tried and tested for our readers five of the most awesome shows about vigilante heroes, criminals, aliens, and slackers that are must watches. Don't believe us? Prove us wrong by giving these series a chance and then get back to us. It's a guarantee that these shows will keep you glued to your screens.
1)  Mr.Robot:

[adinserter block="1″]
Summary: Mr. Robot is an American psychological drama/thriller TV series created by Sam Esmail. Elliot, a young programmer who works as a cyber-security engineer by day and a vigilante hacker by night. He also suffers from social anxiety disorder and clinical depression. He meets a mysterious stranger named Mr.Robot, the mysterious leader of an underground hacker group who recruits him to destroy Evil Corp., the corporation he is paid to protect.
Stars: Rami Malek, Christian Slater
Fun Fact: The series and star Christian Slater won Golden Globes for Best Drama Series and Best Supporting Actor in 2016.
For Fans Of: Fight Club, V For Vendetta.
2)  Stranger Things:

[adinserter block="15″]
Summary: Stranger Things is an American science fiction/supernatural/mystery/horror web TV series created by the Duffer Brothers. The plot follows the disappearance of a young boy, and a girl with special abilities who helps his friends in their search, while the boy's mother, older brother and the town police chief start their own investigations.
Stars: Winona Ryder, David Harbour, Finn Wolfhard, Millie Bobby Brown
Fun Fact: The show is set in 1980s Indiana and pays homage to the works of Steven Spielberg, John Carpenter, Stephen King and many other 80's films.
For Fans Of E.T, Alien, Super 8
3)  Ash Vs Evil Dead:

[adinserter block="10″]
Summary: Ash vs Evil Dead is an American comedy horror TV series developed by Sam Raimi, Ivan Raimi, and Tom Spezialy. The series is set 30 years after the first three Evil Dead films. Ash has spent the last 30 years avoiding responsibility, maturity and the terrors of the Evil Dead until a Deadite plague threatens to destroy all of the mankind and Ash becomes mankind's only hope.
Stars: Bruce Campbell, Ray Santiago, Lucy Lawless
Fun Fact: The Evil Dead movies inspired a comic book series- Freddy vs. Jason vs. Ash, a six-issue comic book limited series that was released in November 2007 and ran until March 2008.
For Fans Of The Walking Dead, The Evil Dead movies.
4)  Narcos:

[adinserter block="2″]
Summary: Narcos is an American crime web TV series created and produced by Chris Brancato, Carlo Bernard, and Doug Miro. The show is about the criminal exploits of notorious drug kingpin Pablo Escobar, who became a billionaire through interactions with DEA agents, drug lord, and other criminals.
Stars: Wagner Moura, Boyd Holbrook, Pedro Pascal
Fun Fact: Pablo Escobar is one of the most notorious criminals responsible for 4,000 deaths including a Colombian presidential candidate.
For Fans Of Breaking Bad, Blow, Savages, Cops
5)  Broad City:

[adinserter block="10″]
Summary: Broad City is an American sitcom created by and starring Ilana Glazer and Abbi Jacobson.the show is about friends Ilana and Abbi, two women in their twenties who are trying to make it in New York city with sometimes raunchy slapstick humor.
Stars: Ilana Glazer, Abbi Jacobson
Fun Fact: Guest stars of the show have included Seth Rogen and Hillary Clinton.
For Fans Of 2 Broke Girls, Friends, Cheech And Chong