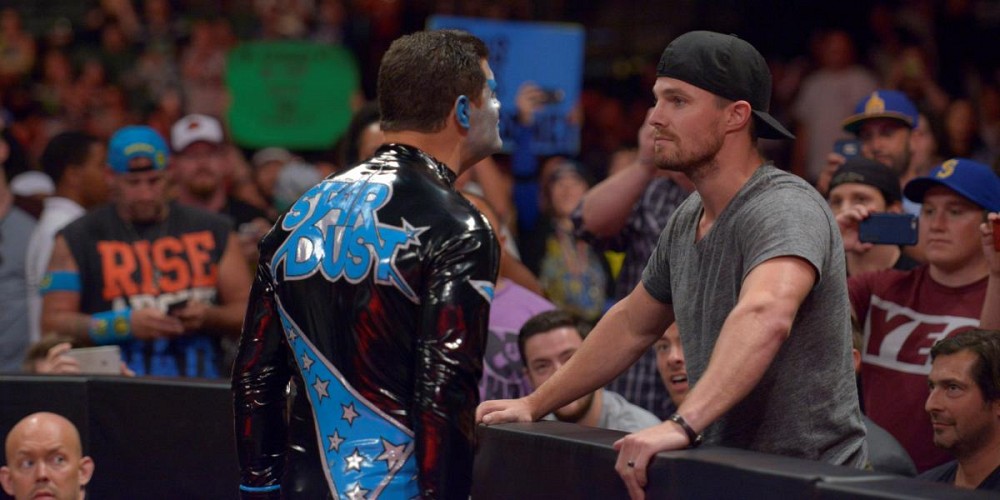 Stephen Amell and Arrow showrunners have promised that Season 5 of the show will be a spectacle. The build up to Arrow Season 5 is getting huge day by day. The latest confirmation is the appearance of WWE Superstar and on-screen rival of Stephen Amell, Cody Rhodes aka Star Dust.
Yes, you heard it right Stardust will make a Guest Appearance on Arrow Season 5. Here is more:
Stephen Amell squared off against Stardust last year at WWE Summerslam. The match was won by Stephen Amell and the two also matched for charity. Now, the latest thing happening between the two is that Stardust aka Cody Rhodes will do a guest appearance on Arrow.
During the Heroes and Villains Fanfest in New Jersey, the two stars confirmed that Stardust would be making a special guest appearance on Arrow Season 5. There is still no confirmation as to what character will Stardust play on the show. Rhodes jokingly hinted that,
You can probably expect Stephen and I to get into another fight.
Stardust even took Twitter to share the following post to express his feelings about this big news, hoping to do justice to the role he plays on the hit CW series.
I step into this respectfully, humbly, and looking to do it justice for the fandom #HVFF@CW_Arrowpic.twitter.com/UbU0lzG4df

— Cody Rhodes (@CodyRhodes) July 2, 2016
Stardust's acting career has been limited mostly to WWE and his appearance on Arrow is a great news for the fans who have enjoyed the rivalry between him and Amell. Their action sequence on the show (if there) could bring in the whole rivalry wheel for the fans to cheer about.
With this huge casting decision Arrow, is just adding more ammunition to an already heavy cast for Season 5.
Arrow Season 5 returns on CW this October.
If you wish to read about more developments on Arrow Season 5, you can find them here.