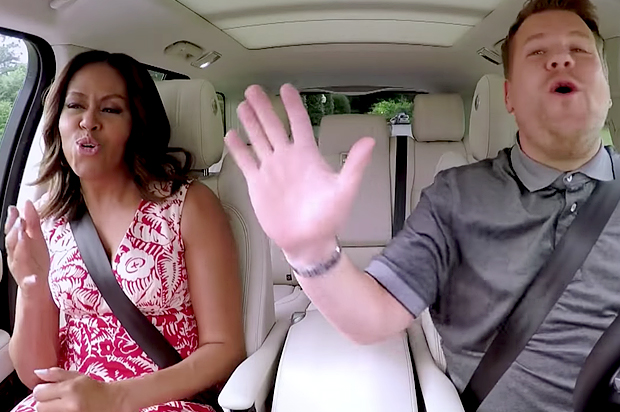 The Late Late Show with James Corden has a variety of fun aspects such as Live Tinder, Drop the Mic, and of course, Carpool Karaoke! The latest one starred none other than the first lady of the United States, Michelle Obama. With a surprise appearance by Missy Elliot, it was hands down the most exciting one yet. However, there are a few more episodes which were quite entertaining as well. Read on to know more!
Adele
Clearly the most popular carpool karaoke with over a 100 million views on Youtube, Adele delighted all with her appearance on the show. It started off with Corden speaking on the phone with Adele, a play on the lyrics of her song 'Hello'. Both Corden and her belted out her greatest hits which included 'Hello', 'Rolling in the Deep', 'Someone like you', and even sang 'Wannabe' by the Spice Girls. Adele also demonstrated her rapping skills to Nicki Minaj's 'Monster' much to the pleasure of the viewers. In the middle of their singing, Adele even recounted the time she had a little too much to drink and ended up buying dinner for a family at the same restaurant!
Chris Martin
Meeting Corden in the middle of the road standing on the street was Chris Martin. Requesting a lift to the Super Bowl, he got in the car and from then onwards it was all fun and music. They sang some of the most soulful Coldplay songs such as 'Yellow', 'Hymn for the weekend', 'Viva la Vida', and more. For the latter Corden even ended up singing the wrong lyrics! At one point they even stopped to buy lemonade from some children who were selling it. Since it was a long journey, they stopped at a motel for the night and Corden ended up snuggling with Martin. The next day they woke up to find their car missing. Watch on to find out how they finally reached the Super Bowl.
Sia
The 'Chandelier' singer in all her black and white wig glory was quite a treat for us Carpool Karaoke viewers. This episode began with Corden bumping into Sia on the street, and then helping her get into his car (thanks to the wig blocking her vision). Once in the car, they talked about her life experiences and ended up singing 'Chandelier', 'Titanium', 'Diamonds', and more. Corden switched things up halfway by donning the same wig as Sia. Moreover, in the middle of the episode, they even had some fun with eggs! Yes, you read it correctly, Corden made Sia hold a dozen eggs on the back of her hands (six on each). Some fell down and cracked but that's not important is it now?
Gwen Stefani
Clearly one of the most surprising episodes ever, this one included special guests! It began with Gwen and James belting out some tunes and Corden claiming how Gwen looks ageless, which she said is because of love and happiness (ok Gwen, I guess the rest of us are just getting facials done for nothing then). Things got a little interesting when the car stopped to pick up some people. A certain GEORGE CLOONEY and another certain umm JULIA ROBERTS! All of them sang 'Hollaback girl' and 'We are the champions'. It was quite an interesting and fun episode. Side note, Gwen's makeup was on point! Such smooth porcelain skin, why Gwen why? Oh yes, "love" and "happiness".