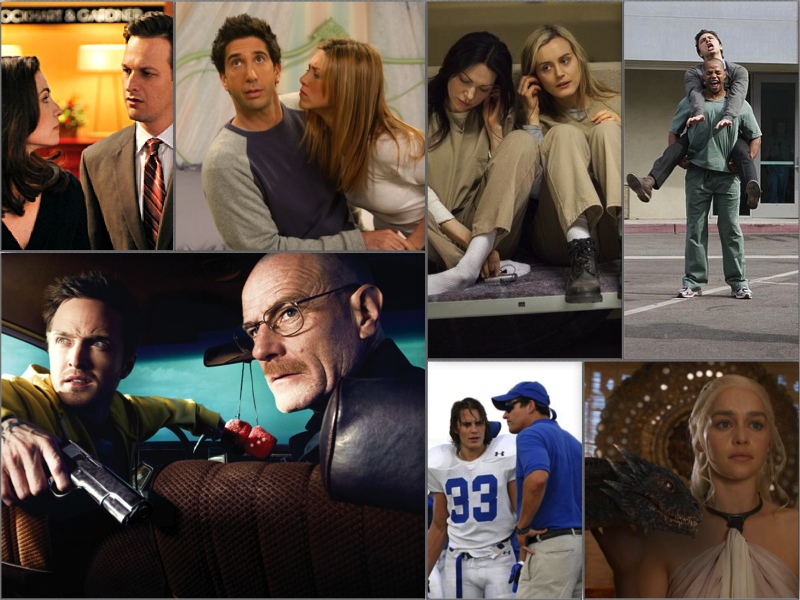 This is a list of TV shows that are the absolute best in their respective genres. They are ranked according to their user ratings, and of course my opinion.
1. Breaking Bad
This intense piece of art consisting of 5 epic seasons, will make you glued to your chair as you go through the story of a mild-mannered high school chemistry teacher Walter White who thinks his life can't get much worse. With a poor salary, he can barely make ends meet. He realizes that he has terminal cancer and is dumbstruck as to how he will provide his wife, newborn son and a teenage son battling with cerebral palsy, financially. In his desperate situation, he decides to earn as much as he can by turning an old RV into a meth lab with wheels. "Say My Name"
2. Game of Thrones
Cold blooded murder, betrayals, drama, epic battles and dragons! Game of Thrones has it all. As the name suggests, the story is about various kingdoms fighting for one thing; The Iron Throne.
Journey to this fictional kingdom called Westeros, and witness the struggle, as different rulers surpass various obstacles. This show is filled with uncanny cliffhangers, deaths of your favorite characters and a whole bucket load of surprises.
3. House MD.
See through the eyes of Gregory House, an egotistic, self-loathing diagnostician and his ever changing team of doctors who work at The Princeton Plainsboro Training Hospital as they solve various bizarre and impossible cases. Watch Dr.House prank his colleagues and let him surprise you with acts of utter terror. Follow the life of this anti-social, pain killer addict and fall in love with his ridiculous yet true quotes such as "Everybody Lies".
4. F.R.I.E.N.D.S
Watch these six best friends go through the obstacles of life in their own hysterical yet loving ways. They face a lot of problems like breakups, family deaths and saying the wrong name at the altar, but they face them together. The best part about this show is that almost all generations, would love and enjoy it every time they watch it! This series consisting of 10 seasons along a failed Spin-off will make you fall in love with each of these FRIENDS. "How You Doin?"
5. How I Met Your Mother
With great actors like Jason Segel and Neil Patrick Harris, this is a hilarious show. The series follows the main character, Ted Mosby, and his group of friends in Manhattan. In the year 2030, Ted recounts his life story to his children. All I am going to say for this is; HIMYM is not just a TV show, it is your companion through life's biggest obstacles. As you begin watching it, you will begin to fall in love with each of the characters. It is truly Legen*wait for it*Dary!
6. The Flash
The show that struck every person who is a TV fanatic, like a thunderbolt. The Flash is about Barry Allen who acquires super speed due to a misshapen experiment. Watch him whizz past every enemy he encounters along with his nerdy helpers; Cisco and Caitlin.
7. Supernatural
What's better than a show about the thrilling adventures of two awesome brothers who fight demons and monsters? Supernatural follows the story of Sam and Dean Winchester as they battle vicious and deadly ghosts, ghouls and much more. With 11 seasons so far and no sign of slowing down anytime soon, you will be glued to your screen watching it.
8. Parks and Recreation
Parks and Rec begin off with a shaky start, but it only gets better as it progresses through 7 great seasons. It is an American political comedy sitcom featuring Leslie Knope a perky, mid-level bureaucrat in the parks department of Pawnee. It is basically about her fight to rise against all complications placed against her. This show was completely awesome and at the end of the seventh and the last season, you will end up begging for more!
9. Suits
Now who doesn't like a show about awesome lawyers who destroy everyone who dares to stand in their path? Featuring Mike Ross, a college dropout, wiseass with a photo eidetic memory and Harvey Specter big-time Manhattan corporate lawyer, who not only excels in law but also a lot of Godfather, quotes. With 5 seasons so far and a great starting soundtrack, this show is the real deal!
10. Entourage
Well, not many of you might have heard of this show but to all those of you who have, CONGRATULATIONS! Follow the story of Vincent Chase and his group of friends as they try to score movies and chicks. The show is known for its array of famous guests, having featured several actors, athletes, and other celebrities in guest star and cameo roles, often playing fictionalized versions of themselves. At the end of 8 epic seasons, there is a great Ari Gold Packed movie waiting for the fans.
11. Silicon Valley
The series focuses on six young men who found a compression company in Silicon Valley. Richard Hendricks is a shy, reclusive programmer at Hooli until he hits the jackpot as he devises a compression algorithm so spectacular that he makes it into the big leagues. Now watch him and his team of nerds to battle for his own new company Pied Piper.