Alan Rickman passed away on 14th January, taking away a part of our childhoods. Somewhere along fearing him, hating him, or watching our hearts break in his portrayal of Severus Snape, he became part of our hearts, always. Here's counting down 7 iconic moments of the Man Who Loved, Severus Snape.
When Harry Potter sees him for the first time.
The first time Harry ever sees Professor Snape, he is convinced Snape hates him. The first question he asks about him is who Snape is, and as the legend goes, he finds in the last installment of the series, he was 'the bravest man' he ever knew.
When he follows Harry to the bottom of the Whomping Willow.
In the Prisoner of Azkaban, Snape follows Harry Potter to the bottom of the Whomping Willow in Harry's Invisibility Cloak. We all HATED him when he unveils himself and tries to capture Sirius Black. Of course, this was before Snape's reasons were revealed and we all realized that this man who we hated was the best of them all.
<!–nextpage–>
When he is bullied by James Potter.
The moment we all empathize with Snape is when Harry Potter sees that he was bullied by James Potter much like Harry was by Dudley, in Order of the Phoenix. Our hearts caught in our throats, and we found that for all his meanness towards Harry, Snape had been through his share of misery as well.
When he kills Albus Dumbledore.
This was the moment when Snape became everyone's Number One Enemy- not only was he a bully who had made Harry's (and Neville's) life miserable, he had killed our most beloved character- Albus Dumbledore. But just when the half-blood prince had done something unredeemable, JK Rowling brought out another book, proving not all was what it seemed.
<!–nextpage–>
When he begs to look into Harry's eyes for the last time.
In Snape's dying moments in the Deathly Hallows, he tells Harry, through the dregs of his last breath, 'Look at me.' This was Snape, and indeed, JKR, at her absolute best: later, you realize, that Snape needed to look once more into the almond-shaped green eyes he so loved.
When you realize he was in love with Lily all along.
This moment is indescribable. It's the one part that has remnants of your tear drops on it, the one moment that made Severus Snape more than just an iconic character, the moment that Harry Potter became more than just the greatest part of your childhood. This moment in the one that will remain in your heart, after all this time. Always.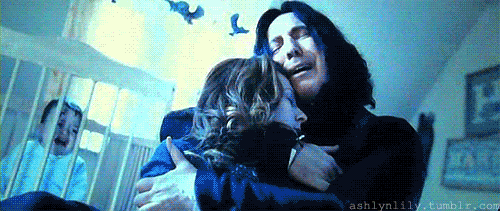 <!–nextpage–>
When Harry Potter names his son after him.
Albus Severus Potter has more than the names of Hogwarts' two principals. He has Lily's eyes. Somewhere in the unison, Severus and Lily had finally become one. 'The bravest man' Harry ever knew had lived on, as he will, in our hearts.