[tps_header]Mountain hiking can be an adventurous activity, especially when the weather isn't the way you were expecting to. Most hiking enthusiastics' know that there is a high possibility one can climb up a mountain and encounter a storm on their journey, even though the forecast was indicating a sunny day. It is clear that in the mountains weather is unpredictable, therefore every hiker should know some basic tips if they find themselves in the middle of a storm with thunderstruck and lightning. [/tps_header]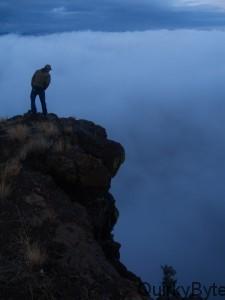 Don't remain on a flat terrain, on mountain peaks or exposed mountain ridges.
She's a French/English speaker, with a passion for theater and staying home as less as possible. Currently studying architecture, she's trying to keep up a free spirit and "juggle" with other domains as well. Her straightforward way of thinking reveals in her writing the way she sees the world, while adding a little bit of humor to brighten up your day. If she's not drawing or writing, she's mountain biking or cycling through her home town forest, as she's a biking addict. Fresh air and sunlight are her main sources of life.